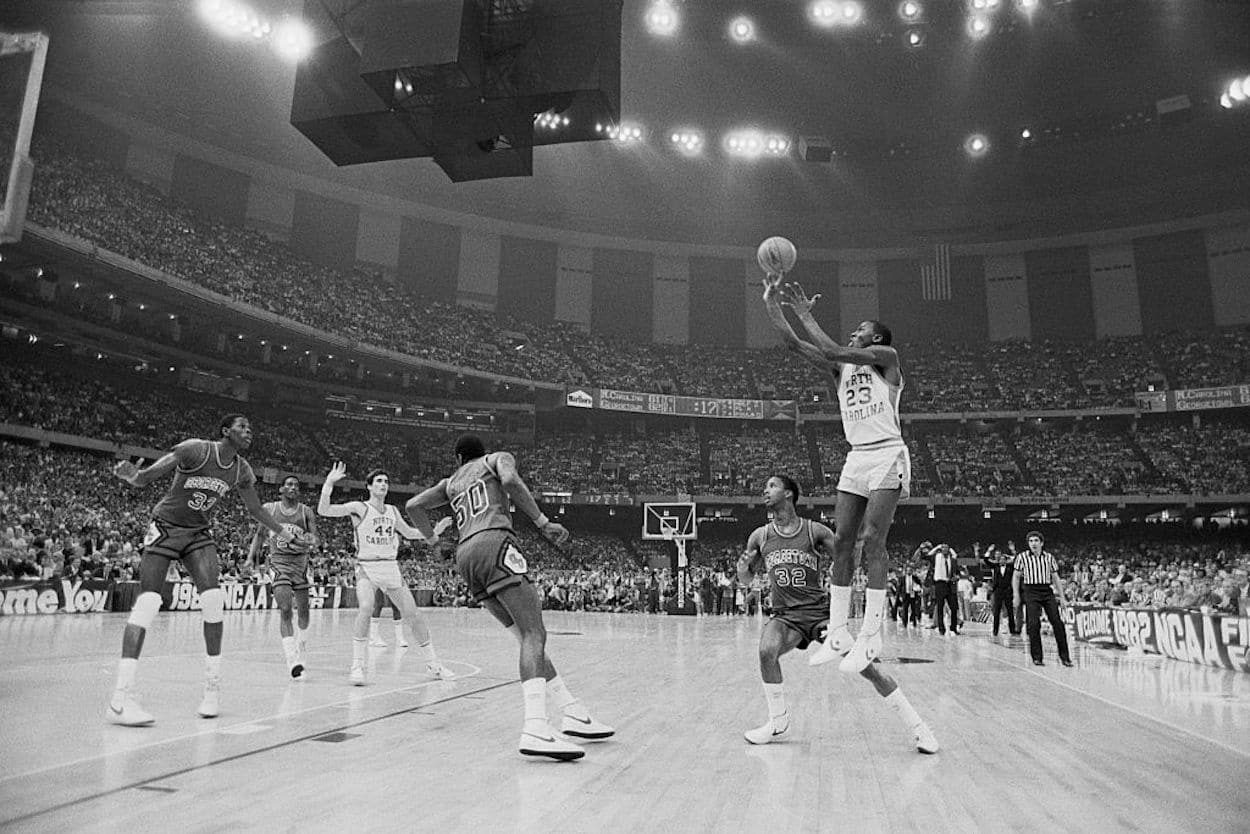 Michael Jordan Foreshadowed His Future Greatness During a Forgotten Team USA Outing in 1982
Just about everyone knows that Michael Jordan won the 1982 NCAA title at UNC. That wasn't his only success that year, though.
If you're a long-time basketball fan, you'll probably know all the beats of Michael Jordan's story. His Airness grew up battling with his brother and failed to make the high school varsity team on the first attempt. He eventually blossomed, though, won an NCAA title at North Carolina, and established himself as a star. From there, the rest is history.
But did you know that MJ also had some international 1982? His success that year wasn't limited to Chapel Hill; it actually transcended to Europe with Team USA.
A college-aged Michael Jordan shone for Team USA during the summer of 1982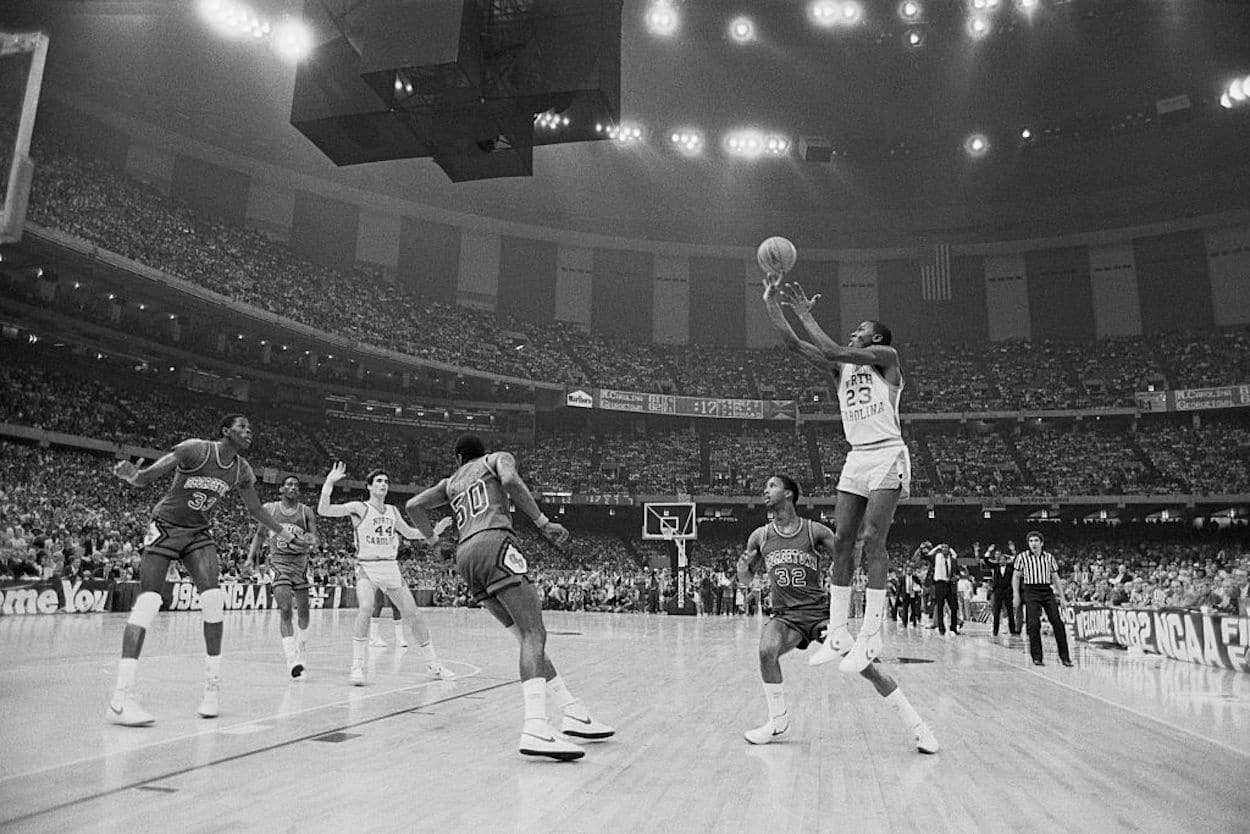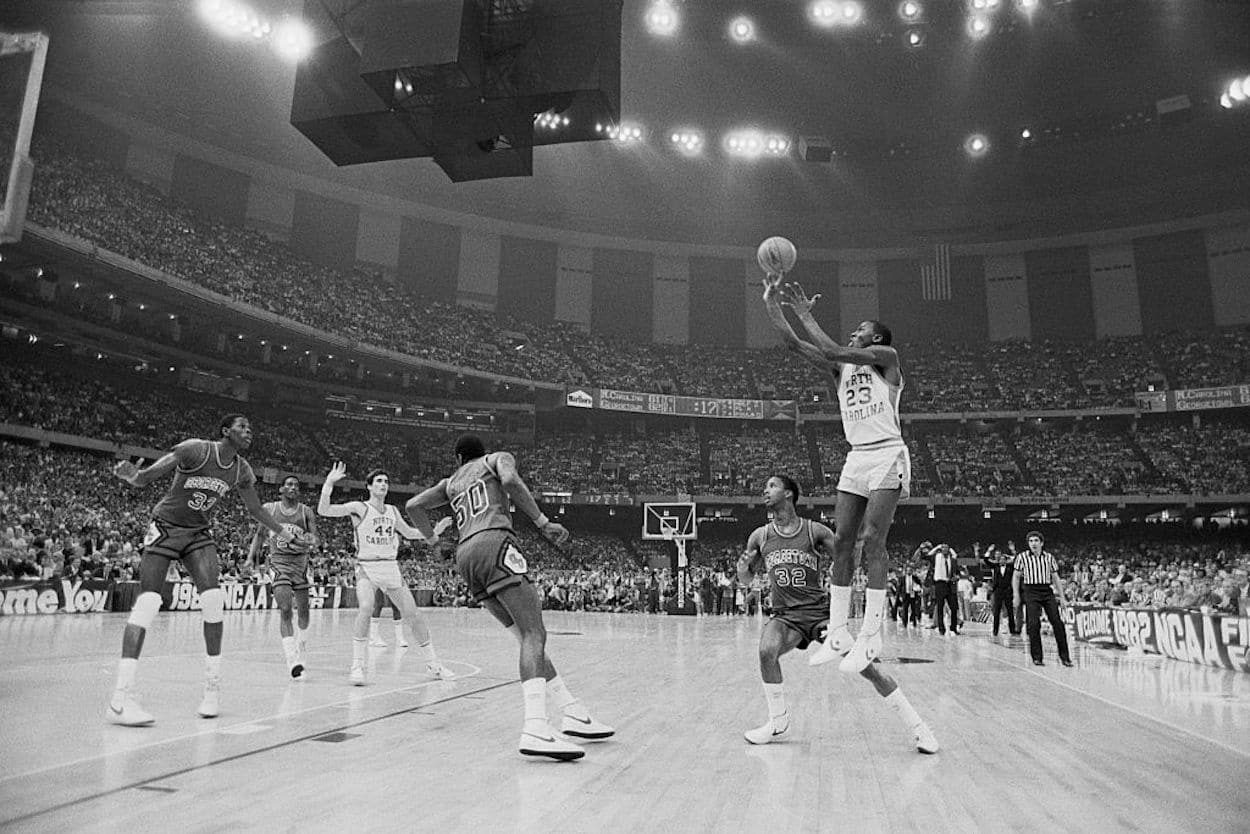 When you think of Michael Jordan playing international basketball, you'll probably imagine him suiting up for the Dream Team in 1992. He announced himself on the global stage, however, a decade earlier.
As laid out by C.L Brown of the Charlotte News & Observer, Jordan was called up to join an American squad (officially recorded as a Select Team) set to travel to Europe in honor of FIBA's 50th anniversary. While many top young talents, like Ralph Sampson and Patrick Ewing, didn't join up, His Airness was ready to prove his mettle.
During an exhibition against "Marathon Oil, a team of former college players," Jordan announced himself with 26 points. "Coaches, just like players, know when you're in the gym and you all recognize greatness," Vanderbilt forward Jeff Turner recalled.
Beyond that, MJ showed all the elements that basketball fans would come to know. He challenged older teammates to games of horse and one-on-one, talked trash about college rivalries, and bet on the airport baggage carousel.
When the American squad reached Europe — they played a few games against All-Star teams before a three-game exhibition series against Yugoslavia, who had won Olympic gold in 1980 — His Airness continued to strut his stuff.
While there's no box score from the first game of the series, we know that Jordan posted 18 points in the second game of the set. In the deciding third contest, he scored a team-high 21 as the United States secured a 88-83 win and a 2-1 series victory.
That might sound like a relatively benign feat, but, given the context of the time, it was quite the statement. A squad of American amateurs had beaten Europe's top dog, and Jordan, who was yet to become a household name, led the way.
In hindsight, though, 1982 was certainly a bit of foreshadowing. Not only did MJ win a championship, but he towered over the competition, found international success, placed some bets, and talked trash along the way.
If there's anything more Michael Jordan than that, I don't know what it is.
Like Sportscasting on Facebook. Follow us on Twitter @sportscasting19 and subscribe to our YouTube channel.