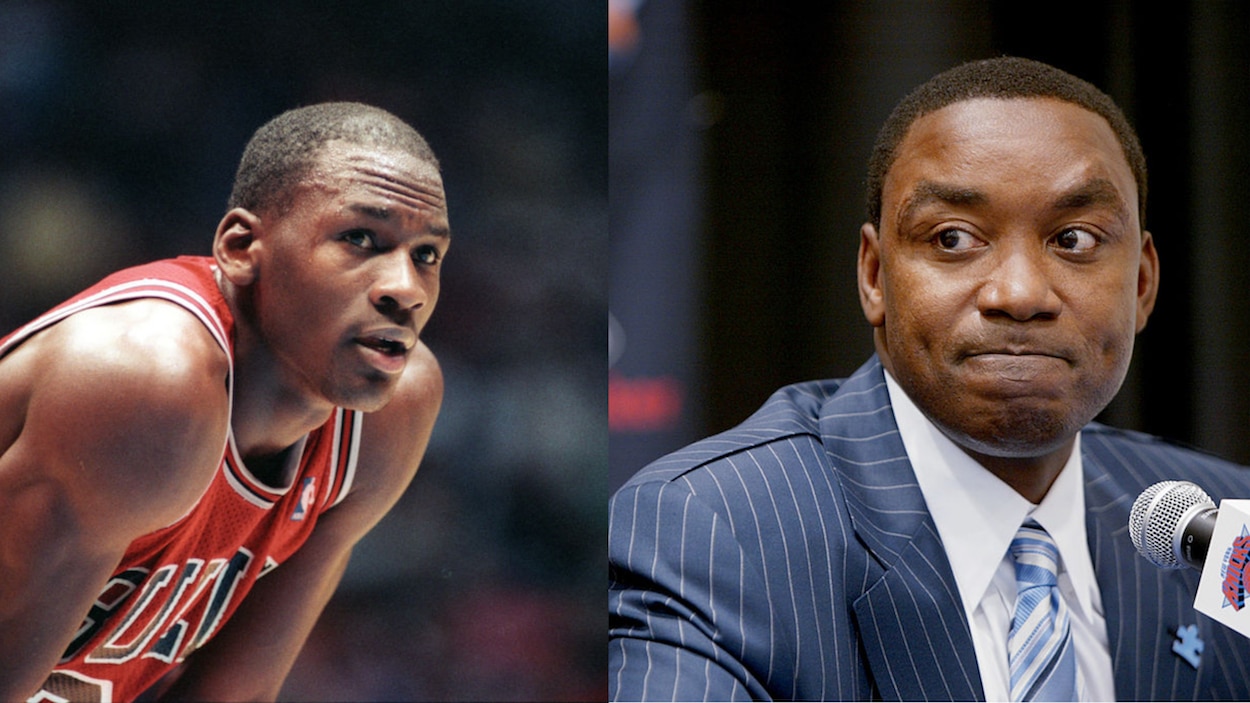 Isiah Thomas Isn't Letting His Beef With Michael Jordan Die Just Yet
Michael Jordan and Isiah Thomas are both NBA legends, but you probably shouldn't expect them to hug it out anytime soon.
Whether you like them or not, rivalries are simply a part of sports. When you've got two competitive forces, whether they're teams, players, or anything in between, going at it, there's bound to be some tension. Sometimes things even persist far beyond the playing surface. Just ask Isiah Thomas and Michael Jordan about that.
During their respective times on the hardwood, the two stars locked horns on multiple occasions. That set the stage for a seemingly endless tussle, as Isiah occasionally throws a new jab in His Airness' direction. Things usually focus on MJ's greatness, although the guard will sometimes change things up.
Take, for example, Zeke's most recent comments. It seems like he's still pretty upset about The Last Dance and waiting on an apology that will (probably) never arrive.
Isiah Thomas sounds like he's still upset over 'The Last Dance'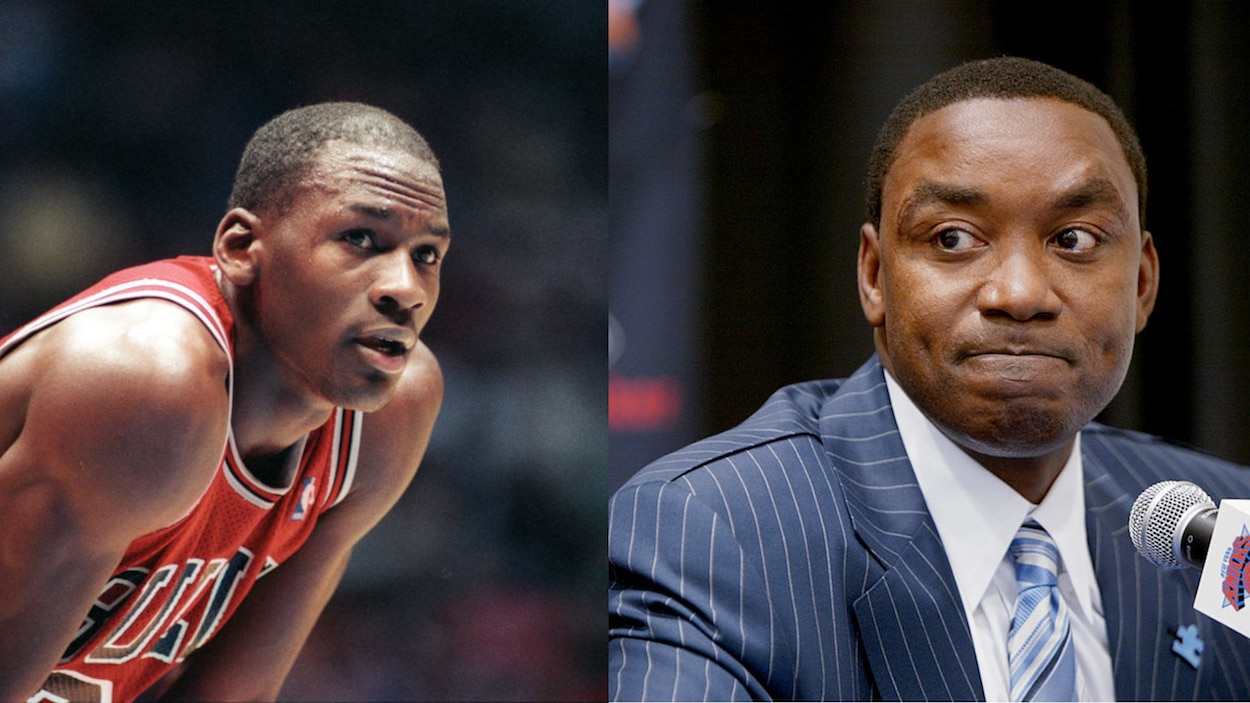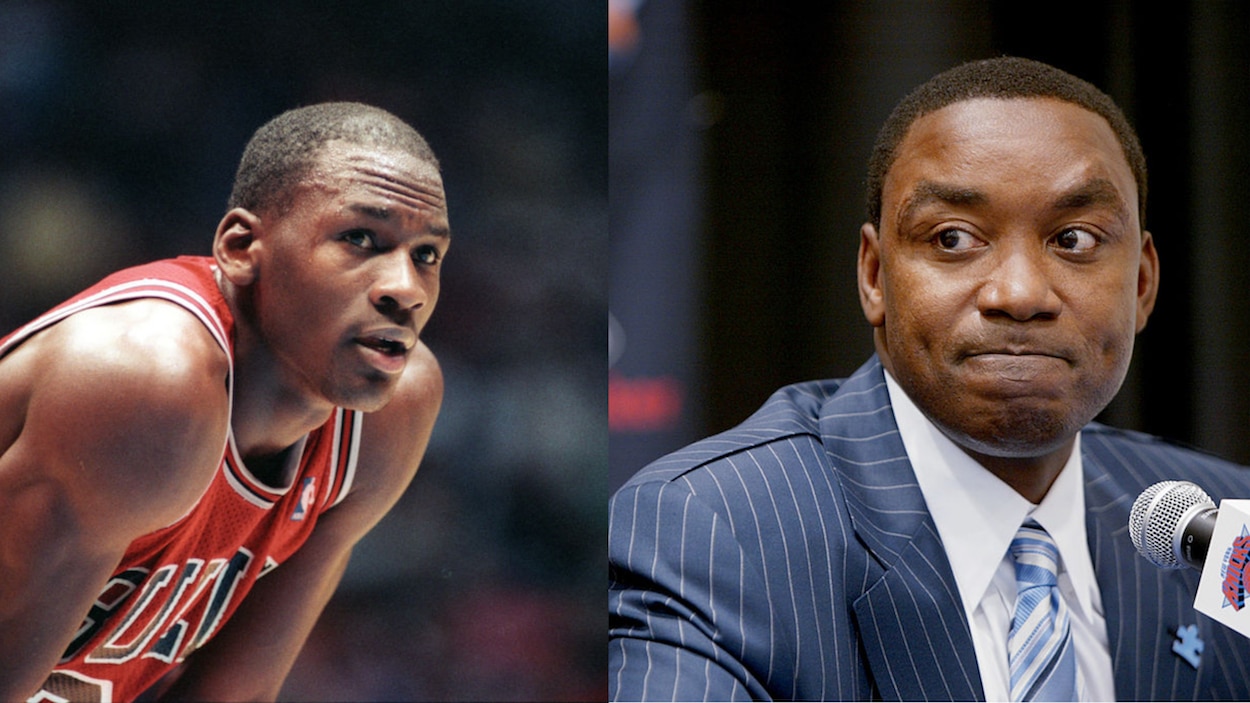 During the year 2020, The Last Dance dropped during an unprecedented time without live games and captured the attention of the sports world. While most of the audience enjoyed the trip down memory lane, Isiah Thomas had a less-than-ideal viewing experience.
Speaking to COSMOTE TV (Greece) during the NBA's Abu Dhabi games, the former Piston was asked about the documentary and his relationship with Jordan. Discretion may be the better part of valor, but Zeke wasn't pulling any punches.
"When I was watching The Last Dance, I'm seating [sic] there and I'm watching it with my family and I'm thinking everything is good," Thomas said, according to Eurohoops.net. "And then this guy comes on television and he says that he hates me and then he calls me an asshole. And then I proceed to watch a whole documentary about him being an asshole. I'm like wait a minute, time out."
Isiah wasn't done there, though. He went on to make it clear that he isn't going to throw in the towel and change his opinion of MJ without some concessions."
"Until I get a public apology, this beef is gonna go on for a long long time, cause I'm from the West Side of Chicago," he added.
At this point, that's not exactly a surprising take from Thomas
Given his star status, you might think that Isiah Thomas would want to play things fairly responsibly and want to avoid rocking the boat. When it comes to Michael Jordan, though, this is just the latest edition of a fairly consistent pattern.
During MJ and Thomas' playing careers, the pair had their fair share of encounters. The Pistons were an early roadblock for Jordan's Bulls, which didn't exactly make the pair the best of friends. There was also the potential 1985 "freeze-out" — in fairness to Thomas, there are varying versions of events — and Detroit's choice to leave the floor after the 1991 Eastern Conference Finals without shaking hands. That latter decision resurfaced during The Last Dance and prompted MJ to criticize Isiah's behavior.
The former point guard has also taken repeated shots at Jordan's place in the all-time basketball pantheon. He's said that His Airness isn't the GOAT and, more recently, suggested that LeBron James is ahead of MJ in the battle for NBA supremacy.
Isiah also fired off a tweet in July 2022, telling his rival to "stop lying" about the origins of their beef. In his haste to throw shade, though, he missed the fact that the quotes in the story were from 1992 rather than a new revelation.
Is Isiah Thomas' beef with Michael Jordan the best idea? You can decide that for yourself. But, at this point, we have to acknowledge that the guard is consistent if nothing else.