Isiah Thomas Quickly Denied 2 Rumors About Why the Dallas Mavericks Passed on Him With the No. 1 Pick
Days before the 1981 NBA Draft, future Hall of Fame guard Isiah Thomas assumed he'd spend his professional basketball career with the Dallas Mavericks. The Mavs won a coin flip with the Detroit Pistons, earning the right to pick first. The Pistons, meanwhile, lost all hope of picking the point guard out of Indiana.
Instead, the Mavericks selected Mark Aguirre, sparking a pair of rumors about why they passed on Thomas. Thomas quickly dispelled both.
The Dallas Mavericks took Mark Aguirre instead of Isiah Thomas in the 1981 NBA Draft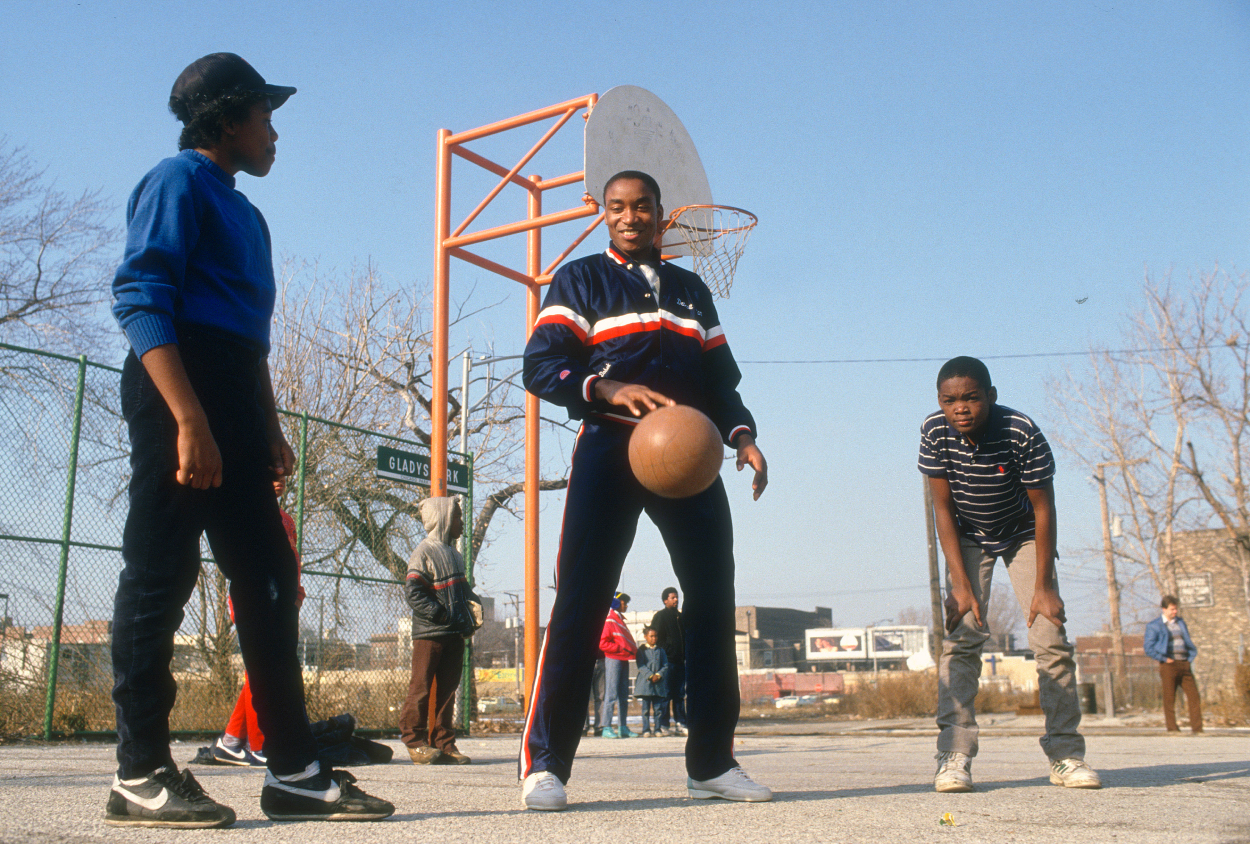 Thomas was the premier playmaker in college basketball when he guided Indiana to a national championship during the 1980-81 NCAA season. According to his college bio, he was only 5-foot-11, 160 pounds, but he put up 16.0 points and 5.8 assists in his second and final season with the Hoosiers. With Thomas running the show, Indiana won its fourth NCAA title, and Isiah was named the tournament's Most Outstanding Player.
After the championship, he decided to move on after two years playing under the legendary Bobby Knight. He made himself eligible for the upcoming NBA draft, where it was expected he would become the top pick.
Back then, the teams that finished last in each conference flipped a coin to see which of the two earned the right to pick first. Dallas, in its second year of existence, won the flip. The Mavericks had won 15 games in its inaugural season.
Dallas selected DePaul's Aguirre, who was the 1980 Naismith College Player of the Year. While it wasn't a completely shocking choice, it surprised some, including Thomas. What was more surprising were the rumors that followed as to why Dallas went the Aguirre route.
Isiah Thomas shot down two rumors why he slipped to the Detroit Pistons
United Press International referred to Thomas as "dumbfounded" after the Mavericks passed on him. According to Thomas, it had nothing to do with Aguirre.
"I can say this for a fact — Mark Aguirre is a great player, and he's a great person," Thomas said after the Pistons took him with the second pick. "There's not going to be another player like Mark Aguirre for a long time."
It had been reported the Mavs soured on Thomas because the point guard wasn't thrilled with the cowboy image of the city. Thomas quickly said that wasn't the case.
"But that wasn't my comment," Thomas said, per UPI. "No one ever asked me anything about Dallas. As far as Dallas people saying those things, I think there was a misunderstanding. I think words got turned around. Both organizations (Dallas and Detroit) have too much class to say something bad about me."
Another rumor floating around was that Knight told Mavericks officials that Thomas' abilities may have been overblown.
"I've heard about that, but I doubt it seriously," said Thomas. "I wouldn't ever question (Knight) about it because it would hurt him too much. I'll never believe it until I hear it from them (the Mavericks). It doesn't bother me because I don't believe it."
Thomas went on to prove the Mavericks wrong
Aguirre had himself one heck of an NBA career as a three-time All-Star. He also won a pair of NBA championships, those coming when he teamed up with Thomas as a member of the Pistons. For his career, Aguirre averaged 20.0 points and 5.0 rebounds. His best year came in the 1983-84 season when he averaged 29.5 points and made his first All-Star team.
As good as he was, he didn't compare to Thomas. Thomas played 13 years, all with the Pistons, and was an All-Star in every season except his last.
He was the leader of a franchise that won two championships and was named the MVP of the NBA Finals in 1990. Thomas led the NBA in assists during the 1984-85 season.
When Thomas retired in 1994, he was third in NBA history with 9,061 assists and fifth in league history with 1,861 steals.
In his first year of eligibility, Thomas was inducted into the Naismith Memorial Basketball Hall of Fame in 2000.