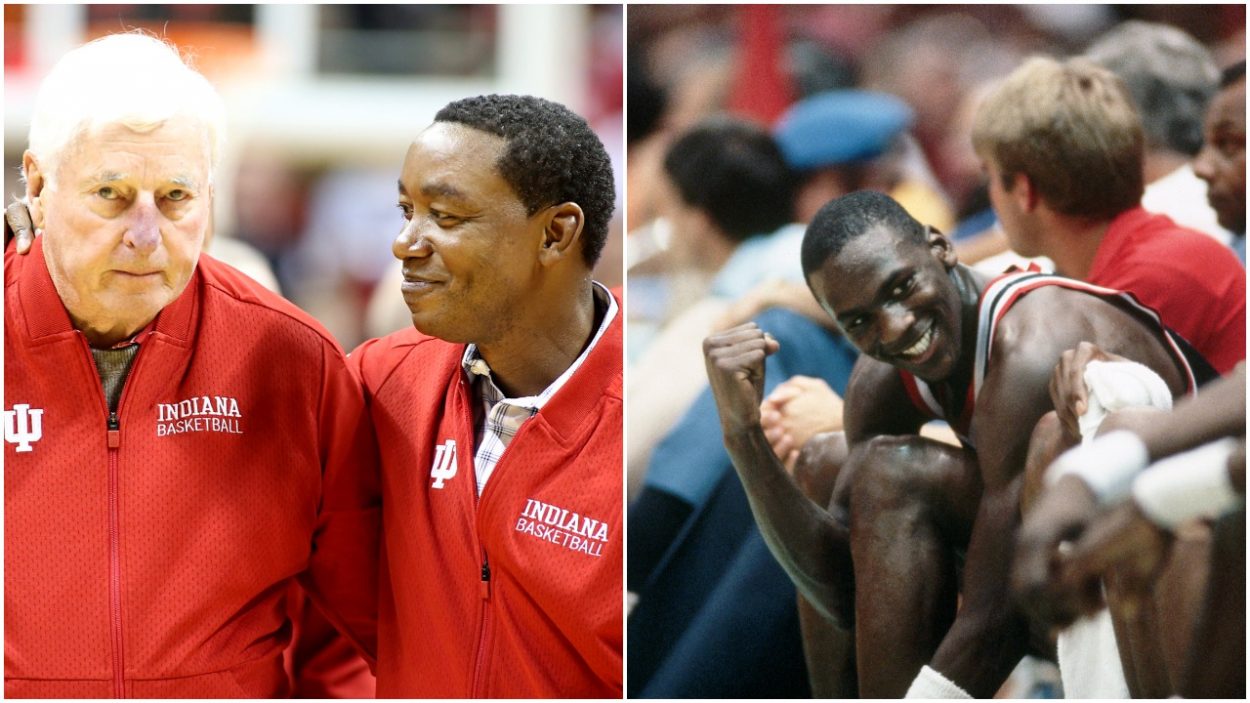 Isiah Thomas Received a Warning About Michael Jordan From Bob Knight: 'This One a Lil' Different Now'
Bob Knight told Isiah Thomas just how uniquely gifted Michael Jordan was and forecasted his greatness before an exhibition game in 1984.
In July 1984, Isiah Thomas and a cast of NBA stars prepared to take on a host of young men getting ready to represent the United States at the Olympic Games in Los Angeles. Among the youngsters was Michael Jordan, the North Carolina standout who, just about three weeks prior, had been selected No. 3 overall by the Chicago Bulls in the draft.
At this point, Thomas had made three straight All-Star teams to begin his career and immediately established himself as one of the best point guards in the NBA. He had the honor of competing against Magic Johnson and Larry Bird.
But on that July day in question, Thomas' college coach, Bob Knight, had a message for his former Indiana Hoosiers star. Knight coached Jordan on the 1984 Olympic team, and he assured Zeke that MJ was unlike any other player he had ever seen before.
Bob Knight coached Isiah Thomas at Indiana University
Long before Michael Jordan led a Chicago Bulls dynasty, Isiah Thomas made a name for himself as the top prospect in the Windy City.
Thomas starred at St. Joseph High School as one of the best guards in the country. His talents caught the eye of legendary Indiana University head coach Bob Knight, who led the Hoosiers to an NCAA title in 1976.
Knight's recruitment of Zeke grew slightly contentious when Thomas' brother nearly fought the Hoosiers head coach after a joke gone awry. However, Isiah headed off to Bloomington after Knight made his mother, Mary, a promise that her son would graduate.
Knight technically broke that promise, but only because Thomas dominated the collegiate ranks. Zeke made All-Big Ten as a freshman. He elevated his play to another level in his sophomore season, leading Indiana to a national title and earning the NCAA Tournament Most Outstanding Player Award in the process.
Thomas' stellar two-year career at Indiana resulted in him going No. 2 overall to the Detroit Pistons in the 1981 NBA Draft. Zeke wasted no time becoming a star in the Association, making the All-Star team in his rookie campaign.
However, shortly after Thomas made the jump to the pros, Knight let him know about another guy ready to take the NBA by storm.
Knight told Thomas that Michael Jordan was a "different" breed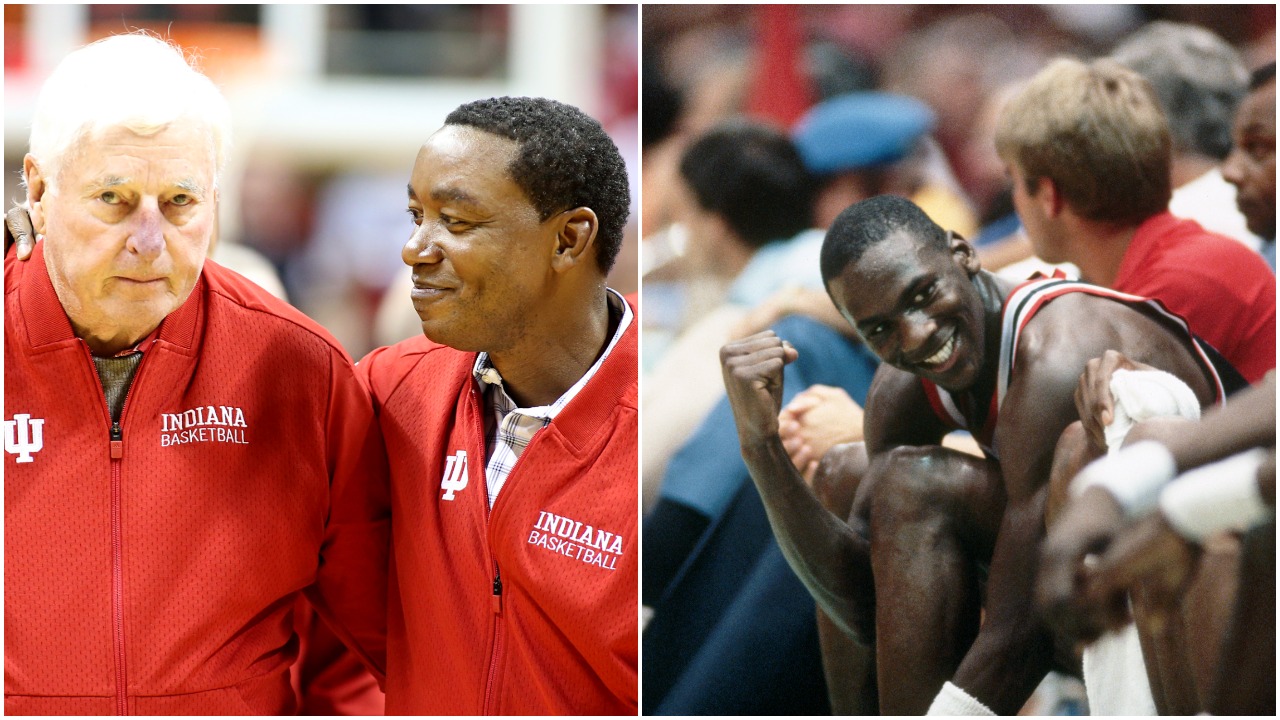 Thomas and the rest of his peers likely wanted to see what the 1984 Olympic men's basketball roster could offer when Team USA and a group of NBA players squared off in July of that year. Knight warned him not to underestimate incoming Bulls rookie Michael Jordan.
During the "Decades" episode of NBA TV's Open Court series, Zeke recalled (h/t YouTube) conversing with his old coach about some of his players. Knight made sure to highlight Jordan with a brief yet telling message.
"This one a lil' different now."

–Bob Knight speaking to Isiah Thomas about Michael Jordan
Jordan showed Thomas and the rest of the NBA stars some of his capabilities. As noted by the Washington Post, he scored 12 points and made one of his vintage, acrobatic layups as the Olympic team crushed Zeke and Co.
That's not all, either. Less than two weeks later, MJ scored 27 points in another exhibition against Thomas. This time, Magic Johnson was Zeke's backcourt mate.
Actually, Jordan and the Olympians won all eight exhibition games against various assortments of NBA talent. They'd then go undefeated in LA en route to the gold medal.
Knight forecasted Mike's greatness, and the UNC product delivered right from the jump. He'd bring his legend to practically unreachable heights, developing an iconic rivalry with Isiah Thomas and the Pistons in the process.
Jordan needed to overcome Thomas and the Pistons to become a champion
Michael Jordan's individual brilliance soon became clear to Bulls fans and everyone else around the NBA. But it took MJ some time to reach the sport's pinnacle, mainly because Thomas and the Pistons stood in his way.
Thomas and the Pistons handed Jordan and the Bulls playoff defeats in three consecutive seasons between 1988 and 1990, including a pair of losses in the Eastern Conference Finals. The "Bad Boys" had a psychological edge over Money and his teammates, with the "Jordan Rules" credo playing a role in wearing MJ down physically and offering Detroit the ultimate test of its collective will.
However, Jordan got over the hump in 1991, sweeping Zeke and the Bad Boys before winning his first title. He ultimately helped Chicago establish one of the greatest dynasties in sports, with the Bulls winning six championships in eight years. In so doing, His Airness became arguably the greatest athlete ever.
Bob Knight saw plenty of special talents during his coaching career, including Thomas. But he knew Jordan was on a tier of his own right from the very beginning.