Isiah Thomas Remembers How Larry Bird Tapped Him On the Shoulder and Fired Him: 'I'mma Give It to My Friend'
During their respective times on the NBA hardwood, Larry Bird and Isiah Thomas crossed paths plenty of times. Their encounters didn't end when they hung up their sneakers, though. Just allow the guard to explain.
During an appearance on The Pivot Podcast, Thomas remembered an encounter that took place in 2003. In his telling, Bird tapped him on the shoulder and informed him that he had done such a good job that he was going to be relieved of his duties.
Let's take a walk down memory lane.
Isiah Thomas said that Larry Bird paid him a compliment before firing him
At this point in time, it's easy to associate Isiah Thomas with his various unsuccessful post-playing jobs. In the early 2000s, though, he took charge of a solid Pacers squad.
For context, Larry Bird had pledged to coach the franchise for three seasons and did just that. When he left, Thomas took over a team that had just reached the NBA Finals. Veteran Reggie Miller headlined the roster, but the club also had some promising young talents, like Jalen Rose, Jermaine O'Neal, and Al Harrington on the roster. In theory, it was Zeke's job to nurture that core and prepare the Pacers for a new era.
If we take the former guard at his word, he was so successful at that task that he ultimately lost his job when Bird returned to the organization as an executive.
"I had some young, some young guys that I had put a little pepper in," Thomas explained on The Pivot Podcast. "And they, they, we ready to win. Now that we're ready to win, you know, they tapped me on the shoulder. Actually, Larry Bird tapped me on the shoulder, and said, you know, 'You've done a good job here. I like what you've done. And, as a matter of fact, I like it so much, I'mma give it to my friend.' And his name was Rich Carlisle. And Rick Carlisle took my team and went and won 61 games."
In complete fairness, we'll never know exactly what happened behind closed doors. We can, however, look at Isiah's body of work and assess his firing.
Was Larry Bird right to fire Isiah Thomas?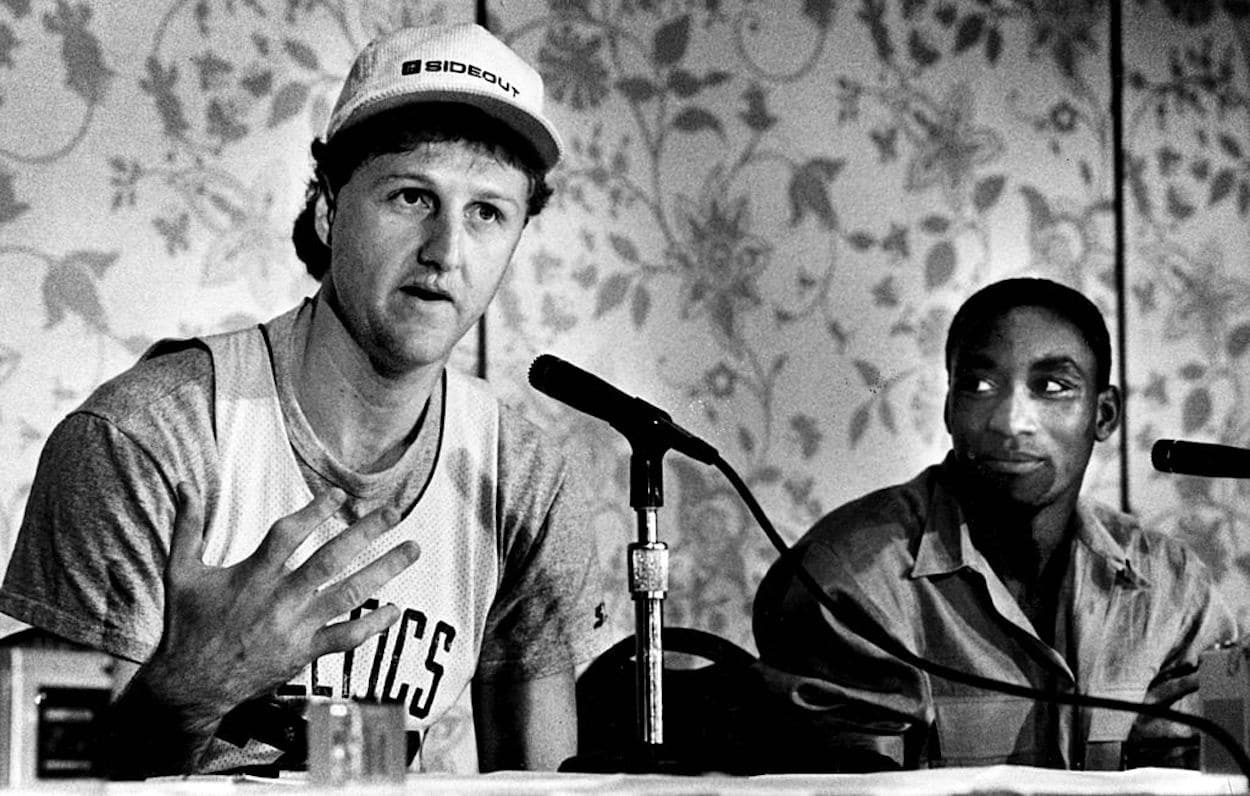 Firing a coach can be a complex decision based on a multitude of factors. So, with the benefit of hindsight, let's revisit Larry Bird's decision to replace Isiah Thomas.
In regards to the on-court results, the Pacers did improve during Zeke's time at the helm. The club went 41-41 during the 2000-2001 campaign, posted a 42-40 record the following year, and finished 48-34 during Thomas' final season in charge. There are two caveats to note, though.
First, Indiana didn't make it any further in the playoffs during any of those outings. The club reached the postseason all three years, but kept crashing out in the first round. It's also worth remembering that during Bird's last year as head coach, the Pacers were 56-26 and lost in the NBA Finals.
While that might seem like an indication that Isiah wasn't exactly thriving, it doesn't seem like he lost the locker room. An AP story from August 2003 (h/t ESPN) makes it abundantly clear that Jermaine O'Neal wasn't thrilled with the coaching change, especially after signing a new contract with the club.
"It was extremely strange. I was taking a nap and got the phone call and was like, let me sit up for a second, you're kidding me," O'Neal explained. "I was extremely excited about coming back into the situation. We have a crew that's been together for a while and is really ready to focus in on trying to get to the NBA Finals. I don't know exactly where my organization is trying to go. I'm kind of dumbfounded right now."
And while those sorts of sentiments can't 100% determine a coach's fate, they do suggest that Thomas was doing something right.
Furthermore, writing this post in 2022 gives me the benefit of hindsight. We now know that, regardless of where he went, Isiah Thomas didn't find a great deal of coaching success. If he were a tactical genius who simply received a bad break, then he would have shown his skills in New York or Florida.
So, while the legendary point guard's phrasing suggests that some nepotism might have been at play, it's likely there was a more base-level explanation. Thomas was an acceptable, if unremarkable, coach, and Larry Bird presumably wanted his own guy at the helm.
That, like it or not, left Isiah without a job.