It Sounds Like Jaire Alexander Doesn't Have a Whole Lot of Respect for Baker Mayfield
Jaire Alexander doesn't sound like he's on a 5-8 team. The Green Bay Packers cornerback is talking like he's playing for a top-notch defense. Either that, or he's expecting very little from the quarterback he's facing Monday night.
The Packers take their 18th-ranked defense (yards per game) into a Monday Night Football matchup against the struggling Los Angeles Rams. It's clear the Packers haven't had an elite defense this year, so Alexander's recent comments might be a little shot at Rams new quarterback Baker Mayfield.
Jaire Alexander and the Green Bay Packers take their slim playoff hopes into Monday's matchup with the Rams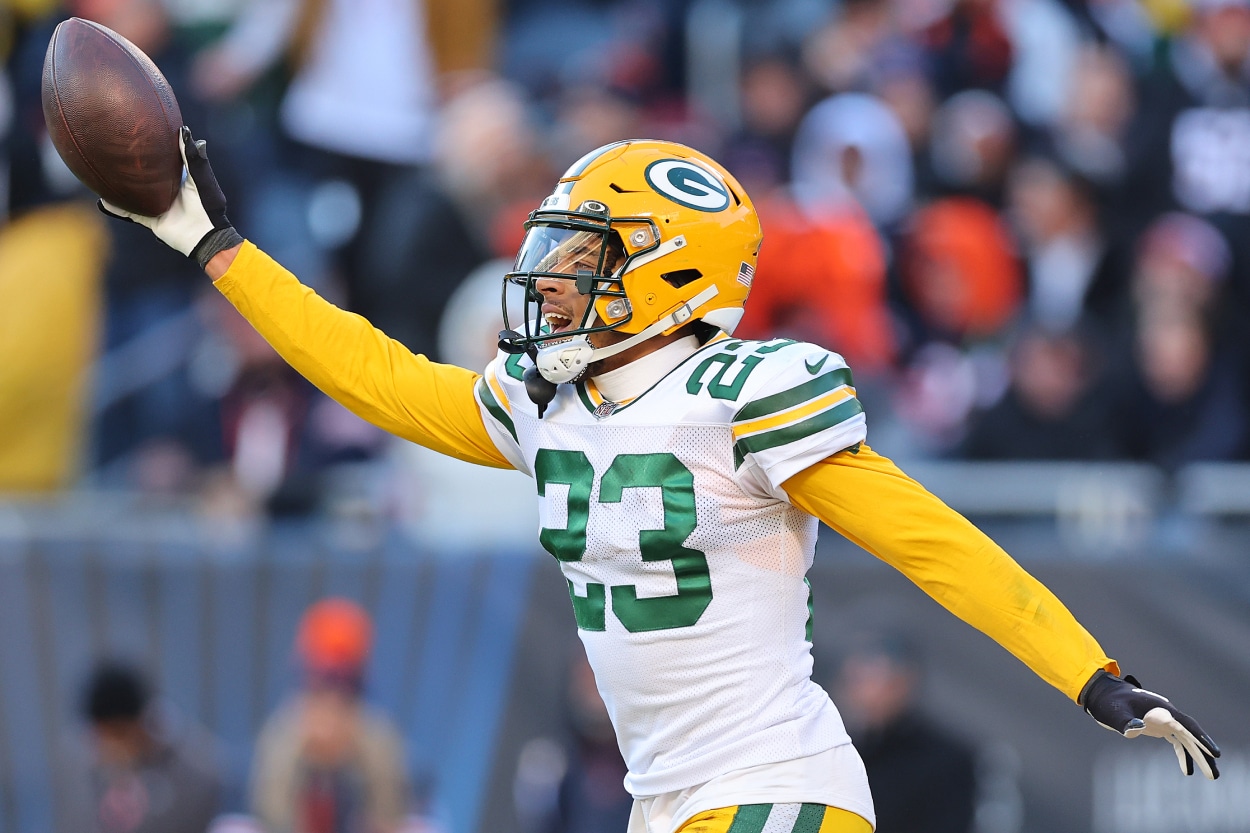 To put it mildly, it's been a rough season for the Packers. Inexperience, injuries, and flat-out poor play have been the key ingredients for Green Bay's disaster recipe. A young receiving corps hasn't been able to fill the void left by the departure of Davante Adams, who was traded by the Packers in the offseason.
Rookie Christian Watson has come on as of late but not before injuries and a case of the drops marred the early part of his season. Romeo Doubs, another promising young receiver, injured his ankle in a Week 9 loss to the Detroit Lions and hasn't played since. He could be back in action Monday.
Rodgers hasn't been sharp. He also hasn't been healthy. The recent bye week should help Rodgers' broken thumb heal. The four-time MVP has uncharacteristically thrown nine interceptions this season, including three in that 15-9 loss to the Lions.
Mathematically, the Packers are still alive for a postseason berth, even at 5-8. The Packers need to win their final four games and still get some help along the way. It all begins with Monday night's game at home against the Rams.
Alexander seemingly takes a shot at Baker Mayfield
The Packers enter Monday's game facing a team that's actually suffered more disappointment this season. The defending Super Bowl champion Rams are 4-9 and have been decimated by injuries to key players, including wide receiver Cooper Kupp and quarterback Matthew Stafford.
Last week, the short-handed Rams signed Mayfield, who was just released by the Carolina Panthers. Two days after signing him, he was in the lineup against the Las Vegas Raiders.
Mayfield led a length-of-the-field drive in the final minutes to lead LA to an improbable 17-16 victory.
Mayfield's heroics don't seem to impress Alexander. Alexander, who has four interceptions in 12 games this year, is expecting picks to come in bunches Monday night.
"With the right game plan and preparation, we should get like seven interceptions," Alexander said, according to Matt Schneidman of The Athletic.
Alexander is a talker. He's not shy about saying what's on his mind. A player on a 5-8 team giving Mayfield some bulletin-board material could make for an interesting sideshow.