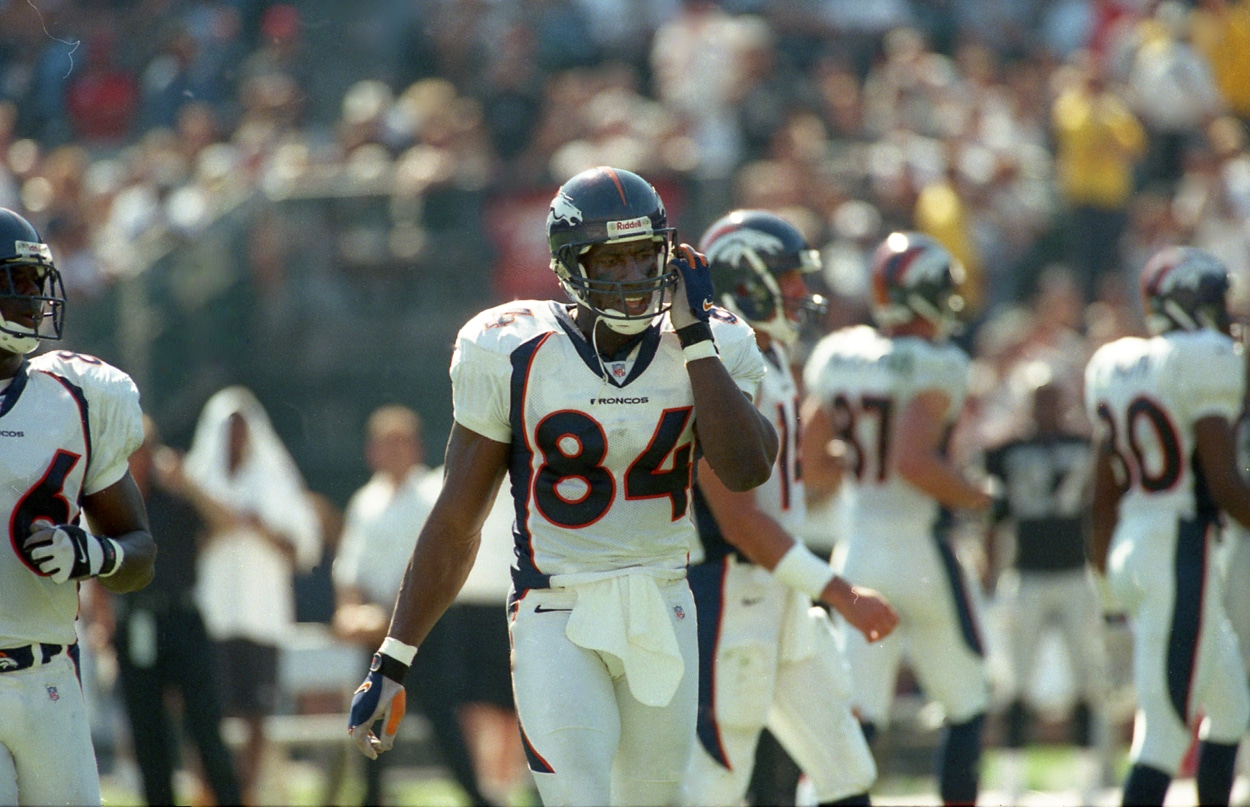 It's Fitting Shannon Sharpe Wound Up in the Media After His Hall of Fame Football Career
All that talking Shannon Sharpe did during his playing days is paying off for him today.
Shannon Sharpe went from underdog to superstar during his 14 years in the NFL. After playing college football (and basketball and track) at Division II Savannah State, his size was a question mark. At 6-foot-2, 228 pounds, he wasn't big enough to play tight end, but he was too big to be a wide receiver.
The Denver Broncos took a shot with Sharpe, the brother of Green Bay Packers wide receiver Sterling Sharpe, selecting him in the seventh round of the 1990 NFL Draft. It took him a couple of years to adjust to NFL life before he blossomed into a superstar. After his 14-year career, it was fitting that he found life in the sports communications field.
Shannon Sharpe broke out in his third NFL season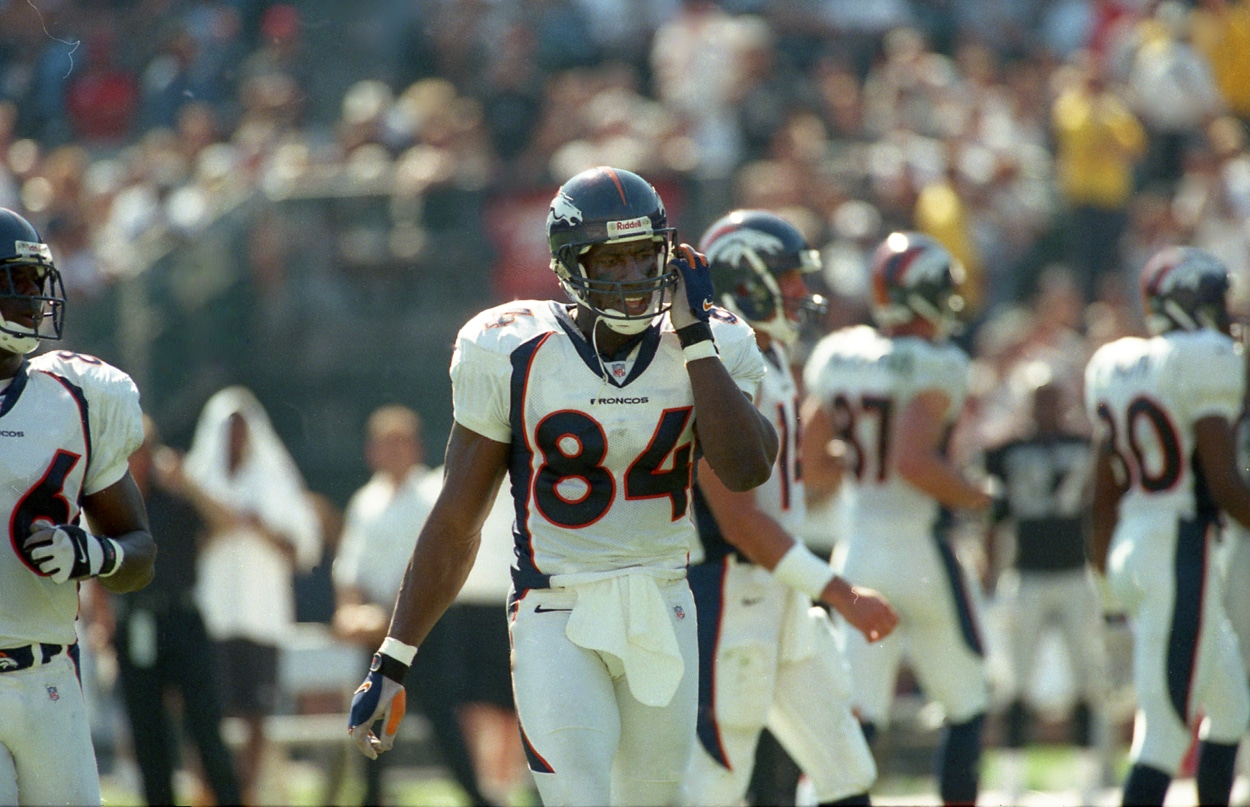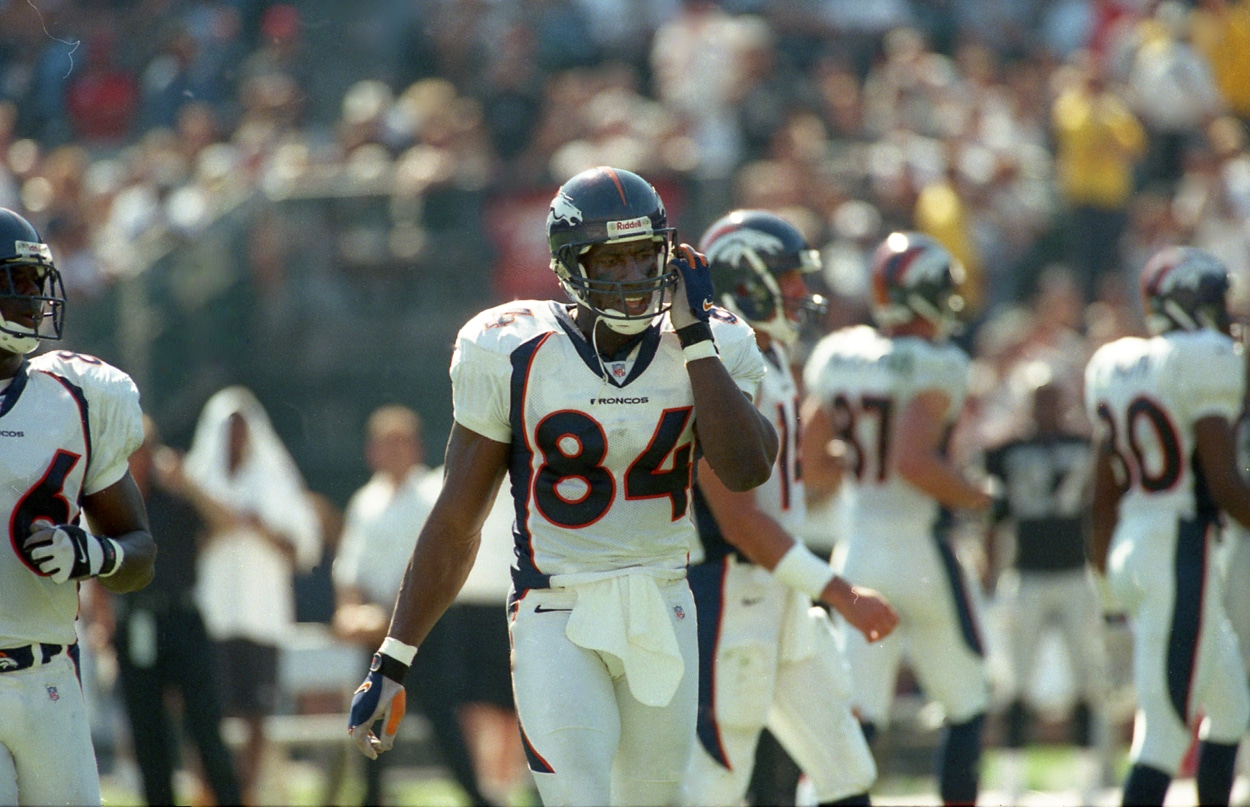 In Sharpe's first two NFL seasons, he had a combined 29 catches and wasn't a significant part of the offense. During his third season, he became more of a focal point in the offense, catching 53 passes for 640 yards and a pair of touchdowns and earning the first of his eight Pro Bowls.
In 1993, Sharpe was named first-team All-Pro after catching 81 passes for 995 yards and nine touchdowns. The following season, Sharpe had a career-high 87 catches and his first 1,000-yard season with 1,010 yards.
He had 10-touchdown seasons in 1996 and 1998 and had a career-high 1,107 receiving yards in 1997. Sharpe won two Super Bowls in Denver but left the Broncos after the 1999 season. He played for the Baltimore Ravens for two years, winning another championship there. After his two seasons in Baltimore, he returned to the Broncos for two more seasons.
In 2002, he had 214 receiving yards in a game against the Kansas City Chiefs that set an NFL record for tight ends. When he retired, his 815 receptions, 10,060 yards, and 62 touchdowns were all records for tight ends. Sharpe is one of five tight ends with more than 10,000 career yards. He was inducted into the Pro Football Hall of Fame in 2011.
It's fitting Sharpe became a member of the media after his playing days ended
Sharpe was known for much more than his blocking and pass-catching ability during his illustrious career. He also was able to get into the heads of his opponents.
Sharpe was a talker on and off the field. He was one player who could always back it up.
Before Super Bowl 33's matchup against the Atlanta Falcons, Sharpe and Atlanta's Pro Bowl cornerback Ray Buchanan went at it with a war of words. It started with them talking about how ugly each of them was and continued from there. Sharpe admitted talking was a big part of his game.
"I like to talk. I admit it," he said then, per The Denver Post. "If I can't talk, I'm crippled, blind, deaf, and dumb." 
Now, all Sharpe does is talk. It's part of his everyday routine as a member of the media. His post-playing career began in 2004 as a member of The NFL Today show on CBS. He's also co-hosted Undisputed with Skip Bayless, and he has his own Club Shay Shay podcast.
Sharpe has always been a talker, and it's paying off handsomely for him today.