Sterling Sharpe Earned a Super Bowl Ring Without Playing in the Championship Game
During the late 1980s and early 1990s, Sterling Sharpe proved to be one of the NFL's best wide receivers. The former Green Bay Packers wideout was forced into an early retirement because of a neck injury after five Pro Bowl seasons in his seven-year career.
Sharpe retired a few years before the Packers knocked off the New England Patriots in Super Bowl 31. Although he never got to play in a Super Bowl, Sharpe was able to earn a championship ring.
How good was Sterling Sharpe?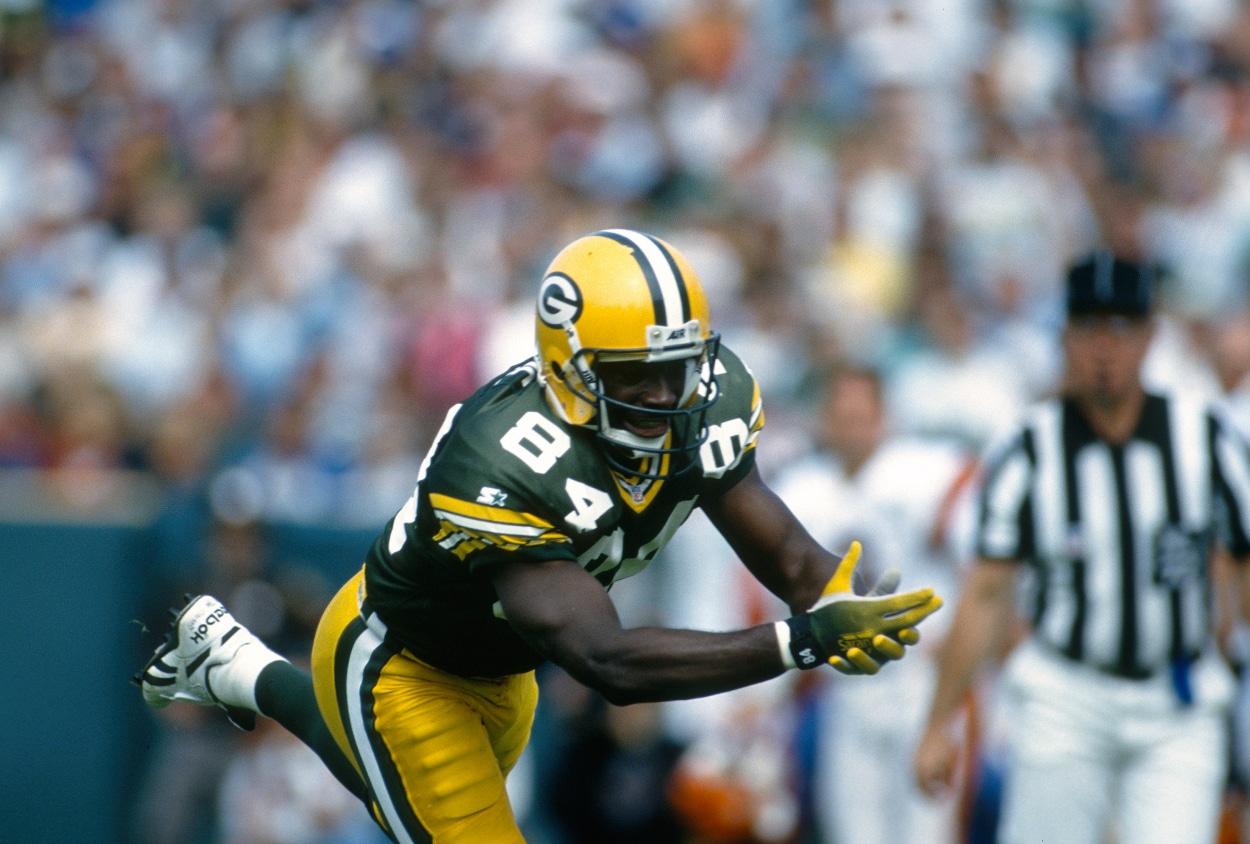 Sharpe played four years at South Carolina, although he had just one reception for five yards as a freshman. The 6-foot, 207-pound wide receiver had his best season as a junior when he had 74 receptions for 1,106 yards and 10 touchdowns. He also added a pair of rushing touchdowns. As a senior, he caught 62 passes for 915 yards and five touchdowns. He had three more scores on the ground.
The Packers selected him with the seventh overall pick in the 1988 NFL Draft. As a rookie, he caught 55 passes for 791 yards as the Packers struggled to find their quarterback. They began the season with Randy Wright before Don Majkowski came in to start nine games.
Majkowski became the full-time starter in 1989 and finished second to Joe Montana in the MVP voting as he and Sharpe became a potent combination. Sharpe was Majkowski's top target and finished with a league-high 90 catches for 1,423 yards and 12 touchdowns.
The '89 season was the first of three All-Pro seasons for Sharpe, who also was a Pro Bowler in five of his seven years. Sharpe never missed a game in his NFL career, but a neck injury forced him into retirement after the 1994 season. He played all 16 games that season and led the league in touchdown receptions with 18.
Sharpe's best season came in 1992 when he led the NFL in catches (108), yards (1,461), and touchdowns (13).
Despite not playing in a Super Bowl, Sharpe still got his ring
If his career weren't cut short, Sharpe would likely be a shoo-in for the Pro Football Hall of Fame. He still has a chance, but seven years of action and very little playoff success won't do him any favors.
Shannon Sharpe, the Hall of Fame tight end and younger brother of Sharpe, won three Super Bowls during his career. He won two with the Denver Broncos and added a third with the Baltimore Ravens. He said his first one will always be the sweetest.
"I've always said, no matter how many rings I won after the first one, the first one would always be the most important because there's nothing like the first," Sharpe said in 2002, per ESPN. "Your first car, you'll always remember it. Your first girlfriend — I don't care if you marry Halle Berry — you'll always remember your first girlfriend. The first one was the greatest feeling that I had."
Shannon gave that first ring to his brother after Sterling was forced into retirement. During Shannon's Hall of Fame speech, he addressed his sibling and made a push for him to get his own Hall call someday.
"If fate had dealt you a different hand, there is no question in my mind we would have been the first brothers to be elected into the Hall of Fame," Shannon said, as transcribed by LombardiAve.com. "The 44 men and women that I thanked and congratulated earlier for bestowing this prestigious honor upon me, all I do is ask in the most humble way I know how. The next time you go into that room, or you start making a list, look at Sterling Sharpe's accomplishments."