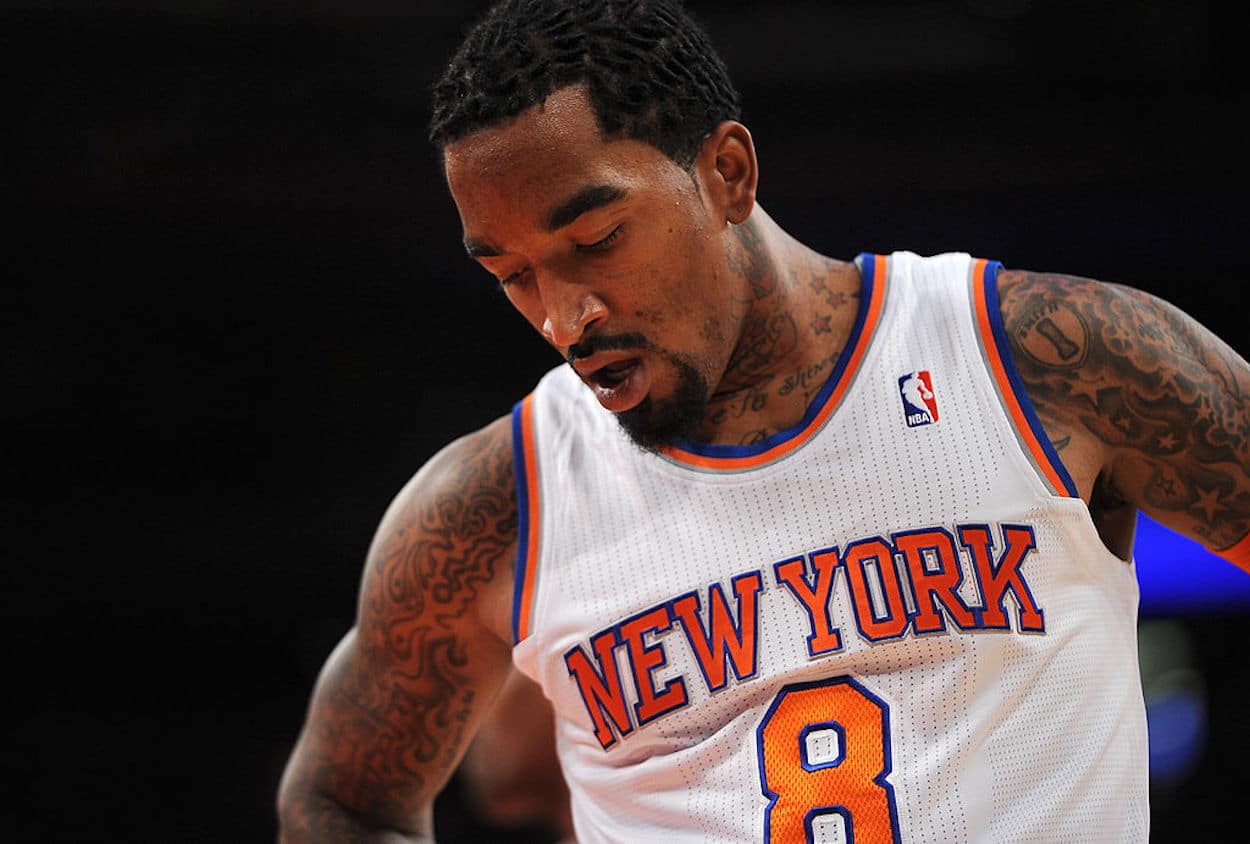 J.R. Smith Received a Brutal 'Welcome to the NBA' Moment When Byron Scott Called Him Out in Front of the Entire Locker Room
While NBA coaches are always going to call out their players, J.R. Smith still remembers how Byron Scott took things a bit too far.
While he didn't always make the best decisions, J.R. Smith put together a solid NBA career. The guard spent 17 seasons in the Association, winning two championships along the way. There was a time, though, when he was the new kid on the block.
Byron Scott, it seems, knew that and pushed the rookie a little too far.
During a recent appearance on the Iman Amongst Men podcast, Smith reminisced about his "welcome to the NBA" moment. While it wasn't a happy memory, he certainly learned from the experience.
Byron Scott apparently took some verbal liberties with a young J.R. Smith
If you've listened to your fair share of interviews, you'll know that just about every pro athlete has a moment when they realize they've made it to the big leagues. J.R. Smith is no exception to that reality.
On the Iman Amongst Men podcast, a listener submitted a question about a time when the guys felt challenged as a man. For J.R., that moment came early in his NBA career.
"Mine was [as] a rookie, bro," the former guard explained. "I was 18. I was in the locker room in San Antonio, and Byron Scott went off on me. … He called me all types of bitches, like all types of s***. Ginobli got off on me. He was getting off on me, and, you know, this is like, I'm a rookie. So I didn't, I thought this was like the league."
Things were made worse by two compounding factors. First, Smith came directly to the NBA from high school, meaning he had never dealt with this sort of confrontation. Secondly, he got called out in front of the entire locker room.
"If he would have said what he said to anyone else in that locker room, 30 years old, they would have been fighting," Smith continued. "And for me, I take that s*** to heart because, bro, you like, you a 40-year-old Black man at the time. I'm an 18-year-old Black kid. You gonna expose me and do me like that in front of all these people like that? There's trainers, coaches, my peers, other motherf*****s I'm playing with, all of this s***. … You gonna treat me like, not even tweak on me, like you got every right to tweak on me if I'm playing like s*** and all that and critique my game and all that. But you gonna like try to demasculate [sic] me. … Once you start calling me a bitch and 'you soft' and all this other s***, I'm like."
With all of that being said, though, the guard did manage to come away from that experience with a lesson.
"One of the vets was like, 'Bro, don't ever let no man talk to you like that. I don't give a f*** if he's your boss or your coach or whatever,'" Smith recalled.
Smith's story can show us something about how to construct a team
Although it seemed like things resolved without incident — Smith spent two seasons in New Orleans before having a solid career, and Scott kept coaching on and off until 2016 — listening to the guard makes it clear that the interaction stuck with him. As fans, it's easy to look at a roster as a collection of talent. This anecdote, however, shows there's more to it.
Coaches and the way they speak to players matter. Next time your favorite team is searching for a new coach and spending what feels like an eternity debating between two different leadership styles, remember Smith's experience.
Similarly, having good veterans in the room who can put their arm around a rookie does matter. While they shouldn't be receiving big-money contracts and getting massive amounts of minutes, it's important to have those guys sitting on the end of the bench. Team building, as easy as it can be to write off that concept as a fluffy group of intangibles, does matter.
Let J.R. Smith's story about Byron Scott be a reminder of that reality.
Like Sportscasting on Facebook. Follow us on Twitter @sportscasting19 and subscribe to our YouTube channel.