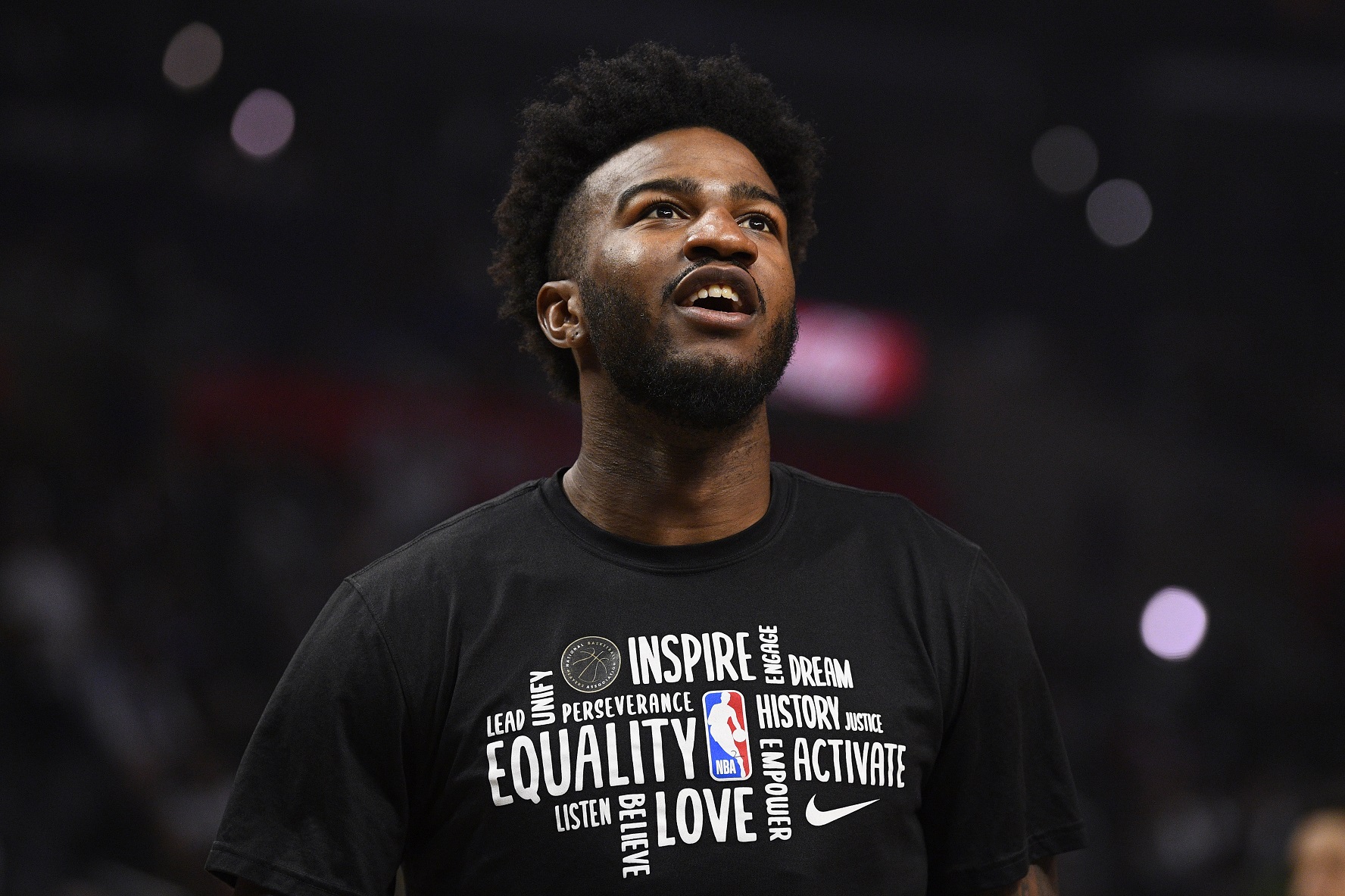 Ja Morant Hatches an Epic Plan for Winning the NBA Slam Dunk Contest
The Memphis Zoo has named a giraffe after NBA Rookie of the Year Ja Morant, who has 'big' plans for a future slam dunk contest.
Ja Morant's rookie season in the NBA couldn't possibly have gone much better. Morant rewarded the Memphis Grizzlies' faith in him by establishing himself as a solid point guard with a great future.
One might say things are looking up for the Grizzlies. But they won't be looking up nearly as much as Morant is going to have to look up a few years from now when he greets his new "son."
Ja Morant is coming off a Rookie of the Year season
Memphis Grizzlies guard Ja Morant was an easy pick for NBA Rookie of the Year when the voting was released at the conclusion of the 2019-20 season. Although overall No. 1 draft pick Zion Williamson led all rookies in scoring per game, Morant played a full season and demonstrated a strong all-around game.
Morant averaged 17.8 points, a rookie-best 7.3 assists, and 3.9 rebounds a game on his way to securing 99 of the 100 first-place votes in the balloting.
Morant posted a 30-point game against the Brooklyn Nets in just his third NBA game. That would stand as his season high, but there were other highlights along the way. After the pandemic interrupted the season, Morant showed up strong at the bubble in Orlando by averaging 19.0 points and 9.9 assists over eight contests. He showed durability by logging at least 36 minutes in all but two of those games.
It was a challenging climb from high school to the NBA
The outstanding rookie season was the culmination of lots of hard work for Memphis Grizzlies point guard Ja Morant.
Morant was a standout in high school in Sumter, South Carolina, leaving as the program's career scoring leader and a two-time all-state selection. However, he was lightly recruited by colleges, with his only offer from a major conference coming from the University of South Carolina.
Morant's fortunes changed when Murray State assistant James Kane spotted him at a camp the summer before Morant's senior year. Morant signed and then spent two whirlwind seasons on the court.
As a freshman, Morant became the second player in school history to post a triple-double in a game. For the season, he averaged 12.7 points, 6.5 rebounds, and 6.3 assists per game to earn all-conference honors.
As a sophomore, he set the school record with 18 assists in a game and hit for 40 points in another contest. Morant ended the season by being selected the Ohio Valley Conference Player of the Year. He averaged 24.5 points, 5.7 rebounds, and 10 assists for the season, after which he declared for the draft.
Ja Morant is already a Memphis celebrity
Memphis Grizzlies guard Ja Morant has already racked up a bunch of basketball honors and even some civic recognition, including the key to the city in his hometown. But he received a really high honor this week, one that will top out at between 16 and 20 feet.
The Memphis Zoo announced that its new baby giraffe has been named "Ja Raffe" in honor of Morant. Ja Raffe was born on Nov. 10 and is one of seven giraffes in the herd. Morant visited on Friday and referred to Ja Raffe as his son.
Morant also unveiled his plan for scoring a sure victory during a future NBA All-Star weekend.
"If I ever do the dunk contest, I'm going to take my son with me," he said. "I'm going to jump over him."
Like Sportscasting on Facebook. Follow us on Twitter @sportscasting19.