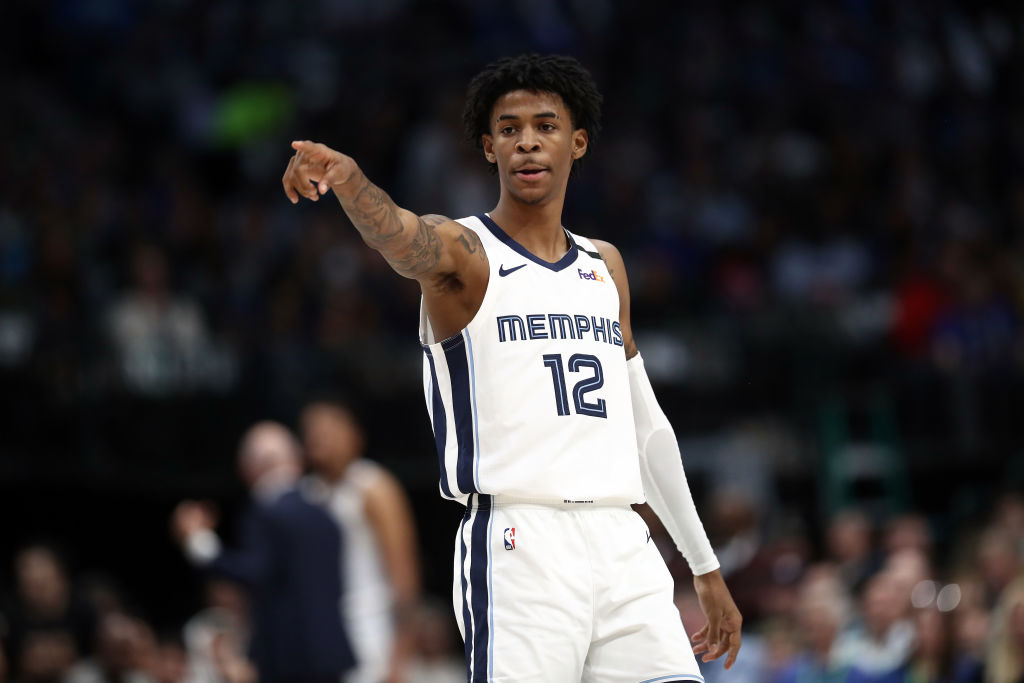 Ja Morant's $17 Million Basketball Career Started With a Trip to the Snack Bar
If not for a 2016 trip to the snack bar, Ja Morant's $18 million NBA career could have gone down a much different path.
While the NBA hasn't played a game in more than two months, we still saw plenty of action this season. Giannis Antetokounmpo continued his dominance, LeBron James and Anthony Davis teamed up with the Lakers, and Zion Williamson belatedly burst onto the scene. The Pelicans rookie may have stolen most of the headlines, but, in Memphis, Ja Morant has also established himself as an incredibly promising rookie.
Morant may be the favorite for the 2019 NBA Rookie of the Year title, but he wasn't always a well-known player. In fact, his $17 million basketball career would never have gotten off the ground without a trip to the snack bar.
Ja Morant's road to the pros
These days, most NBA stars attend a season with the same few marquee college programs before entering the NBA draft. Ja Morant, however, did things a bit differently.
Rather than playing in the ACC or the Big Ten, Morant headed to Murray State. He posted solid if unremarkable numbers during his first season in the Ohio Valley Conference, averaging 12.7 points, 6.5 rebounds, and 6.3 assists per game. During his sophomore season, however, Morant would take things to the next level.
After scoring an invitation to Chris Paul's Elite Guard Camp, Ja Morant emerged as one of the NCAA's top prospects. His scoring output jumped to nearly 25 points per game; he also pulled down an average of 5.7 rebounds and dished out 10 assists every time he hit the court. After a strong postseason, which included a marquee performance on the NCAA Tournament's national stage, Morant entered the 2019 NBA draft. The Memphis Grizzlies, of course, selected him with the second overall pick.
A life-changing trip to the snack bar
While Ja Morant has grown into an NBA star, he wasn't always a household name. In fact, he might not have even landed at Murray State if not for a trip to the concession stand.
During a 2016 scouting combine, Murray State assistant coach, James Kane, got hungry. He stepped away from the action to make a quick run to the snack bar when he heard someone playing basketball in a side gym. His curiosity overpowered his stomach and decided to take a look.
The coach saw a young Ja Morant playing three-on-three and was immediately impressed. The guard wasn't part of the combine, but Kane didn't care; he promptly reported his discovery to his boss, head coach Matt McMahon.
"He said, 'this kid's gonna be a pro," McMahon told NBA.com. "So I jumped in the car and got up there the next day. We tracked him all through July." They would secure the guard's commitment, and the rest is history.
That trip to the snack bar made Ja Morant millions
While Ja Morant's NBA career has barely gotten off the ground, it's safe to assume one thing: Kane's trip to the snack bar has already made the guard very rich.
As the second-overall pick of the 2019 NBA draft, Morant signed a base two-year, $17.8 million deal with the Memphis Grizzlies. The contract also includes two consecutive team options, which, given his performance, you'll have to assume they'll pick up. Those additional years would bring his total payday to almost $40 million. Morant also has a deal with Nike and, at this rate, shouldn't have a problem landing more and more lucrative endorsements.
Ja Morant's rookie year may have been cut short, but the guard doesn't have anything to worry about. Thanks to one assistant coach's trip to the snack bar, the guard is on track for a long and prosperous NBA career.