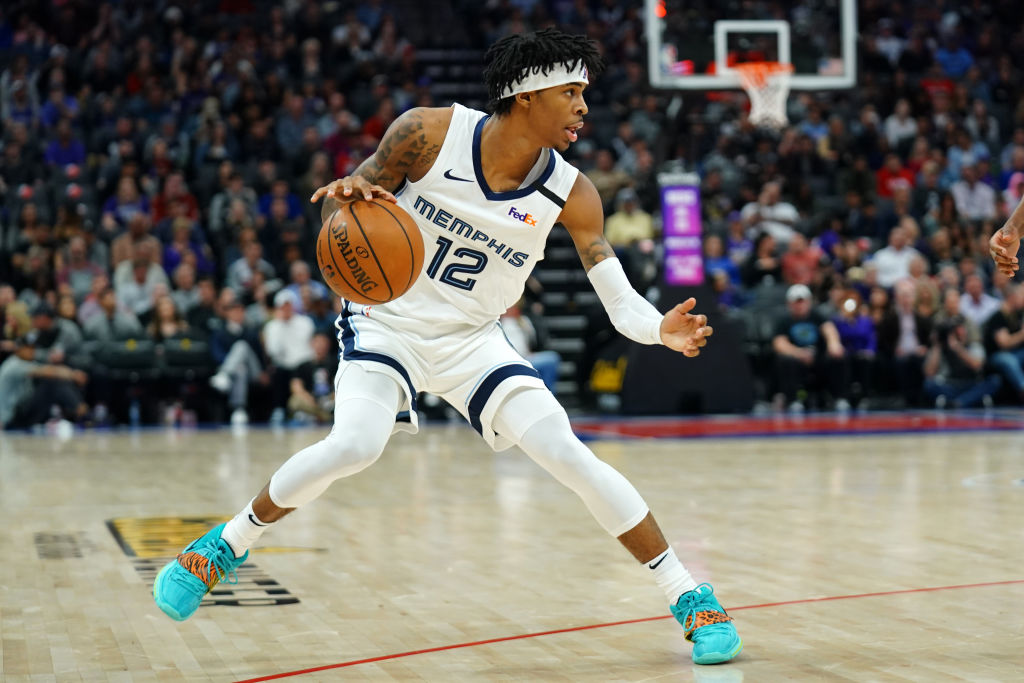 Ja Morant's Rookie Season is More Impressive Than You Realize
Ja Morant is the favorite for NBA Rookie of the Year, but the guard's season might be even more impressive than you realize.
Although we haven't seen NBA action in over a month, there's still plenty of basketball fans to debate. Even if the season doesn't return, the MVP conversation should boil down to LeBron James and Giannis Antetokounmpo; the Greek Freek has the statistic edge, but some have given King James extra points for his leadership. In the Rookie of the Year race, however, Ja Morant seems like the clear favorite.
Although Kendrick Nun might disagree, Morant has made a strong case for himself this year. In fact, his rookie season might be more impressive than you realize.
Ja Morant's road to the NBA
While he's now a rising star in the NBA, Ja Morant didn't always receive a great deal of attention on the hardwood. If anything, he was underappreciated for much of his early career.
In high school, Morant was his team's star player. Although he couldn't dunk until his senior year, the guard still scored at will; he potted almost 2,000 points during his Crestwood High School career. Despite that prowess, virtually no big-name colleges came calling.
Due to a chance encounter, though, Morant eventually landed a scholarship to Murray State. While his freshman season was solid, if unremarkable, things started to change during his second year on campus. After earning an invitation to Chris Paul's Elite Camp, Morant took his game to the next level. His scoring jumped to nearly 25 points per game; he also dished out an average of 10 assists every time he hit the hardwood.
Morant dominated the Ohio Valley Conference and carried Murray State to the conference title; his heroics continued in the NCAA Tournament, as the Racers knocked off Marquette. When the season ended, the guard declared for the NBA draft. In the space of two seasons, he had gone from an unheralded recruit to a highly-rated lottery pick.
Kendrick Nunn's claim to the Rookie of the Year crown
During the 2019-20 NBA season, Ja Morant averaged 17.6 points and 6.9 assists per outing, making him the frontrunner for the league's Rookie of the Year crown. Miami Heat guard Kendrick Nunn, however, isn't buying into the hype.
"I think people will say that [Morant] is Rookie of the Year, but I don't believe it," Nunn explained to Ira Winderman of the South Florida Sun-Sentinel. "The most value should be in the wins. And we're both starting guards on teams, and our team has been holding it down. We're a playoff team, so go ahead and give that Rookie of the Year to Kendrick Nunn."
While Nunn's stats are respectable—he's averaging 15.6 points and 3.4 assists per night—and the Heat have won more games than the Grizzlies, Morant wasn't too impressed with his argument. On Twitter, he simply responded with a laughing GIF.
Ja Morant's rookie season might be better than you thought
Despite Kendrick Nunn's argument, Ja Morant is still the favorite for NBA Rookie of the Year honors. The Grizzlies guard ranks second among first-year players in scoring per game and first in assists; only Zion Williamson is recording more points per outing, but it's tough to give someone who only played 19 games the crown.
Morant shines beyond the pure counting numbers, though. It's worth remembering that oddsmakers initially predicted the Grizzlies would win roughly 25 games this season; when the campaign was suspended, Memphis was hanging on to the eighth playoff spot in the Western Conference.
The rookie guard isn't merely a passenger, carried by the rising tide, though. He's the Grizzlies' key man, playing more minutes per game than anyone else on the roster. He's being relied upon and answering the call with both efficacy and efficiency; as StatsSAC spelled out on Grizzly Bear Blues, Morant is "combining overall production and quality of play on a nightly basis."
At this point, it's unclear how the rest of the NBA season will play out. Regardless of what happens to the end-of-year awards, though, Ja Morant looks like he's going to do great things.