Jackie Robinson Was Crazily NOT the Last Dodgers Player to Wear No. 42
Brooklyn Dodgers legend Jackie Robinson is known for many things. He famously broke Major League Baseball's color barrier in 1947 and was also the first Black man inducted into the Hall of Fame in 1962. There's his work in the civil rights movement and his influence in the business world — the list goes on and on. But one of the biggest things associated with the six-time All-Star is his famous No. 42, which is the only number retired throughout MLB.
So those are things that people know, right? However, what some may not be aware of is the fact that Jackie Robinson was actually not the last person to wear the No. 42 for the Dodgers, who made a mistake and issued it to pitcher Ray Lamb in 1969.
Jackie Robinson famously wore No. 42 for the Brooklyn Dodgers for 10 years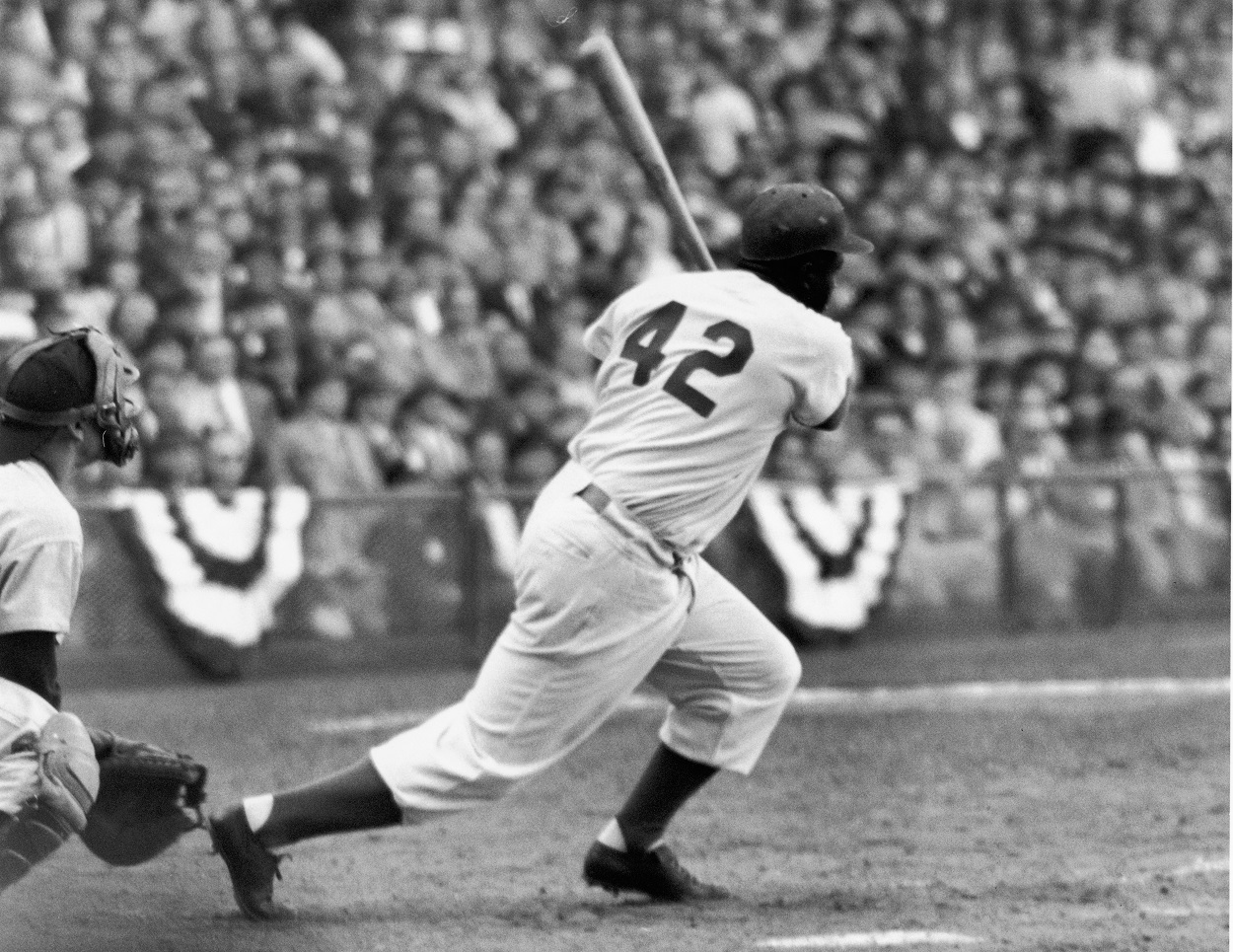 Signed by the Brooklyn Dodgers in 1945, Jackie Robinson played one season for the minor-league Montreal Royals before making his big-league debut on April 15, 1947.
Robinson made an immediate impact on the franchise, winning MLB Rookie of the Year (the award encompassed the entire league until 1949) and helping the Dodgers to the World Series, which they lost to the crosstown Yankees in seven games. No. 42 won NL MVP two years later, hitting a league-best .342 with 16 home runs and 124 runs batted in while stealing a league-high 37 bases.
Over the course of 10 seasons with the Dodgers, Robinson had a slash line of .311/.409/.474 with 137 home runs, 734 runs batted in, and 197 stolen bases. He also helped the franchise to its first-ever World Series title in 1955.
Pitcher Ray Lamb was the last to wear No. 42 for the Dodgers, not Jackie Robinson
Jackie Robinson retired following the 1956 season, at which point the No. 42 jersey when into hiding for the next dozen years.
However, on August 1, 1969, the Dodgers' equipment manager made a mistake and actually reissued the number to relief pitcher Ray Lamb, who'd just been called up to the big leagues after spending three seasons in the minors. Lamb, who'd grown up in the area and had worn No. 42 at USC, once told the Los Angeles Times that he didn't think much of it when he first put the famous number on.
And there really wasn't much fuss made about it as the Dodgers, who'd left Brooklyn a year after Jackie Robinson retired, were still trying to build an identity in LA and weren't all that interested in honoring stars from Brooklyn. In his first game wearing No. 42, Lamb pitched 3.1 scoreless innings against the Chicago Cubs and gave up just one hit.
He didn't give up a single run until his fourth big-league appearance and gave up just three runs over 15 total innings in 10 games, going 0-1 with a 1.80 ERA and 11 strikeouts. Not a bad way to start your career, right? But the magic would end there, just as his run with No. 42 would. Realizing they would one day retire the number, the Dodgers took back No. 42 and gave him No. 34.
And do you know who wore No. 34 for the Dodgers? That's right…Fernando Valenzuela. So that makes Ray Lamb the only player in Dodgers history to wear two numbers that will be never be worn again as the franchise has retired both.
Lamb played one season wearing No. 34 and was then traded to the Cleveland Indians, for whom he played three seasons before a shoulder injury cut his career short.
The number was finally retired by the franchise in 1972 and by all of MLB in 1997
RELATED: Everyone Knows Jackie Robinson Broke the Color Barrier but He Also Made Broadcasting History and Even Has an Asteroid Named After Him
The Dodgers finally came to their senses and retired Jackie Robinson's No. 42 on June 4, 1972, the same night Sandy Koufax's No. 32 and Roy Campanella's No. 39 were taken out of circulation. Robinson passed away just a few months later.
In 1997, on the 50th anniversary of the day Robinson made his debut with the Dodgers, No. 42 was retired throughout Major League Baseball.
Stats courtesy of Baseball Reference