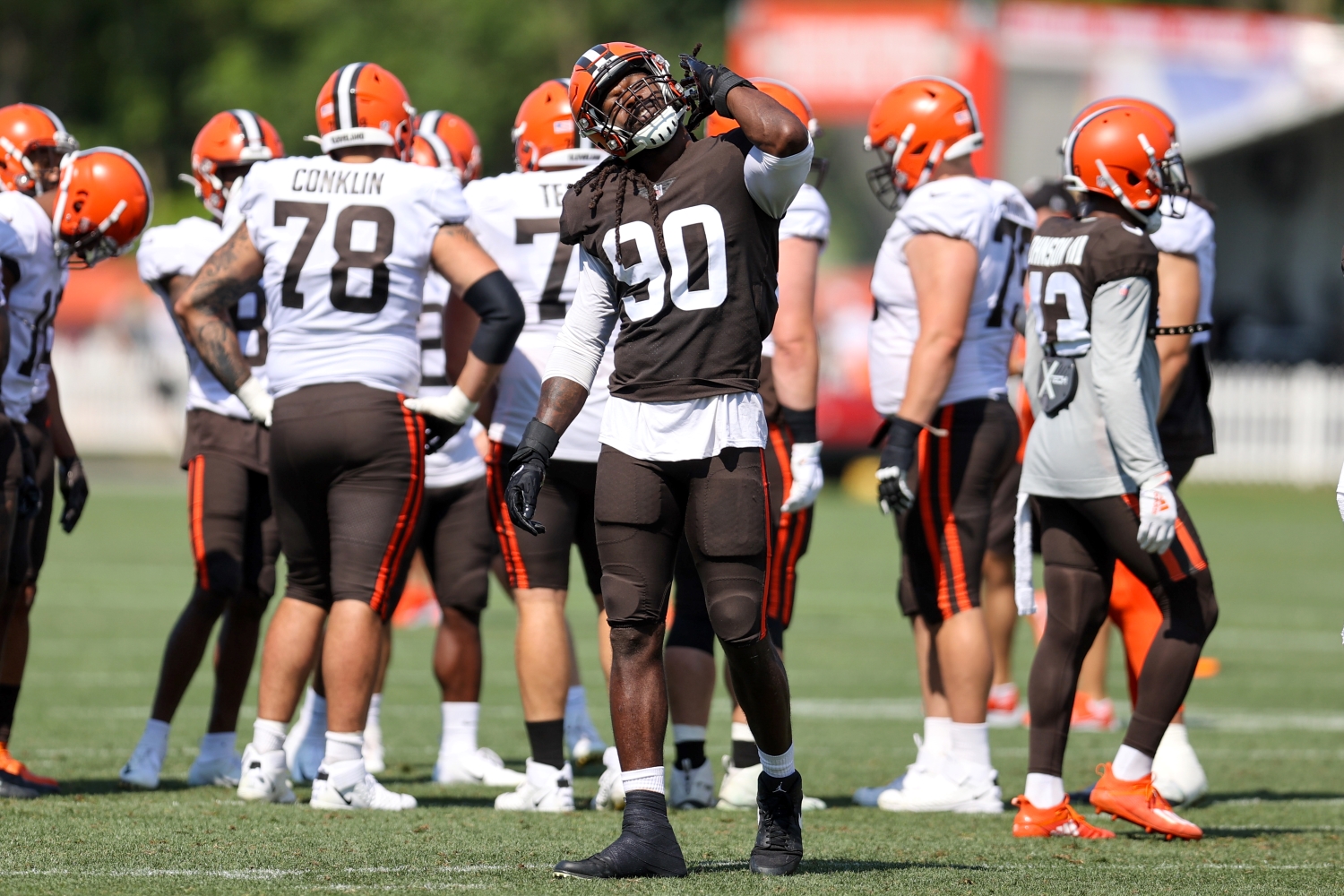 Jadeveon Clowney Just Put a Target On His Back by Firing a Disrespectful Shot at a Select Group of NFL Players
Jadeveon Clowney's disrespectful comment about NFL guards may come back to bite the defensive end. Can the former No. 1 pick resurrect his career with the Cleveland Browns?
Jadeveon Clowney became a viral sensation thanks to a ferocious hit he made against Michigan during his sophomore season at the University of South Carolina.
Ironically, he's rarely made that type of impact at the pro level.
Despite going No. 1 overall in the 2014 NFL Draft, Clowney hasn't exactly delivered on the hype that surrounded him during his college days. In desperate need of a bounce-back campaign, the talented defensive end will try to resurrect his career with a Cleveland Browns team that has legitimate Super Bowl aspirations.
Although head coach Kevin Stefanski runs a tight ship, that didn't stop Clowney from firing a disrespectful shot at some of his fellow NFL players. And by making such a sweeping generalization that's blatantly wrong, the 29-year-old just put a huge target on his back heading into the most pivotal season of his career.
Jadeveon Clowney desperately needs to get his career back on track in Cleveland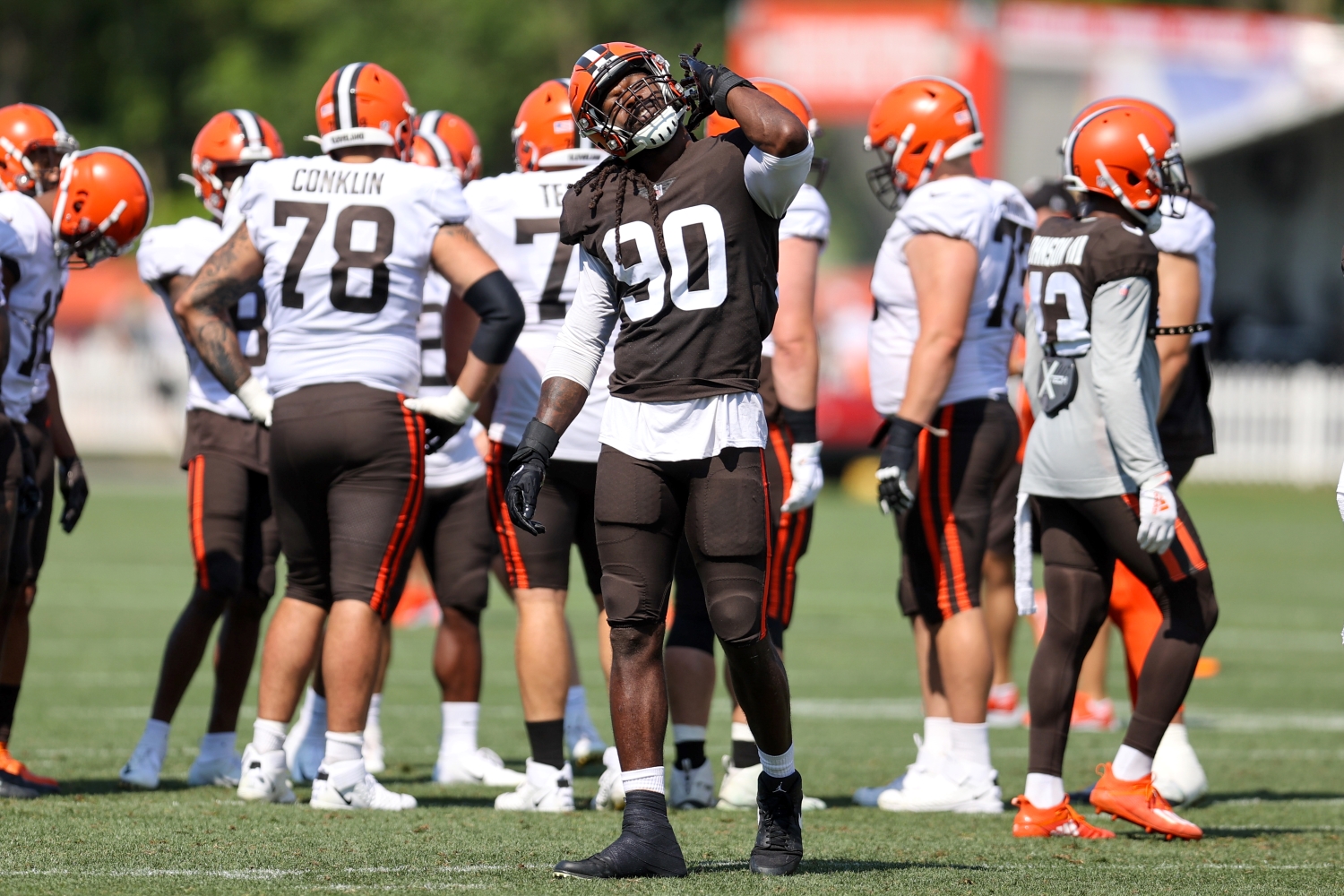 The Houston Texans thought they landed a generational talent when they took Clowney with the first overall pick. While he excelled at stopping the run and disrupting plays, he never developed into a top-flight pass rusher. In fact, he only recorded 29 sacks across five seasons with the Texans.
Considering Khalil Mack has racked up 70.5 since going four picks after Clowney, it's clear Houston didn't secure the best sack artist in the draft.
Still, that didn't stop other NFL franchises from taking a chance on the 6-foot-5, 255-pound edge defender. But neither the Seattle Seahawks nor the Tennessee Titans got much pass-rush production out of Clowney. After totaling just three sacks and 13 quarterback hits for the Seahawks in 2019, the South Carolina native failed to record a single sack during his eight-game 2020 season with the Titans.
Coming off another disappointing, injury-plagued year, Clowney has a prime opportunity to remind everyone why he went ahead of every other player in the 2014 draft. By joining a Browns defense that features superstar defensive end Myles Garrett, he put himself in a position to get plenty of one-on-one pass-rush opportunities.
However, Clowney better prepare to face some highly motivated foes this season.
The veteran defensive end just put a target on his back by firing a disrespectful shot at NFL players around the league
Facing the most important season of his NFL career, Clowney should be focused on staying healthy and producing for a Cleveland team that has legitimate Super Bowl aspirations.
Instead of taking a humble approach heading into the year, the 29-year-old fired a disrespectful shot at a group of NFL players he will have to face on a weekly basis.
"We love that matchup," Clowney said Thursday about going up against guards. "We feel like they're the unathletic guys. That guard position, they're not real athletes down there. So they're just physical and maulers. But we try to get in there and create those matchups for certain guys, and hopefully we get some wins."
Not real athletes?
Tell that to Indianapolis Colts star Quenton Nelson, who has the strength, power, and movement skills to make NFL defensive linemen look like JV players. Joel Bitonio, one of Clowney's new teammates, has made a lucrative living thanks to his athleticism and ability to play both the guard and tackle positions. New England Patriots right guard Shaq Mason ran a 4.99 40-yard dash coming out of Georgia Tech and excels at making blocks on the move.
Clowney's comments simply don't add up. While plenty of guards get by on physicality and strength, others use their footwork, quickness, and agility to get the job done. To say those players are not real athletes is downright insulting, and you can bet guards around the league took notice of what he had to say.
In essence, Clowney put a target on his own back by providing bulletin-board material ahead of the upcoming season.
Clowney is the perfect example of how elite athleticism don't necessarily translate to NFL success
Talk about a player who needs to eat a slice of humble pie.
For all of the hype surrounding Clowney coming out of college, he hasn't come close to living up to expectations. Once touted as the next Lawrence Taylor, it's obvious that he won't join the New York Giants legend in the Pro Football Hall of Fame one day.
And that's exactly why it can be dangerous to bet on athleticism.
Clowney stands out as an example of someone who seemingly has all the physical tools needed to become a star. Yet his rare combination of height-weight-speed hasn't led to dominant results on the field.
At the end of the day, many other factors must be taken into account when evaluating a player. Sure, athleticism helps. But what about technique? What about durability? What about the drive to be the best?
Scouts and general managers fall in love with prospects who put up fast 40 times and jump out of the gym. In some situations, that pays off. Other times it backfires.
Just like in the case of Jadeveon Clowney.
All statistics courtesy of Pro Football Reference.