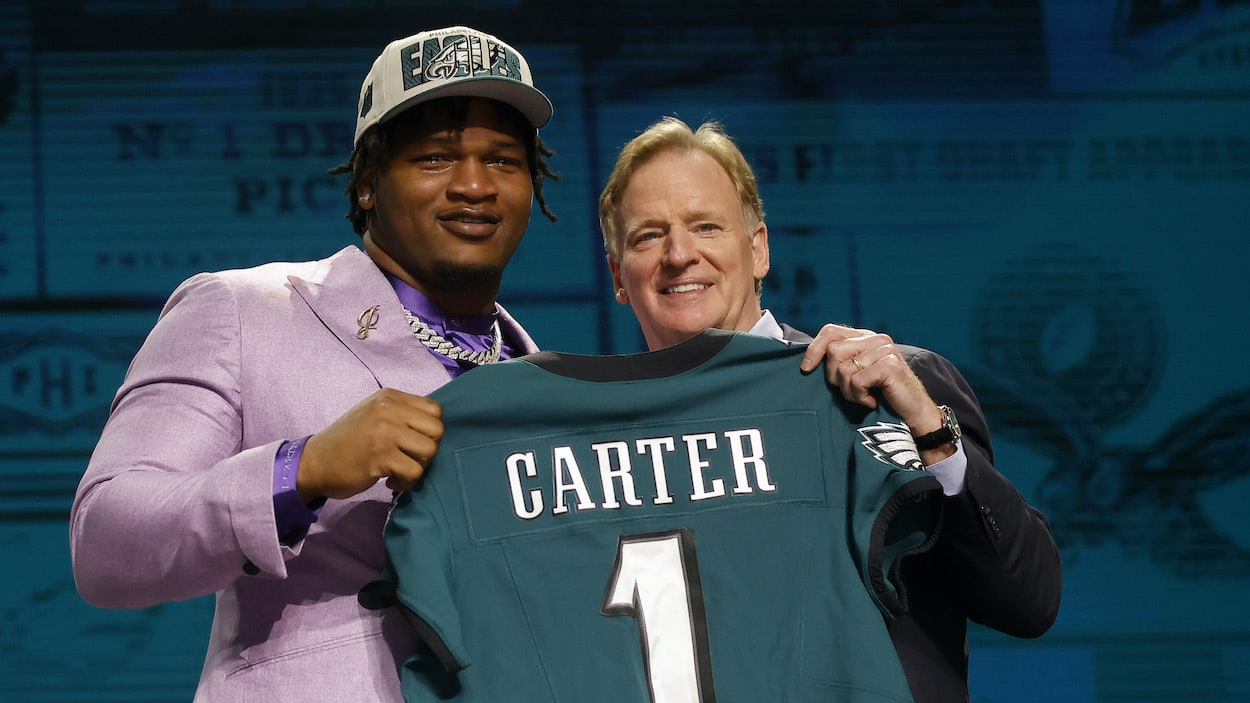 Jalen Carter Contract: NFL Draft Fall Costs the DT $16 Million
The Jalen Carter contract could have been much bigger, but going to the Eagles in the 2023 NFL Draft means he could make that up soon.
When the final whistle blew on the 2022 NFL season, and the Chicago Bears had the No. 1 overall pick, Georgia defensive tackle Jalen Carter was the favorite to be the top pick in the 2023 NFL Draft. However, between legal issues stemming from a fatal car accident in college and whispers of character issues in the locker room. This led to Carter falling to the Philadelphia Eagles at No. 9, costing him a lot of money.
DT Jalen Carter fell due to off-field concerns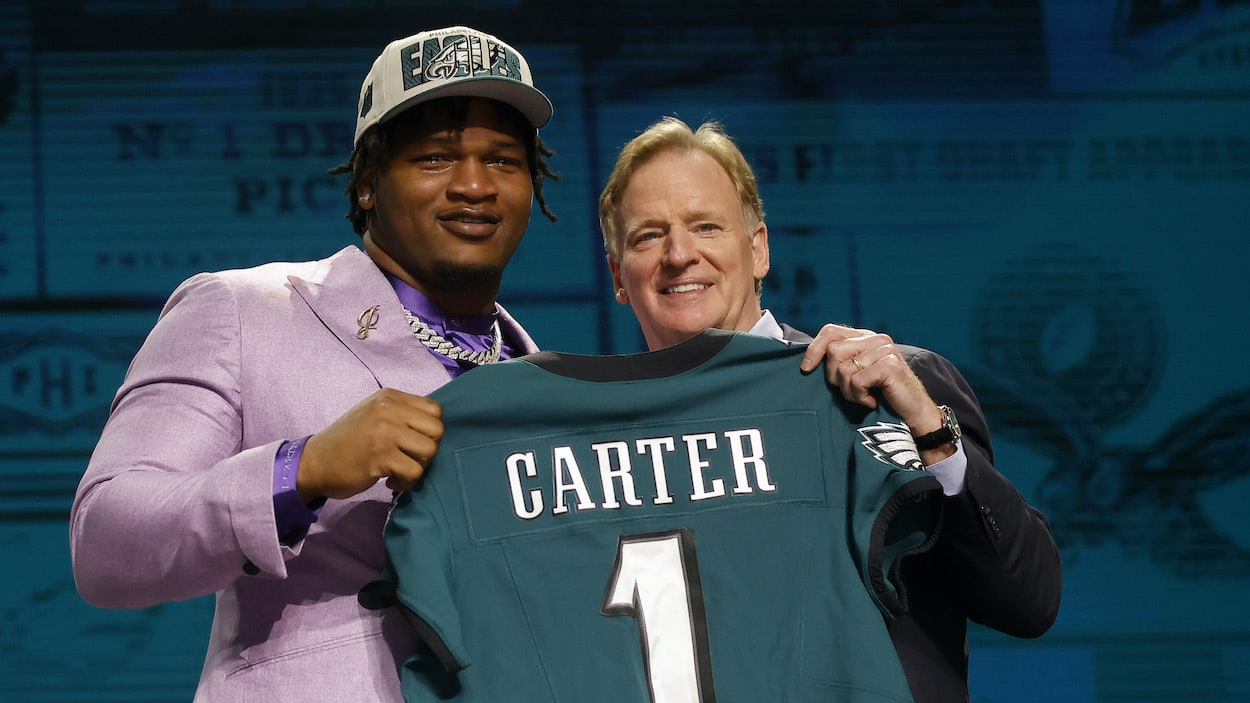 Jalen Carter is the most talented player in the 2023 NFL Draft. He is a 6-foot-3, 314-pound wrecking ball who stops the run and pressure the passer. He is the best interior defensive line prospect to come out of college since Aaron Donald in 2014.
As Carter was gaining steam as the potential No. 1 pick, the Athens-Clarke County (Georgia) Police Department issued an arrest warrant for the prospect on the eve of the NFL Scouting Combine in connection to a fatal car crash that killed Georgia football player Devin Willock and recruiting staffer Chandler LeCroy.
Carter eventually pleaded no contest to misdemeanor charges of reckless driving and racing and was sentenced to 12 months of probation, a $1,000 fine, and 80 hours of community service, per ESPN.
This led teams to question Carter's judgment which started his slide down the draft board, and the fall continued as ESPN draft analyst Todd McShay shared that he'd heard of character concerns.
"With Carter, there are some character issues. Does he get along with everybody. What's he like to deal with in the locker room, those sorts of issues" McShay said (h/t USA Today). "I know it's early in the process, but I'm forewarning everybody out there. Carter is going to be a hot-button name when we talk about some of the intangible aspects of it."
The Bears eventually traded out of the No. 1 spot, and Carter's fall officially started.
The Jalen Carter contract
Jalen Carter went from the presumptive No. 1 pick to the No. 9 overall pick in the 2023 NFL Draft. In the grand scheme of things, that's not that big of a deal. However, there is a real monetary value you can put on that slide.
The projected rookie Jalen Carter contract is a four-year, fully guaranteed $21.8 million pact with a $12.8 million signing bonus, a $3.9 million cap hit in 2023, and an annual average value (AAV) of $5.45 million, per Spotrac.
Again, that's a life-changing amount of money, but it could have been $16.15 million more. That's because the contract for the No. 1 pick of the draft is guaranteed for $37.9 million.
That's a big slide, losing approximately $2 million with each passing pick. That said, going to the Eagles is the best thing that could have happened for Carter and his future contracts.
The Eagles were the best fit for the DT
So, the Jalen Carter contract is $16 million lighter than it could have been if he was the No. 1 overall pick. That's a lot of money, but Carter will make that up, and then some if becomes a superstar and gets a huge second deal.
And the fact that Carter went to the Eagles in the 2023 NFL Draft gives him the best chance of getting that huge extension in 2026 or 2027.
First, the Eagles have an incredible defense that will take pressure off of Carter and let him do what he does best and dominate the line. Winning games will also help get him attention for Pro Bowl and All-Pro recognition.
The biggest benefit of going to the Eagles, though, is that Howie Roseman and Nick Sirianni are turning Philadelphia into Athens, Georgia North.
Last NFL draft, the team took Bulldogs DT Jordan Davis and MLB Nakobe Dean. This season, they took Carter, OLB Nolan Smith, and CB Kelee Ringo. The Eagles locker room is now stocked with players who know Carter, won with him, and may even be friends.
This is Jalen Carter's best chance to overcome his issues off the field and become an NFL superstar. Now we'll wait and see if he takes it.