DJ Moore Contract Helps Chicago Win Bears-Panthers Trade for No. 1 Pick
The 2023 NFL Draft is still over a month away, but we already have the first blockbuster deal of the proceedings. In a surprising trade this far ahead of the draft, the Chicago Bears traded the No. 1 pick to the Carolina Panthers for No. 9 and No. 61 in 2023, a first-round pick in 2024, a second-round pick in 2025, and wide receiver DJ Moore. That last piece is a tremendous value and the big reason Chicago came out as the winner of this Bears-Panthers trade.
The DJ Moore contract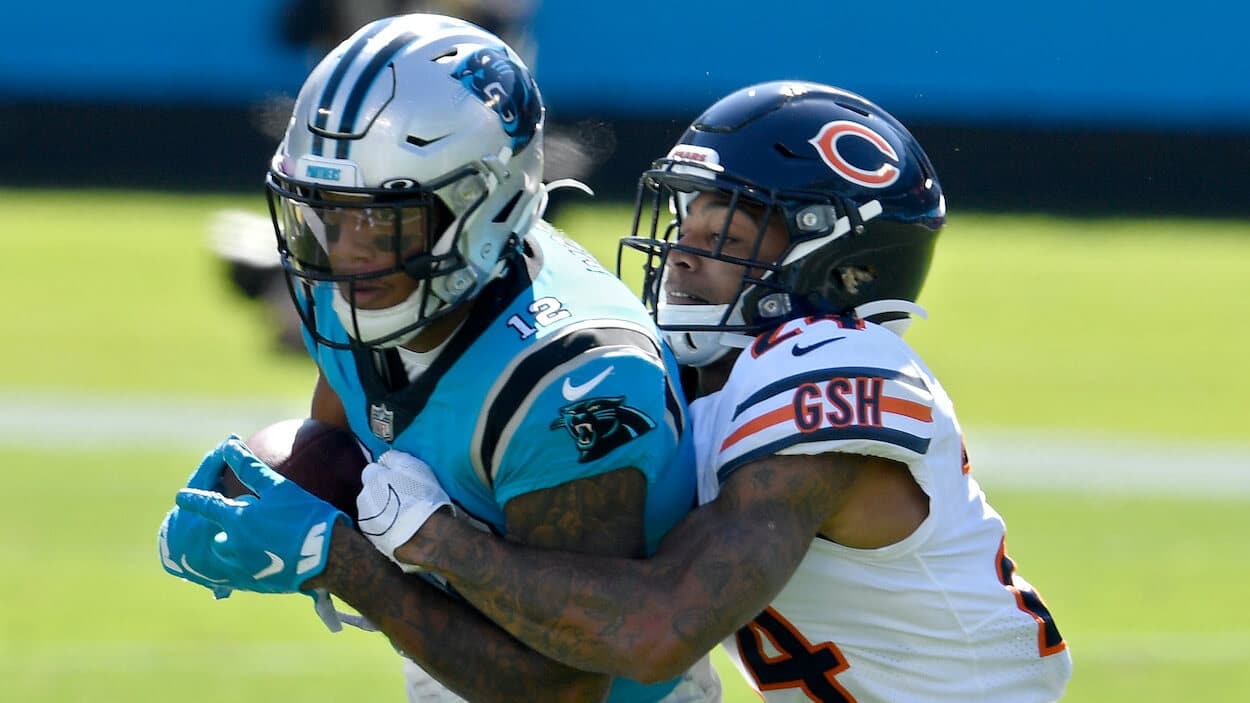 New Bears WR DJ Moore admittedly had a tough 2022 season. He caught balls from Baker Mayfield, Sam Darnold, P.J. Walker, and Jacob Eason and dealt with constant trade rumors through the first half of the season.
All this contributed to his worst statistical year (63 catches, 888 yards, seven touchdowns) since he was a rookie back in 2018. However, the three seasons before that — despite having terrible QB play in those years, too — he was top 11 in receiving yards each campaign.
This type of production amid bad offensive circumstances solidifies the fact that he is at least a top-12 WR in the league, and his contract perfectly reflects that.
Last offseason, Moore signed a three-year, $61,884,000 extension with a $19,500,000 signing bonus and $41,610,000 guaranteed for an average annual value (AAV) of $20,628,000. That deal takes effect in 2023 and runs through 2025.
This coming season for the Bears, Moore's base salary will be $19,965,000, and he has a $200,000 workout bonus. The WR's cap hit is $20,165,000, and there's a dead cap figure of $21,075,000.
Overall, Moore has the 10th-highest AAV and the ninth-highest cap hit among receivers, which is right where he should be. Not that value matters all that much for the Bears right now.
Even after making this Bears-Panthers trade for the No. 1 pick and bringing in DJ Moore, Chicago still has more salary cap room ($75,600,862) than any other team in the league and $12 million more than the second-place Atlanta Falcons.
Why Chicago won the Bears-Panthers trade
The winner of the Bears-Panthers trade is Chicago … for now.
The Panthers will now take a franchise QB with the No. 1 pick. That's a 50/50 proposition. If the team hits a home run with its choice (which currently see like C.J. Stroud from Ohio State), then they may ultimately win the deal or at least break even with the Bears.
However, everything the Bears got makes them the winner at the moment.
It starts with the DJ Moore contract, which is a good value for a No. 1 receiver. And when you factor in the questionable (at best) WR free-agent market and draft class, it becomes an even bigger coup.
After that, the picks are great. The Bears got three extra premium picks who should all become starters while moving back to No. 9 this year. At that point, the Bears should have their choice of the best offensive lineman in the draft, which is likely the position they wanted to draft anyways.
Northwestern left tackle Peter Skoronski is a versatile lineman whose ceiling is a cornerstone blindside protector. He can also play all five line positions, giving him an incredibly high floor as well.
After that, having two seconds in 2023 and 2025 is an excellent value as well, and next year's Panthers pick could easily be a top-10 selection unless the QB they take is a star right out of the gate.
Chicago has made some head-scratching moves under the previous regime, trading up twice (2017, 2021) to draft Mitchell Trubisky and Justin Fields. Now they are the smart team trading back, and that's why the better end of the Bears-Panthers trade goes to the NFC North team right now.