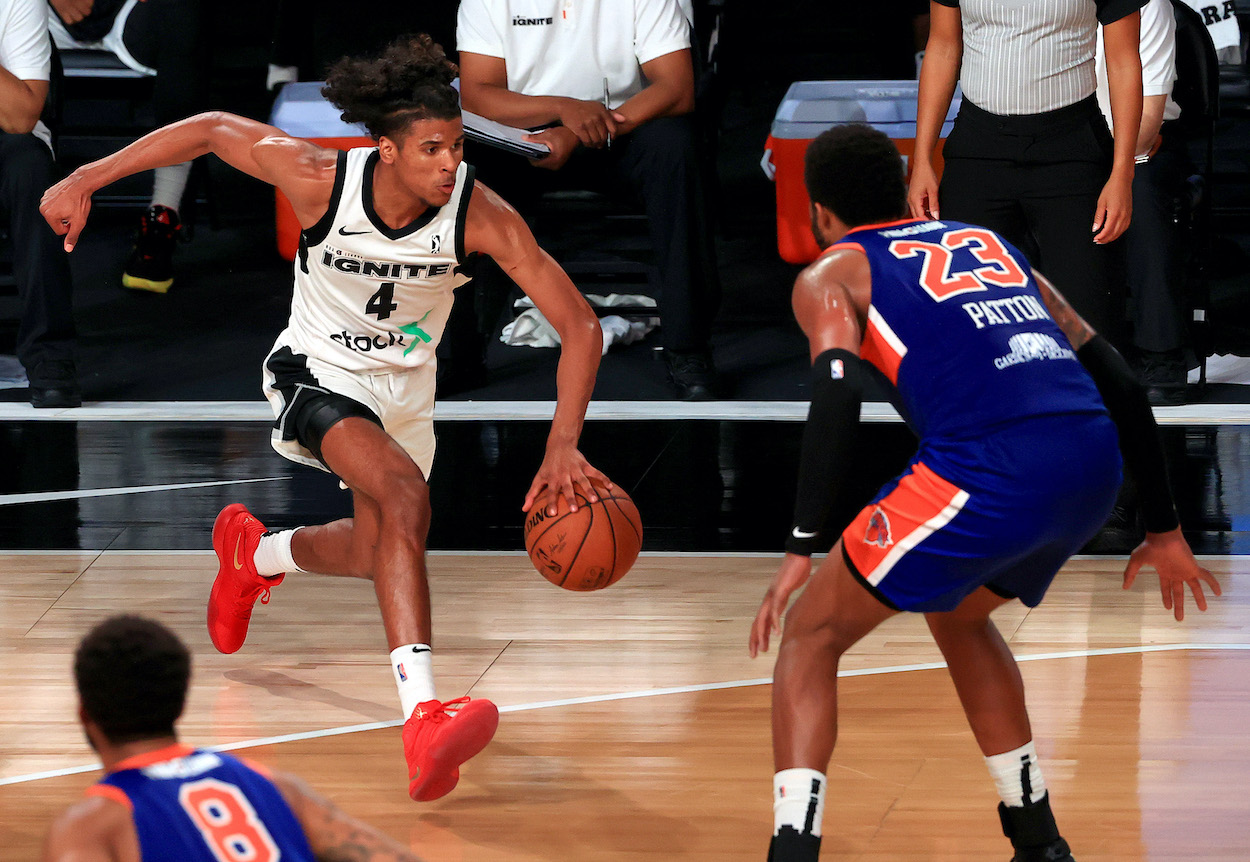 Jalen Green Is "A Lock" to Go No. 2 to the Houston Rockets Although He Wants to Go Somewhere Else
Jalen Green will almost certainly become a Houston Rocket during the 2021 NBA draft, but he'd like to go at another pick if he had his way. Green is intent on going No. 1 and is lobbying for the spot. However, most experts believe the Detroit Pistons will take Cade Cunningham with the top pick.
The one thing we can be sure of during the 2021 NBA draft on Thursday, July 29, is that there will be a lot of surprises. Players will slide, teams will make questionable picks, and there will be several trades. However, one thing that seems inevitable is that Jalen Green will go No. 2 overall to the Houston Rockets. 
As much as Green and the Rockets seem like they are on a collision course, there is a team that Green would rather play for than Houston. 
Jalen Green is a top prospect in the 2021 NBA draft.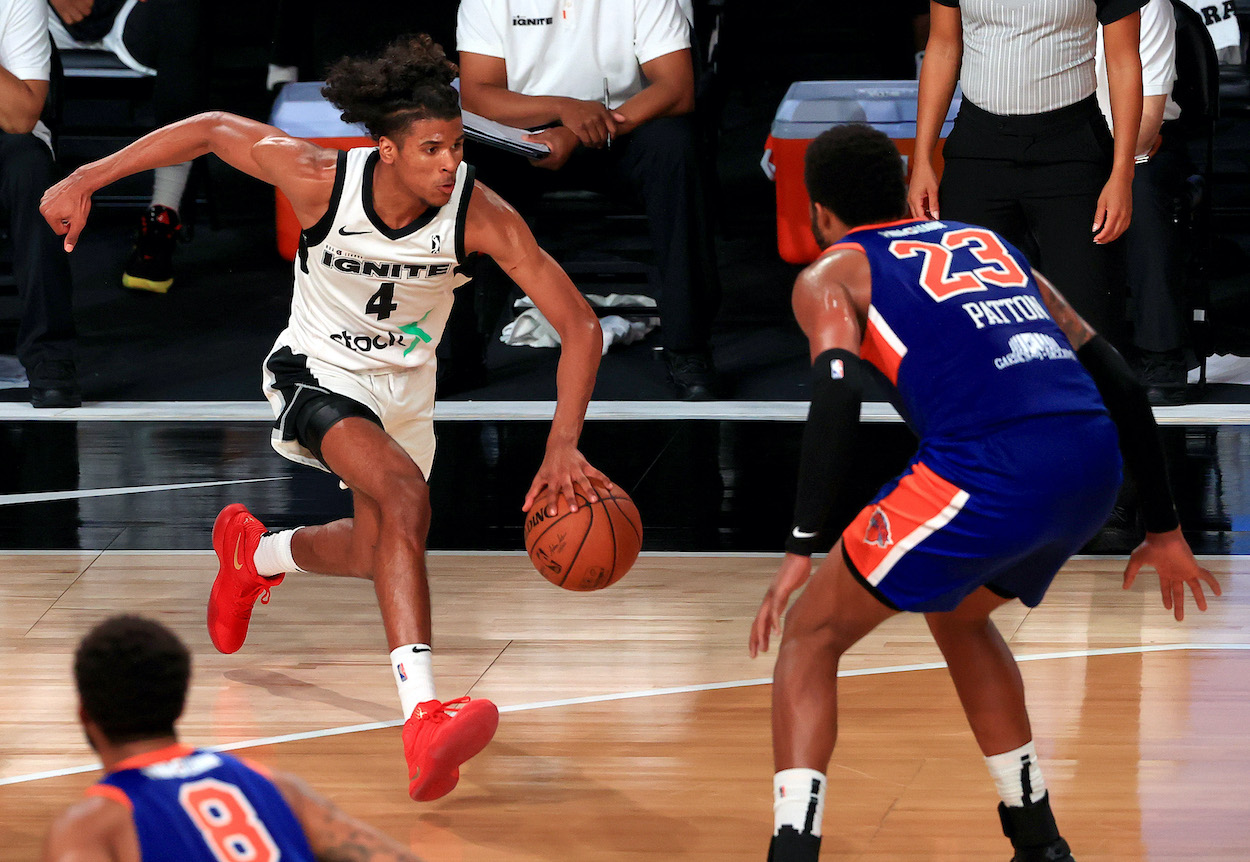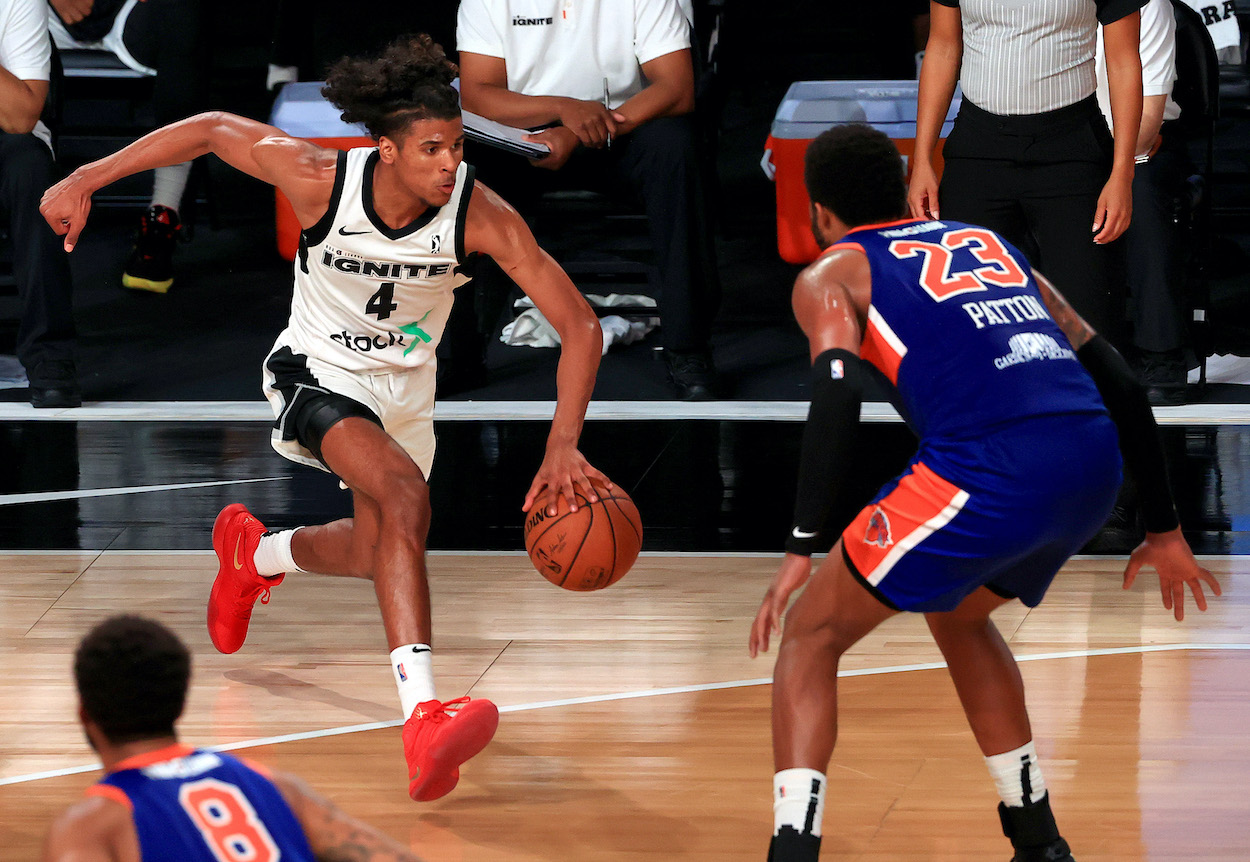 Green is a 6-foot-5, 19-year-old NBA draft prospect from the San Joaquin Valley in California. As a rising High School star, he attended San Joaquin Memorial High School in Fresno, California. During his junior season at the school, he averaged 30.1 points, 7.8 rebounds, and 3.6 assists per game, per USA Basketball.
For his senior season, he transferred to Prolific Prep, a Northern California-based basketball academy. Here, he set the school's single-season scoring record of 1,008 points. He was also the 2020 Sports Illustrated All-America Player of the Year, a Naismith Boys High School All-America first team, and a McDonald's All-American.
Despite having his pick on big-name college basketball scholarships, Green decided to skip a year of college and join the G League's professional pathway.
On the G League's Ignite developmental team, Green put up solid stats in the Orlando bubble in 2021. Playing against seasoned pros looking to break in (or back in) to the NBA, the scoring guard averaged 17.9 points, 2.8 assists, and 4.1 rebounds in 15 games. 
Heading into this year's draft, Green is considered one of the top three prospects in the class of 2021. Oklahoma State point guard Cade Cunningham and USC big man Evan Mobley are the other two prospects in that top tier.  
Green wants to be the No. 1 overall pick 
In addition to the frame, the production, and the natural athletic and basketball ability, team's also like that Green is a competitor. And, as a competitor, Green wants to be the top pick in the draft, which belongs to the Detroit Pistons. 
ESPN's draft insider Jonathan Givony reports that, although Green wants to go No. 1 and is trying his best to lobby for the selection, his No. 2 status is almost inevitable:
Green has a strong desire to be the No. 1 pick, sources say, hosting the Pistons for a workout in Southern California and then traveling to Detroit for a follow-up visit. He'd be happy to go second, though, if that doesn't materialize, and most NBA teams expect that to be the case — with some going as far as to describe that as being close to a lock. 

Jonathan Givony on Jalen Green
The report also mentions that both Mobley and another top prospect, Gonzaga's Jalen Suggs, are refusing to work out for the Rockets, making Green's selection even more likely. 
When is the NBA draft? 
The 2021 NBA draft is happening on Thursday, July 28, 2021, at 8 P.M. EST. The annual player selection ritual will take place at the Barclays Center in Brooklyn, NY, home of the Brooklyn Nets. 
The Barclays Center has been the home of the NBA draft since 2013, and 2021 will mark the eighth time in the last nine years that New York's biggest borough has hosted the draft. The NBA conducted the 2020 draft from ESPN's campus in Bristol, Connecticut, due to COVID-19-related restrictions. 
To watch the proceedings on television, you have several options. The ABC network will broadcast the first round, and the entire draft will be on ESPN and ESPN's streaming platforms. 
All stats courtesy of Basketball Reference