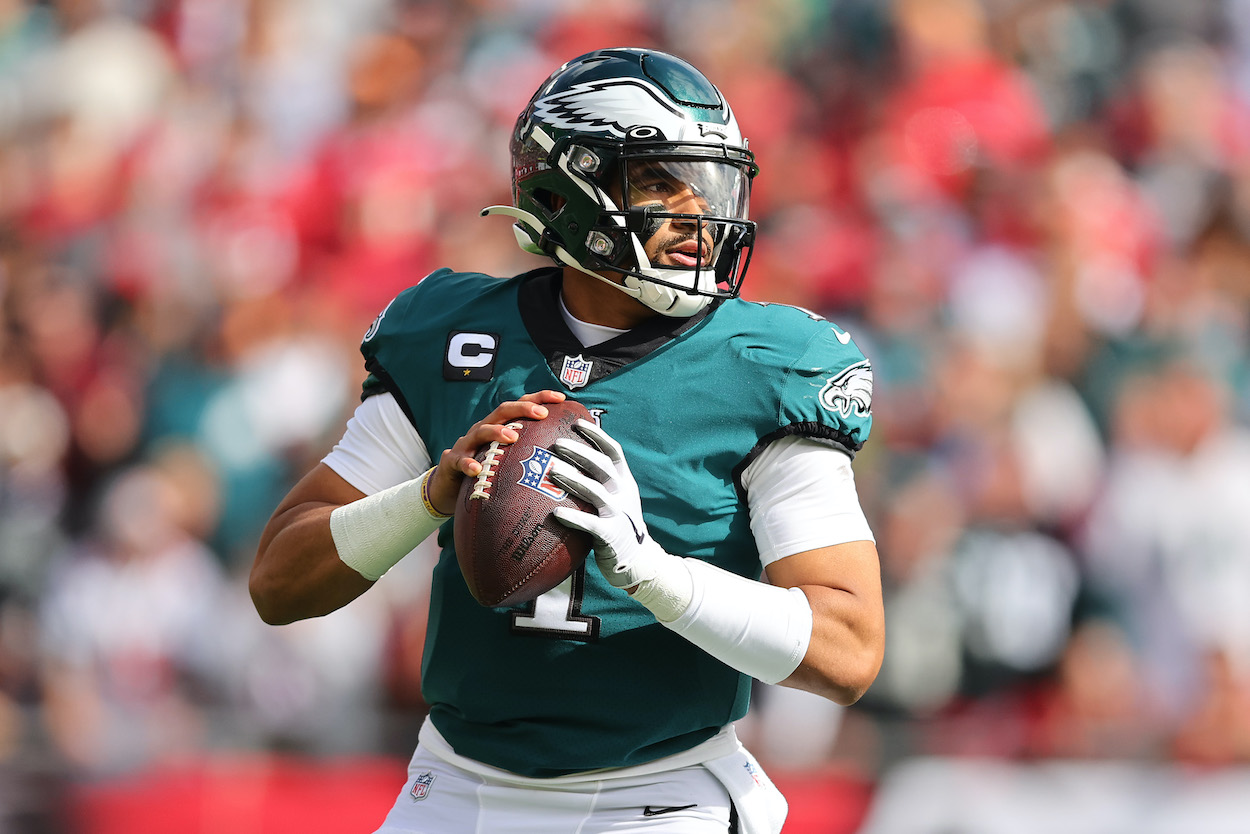 Jalen Hurts Receives Firm Vote of Confidence From Howie Roseman and Nick Sirianni
The Eagles have been the focus of QB trade rumors this offseason, but they just put their full confidence in Jalen Hurts.
The Philadelphia Eagles have an important decision to make this offseason regarding the most important position in football.
Despite an impressive sophomore season from Jalen Hurts, the Eagles have been engulfed in quarterback rumors ever since their playoff loss to the Tampa Bay Buccaneers. With three first-round picks at their disposal, Philly has plenty of ammunition if it wants to target a top QB in the draft or trade for a veteran.
But if you ask general manager Howie Roseman and head coach Nick Sirianni, Hurts' job is safe for at least another year.
The Eagles could make a big splash in the QB market
The Eagles surprised some folks last season when they rode a rookie head coach and a first-year starting quarterback to a 9-8 record and a playoff berth. Philadelphia stumbled against Tom Brady and the Buccaneers in the NFC Wild Card, but it was still an encouraging season nonetheless.
Now the franchise enters an all-important offseason with a golden opportunity to add some young talent to the roster. Thanks to the Indianapolis Colts and the Miami Dolphins missing the playoffs, the Eagles will pick 15th, 16th, and 19th in the first round of the NFL draft.
Philly could use those three picks to fill some holes on the roster, and there are more than a few. The pass rush is in dire need of some young talent, the linebacker room is not very impressive, and the wide receiving core could always use an upgrade.
But knowing Roseman, the Eagles will surely toy with the idea of using those draft picks to trade for a proven quarterback. Russell Wilson has been a popular name thrown around in rumors, as has Deshaun Watson. And who knows? Aaron Rodgers could even be on the table if Roseman is willing to sell the farm.
Howie Roseman and Nick Sirianni put full support behind Hurts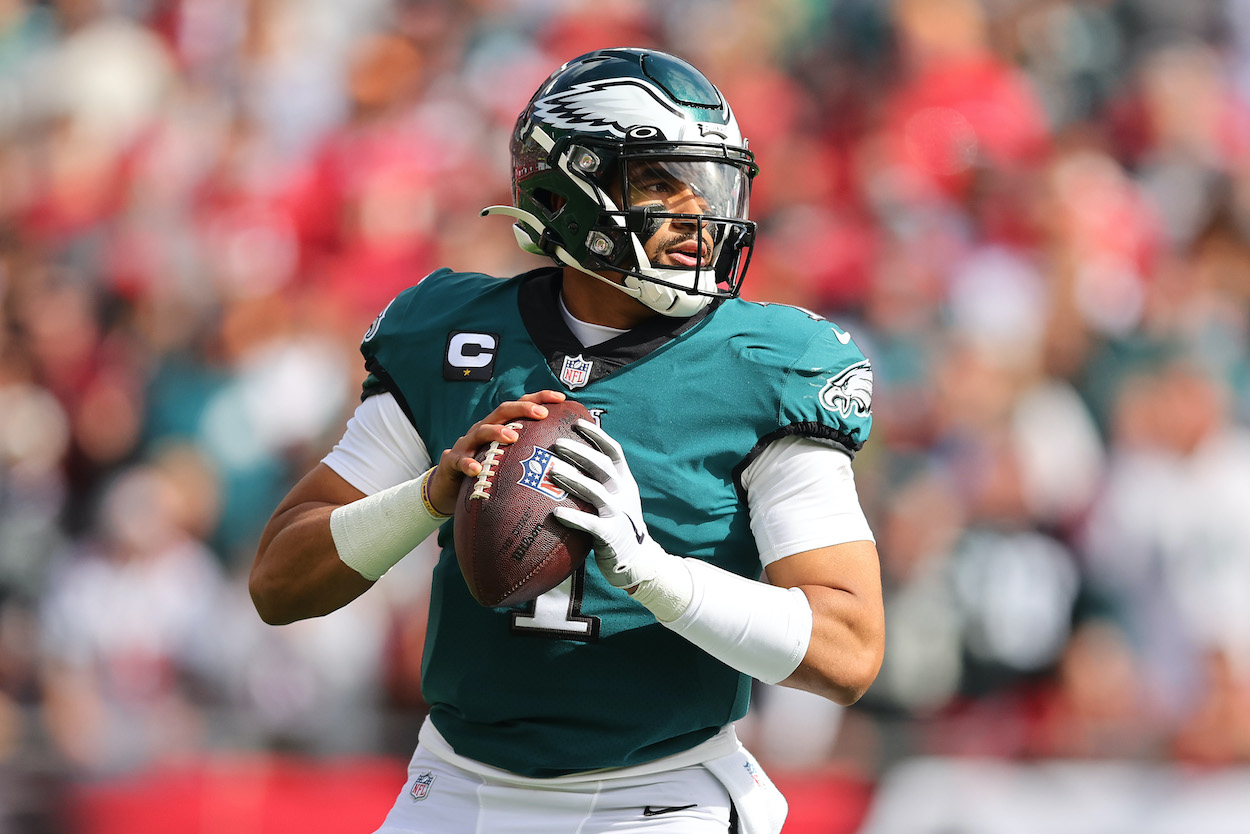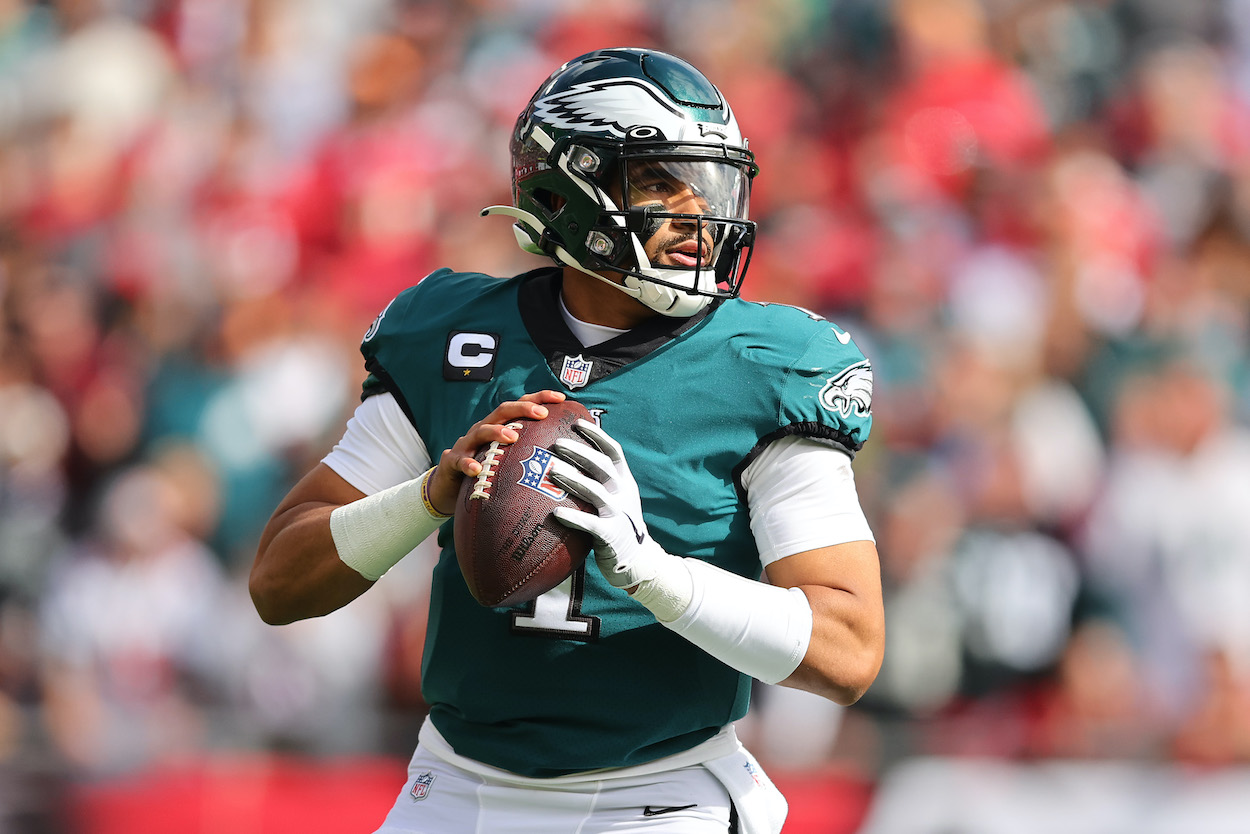 There's no doubt Hurts is hearing the QB rumors just like the rest of us, but he heard something a bit more pleasant to the ears this week from the most important source there is: GM Howie Roseman.
Speaking to reporters at the NFL Combine on Wednesday, Roseman said "there's no doubt about it" Hurts will be the starter in 2022.
"I think when you talk about the things that we talked about at the end of the season, nothing's changed," Roseman said. "I think what really has changed for us is the opportunity to add. This is a great time of year for the Philadelphia Eagles, for us, for our staff. And being here and really getting everyone involved in the draft process. Start of free agency is up and coming. We've got to continue to add good players. We've got to continue to make sure that we're doing everything to maximize our players' abilities to be successful. And certainly, that starts with the quarterback position with Jalen."
Head coach Nick Sirianni echoed the same message.
"He's tough, he's competitive, he's got high football IQ. …Jalen Hurts has all those things and he's only going to continue to get better, Sirianni said. "You can see the progression of him getting better throughout the year. He led us to the playoffs and obviously we want to go further than that, and we're really confident that Jalen is the guy that can help us do that."
With all the uncertainty surrounding his job status, Hurts should be thrilled to hear those words.
Eagles need to resist the urge to star-hunt
Considering Roseman publicly stated he wants the Eagles to be a "quarterback factory" two years ago, you'd have to be a fool to think he won't be exploring the QB market this offseason. If Wilson, Watson, or even Rodgers become realistic trade options, it will be hard for Roseman to resist.
But he must.
Hurts has shown some encouraging development throughout his young career, and having a starting QB on a cheap, rookie deal cannot be understated. With three first-round picks at their disposal and multiple weaknesses on the current roster, the Eagles need to focus on improving the team as a whole.
Philly won't instantly become a contender by just adding an elite QB. The Eagles have too many holes to go all in on a Super Bowl run in 2022. Use these three draft picks to improve positions of need, run it back with Hurts, and reevaluate next offseason if he happens to regress.
Patience isn't easy to come by in the NFL, but it's exactly what the Eagles need right now.
Like Sportscasting on Facebook. Follow us on Twitter @sportscasting19.