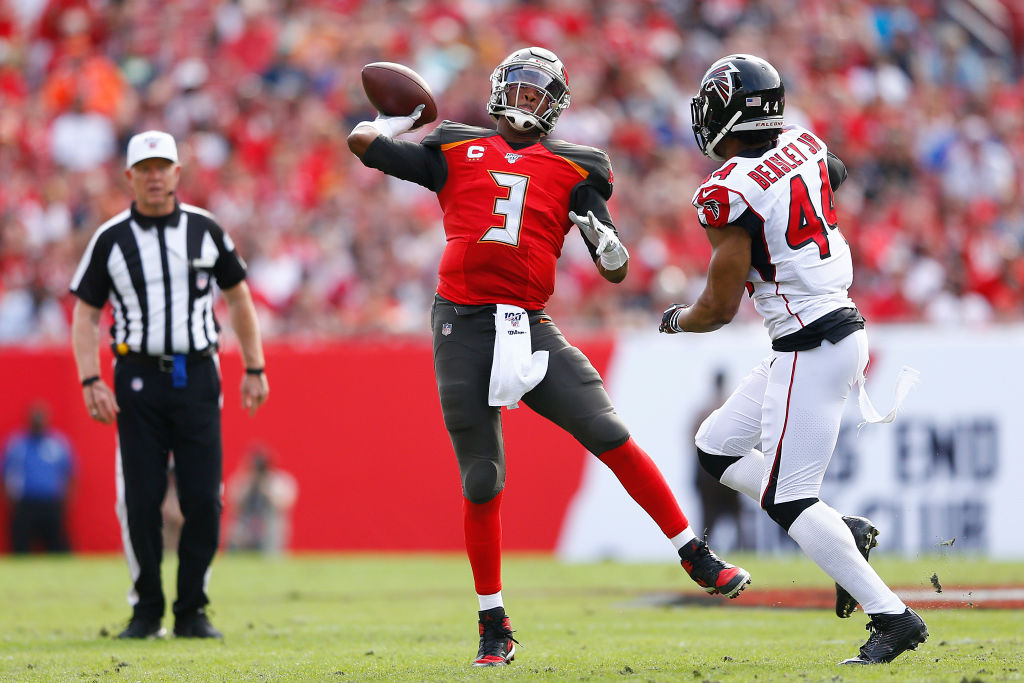 Jameis Winston' Reported Deal With the New Orleans Saints Is a Step Backward, but It Could Save His NFL Career
While no one wants to take a step backwards, joining the New Orleans Saints as a potential back-up could save Jameis Winston's NFL career.
With the 2020 NFL draft concluded, the league's quarterback carousel has lurched back to life. Ever since Tom Brady joined the Tampa Bay Buccaneers, Jameis Winston has been out of a job. That reality seems to be a thing of the past, however, as Charles Robinson of Yahoo Sports is reporting that the quarterback is close to signing a one-year deal with the New Orleans Saints.
While that contract will be an immediate step backward, it still seems to be pretty logical. If all goes well, this cheap, one-year deal could save Jameis Winston's NFL career.
Jameis Winston's NFL struggles
As any NFL fan can tell you, all the talent in the world is useless if it doesn't translate to game situations. That unfortunate reality has been the story of Jameis Winston's NFL career.
While Winston spent five seasons under center in Tampa Bay, no campaign better epitomized his issues than the 2019 campaign. With Bruce Arians at the helm and Byron Leftwich serving as a quarterback's coach, the Buccaneers offense was supposed to explode. It did, albeit with an unintended side effect.
Winston threw the ball 626 times, piling up 5,109 passing yards and 33 touchdowns; those stats may seem great in isolation, but there's more to the story. The quarterback also threw 30 interceptions and fumbled 15 times. Sometimes he carried the Buccaneers to victory, sometimes he threw the game away.
That season left Winston without a job. In the cutthroat world of professional football, it's hard for anyone to stick their neck out for a quarterback who threw 30 interceptions in a single season.
Taking a step backward to join the New Orleans Saints
On Sunday morning, Charles Robinson broke that Jameis Winston was working out the final details of a deal with the New Orleans Saints. While that contract will give the quarterback a job for the 2020 NFL season, it will also be a major step backward.
After being the main man in Tampa Bay, Winston won't even be guaranteed the back-up role in New Orleans; he'll be competing with Tayson hill for that position. The Saints are also close to the salary cap, meaning the one-year deal can't be worth a great deal of money.
Unfortunately, a perfect storm left Winston in this situation. Not only did he hit free agency immediately after throwing 30 interceptions, but he had to compete against a stacked quarterback class. In another offseason, a struggling team could have taken a flyer on the former Buccaneer; this spring, however, you would never pick Winston over the chance to sign Philip Rivers or draft Joe Burrow.
Jameis Winston could be saving his NFL career
It goes without saying that Jameis Winston is taking a demotion with the New Orleans Saints. In this case, however, the quarterback's step backward could help save his NFL and financial future.
As we saw this offseason, there was no market for Winston; a season in the Bayou, however, could change that. In a worst-case scenario, he'll be in this same situation next year, albeit with a season of working with Sean Payton and Drew Brees under his belt. There are some more optimistic scenarios, though.
Ideally, Winston will be hoping for a chance to prove himself. Drew Brees' career seems to be drawing to a close; if Jameis can win the back-up job, he'll theoretically have a good chance to take over the team. He could also hope to parlay his experience into a starting job elsewhere, as Teddy Bridgewater did this offseason.
No one, whether you're an average Joe or an NFL quarterback, wants to take a pay cut and demotion. It's safe to assume that Jameis Winston is no exception to that rule. His deal with the New Orleans Saints isn't an ideal scenario, but, in his situation, it's a lifeline. Taking a step backward could be exactly what he needs to reset and move forward.