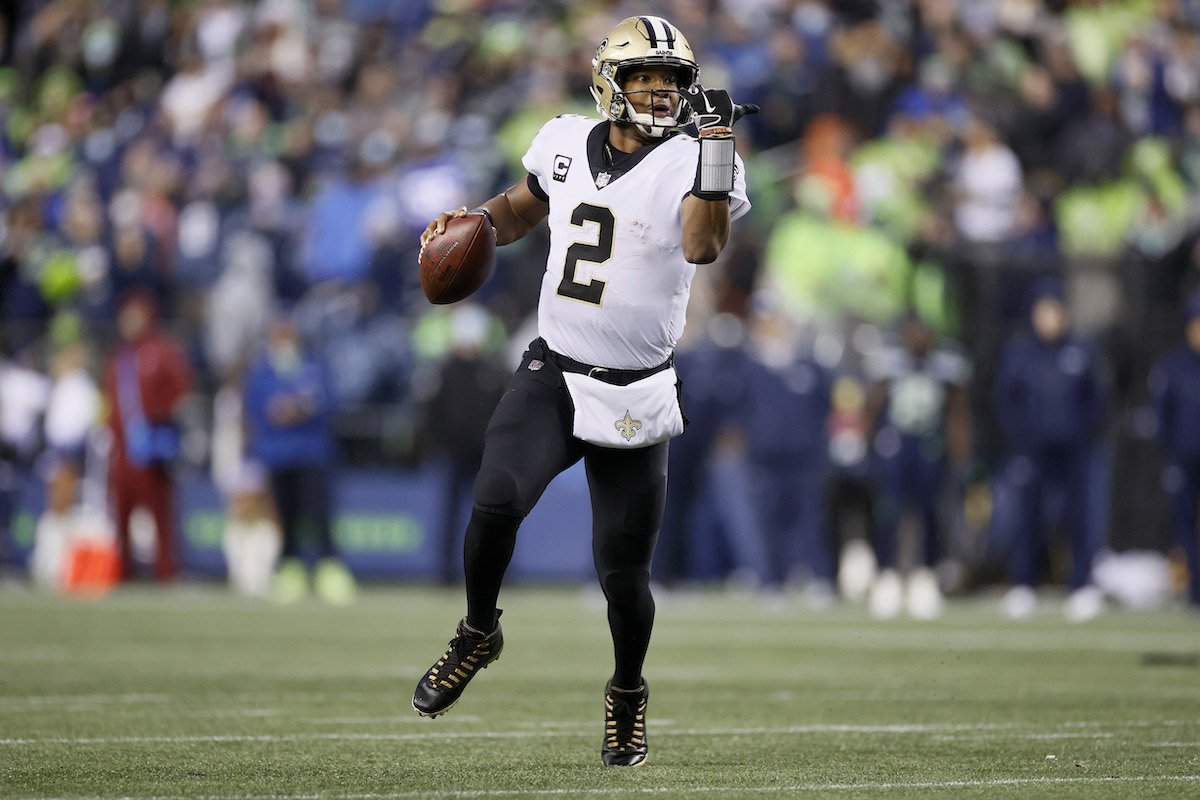 Jameis Winston Rumors: New Orleans Saints Reunion Makes Sense for Both Sides
He's not the most glamorous option, but Jameis Winston reuniting with the New Orleans Saints makes sense for both the quarterback and the team.
Torn ACL and all, Jameis Winston is the best realistic option at quarterback for the New Orleans Saints during the 2022 NFL season.
After taking over the starting role from a retired Drew Brees, Winston got off to a strong story in the Big Easy. Through seven games, he led the organization to five wins while completing 59.0% of his passes for 1,170 yards, 14 touchdowns, and just three interceptions. An ACL tear suffered during a horse-collar tackle by Tampa Bay Buccaneers linebacker Devin White derailed that momentum, though, forcing New Orleans to evaluate its other options with Winston shelved for the rest of the season.
Winston arrived in New Orleans for the 2020 season and has suited up in a grand total of 11 games for the organization. It's now in the best interest of both the quarterback himself and the Saints as a whole to let that number rise to a dozen — and then climb higher — via a new contract for the 2022 campaign.
Jameis Winston would get comfort and chance to build on success
Winston is running again during his ACL rehab, and that's not the only type of progress. He and the Saints seem to have some momentum building about coming to terms on a new contract.
Per Jim Trotter of NFL Media, the Saints are "going to explore every option as it relates to [the quarterback position]," but they're also likely to negotiate a new contract with the Florida State product. Furthermore, Jeff Howe of The Athletic reported that "while the Saints appear willing to scour the market, they appear to be comfortable with the possibility of re-signing quarterback Jameis Winston, who is coming off a torn ACL, according to a source."
That would be great news for Winston, who would be able to remain in the same system he gained comfort in during the last two years while playing with a talented supporting cast that could potentially feature a healthy Michael Thomas.
Winston, who checked in at No. 22 in our predicted quarterback rankings for the 2022 campaign, wasn't just playing well for the Saints prior to his injury; he was flat-out thriving while taking snaps in a more conservative scheme that prevented him from making the same mental mistakes that held him back for large parts of his Tampa Bay Buccaneers tenure.
Could he stand to be a bit more aggressive? Probably so. Aggressive quarterbacks are typically at their best when they're allowed to take some chances, and finding more balance — which Winston appeared to be doing just prior to the season-ending injury — would allow him to take that proverbial next step.
While he was able to rely on New Orleans' playmakers to create yardage after the catch, his intended air yards per passing attempt fell from 10.4 with Tampa Bay in 2019 to 8.3 in 2021. He coupled that with more accuracy than he'd previously displayed, and his efficiency numbers would've looked even better if he hadn't been the victim of quite so many drops.
But striking a balance between the extremes would behoove him and the Saints alike, and that flexibility should be possible under new head coach Dennis Allen and returning offensive coordinator Pete Carmichael Jr.
After all, even while erring too far on the side of conservatism, Winston was quite successful in that small sample. He posted a career-best 102.8 quarterback rating (No. 7 among players with at least 100 attempts), and his 64.4 QBR (No. 4) was also well above his lifetime average. His 74.2 grade at Pro Football Focus landed at No. 18 overall.
Though it might feel like decades have passed since Tampa Bay made Winston the No. 1 overall pick of the 2015 NFL Draft, he's still just 28 years old and doesn't celebrate his next birthday until Jan. 6, 2023. He has plenty of time to keep growing, much less playing at the same pre-injury level.
New Orleans Saints might not have better options
Trevor Siemian isn't anything more than a backup option without the arm strength to generate any downfield pressure or make on-target throws outside the hashes. Ian Book has some potential in his 6-foot-0, 206-pound frame, but he failed to impress after coming aboard as a fourth-round pick in 2021 even if he wants to compete for the starting job, per Ross Jackson of Canal Street Chronicles.
Taysom Hill, for all the positives he brings as a dual-threat option and gadget-play extraordinaire, doesn't have a scalable game. He's a valuable presence in certain sets, but New Orleans can't set him loose and count on him to make plays with his arm on a consistent basis. Plus, he might not be given the same amount of developmental leeway as a 31-year-old no longer operating alongside former head coach/Taysom Hill superfan Sean Payton.
That covers the incumbent options, and the external ones aren't much more appealing.
Teddy Bridgewater, Mitchell Trubisky, Andy Dalton, Marcus Mariota, and Jacoby Brissett join Winston as the free-agency headliners — a word used hesitantly — at quarterback and wouldn't do much to move the NOLA needle. Swinging a blockbuster trade for Deshaun Watson, Russell Wilson, Aaron Rodgers, or some other big-name option ready for a fresh start in a new location would cost a lot of asset equity, which is troubling for a team up against significant salary-cap hurdles.
Winston might not be the most glamorous option, but lest we forget, he checks all the boxes.
Re-signing him wouldn't be the most expensive venture for the Saints, who could also use one of their eight picks in the 2022 NFL Draft to select a signal-caller of the future and let him develop in a low-pressure environment. He already has familiarity with the system and would still get to hand the ball off to Alvin Kamara. And lest we forget, he had the Saints firmly in the playoff mix before his ACL tear.
New Orleans should still boast an elite defense during the 2022 campaign, and that lessens the need to take a big swing that would come with plenty of risk. The safer route should be the preferred option here.
As strange a word as "safe" may be to use with respect to a quarterback coming off an ACL tear with a 30-interception season on his resume, it describes Winston in this particular situation. Other teams might come calling for his services, but a reunion is in the best interest of both the veteran quarterback and the Saints.
All stats, unless otherwise indicated, courtesy of Pro Football Reference.