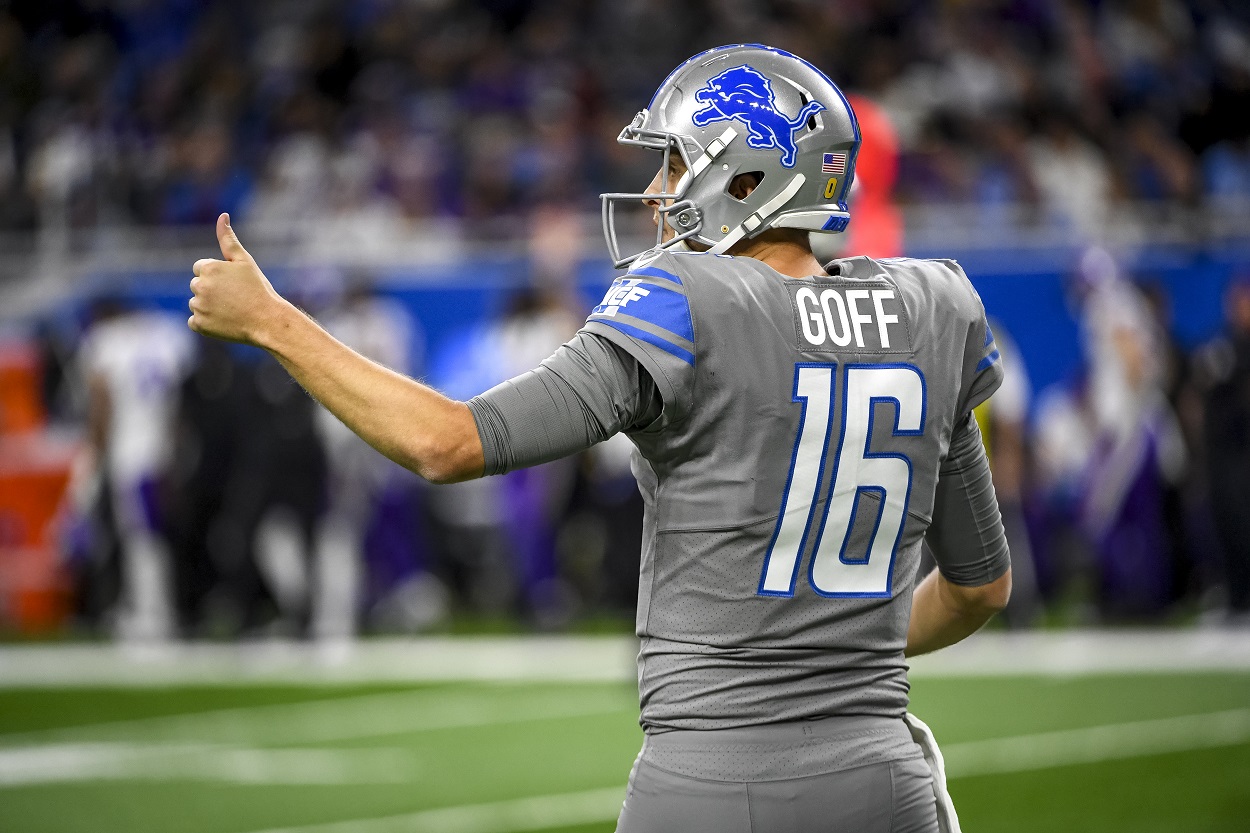 Jared Goff Trade Scenarios: 3 Potential Options For Lions' Quarterback
In a Jared Goff trade scenario, which teams are most likely willing to deal with the Lions and take on Goff's contract?
The Jared Goff trade in 2021 helped the Los Angeles Rams win a Super Bowl in 2022. Could a second Goff trade help another team get closer to that goal in 2023?
Goff was the trade chip, along with first-round NFL Draft picks in 2022 and 2023, that the Rams shipped to the Detroit Lions in exchange for Matthew Stafford. The result for the Rams was a Super Bowl 56 victory over the Cincinnati Bengals.
The Lions, on the other hand, were the second-worst team in the NFL in 2021, earning them the No. 2 pick in the upcoming NFL Draft. And though Goff played well toward the end of the season, first-year head coach Dan Campbell was not shy in criticizing his quarterback at midseason.
There is little doubt the Lions would move on from Goff this spring if the right kind of deal were presented to him. If something like that were to happen, it has to be now, because Goff's annual salary is one year away from becoming untradeable.
And who exactly would be lining up to acquire Goff? Let's look at a few potential landing spots:
Washington Commanders
The hot rumor to blow up over the past week was a suggestion in a reader mailbag by The Athletic's Washington Commanders beat writer Ben Standig that the Commanders might be willing to move their star defensive lineman Chase Young in a deal for a quarterback.
Standig's post specifically mentioned a quarterback at the level of Aaron Rodgers or Russell Wilson. But does that mean a team currently deploying Taylor Heinicke as its starting quarterback wouldn't consider Goff, a Super Bowl starter just three seasons ago, as an upgrade?
Washington has around $30 million in cap space for 2022, and with a bit of contract restructuring could boost that number to $60 million, so they would certainly be flexible enough to take on Goff's $10 million base salary in 2022.
Goff is set to earn base salaries of $20 and $21 million in 2023 and '24. But perhaps a restructure could happen here, as well. The biggest obstacle here is that Washington would almost certainly want the Lions' second overall pick in any deal, and the Lions would probably be better off staying with Goff and keeping the pick, even if meant not acquiring a game-changer like Young.
Seattle Seahawks
This is the trade partner that could be really interesting. It is no secret that Russell Wilson wants to be traded, as the Seahawks are closer to a rebuild than a Super Bowl. Wilson has a full no-trade clause, so there will be no direct Wilson-Goff deal.
But if the Seahawks do trade Wilson to a team like Tampa Bay or Pittsburgh, might they also have a secondary deal ready to go with Detroit to get Goff to replace Wilson at quarterback?
Consider this: Right around the same day that the Rams traded Goff to the Lions, the Seahawks hired the Rams' passing coordinator and quarterbacks coach Shane Waldron to be their offensive coordinator. And whose passes was Waldron coordinating in those three years before leaving for Seattle?
Jared Goff.
Goff and Waldron put together a massive offensive season in 2018 that resulted in a Super Bowl appearance. Could Goff re-discover that magic with a reunion with Waldron, not to mention having DK Metcalf and Tyler Lockett to throw to? One would think Pete Carroll is currently asking himself that question.
Pittsburgh Steelers
The Steelers keep saying they are ready to roll with Mason Rudolph as their starting quarterback. It is like a hostage dropping a secret clue that they are in desperate trouble and need rescuing immediately.
The Steelers are $40 million in cap space that could increase to around $64 million at the start of free agency in Mid-March, so they could make a deal work to acquire Goff and his bloated post-2022 contract.
If they are unable to swing a deal for Rodgers or Wilson, are they really going to risk the season on the unproven Rudolph? Or if the Lions are willing to eat a portion of Goff's remaining salary, and maybe a throw in a late-round draft-pick sweetener, could Goff be their veteran bridge to the next Big Ben?
It's a possibility the Lions should certainly explore.
Stats courtesy of Pro Football Reference