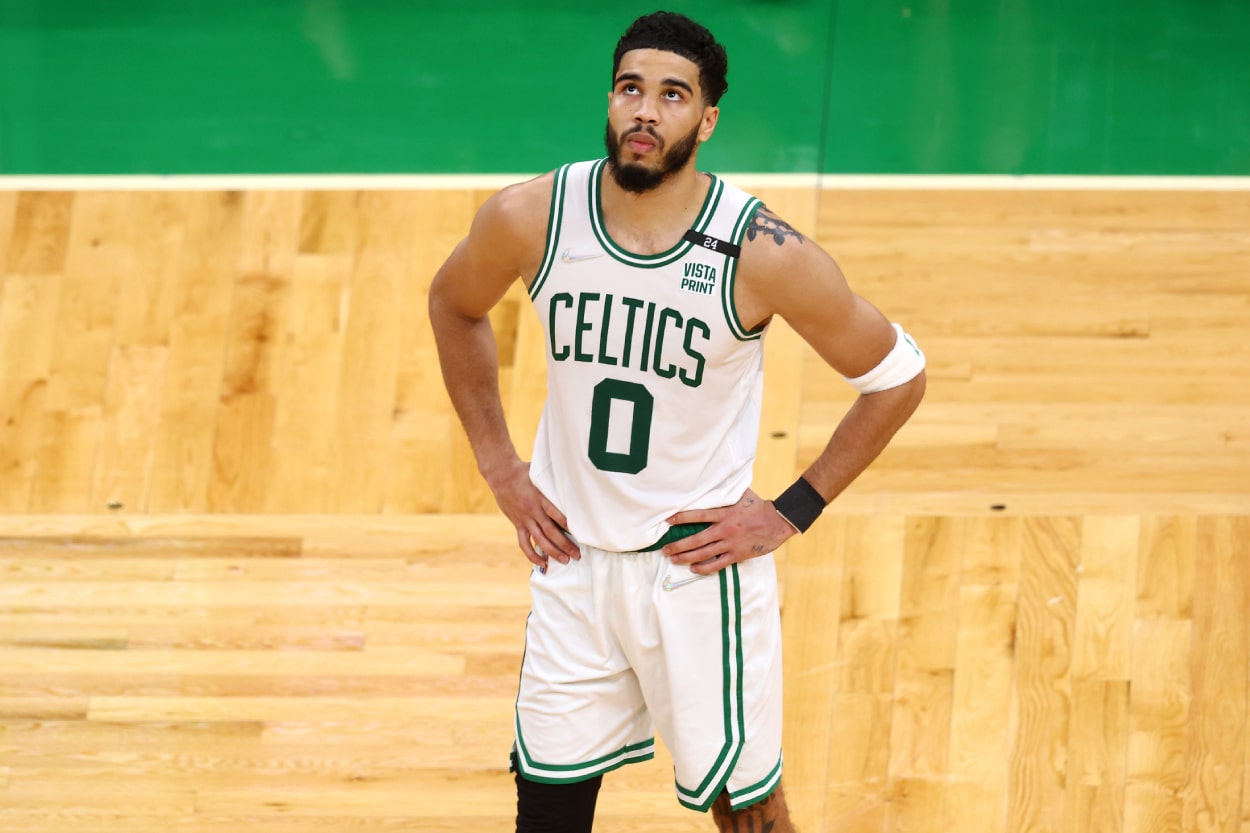 Jayson Tatum Answers Fan's Blunt Question: Why Did You Stink vs. the Warriors?
Boston Celtics star Jayson Tatum had an impromptu Q&A session on Twitter, answering a wide variety of questions.
If we haven't already watched Jayson Tatum grow up, we're in the process of doing so. The Boston Celtics star had a rough series in the 2022 NBA Finals against the Golden State Warriors. In fact, his postseason wasn't all that great as he set an all-time record for turnovers in the postseason. His inconsistency was his downfall.
Still, he got the Celtics over the hump. He got them to the championship round for the first time since 2010. The loss in six games, combined with Tatum's poor play, will only motivate the 24-year-old All-Star. He hasn't shied away from his performance. He even answered a fan's question during an impromptu Q&A Twitter session Wednesday.
Jayson Tatum and the Boston Celtics know they aren't where they need to be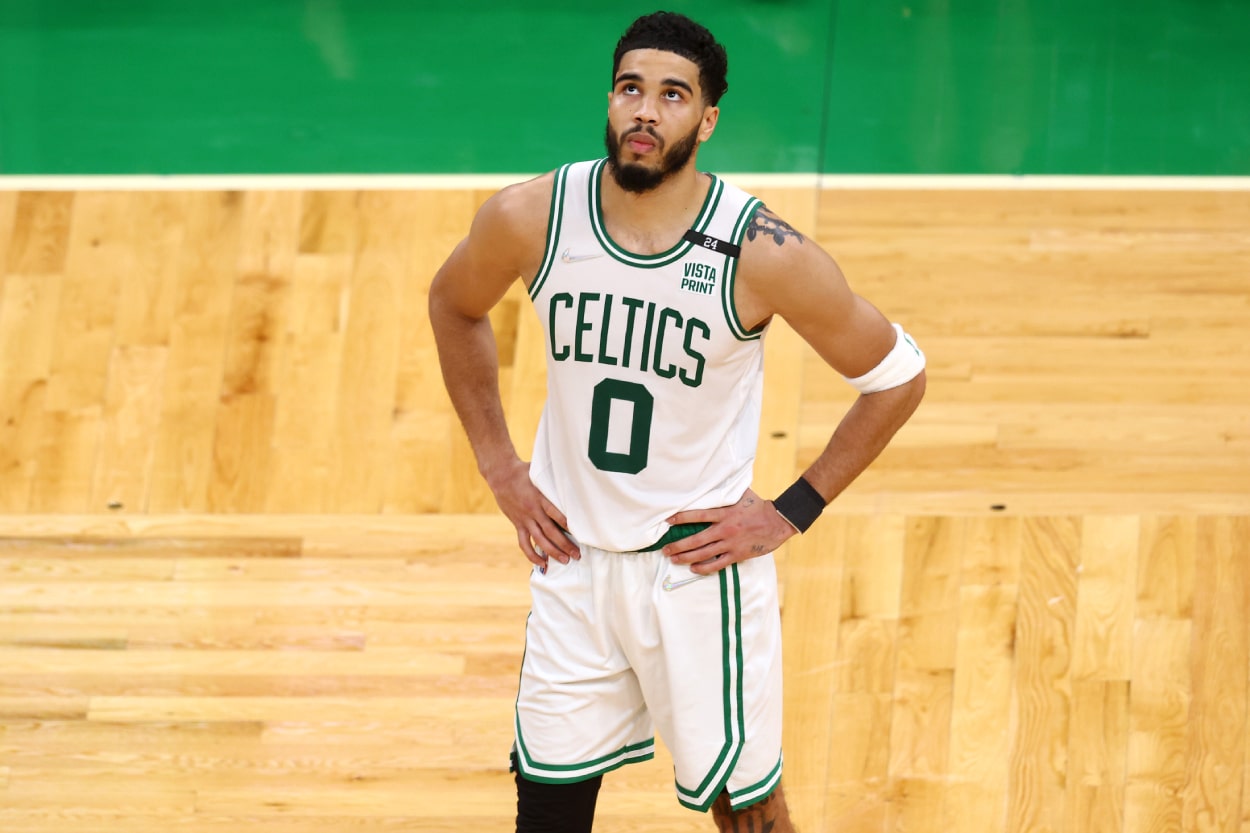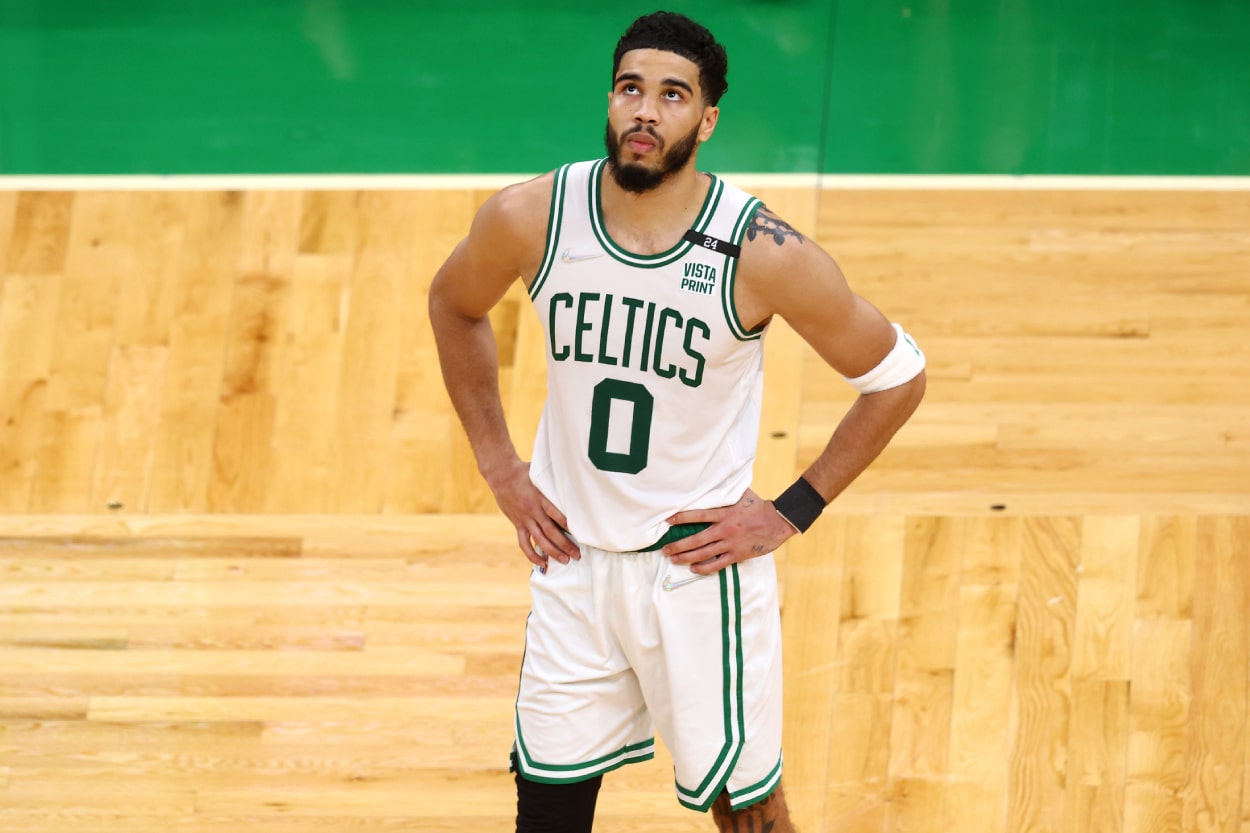 Tatum and the Celtics have had some time to digest their loss to the Warriors. In fact, it didn't take long for the team to address its biggest need — depth.
Throughout the playoffs, the Celtics typically used eight players. It caught up with them in the NBA Finals, where they seemed to run out of gas. Brad Stevens immediately went to work, pulling off a five-for-one trade. The Celtics acquired veteran guard Malcolm Brogdon from the Indiana Pacers in exchange for Aaron Nesmith, Daniel Theis, Nik Stauskas, Malik Fitts, and Juwan Morgan, along with a first-round pick.
The Celtics then signed veteran forward Danilo Gallinari after the San Antonio Spurs waived him.
Tatum lived through an NBA Finals. He knows it's going to take a whole lot more to get to the next level and win his first championship.
"It's tough," he said during his exit interview, per Celtics Blog. "You got to take it up another level to do what we want to do."
Tatum mingles with fans in Twitter Q&A session
After taking a deep breath from the grueling playoff stretch, Tatum jumped online Wednesday and engaged with fans, asking them to submit questions to him. He certainly got his share and didn't shy away from any.
One of the first questions was "Why did you stink vs. the Warriors?" While most athletes would simply ignore Twitter trolls, Tatum showed signs of maturation, giving a quick answer that shows he's ready to bounce back.
"Get knocked down 9 times get up 10," he wrote.
Someone asked if he'll be the MVP next year, and Tatum said he wants to "be better than I was last season."
Tatum answered a wide variety of questions, including who his favorite baseball player of all time was. "Pujols," he said. He also said Grant Hill is the one former Duke player he wished he played with.
The loss to the Warriors was tough for Tatum and the Celtics, but it's going to make them better in the long run. Tatum's maturation both on and off the court will play a role in raising Banner 18 to the rafters.
Like Sportscasting on Facebook. Follow us on Twitter @sportscasting19 and subscribe to our YouTube channel.