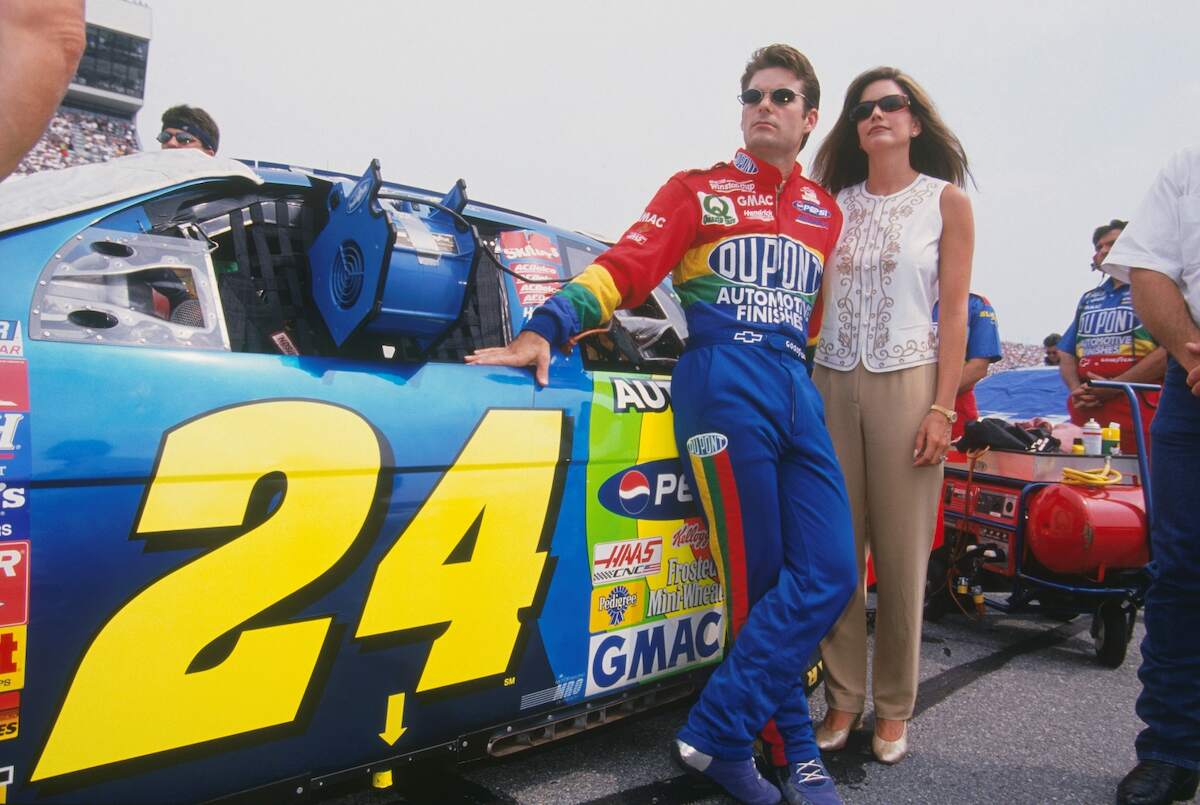 Jeff Gordon Became a 'Master at Sneaking in and Out of Hotels' After He Violated 1 of NASCAR's Biggest Unwritten Rules
Motorsports legend Jeff Gordon became a master at sneaking in and out of hotels after he violated one of NASCAR's biggest unwritten rules.
When it comes to motorsports legends, few generate as much respect from fans as Jeff Gordon. After all, he became one of the most popular figures in NASCAR history thanks to his skills behind the wheel.
However, in his younger years, Gordon had to master another art form. While it did have to do with navigation, it did not require him to sit in the driver's seat. Instead, Gordon learned how to sneak in and out of hotels as a result of violating one of NASCAR's biggest unwritten rules.
Jeff Gordon became a master behind the wheel during his days as a professional driver
From 1993 to 2015, Jeff Gordon earned millions as a professional racecar driver. Thanks to his ability to outmaneuver his opponents on the track, the California native finished in first place 93 times. And when he didn't come out on top, he still finished among the top 10 on 477 occasions.
Gordon wasted little time proving he belonged on the pro scene. He took home 1993 Winston Cup Series Rookie of the Year honors. At the age of 24, he became the youngest driver in NASCAR history to win a title.
He captured plenty of more championship hardware during the course of his legendary racing career. The four-time Winston Cup Series champion also won the Daytona 500 three times. Most impressively, he completed three Grand Slams by winning all of the NASCAR Cup Series majors in a calendar year.
But well before he became arguably the sport's most popular star, Gordon had to hone another skill. And he had to do so in order to keep a secret hidden from the NASCAR community.
The motorsports star became a master of another skill after he violated an unwritten NASCAR rule
Back in 1993, Jeff Gordon made his mark by becoming the youngest driver to win a 125-mile qualifying race for the Daytona 500.
As part of his celebration, he had the chance to see Brooke Sealey up close. The Miss Winston Cup Series model garnered plenty of attention, and a mutual friend reportedly told Gordon that he and Sealey would be a perfect match.
"I was wowed before I ever met her," he told Sports Illustrated back in 1995. After winning the race, he "finally had something to talk to her about."
Only any conversations between the two had to remain under wraps. According to SI, an unwritten rule in NASCAR existed that prohibited drivers from dating the Winston Cup Series models. Yet, that didn't stop Gordon from later approaching Sealey in the garage area.
"He came up to me, and his little voice was just shaking," she told SI. "He was trying to talk to me, making the excuse that nobody else in racing was our age."
Over the ensuing months, they had to keep their personal relationship hidden. Sealey reportedly had to "duck into kitchens" and "out back doors" when other drivers showed up at restaurants where she and Gordon had been dining.
And on race weekends, Gordon became an expert at another way of avoiding being seen with Sealey. "I am now a master at sneaking in and out of hotels," he told SI. Ultimately, the couple went public with their relationship and officially tied the knot in November 1994.
Gordon ended up losing millions from divorcing his first wife
Jeff Gordon broke an unwritten NASCAR rule by dating Brooke Sealey. Years later, he suffered a major blow to his bank account by getting divorced from his first wife.
In March 2002, Sealey filed for divorce in Palm Beach County. She claimed Gordon committed marital misconduct. The NASCAR star eventually completed the annulment, which cost him a sizable chunk of his career earnings.
According to Arizona Central, Gordon's divorce settlement totaled "way more than double" of the widely-reported $15.3 million figure. Despite his expensive divorce, the 49-year-old still has an estimated net worth of $200 million.
Like Sportscasting on Facebook. Follow us on Twitter @sportscasting19.