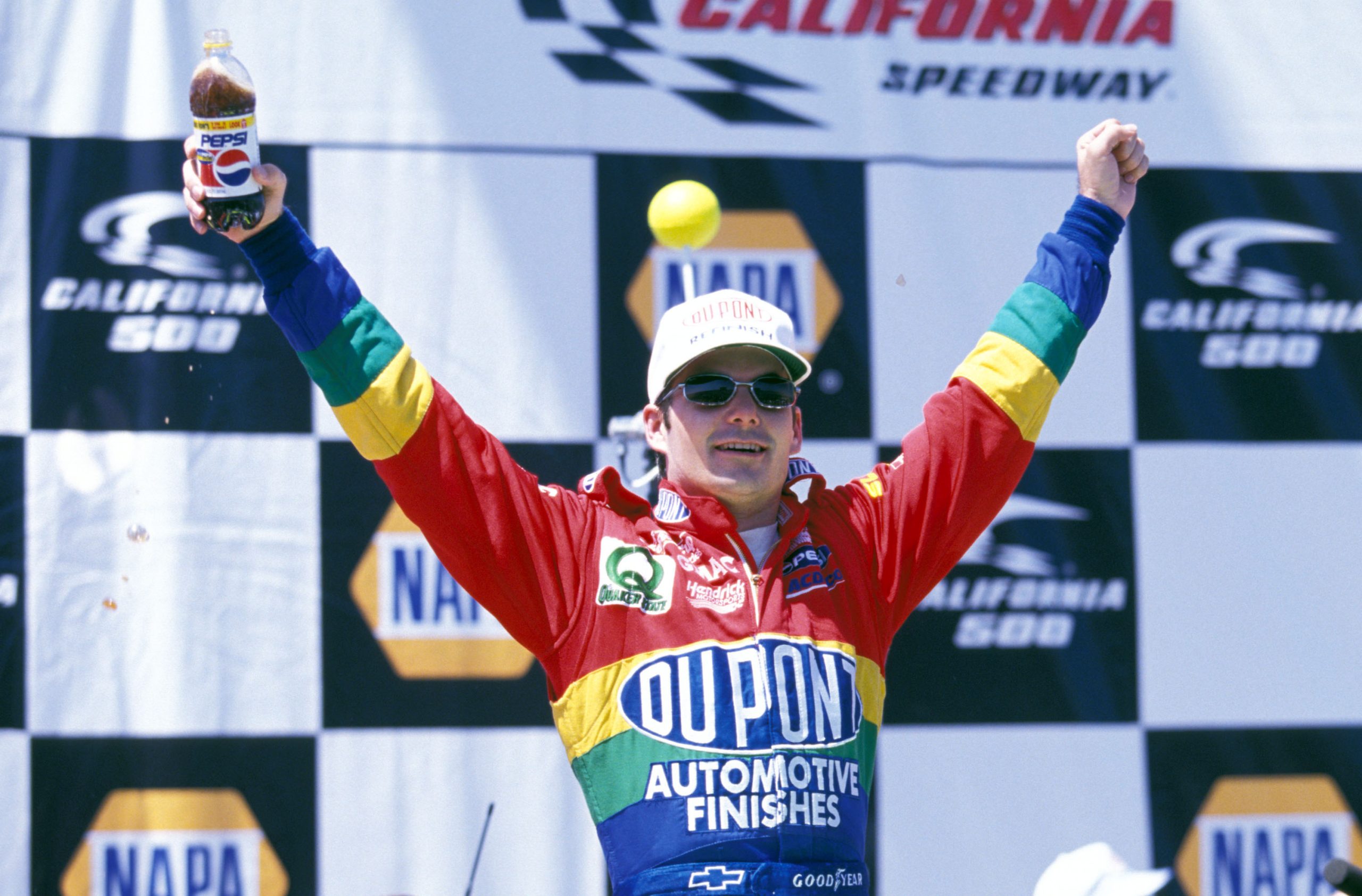 Jeff Gordon Made a 'Bonehead' Move Ahead of His 2nd NASCAR Cup Series Title That Forced Him Into a Week of Lying
Jeff Gordon made a mistake that nearly proved costly in 1997.
Jeff Gordon finished his NASCAR Cup Series career with four championships, putting him only behind Dale Earnhardt, Jimmie Johnson, and Richard Petty for most all-time. Gordon nearly finished with three because of a "bonehead" mistake he made just before his second Cup Series title in 1997. Gordon's mistake was oh-so-close to becoming a costly one, but it did force him into having to lie for a bit.
Jeff Gordon made a "bonehead' mistake that nearly proved costly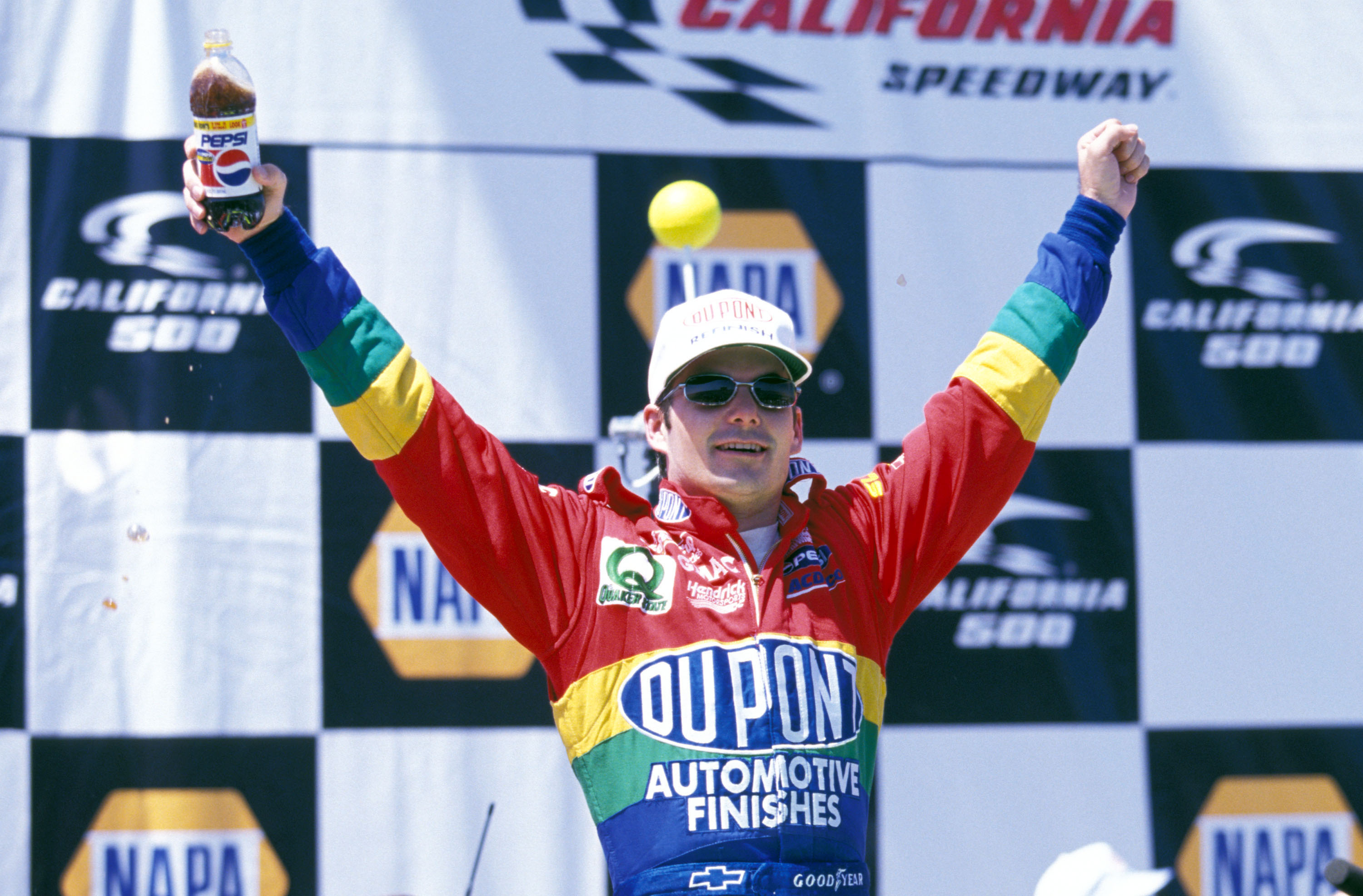 It all happened before the NAPA 500 at Atlanta Motor Speedway back in 1997. The young Gordon was seeking his second Cup Series title after having won his first two years earlier. According to Sports Illustrated, Gordon made a "bonehead" move during a morning practice before the previous Saturday's qualifying.
Gordon headed down pit road, swerving his tires left and right to warm them up. While doing so, he lost control of his Chevrolet Monte Carlo, spun out, and slammed into Bobby Hamilton's parked car. Gordon severely damaged his car, forcing him to use a backup. Hamilton, too, had to use his backup.
"I was pretty upset with myself," Gordon said the following day. "It wasn't a difficult thing to do because the pit road was slippery and the tires were new."
When Gordon's team hurriedly switched the engine from his previous car into the backup, the mechanics overfilled the oil-cooler tank. When Gordon went to qualify, excess oil spilled onto the track, causing him to swerve. He was forced to start 37th in the 43-car field.
Jeff Gordon simply need to finish 18th or higher to claim the championship
Gordon entered the final race of the season with a 77-point lead over Dale Jarrett. He led Mark Martin by 88 points. In order to secure his second NASCAR Cup Series championship, he needed to finish no lower than 18th. What originally appeared to be a gimme was no longer a sure thing.
Ray Evernham, Gordon's crew chief, wasn't overly optimistic. "I was falling apart," he said after the race. "When something is beyond your control, you can handle it without pressure. But when your wounds are self-inflicted, you can't blame it on luck."
Not only was the Hendrick Motorsports team concerned about his starting position, but team members were also flashing back to 1995, Gordon's first championship year. They remembered how Gordon struggled down the stretch, watching a 302-point lead nearly evaporate in a four-week span. He eventually held off Dale Earnhardt for the title. Even in 1996, he saw a 111-point lead disappear and lost to Terry Labonte by 37 points.
Gordon finished 17th and then admitted to lying all week
Despite the pre-qualifying mishap, Gordon finished 17th, defeating Jarrett by 14 points. He avoided what would have been a devastating collapse. During the week, he played it cool. After the race, he admitted he was anything but cool.
Throughout the week, he had was asked about his mental frame of mind heading into the race. How was he handling his crash? Was he losing any sleep?
"I said I'd been sleeping well," he said, according to Sports Illustrated, "but I haven't slept in two weeks." 
Two weeks?
That's because he failed to clinch the title earlier that month at the Dura-Lube 500 in Phoenix, finishing 17th and keeping Jarrett within striking distance.
In the end, Gordon won what counted – his second championship. Even a lack of sleep for two weeks couldn't stop The Kid.