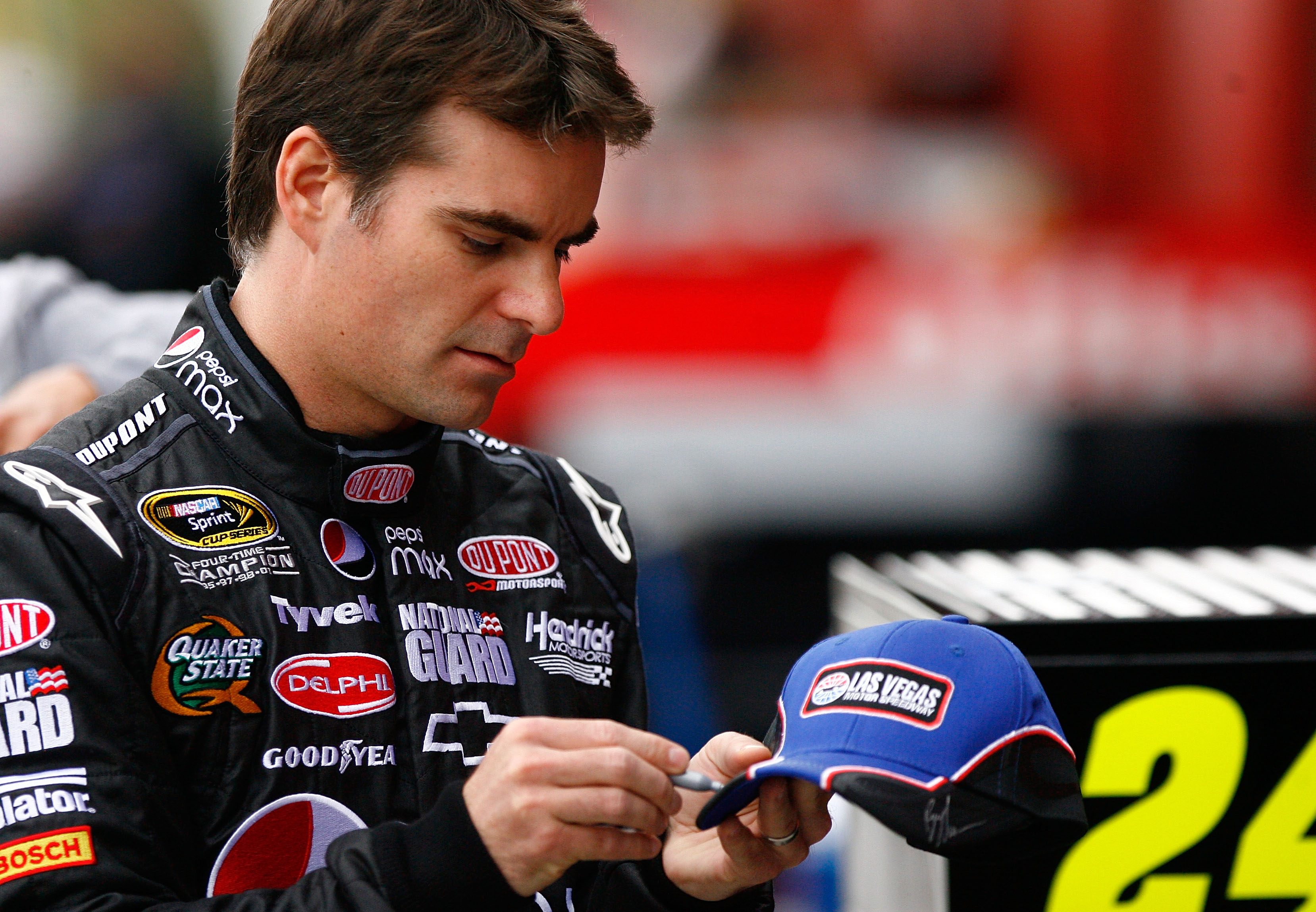 NASCAR Legend Jeff Gordon Has Never Been a Big Believer in Luck
Jeff Gordon has said he's not a big believer in luck.
If you've got it, you've got it. The 'it' isn't luck, according to NASCAR legend Jeff Gordon. Gordon didn't need a whole lot of luck during his Hall-of-Fame racing career when he racked up 93 Cup Series victories. In fact, Gordon went on record back in 2013 and explained why he isn't a big believer in luck at all.
Jeff Gordon was one of NASCAR's best
Jeff Gordon was not only good on the racetrack, but he was also very good off it. His young age and his engaging personality helped take NASCAR to a new level. He drew the attention of a younger generation by becoming the youngest driver to win a NASCAR Cup Series championship when he was 24 years old.
Gordon picked up that first Cup Series title in 1995 and it was the first of four he collected throughout his career. He also won the championship in 1997, 1998, and 2001. Gordon also went on to capture three Daytona 500 victories, winning in 1997, 1999, and 2005. He is also the owner of three career Grand Slams.
Gordon is third on the all-time wins list with 93. He took part in 797 consecutive races through 2015. In 1998, Gordon was named one of NASCAR's 50 Greatest Drivers. Gordon was inducted into the NASCAR Hall of Fame in 2019.
With success, comes fame
Jeff Gordon became a wanted man. His success and popularity resulted in numerous public appearances, sponsorships, and autograph requests. With his schedule, it was tough to please everyone. He once told USA Today how he tried to prioritize while trying to please as many folks as possible.
"Well, race team is No. 1," Gordon said. "Your whole reason to go to the racetrack is to try to win the race, so that has to be your priority. So they're first. Your sponsors come second, because you wouldn't be out there without them – the car isn't going to go around the track. And I think it's a balance between the fans and media, because they all help the sponsors, which in turn helps the team. You have to balance out the amount of time you dedicate to the fans as well as to the media, because you can't do it without either."
Gordon said he sometimes tries to save some time by interacting with fans on social media. "It's different, too, with social media – now we're committing time to social media as well," Gordon said during a Q&A session with the newspaper. "Which, in turn, is a great thing for the fans. I like the ones where you can kind of do both at one time. I like efficiency."
Jeff Gordon said he's not a big believer in luck
During that Q&A session with USA Today back in 2013, Jeff Gordon said he wasn't a huge believer in luck. He was asked the following question: What percent of racing success is driver, what percent is car, and what percent is luck?
"What I love about this question is if I brought (crew chief) Alan (Gustafson) down here, he's going to say the exact opposite of what I'm going to tell you," Gordon answered. "I'm going to say it's 80% car, 20% driver — and he's going to tell you it's 80% driver and 20% car. Luck? I'm not a big believer in luck. I think preparation, hard work, good race cars, and a good race team make your luck."
He was then asked a follow-up question on luck. But what happens if a tire randomly comes off someone's car in front of you, bounces down the track, and barely misses you? Isn't that good luck? "That's not luck, that's physics," Gordon said. "An action happened and it missed you. That's like asking if we're lucky that an asteroid didn't hit us — it is on a set path. Some people would say, 'Well, we got lucky and it didn't hit us.' I would say, 'That was on the path it was on. It's not luck.'"