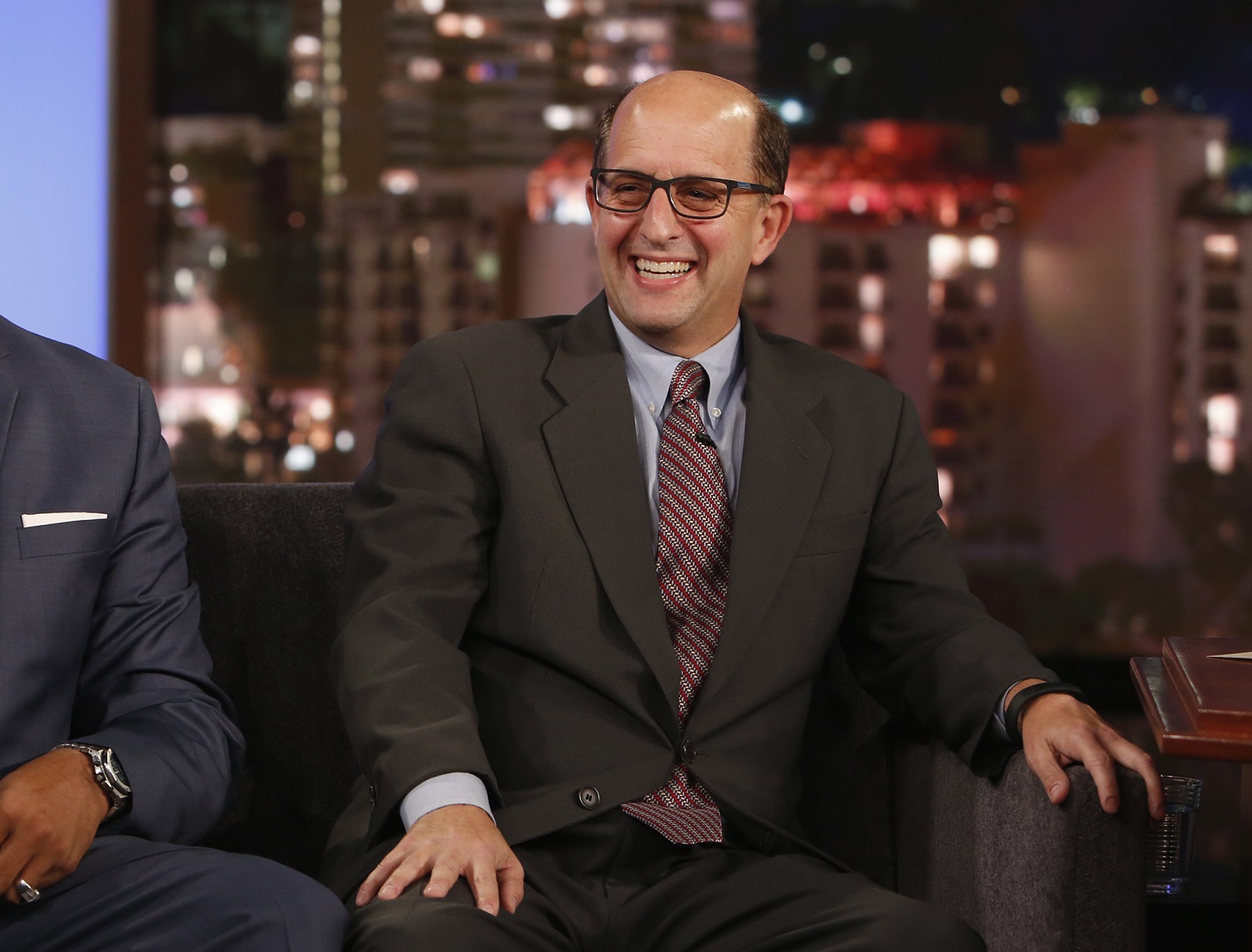 Jeff Van Gundy Dishes on How NBA Coaches Spew Fake News When Talking to Reporters
ESPN and ABC basketball analyst Jeff Van Gundy says meetings with coaches before games don't have much value once he steps behind the microphone.
NBA and NFL network announcers are serial name-droppers. They love sliding mentions of conversations they've had this week with Gregg Popovich or Andy Reid into telecasts on ESPN and the broadcast networks as a way of establishing their authority and credibility. And then Jeff Van Gundy admitted that coaches dish plenty of fake news in those pregame meetings.
Jeff Van Gundy has been on both sides of the microphone
Jeff Van Gundy and basketball date to the days as a kid when he tagged along with his brother Stan to college practices run by their father, Bill Van Gundy. After playing Division III ball in Rochester, New York, he went on to coach one season at a local high school.
A year later, he worked for Rick Pitino as a graduate assistant for a Providence College team that reached the NCAA Tournament Final Four. In subsequent seasons he worked for veteran coaches Gordon Chiesa at Providence and Bob Wenzel at Rutgers.
Along the way, Van Gundy earned a reputation as a tireless worker, which caught the attention of the NBA's New York Knicks, where he worked on the staffs of Stu Jackson, John MacLeod, Pat Riley, and Don Nelson. On March 8, 1996, the Knicks promoted him to head coach.
He resigned early in the 2001-02 season and then got back into coaching with the Houston Rockets from 2003-07. In parts of 11 pro seasons, Van Gundy went 430-318 in the regular season and 44-44 in the playoffs. The Rockets fired Van Gundy after a first-round exit in the 2007 playoffs and, though his name still surfaces occasionally when jobs open up, he has resisted returning to the bench.
Van Gundy moved from the Rockets into broadcasting at ESPN and ABC.
Jeff Van Gundy dishes on how NBA coaches spew fake news
As Jeff Van Gundy learned with the Knicks, there is no consistently tougher media market in sports than New York City. TV and print outlets across the Tri-State region and the presence of 24/7 sports radio mean that coaches of struggling teams get put on blast with more intensity than those anywhere else.
In addition to local media, however, coaches deal with TV play-by-play announcers and analysts a few days before national telecasts like weekend NFL games or the NBA contests that ESPN and TNT carry.
Whether via Zoom or in person, coaches face questions about the upcoming game and their players. Van Gundy has been on both ends of those conversations. While he agrees that probably earns him some trust, Van Gundy told The Athletic most of the conversations are useless.
"There used to be more people in the room when the coaches were talking to us. I thought a lot of times it was sort of a waste of time. A lot of platitudes. No real insight — and I don't blame the coaches. You do have to be cognizant of what you're saying, and you don't know a lot of these people."

Jeff Van Gundy
JVG says the real details spill out after the formal conversations
According to Jeff Van Gundy, the real conversations about players take place once the meetings that the network and the team arrange end.
"There will be certain coaches that will text me something afterward, and a lot of it is, 'Use your own words, but this is what's going on,' Van Gundy admitted. "You're just trying to get answers. Like, I wonder why this guy is not playing, is this a legit injury or is he milking the injury, and things of that nature. So, you want them to steer you right but also make sure that you don't break any confidence."
That's a difficult balancing act when five people in the room hear one player evaluation and then Van Gundy goes on the air the following night with a different take.
"I had one coach one time who had just said the opposite in the meeting about how wonderful a guy is," he recalled. "I might have had a strange look on my face, and he called later and said, 'You know I was bulls******* in there, but I had to do that.'
"Having coached, you know how that goes. So, I appreciate when they can tell me the truth."
Van Gundy has been off the bench long enough now where he runs up against the occasional generation gap. That reality hit home when the Washington Wizards hired Wes Unseld Jr. to coach in the offseason.
 "I coached against his dad, and Wes Unseld Jr. played for my college coach at Johns Hopkins," Van Gundy said. "That's how old I am now. But I love talking to coaches. I have great empathy for how hard a job it is, and it's really one of the highlights for me.
"I love getting the chance to listen to them."
That's true even if the real listening begins after the meeting ends.
Like Sportscasting on Facebook. Follow us on Twitter @sportscasting19.