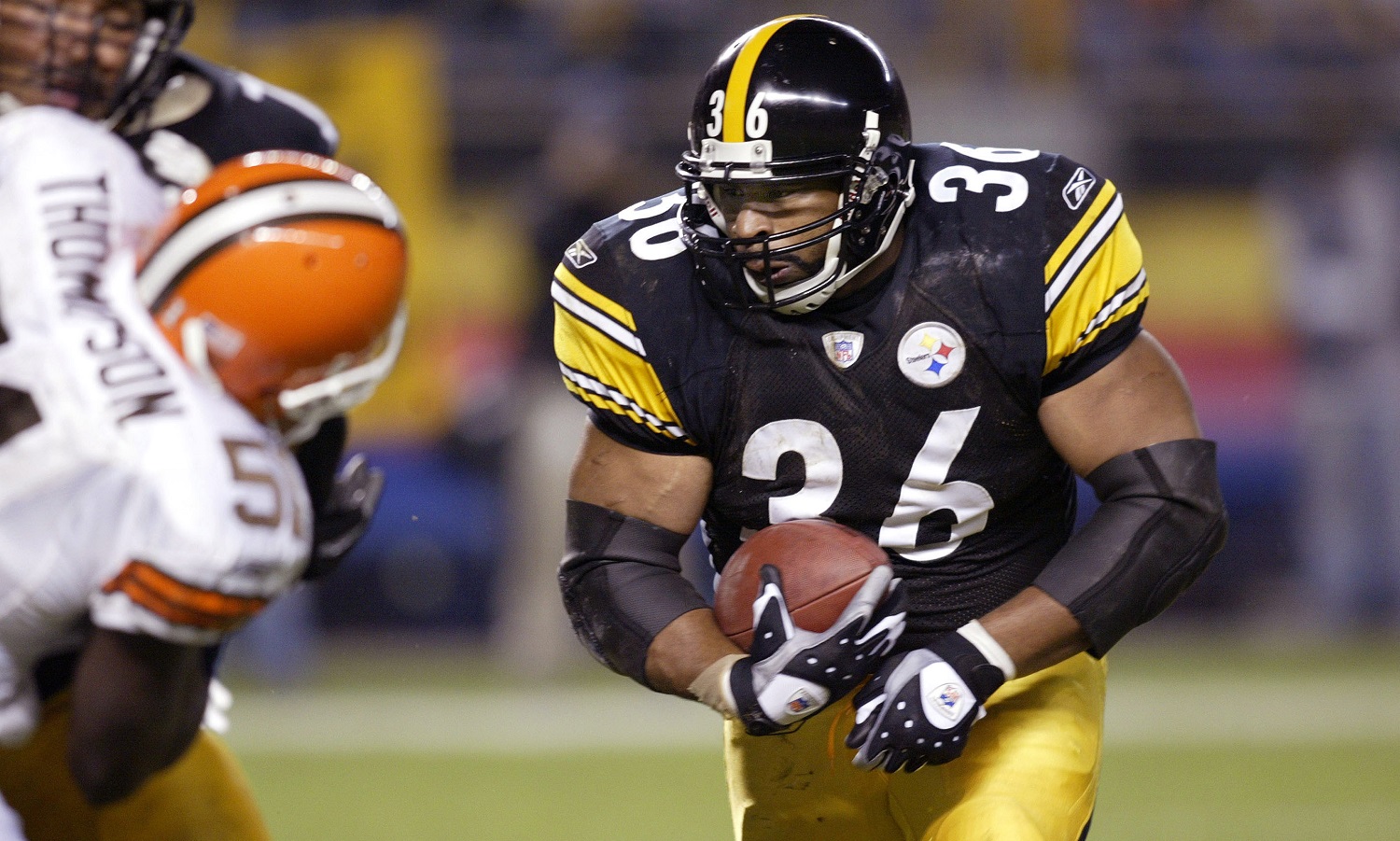 Jerome Bettis Swears Bowling a Perfect Game Was More Pressure-Packed Than Playing a Super Bowl in His Hometown
Hall of Fame running back Jerome Bettis says bowling a perfect game early in his NFL career was more pressure-packed than winning a Super Bowl in his final game.
Even as a 13-year veteran, Pittsburgh Steelers running back Jerome Bettis should have felt at least some nervousness while playing in a Super Bowl. It was understandable. Super Bowl 40 was in front of his hometown fans in Detroit.
But Bettis says the stress couldn't compare to another athletic competition from early in his days with the Steelers. There was no money or championship on the line, but the satisfaction was every bit as good, if not better, than that day in Detroit against the Seattle Seahawks.
That's because he rolled a perfect game in front of several professional bowlers.
Jerome Bettis enjoyed a Hall of Fame NFL career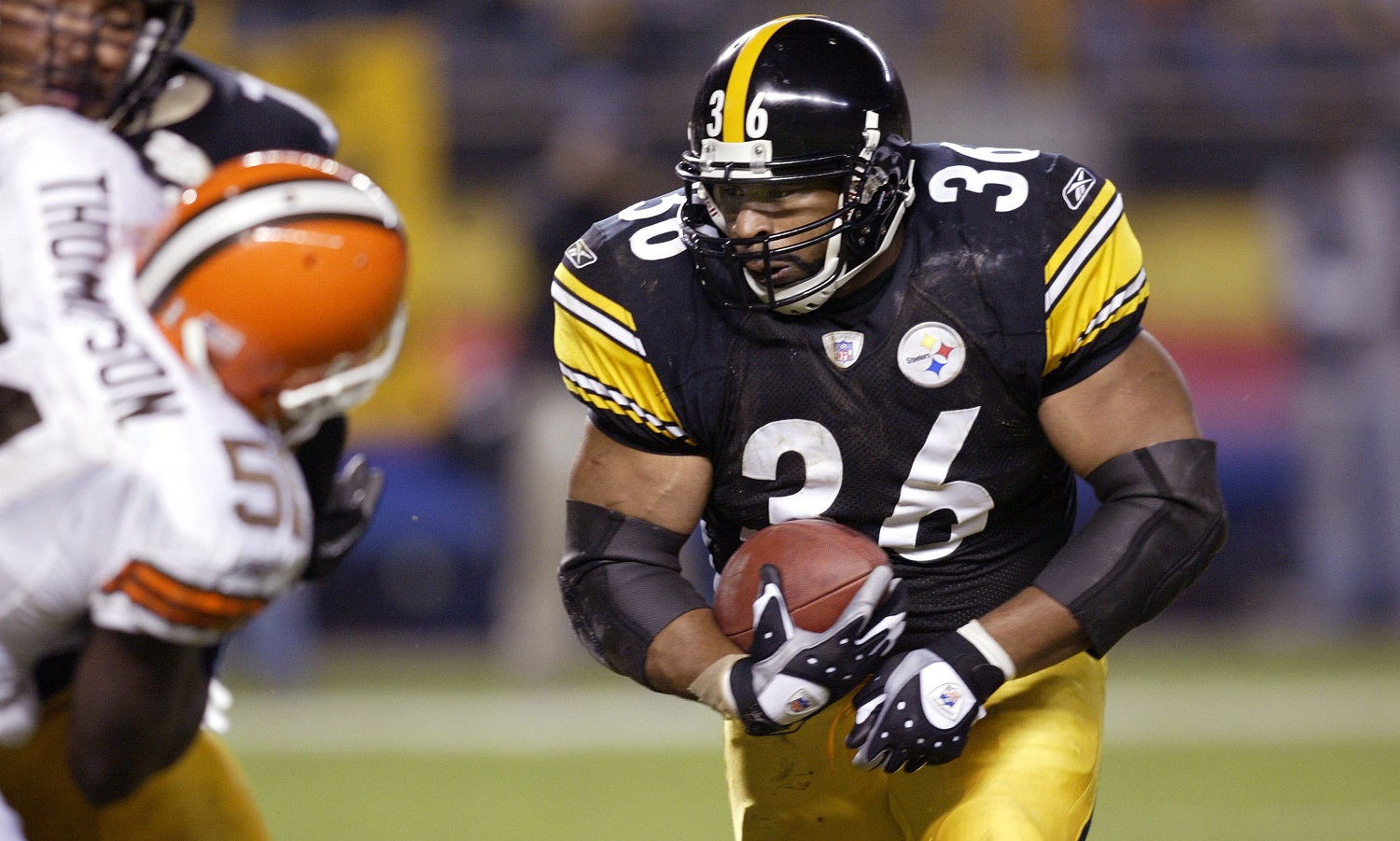 Fresh off a stellar career at Notre Dame, Jerome Bettis earned first-team All-Pro honors with the Los Angeles Rams and never looked back. Bettis rushed for 1,429 and seven touchdowns that rookie year in 1993, and it would be one of his eight 1,000-yard seasons.
The Rams traded Bettis to the Steelers after the 1995 season, and the years in Pittsburgh were among his finest. Bettis earned four of his six Pro Bowl berths as a Steeler and finished with 10,571 rushing yards, 125 receptions, and 80 TDs in a decade with Pittsburgh.
He helped the franchise to the playoffs half a dozen times, culminating with the 21-10 victory over Seattle in Detroit, where Bettis grew up and became the state's high school player of the year before signing with Notre Dame.
Bettis entered the Pro Football Hall of Fame in 2015.
The future football star started out as a bowler
Doing a round of interviews ahead of his Hall of Fame induction, Bettis appeared on In Depth with Graham Bensinger and spoke of growing up in a rough environment in Detroit, which included selling drugs alongside his brother.
"The mindset was, 'We're in the 'hood. Mom and Dad, they're working their butts off. There's no money around. We need to make some money.' So, we said, 'You know what? Let's give it a shot.' And it was one of those moments that you regret. But, at the moment, that was the only thing that was really available to us."
In a more recent interview, Bettis said his mother steered her sons into bowling to keep them from running with the wrong crowd.
"My mom figured that it'd be great to teach us how to bowl because on the weekends, when guys are with your friends and you don't have much constructive things to do, she can take us out of that environment and put us in the bowling lanes on Saturdays and Sundays," he explained on Hall of Fame kicker Morten Andersen's podcast for VegasInsider.com.
Bettis called bowling an important part of his childhood, saying it "kept us off the streets, but also kept us competitive. I was very competitive at a very young age. And it turned out to be very, very beneficial."
Jerome Bettis swears bowling was more pressure-packed than the Super Bowl
Bettis continued to bowl as an adult, and he has one perfect game to his credit. It came early in his time with the Steelers in 1997 during a pro-am. He said he found the pressure more daunting than playing in that Super Bowl before family and friends nearly a decade later.
"After every strike, the crowd is bigger and bigger and bigger," Bettis told Andersen. "By the time I got the last my last frame, we had a ton of people around, but then they decided to put a camera in the gutter. They got a person with the camera in the gutter as I was bowling."
Bettis was able to put that distraction out of his mind and finish off the 300 game.
"It was a tough moment, but it was one that football had prepared me for because I was comfortable in that environment with the with the crowd."
When he wasn't knocking down bowling pins, Bettis was knocking down linebackers in the sport that brought him greater fame.
All stats courtesy of Pro Football Reference.