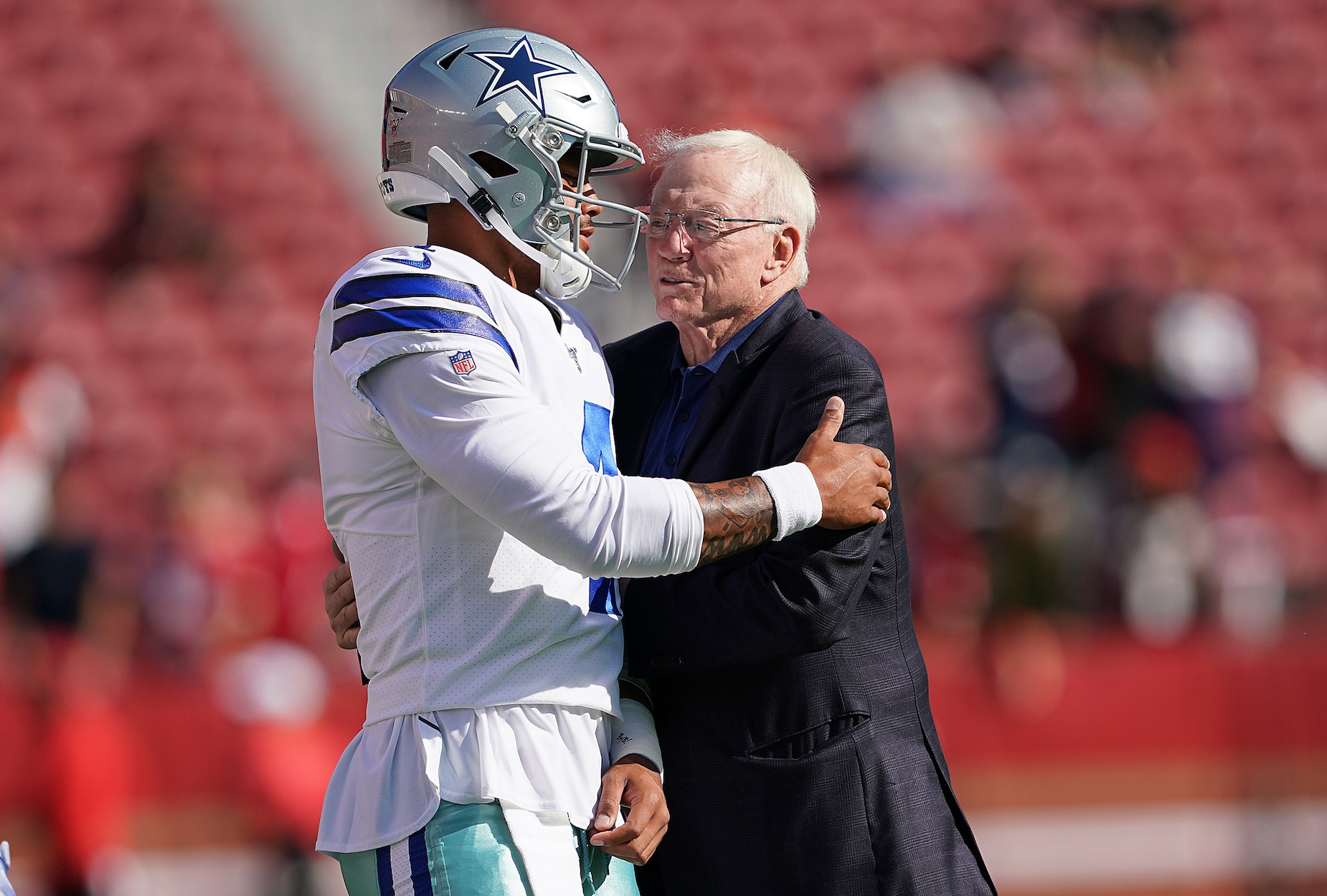 Jerry Jones Has a Major Concern About Dak Prescott's Football Future: 'You Can't Do That' in the NFL
While Jerry Jones wants Dak Prescott to remain a Dallas Cowboy, he also hopes that the quarterback can change one part of his game.
Heading into the 2020 NFL season, most of the league's drama was centered around the Dallas Cowboys. After playing out his rookie deal, Dak Prescott wanted a new deal; Jerry Jones, seemingly unwilling to spend more for the first time in a while, wouldn't budge from a five-year offer. The two sides never agreed, begrudgingly settled on a franchise tag, and, once the season began, the quarterback suffered a gruesome ankle injury.
While it's unclear how this offseason's contract negotiations will play out, it seems that Jerry Jones has a different concern. He wants Dak Prescott to change his style of play, whenever he returns to the field.
Dak Prescott's season ended prematurely with an ugly ankle injury
Whether you believe he's truly a franchise quarterback or not, Dak Prescott has been able to put up big numbers at the professional level. His 2020 campaign seemed to be shaping up similarly but promptly came crashing down during Week 5.
During the early weeks of the campaign, Prescott was one of the few players keeping the Cowboys afloat; with a defensive unit seemingly incapable of getting a stop, the quarterback was tasked with scoring as many points as possible in an attempt to stay in the game. While his efforts didn't net many wins, they did produce plenty of passing yards and touchdowns. If nothing else, Dak looked to be well on his way to earning a nice raise when he inevitably signed a new contract.
Everything, of course, changed in Week 5 against the New York Giants. Toward the end of the contest, Prescott broke out of the pocket on a quarterback draw; when the dust cleared, though, he didn't get up.
Prescott had both dislocated his ankle and suffered a compound fracture. That injury immediately ended his season.
Jerry Jones is concerned about his quarterback running the ball
While Dak Prescott isn't a Lamar Jackson-level runner, the quarterback can still escape the pocket and scramble for a first down, should the situation arise. In Jerry Jones' mind, however, that ability can be more trouble than it's worth.
"I always handicapped to some degree Dak because of the fact that he's so effective and has been in his career running, in the running game, and his ability to take it down and get the big play and get the yards," Jones explained on 105.3 The Fan. "I've always known that he couldn't do that like that for long in the NFL. You can't do that. [Troy] Aikman had a lot of mobility when he first came in his first couple of years, and, boy, that stopped quickly and we got to where we had trouble just with his mobility period around the pocket. You can't count on that."
The owner's concerns don't end there, though. In Jerry Jones' mind, Prescott needs to change his game; if he doesn't, the Cowboys could have to take the field without their star player again and again in the future.
"Now, when you say handicap, no, it's just a part of the game that we're not going to be able to figure in," Jones continued. "You look at some quarterbacks that live with it and done good, the quarterback in Seattle (Russell Wilson) is the best I've ever seen at sustaining success with his mobility. He sure is good at it. And if you notice, he just does not get hit with a lot of impact. Dak can do that. Dak will do that. He can evolve to where he just will take less and less hits. He has to or we won't have him to play."
Is Jerry Jones right about Dak Prescott endangering his future?
This most recent interview wasn't the first time Jerry Jones expressed his concern about Dak Prescott leaving the pocket and running the ball. That repetition doesn't change the bottom line, either: Jones' comments may sound logical, but they're a bit of an overreaction.
Although it seems rational to assume that quarterbacks who run take more hits and have a greater chance of getting hurt, that's not always the case. "The risk for a scrambling quarterback is almost equal to the quarterback who is sacked: once every 91.7 plays for the scrambler, once every 92.5 plays for the guy getting sacked," Mike DeCourcy once wrote for the Sporting News.
Again, Jerry Jones' reaction is perfectly understandable; he just saw his quarterback suffer a season-ending injury at the end of a run. With that being said, though, no one would be telling Dak Prescott to never stay in the pocket if he had gotten hurt while trying to throw a pass.
For better or worse, Jerry Jones tends to think he's the smartest guy in the room when it comes to football matters. In this case, though, Dak Prescott probably knows best.