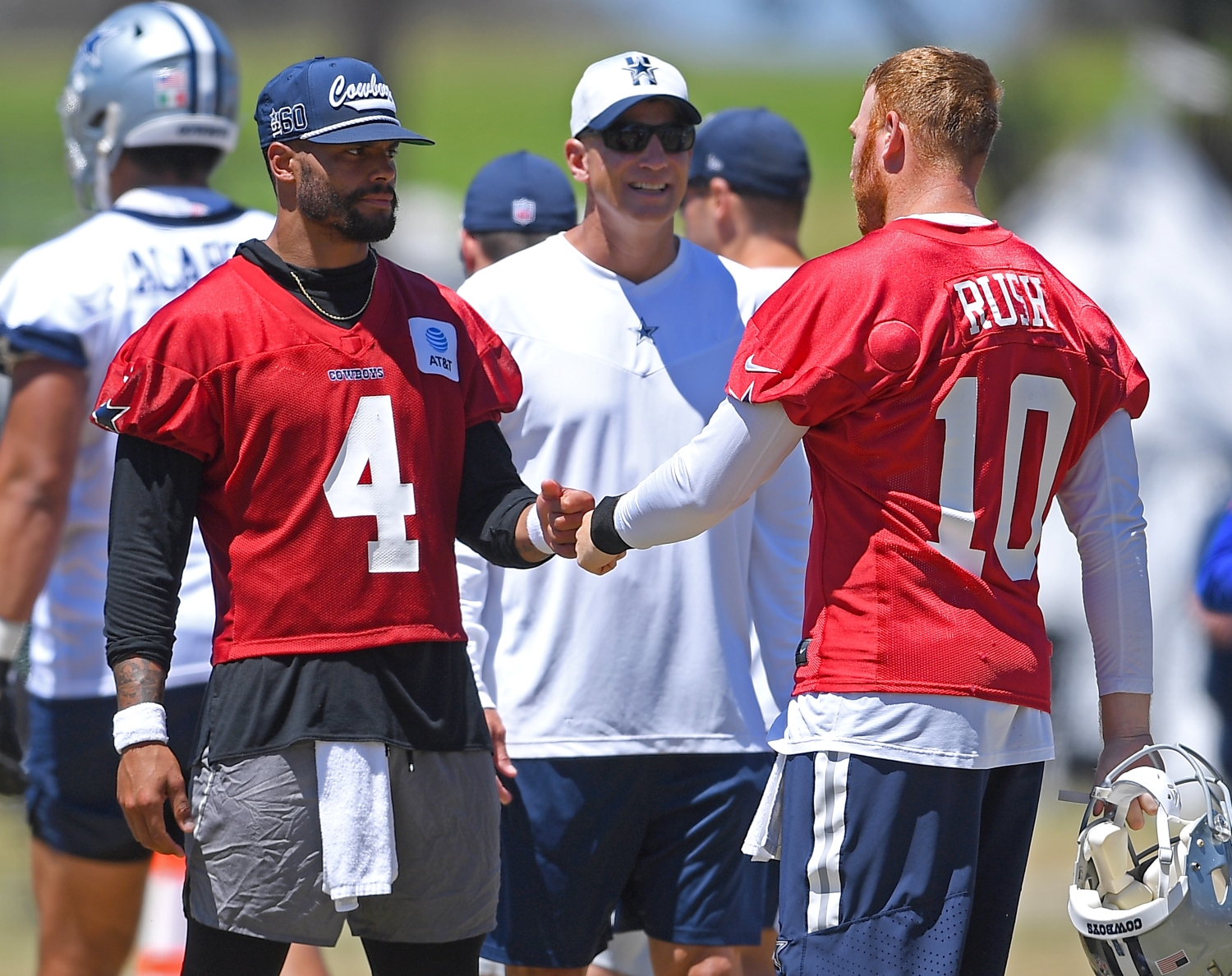 Jerry Jones Delivers Major Update on Dak Prescott That Doesn't Bode Well for Cooper Rush or Teddy Bridgewater
Jerry Jones' update on injured QB Dak Prescott doesn't bode well for Teddy Bridgewater or Cooper Rush. Will Dallas take care of business against the Denver Broncos?
Jerry Jones had to feel ecstatic about seeing Cooper Rush lead the Dallas Cowboys to their sixth straight win in his first NFL start. Obviously, though, the outspoken owner would much prefer to watch his $160 million quarterback lead the huddle than a career backup.
With Dak Prescott dealing with a calf injury, Jones delivered a major update during a Tuesday radio appearance that doesn't bode well for Rush or fellow signal-caller Teddy Bridgewater.
Dak Prescott's health status remains a key storyline to monitor heading into the Cowboys' clash against the Broncos
Dak Prescott's MVP-caliber campaign came to a screeching halt due to a calf strain he suffered in an overtime win against the New England Patriots. Naturally, his injury raised concerns about the Cowboys' ability to survive in the short term without their biggest star.
Luckily for Dallas, Prescott's backup stepped up with a rock-solid performance in a 20-16 victory over the middling Minnesota Vikings. Despite entering Week 8 with only three pass attempts on his NFL resume, 27-year-old Cooper Rush completed 24 of 40 throws for 325 yards, two touchdowns, and one interception. While the former undrafted free agent lost a fumble, he ultimately put his team in a position to leave Minneapolis with a well-earned win.
Rush's surprisingly effective outing has made the idea of letting Prescott sit out another week more of a realistic possibility. Doing so would give the two-time Pro Bowler extra time to heal, and as a franchise with a legitimate shot at winning a Super Bowl title, the Cowboys need to exercise caution and consider the long-term ramifications of re-inserting him into the starting lineup.
Jerry Jones delivers major update on his franchise quarterback that doesn't bode well for Cooper Rush or Teddy Bridgewater
Will the Cowboys' best player suit up against the Denver Broncos? Or will Prescott spend another game as a spectator?
Based on the latest update from Jerry Jones, neither Rush nor Teddy Bridgewater should feel too excited about what lies ahead.
"We have every reason to think that he's on go, and he should be ready to go," the 79-year-old owner said Tuesday on 105.3 The Fan. "This will give him quite the layoff, including the bye week that we had. So we have every reason to think he'll be on the field for us this week."
Since Jones seemingly expects Prescott to return to action this weekend, Cowboys fans should feel encouraged about their beloved team's chances of moving to 7-1. However, Rush looks poised to go back to holding a clipboard — an unfortunate outcome for someone coming off his first victory as an NFL starting quarterback. Barring a setback, his future likely involves running the scout team in practice and cheering on his teammates from the sidelines.
Meanwhile, Jones' update on Prescott doesn't bode well for Bridgewater, either. The soon-to-be 29-year-old has played well in his first eight games as a Bronco, but his chances of earning a road victory in Dallas don't appear strong at all.
The Cowboys went toe-to-toe with Tom Brady and the Tampa Bay Buccaneers in Week 1 and have shown the ability to move the ball and put up points with relative ease. Getting Prescott back would give the offense a game-changing boost and simultaneously ramp up the pressure on Bridgewater to make every drive count. Considering the Broncos currently rank 23rd in scoring at 19.6 points per game, it's fair to say they would face a significant challenge to keep pace with a stacked unit coordinated by future NFL head coach Kellen Moore.
After sending Von Miller to Los Angeles, Denver seems destined to leave Dallas with its fifth loss in six games
With Jones setting the stage for his highest-paid player to make his first appearance since Oct. 17, it seems Vic Fangio's squad stands little chance of leaving the state of Texas victorious. Plus, it's difficult to envision the Broncos handing the Cowboys their second loss of the season without the services of one of the best players in franchise history.
By trading All-Pro pass-rusher Von Miller to the Los Angeles Rams for 2022 second- and third-round picks, Denver did well to get future assets for an aging star with an expiring contract. Still, general manager George Paton's decision to ship the future Pro Football Hall of Famer to a Super Bowl contender shortly before the Nov. 2 trade deadline clearly leaves the roster in worse shape in the short term.
Can the Broncos pull off an upset at AT&T Stadium? While they boast the NFL's second-best scoring defense, getting rid of Miller should have a massive trickledown effect. With their leading sack artist now in LA, they pose far less of a threat to the Cowboys' six-game winning streak.
Ultimately, Denver remains one of the most rudderless franchises in the league. Until it figures out what to do at quarterback and head coach, it will continue to finish somewhere around .500.
As for Dallas?
The future looks incredibly bright, especially given Jerry Jones' update on Dak Prescott. And if injuries don't become a problem, don't be surprised if the Cowboys find themselves competing for the Lombardi Trophy in Super Bowl 56.
All statistics courtesy of Pro Football Reference.