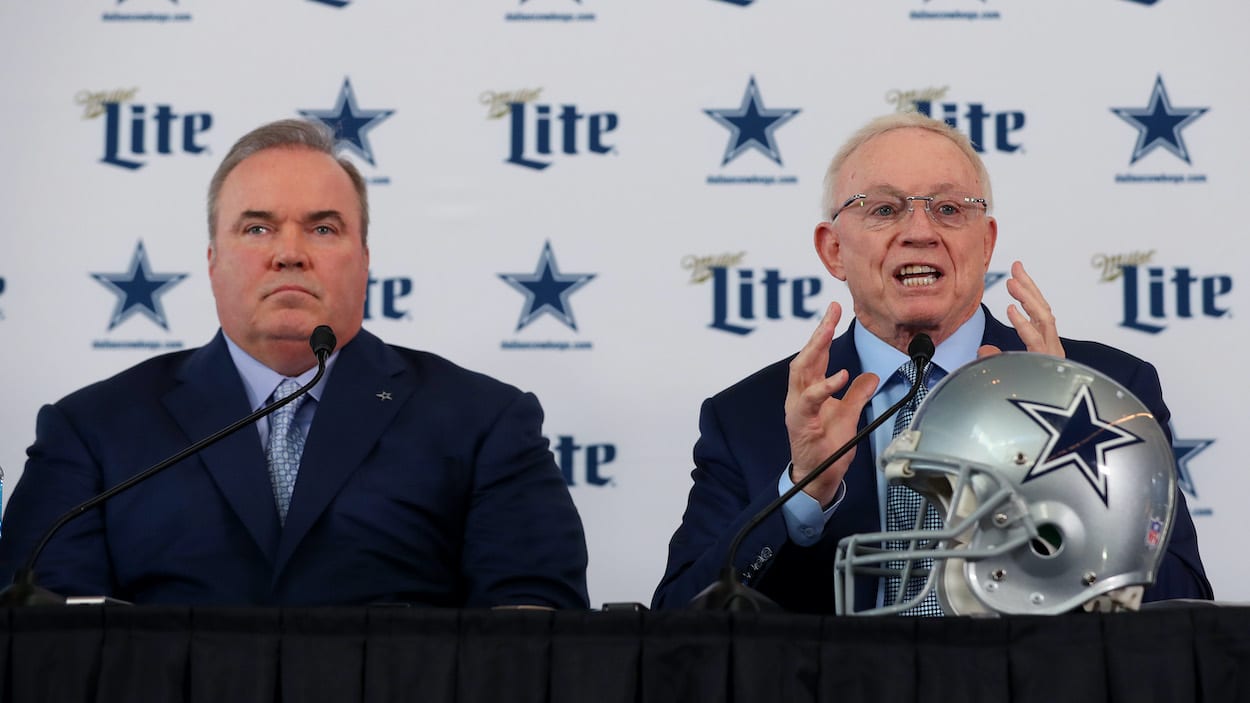 Jerry Jones' Mike McCarthy Vote of Confidence Could Be Kiss of Death for Coach
Jerry Jones' Mike McCarthy statement seems like good news for the Cowboys coach, but if he loses in the playoffs will Sean Payton be in play?
The Dallas Cowboys have had an up-and-down 2022 season. However, the team finished 12-5 and made the playoffs, where they'll face Tom Brady and the Tampa Bay Buccaneers on Monday Night. Owner Jerry Jones recently said that no matter what happens, head coach Mike McCarthy's job is safe. With Jones' dream coach, Sean Payton, out there, though, Jerry Jones' Mike McCarthy vote of confidence could simply be lip service.
Jerry Jones' Mike McCarty statement 
Ahead of the Cowboys playoff game vs. the Buccaneers, the Cowboys owner gave his coach public reassurance that his job is safe no matter what happens down in Florida.
Jerry Jones' Mike McCarthy status update seems good for the coach.
When Jones was asked on 105.3 The Fan this week if McCarthy's job was in jeopardy, the owner replied, "No, I don't even want to … no. That's it. I don't need to go into all the positives or minuses. I've got a lot more to evaluate Mike McCarthy on than this playoff game," per DallasCowboys.com.
That was a strong statement from the Cowboys owner, and Jones has been more loyal to his coaches than he sometimes gets credit for. Before McCarthy, Jones allowed former Troy Aikman backup Jason Garrett to coach for 10 seasons, despite only making the playoffs three times.
McCarthy has been better than Garrett overall. He is 30-20 in three seasons with the Cowboys and has made the playoffs the last two seasons. The coach has yet to win a playoff game, though.
So, maybe McCarthy is safe after the Jerry Jones-Mike McCarthy vote of confidence. However, as long as Sean Payton is unemployed, the Cowboys head coach should always be looking over his shoulder.
Sean Payton to the Cowboys?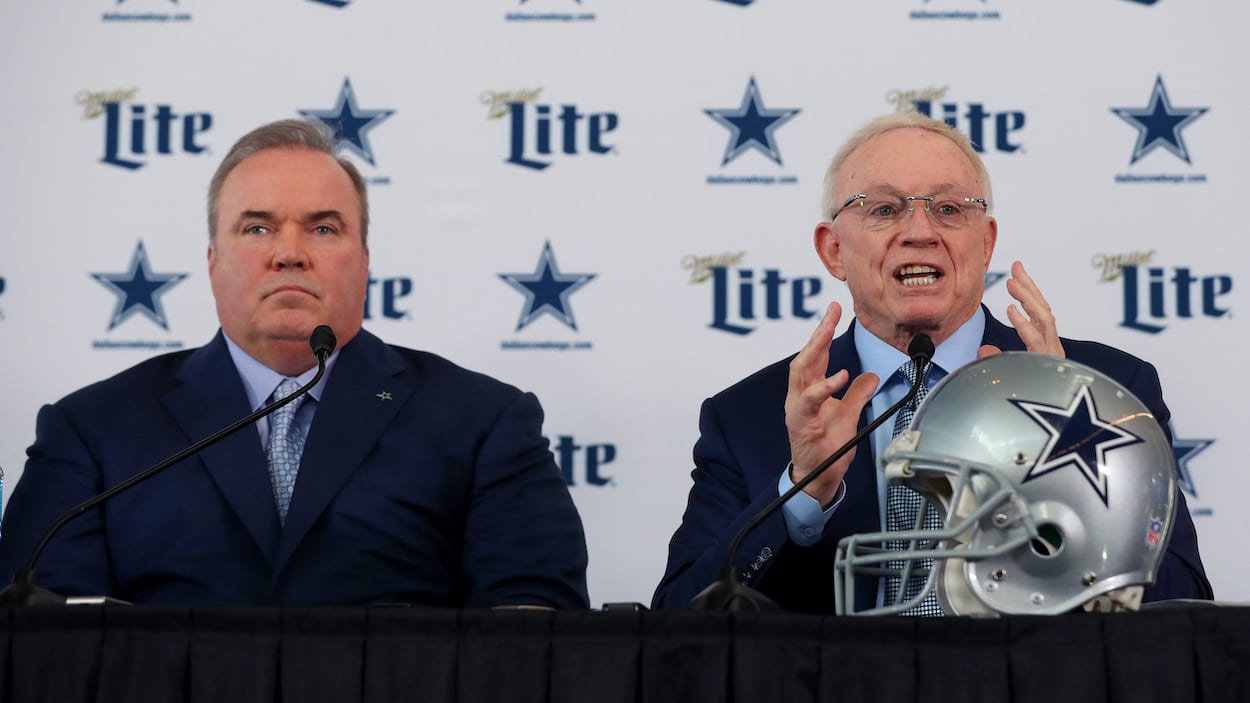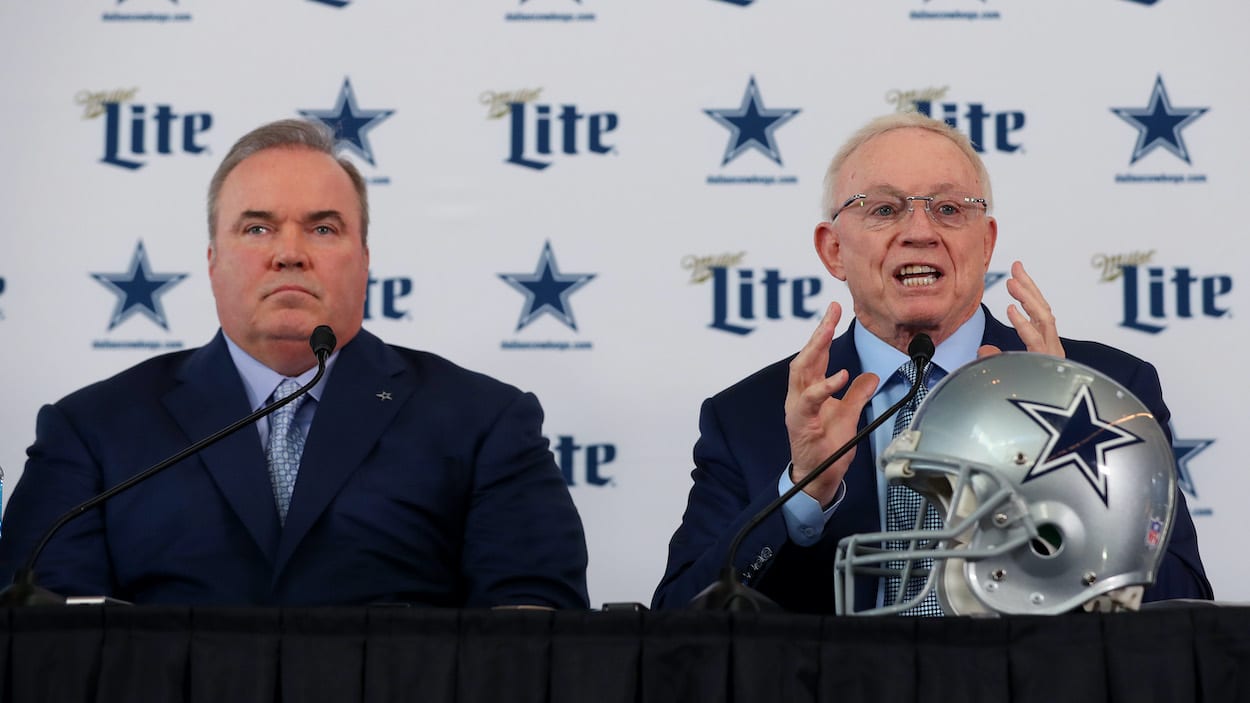 After Eastern Illinois quarterback Sean Payton's NFL dreams died, he started his coaching career in college at San Diego State, Indiana State, Miami (OH), and Illinois. After that, he moved to the pros and became an NFL East guy.
Two years with the Philadelphia Eagles and four with the New York Giants landed Payton a job on Bill Parcells' Cowboys staff as assistant head coach, quarterbacks coach, and passing game coordinator.
In 2006, Payton got the head job for the New Orleans Saints, and Parcells stepped down in Dallas the next season. Jones has always regretted letting Payton get away, especially after the coach won a Super Bowl in the Big Easy.
Now Payton is a TV analyst, but this offseason, he is also available again and considering open jobs. While both Jones and Payton have denied that there is a possibility of a reunion, no one else sees so sure.
If the Cowboys do lose to the Buccaneers on Monday, don't be shocked if a Sean Payton hiring follows a Jerry Jones-Mike McCarthy firing, and the Cowboys owner finally gets his man.