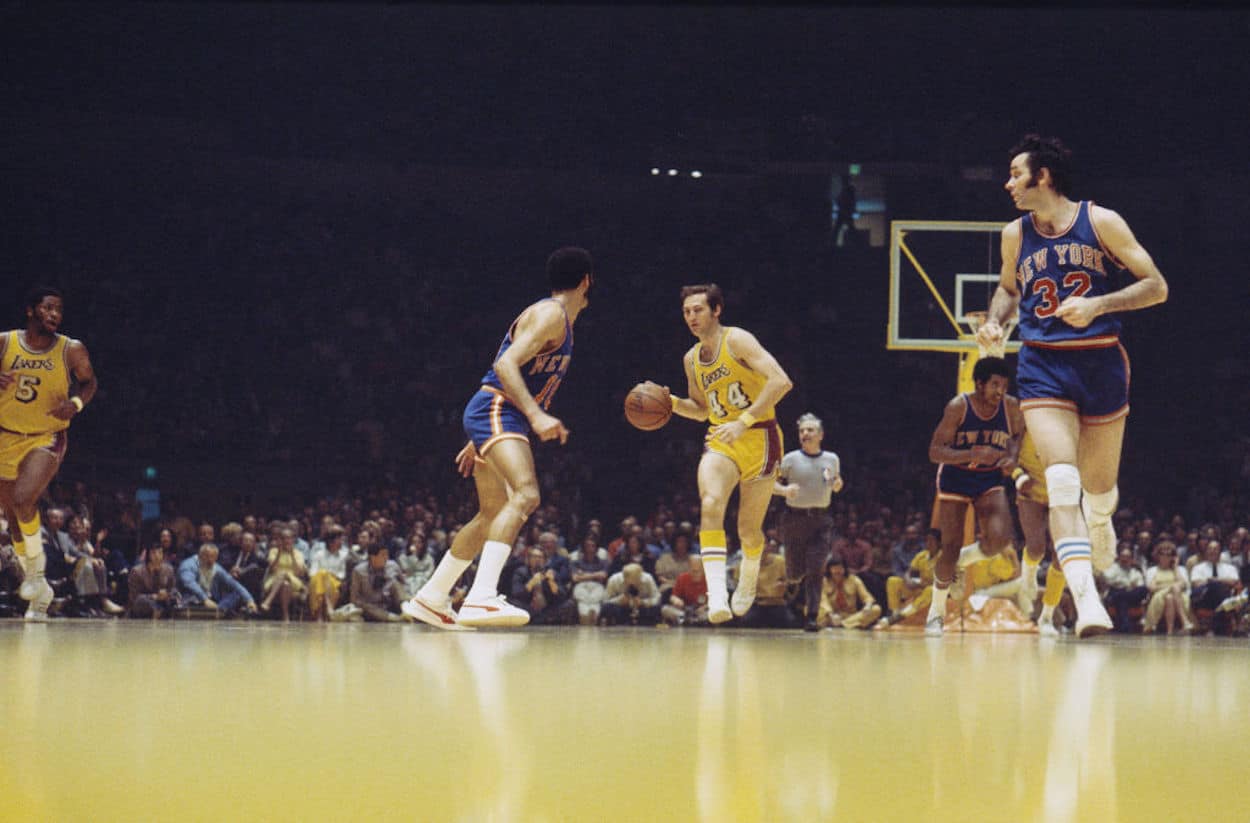 Jerry West Reveals the Exact Moment He'd Change in His Hall of Fame Career
While Jerry West is an NBA legend, he'd still like to go back and take one shot that he passed up during his time on the hardwood.
When you think of a legendary NBA player like Jerry West, it seems almost impossible for him to have any regrets. While salaries in his day didn't quite match the modern numbers, the guard still built up a sizable net worth. He also won a championship as a player, earned six more in the front office, and found immortality as the inspiration for the NBA's logo.
While that may all be true, West still knows the exact moment he'd do over if he had the chance. Let's take that walk down memory lane with the living legend.
Jerry West lost plenty of NBA finals, but he'd like a redo on the 1962 edition
During his time on the hardwood, Jerry West appeared in nine NBA finals but only managed to win a single championship. While he could reasonably want to change any of those defeats, one specific moment stood out in his mind.
"Oh my goodness," West said when Dan Patrick asked him what game he'd replay from his entire career. "Oh boy. I think maybe the first time we'd ever played in the NBA finals, and we get beat in the seventh game in Boston Garden in overtime. There was, the game was tied, and Frank Selvy, who was playing for us at the time, he and I are the backcourt. He made a shot to put us in overtime, and he missed one that would have won it for us. And I always used to love moments like that. They had double-teamed me and Elgin Baylor, we were playing together, the late Elgin Baylor, who was also an incredible friend of [Bill Russell], and we were not able to get the ball.
"You know, people will talk about Frank for missing that shot. I will never talk about him because he made the one that really mattered, and he was a very good shooter. He missed a shot that I'm sure a lot of us would have liked to have. That's sports. That game, I just, even today, I go to bed and say, 'Oh my gosh, I wish I coulda had that for that last shot.' And, again, I don't know if I would have made it or not. It's something that I wish I had the opportunity to do."
At the risk of trying to chart some impossible hypotheticals, West taking (and making) that shot could have changed the course of NBA history. With that early psychological edge, perhaps the Lakers rather than the Celtics would have become the dominant force of the 1960s. That, in turn, would have taken some rings away from Russell; maybe the big man is viewed differently if he only wins seven or eight rings rather than 11.
At this point, though, there's no changing NBA history. Selvy, not West, took the shot, and the Celtics kicked off one of basketball's great dynasties.
Like Sportscasting on Facebook. Follow us on Twitter @sportscasting19 and subscribe to our YouTube channel.