Jerry West Would Have Left the Los Angeles Lakers 'For Sure' After a Salary-Related Lie From Jack Kent Cooke
While Jerry West playing for anyone other than the Lakers seems unthinkable, it could have happened if free agency existed at the time.
These days, it's rare for an NBA player to spend his entire career with a single team. Whether it's due to trades or free agency, most stars will relocate at least once. During his time on the hardwood, however, Jerry West only suited up for the Los Angeles Lakers. That doesn't mean he never wanted to leave town, though.
During a recent interview, West admitted the seemingly unthinkable. After a salary-related lie from ownership, the guard would have left the Lakers for free agency, had that option existed at the time.
NBA free agency didn't exist until 1988, but Jerry West would have used it to leave the Lakers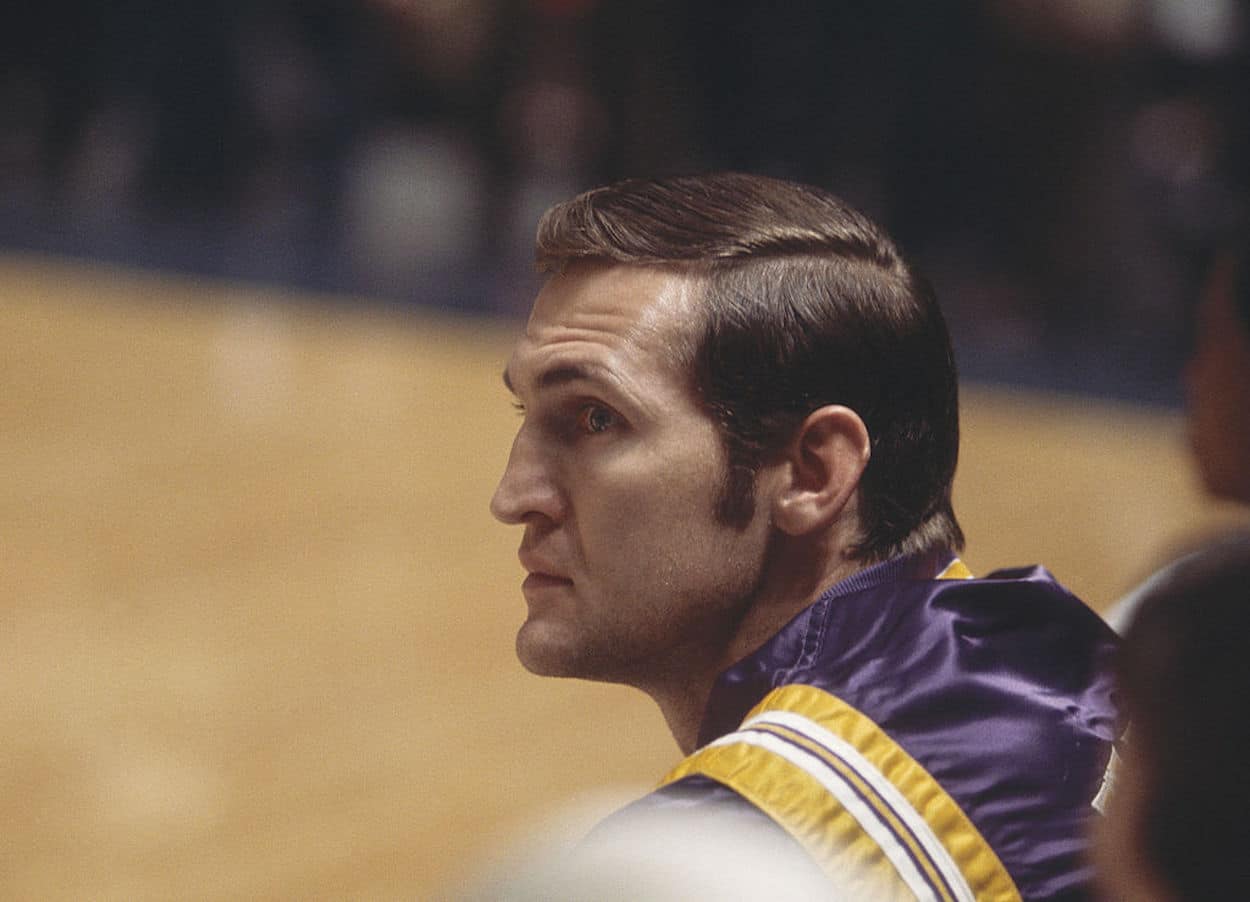 While we might take unrestricted free agency for granted, that practice didn't reach the NBA until Tom Chambers changed the game in 1988. That reality, however, was a bit too late for Jerry West.
During his time in the Association, which stretched from 1960 through 1974, West only played for the Lakers. At one point, though, he would have left town if he had the option.
"There was one time in my career, I played 14 years, all with the Lakers," West said on Heat Check with Trysta Krick (via Audacy's 2400Sports). "There's one time in my career where somebody told me something that wasn't the truth. And this person, who happened to be the owner of the team, I'll never forget, this is when I was a player, and I really felt, I really felt, like 'Why lie to me? I don't lie to you.' Again, I came from West Virginia … We trusted people. … And this was one of the things that, if I woulda been a free agent, I woulda left for sure."
The Lakers legend also confirmed that the issue was unsurprisingly related to money.
"This was over a salary. We had no agents then. This was over a contractual thing," West explained. "I said to myself, 'Why lie to me?' when I knew that people paid to see me play. I knew they paid to see the Lakers play. We had some great players."
Without knowing the specifics, West's departure probably would have changed Lakers history
When recounting that situation, West never specified when it happened other than noting it was during his playing career. Even without knowing when West would have left town, it's safe to assume his departure would have kicked off something of a butterfly effect.
If there's a blemish on West's resume, it's that he came within touching distance of so many titles and only claimed one championship. While there's no guarantee that would have changed — we're admittedly dealing with hypotheticals, but seeing West join the Celtics still feels a bit too unbelievable — his departure from Hollywood still would have changed the Lakers' calculus. Without the star guard, maybe the club doesn't even reach all of those NBA Finals. If nothing else, the 1971-72 campaign probably would have been a bit tougher without West's 25.8 points and 9.4 assists per outing.
Had West left Los Angeles after a disagreement with Jack Kent Cooke, it's reasonable to assume the guard wouldn't have landed a coaching gig in retirement. Without that role, he probably wouldn't have become a scout or the Lakers' general manager, either. And, while it's always tricky to boil an entire organization's efforts down to a single person, that reality would probably make a massive difference. Without West, Showtime probably would have looked quite a bit different. Moving a bit forward in the timeline, it's possible that a different GM wouldn't have landed Kobe Bryant and Shaquille O'Neal in the same summer.
From a player's perspective, free agency is undeniably a net positive. For the Los Angeles Lakers, however, Jerry West's inability to move on was a clear benefit to the franchise. Not only did he win a championship as a player, but he helped set the stage for decades of future success.
Like Sportscasting on Facebook. Follow us on Twitter @sportscasting19 and subscribe to our YouTube channel.