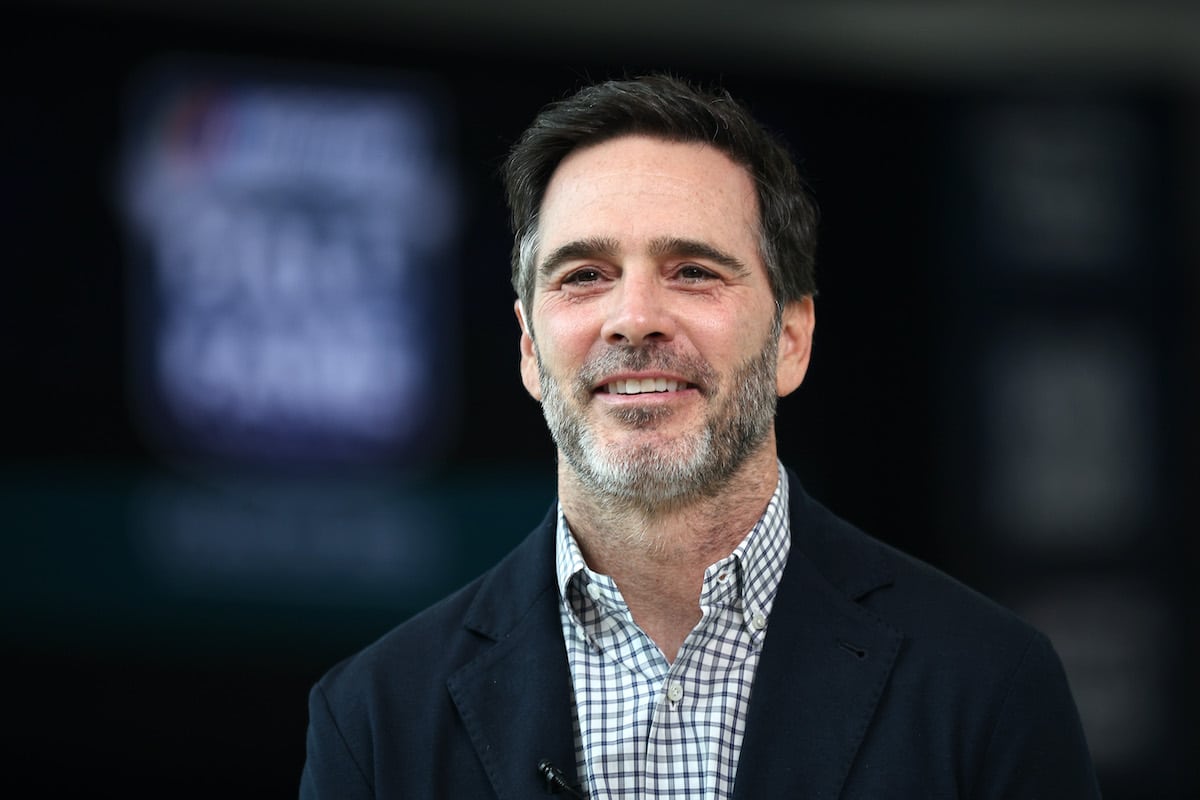 Jimmie Johnson Briefly Addresses Family Tragedy When Revealing Why He Won't Get Behind the Wheel Again in 2023
Jimmie Johnson revealed his family's tragedy will prevent him from getting behind the wheel again in 2023, but he does plan to race again in 2024.
NASCAR fans will remember Jimmie Johnson and 2023 for multiple reasons, including his first year as a team owner, his return to driving in the Cup Series, being elected into the NASCAR Hall of Fame, and, unfortunately, tragedy. This week, the seven-time champion briefly addressed the "personal matters" and said that it would prevent him from driving again this year, but he still plans to return in 2024.
Jimmie Johnson addresses 'personal matters'  
With Silly Season in full swing, Jimmie Johnson made an appearance on NASCAR Race Hub this week to announce that John Hunter Nemechek will be moving into the No. 42 car next season with Legacy Motor Club. During that conversation, show host Josh Sims asked the future Hall of Famer about his plans behind the wheel.
"Yeah, I'll be back in the car next year," Johnson revealed. "With some personal matters taking place this year, it just hasn't seemed right to jump back in the car. 
"But we're planning next season, and I'm very excited to run more races, for sure. I hope that we can announce my schedule and our partners that will be on board here before too long. But definitely expect to see me in the race car again next year."
Johnson family involved in tragedy
The "personal matters" Johnson referred to happened in late June when police reported that his in-laws and nephew were found dead in an apparent murder-suicide in Oklahoma.
Law enforcement officials identified the victims as Jack Janway, 69, his wife Terry Lynn Janway, 68, and their 11-year-old grandson Dalton Janway, via a press release. 
Johnson and his wife Chandra have been married since 2004. They have two daughters.
The driver first addressed the tragedy in a July 28 statement on Instagram.
"Our family is devastated by the profound loss of (Terry) Lynn, Jack and Dalton Janway," the statement read. "We have been humbled by the outpouring of love and support during this unthinkably sad time and remain grateful for all of your compassion."
Racing in 2024 will be very different
Johnson was entered into the Chicago Street Race on July 2 but withdrew. As he mentioned this week, he didn't feel like it would be the right thing to do and race again in 2023. 
Interestingly, when he does get behind the wheel in 2024, it will be under a dramatically different set of circumstances. For his entire Cup career, the 47-year-old has driven for Chevrolet. This year, Legacy announced that it would be switching to Toyota in 2024. 
Some fans have suggested it will be weird watching the veteran driving for a different manufacturer. However, considering what he and his family have endured this year, most fans could care less about what type of car he's driving and are just grateful to watch him strap in behind a wheel for at least a few more times. 
How to get help: In the U.S., call the National Suicide Prevention Lifeline at 1-800-273-8255. Or text HOME to 741-741 to connect with a trained crisis counselor at the free Crisis Text Line.
To stay up to date on the latest happenings in NASCAR, including breaking stories you can't find anywhere else, follow Kyle on YouTube and Twitter.