Jimmie Johnson Has Already Made 2 Brilliant Decisions at the Start of His NASCAR Comeback Tour
Jimmie Johnson will return to NASCAR for the first time in more than two years at Daytona International Speedway, and the first two races he has announced for his comeback tour have him set up for as much success as possible.
At Phoenix Raceway during the 2022 championship weekend, Johnson announced that he was going to both become a co-owner of then-Petty GMS Racing and drive a select number of Cup Series races during the 2023 season, beginning with the Daytona 500.
The company rebranded to Legacy Motor Club in the offseason and revealed that Johnson would drive the No. 84 car in an attempt to make the 40-car Daytona 500 field. Despite being a seven-time series champion, Johnson is not guaranteed a spot in the Great American Race and will have to qualify or race his way into the field because his car number does not have any owners' points from 2022.
Jimmie Johnson should have a legitimate chance to be competitive at Daytona
The Daytona 500 is a good starting point for Jimmie Johnson's return to stock car racing beyond the fact that it is the most prestigious event in the sport.
Johnson is a two-time Daytona 500 champion, has three overall wins at the World Center of Racing, and has recorded seven victories if exhibition and Daytona 500 qualifying races are included. His 18.7 average finishing position in 38 points-paying starts at Daytona also ranks seventh among active drivers with at least six starts at the 2.5-mile facility.
Of course, his debut attempt could certainly end prematurely and with a bit of embarrassment if he has an issue in qualifying or the 150-mile duel races that set the field for Sunday's big race. Crashes at Daytona are always possible, and Johnson did crash out of five of his last nine points-paying races at the track from 2016-20.
At the same time, the draft effects at Daytona level the playing field to a large extent for all drivers in the field regardless of the size of their race teams. That is part of the reason drivers such as Austin Cindric, Michael McDowell, and Trevor Bayne have been able to win that race but have not won a second Cup Series race in their careers.
If Johnson makes the field, he has just as good of a chance to create a surprise victory as any of the other 39 drivers. His chances might be even higher given his vast experience at the speedway.
Jimmie Johnson's second race selection will be a new course to all Cup Series drivers
Though Jimmie Johnson has not yet announced his full schedule for the 2023 season, he did unveil the location of one other Cup Series race in which he will compete this season, and it is a similarly informed choice.
During the Feb. 5 prerace show for the Clash at the Los Angeles Memorial Coliseum, Johnson announced that he will enter the new Chicago Street Race that NASCAR will run at a course through downtown Chicago on July 2.
On the surface, the selection might seem odd for a driver who won only two of the 40 road-course races in which he competed during his 19 full-time Cup Series seasons. However, he actually has more experience on those types of tracks than he does on ovals in the past two years.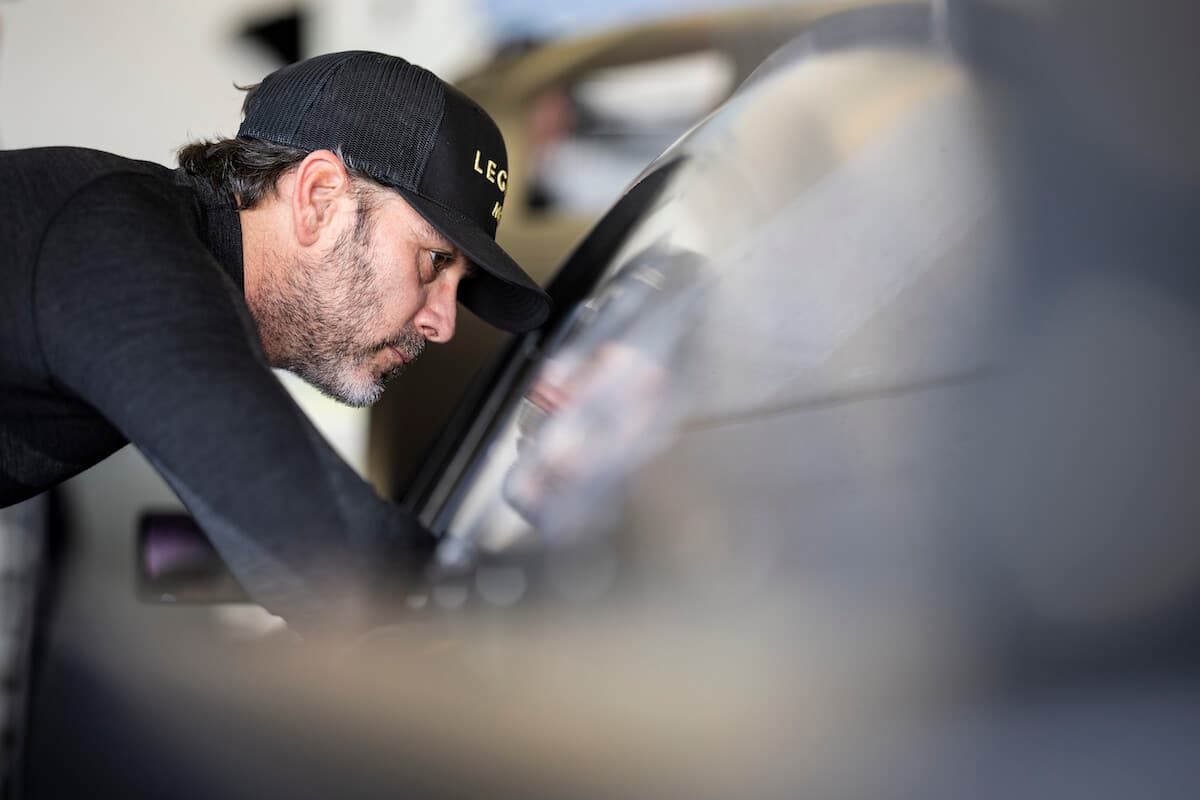 Johnson moved to the NTT IndyCar Series on a part-time basis in 2021 after he retired from his full-time NASCAR career at the end of the previous season. He ran 12 of the 16 races on the 2021 IndyCar schedule, and every single one of them was a road or street course.
He expanded his schedule last year to compete full-time in the open-wheel series, but 12 of the 17 races were again on non-oval tracks. 
Granted, he had only seven finishes better than 20th in his 24 non-oval starts during his two IndyCar seasons. He still had the extra hurdles of learning a new style of car and had not previously raced on any of the tracks the IndyCar series visited during his NASCAR career.
He has now set himself up to actually have more experience than the vast majority of the July field at a track that will be brand new to everybody who shows up.
Johnson will likely have to qualify for the Chicago race, as well, but he should be able to lean on his experience at the street courses he visited with the IndyCar series, such as downtown Nashville, Toronto and Long Beach, California.
Few drivers are able to return to NASCAR and run near the front of the field after stepping back from a full-time schedule, but Johnson has at least given himself two of the best possible opportunities with the first couple of selections for his return to the sport he dominated for much of two decades.
All stats courtesy of DriverAverages.com and Racing Reference.