Ty Gibbs and the 5 Drivers Who Could Provide a Stunning Upset at the 2023 Daytona 500
As recently documented by Sportscasting.com, the Daytona 500 is prone to produce the occasional surprise winner — and it probably happens more often than many relatively new NASCAR fans would expect for the most important race on the Cup Series schedule.
So what about February's 65th running of The Great American Race? Is the NASCAR world in store for a third consecutive unanticipated Daytona 500 outcome on the heels of unheralded Michael McDowell's 2021 stunner and rookie Austin Cindric's 2022 Cinderella run?
Here are five drivers who have the potential to defy all odds and leave The World Center of Racing with the coveted Harley J. Earl Daytona 500 winner's trophy in hand.
Harrison Burton
As the first-year driver of the iconic No. 21 Ford for the famed Wood Brothers Racing organization, Harrison Burton didn't do much to write home about in 2022.
Harrison — the son of 21-time Cup Series race winner Jeff Burton and nephew of 2002 Daytona 500 champion Ward Burton — finished the season with just two top-10 finishes that included only one top-five. But one of Burton's best performances in his rookie campaign came at the Daytona 500, a race he led for three laps and was running near the front in when he was caught up in a multi-car wreck that sent his Ford airborne and out of the event after 62 of 200 scheduled laps.
The ultimate outcome aside, Burton had a fast race car in the Daytona 500, which wasn't all that surprising when considering that the Wood Brothers almost always seem to be competitive at Daytona regardless of who's in their car.
This was certainly the case in 2011 when 20-year-old Trevor Bayne — making both his second start for the organization and as a Cup Series driver — pulled off an absolute shocker, becoming the youngest Daytona 500 winner in history.
If Burton could take the Wood Brothers back to Victory Lane at Daytona 12 years later, it would be an extremely popular win as it would give the 64-year-old organization its landmark 100th victory in NASCAR's premier division.
Ty Gibbs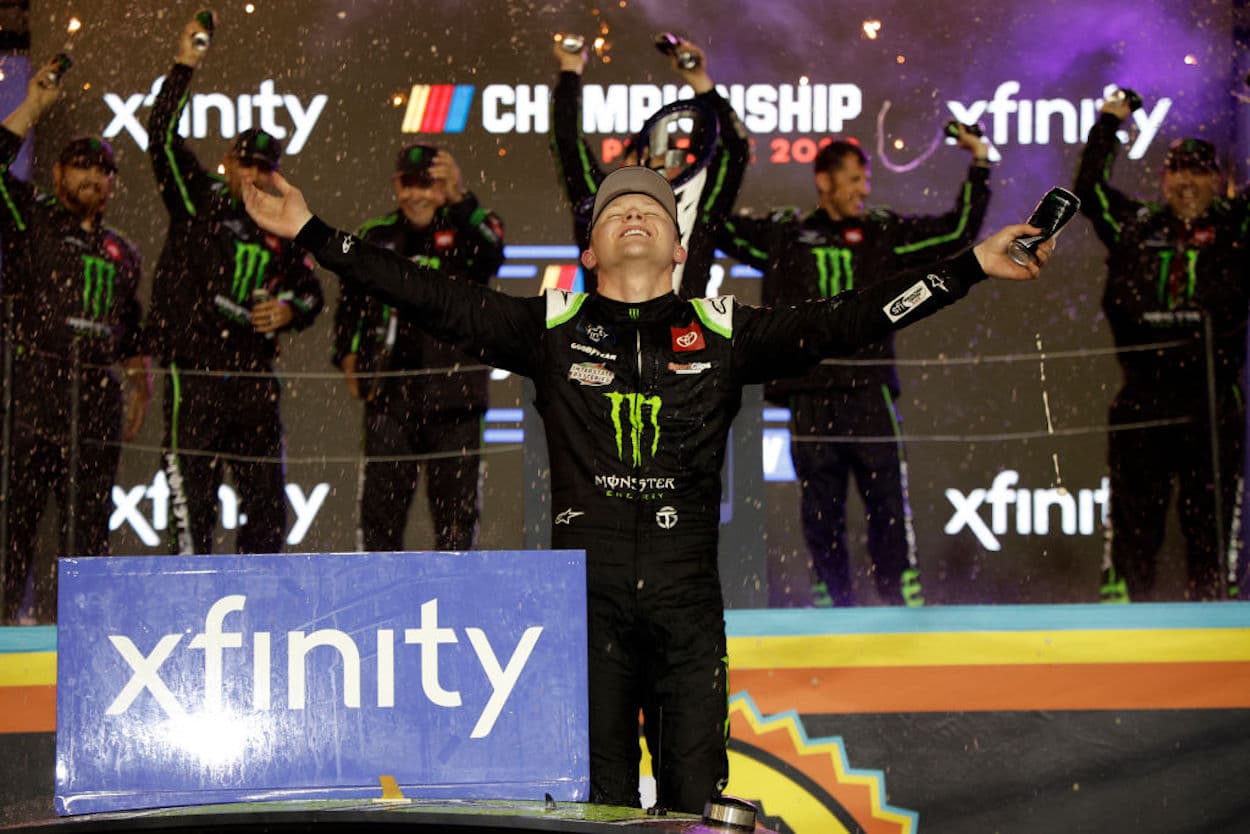 Ty Gibbs has just one Cup Series start at Daytona, and it came in his fill-in role last season for Kurt Busch. The 19-year-old grandson of NASCAR Hall of Fame team owner Joe Gibbs has also finished 11th and seventh, respectively, in two NASCAR Xfinity Series starts at The World Center of Racing, but it's really hard to draw any firm conclusions based on such a small sample size.
This much is certain, though: When the green flag waves at Daytona, Gibbs will be in a Joe Gibbs Racing Toyota that's fast and likely capable of winning. And given Gibbs' incredible success over one full and one part-time season in the Xfinity Series, where he won a championship and 11 races in 51 starts, it would be foolish to put a limit on what he can accomplish in his first Daytona 500.
Almost inevitably, Gibbs will be extra motivated to do the spectacular since the Daytona 500 will be not only his first official Cup Series outing with his grandfather's organization, but it will also be his first race of any kind since the unexpected death of his father, Coy — a Joe Gibbs Racing executive — on the final weekend of the 2022 NASCAR season.
Noah Gragson
Finishing runner-up to Ty Gibbs in last year's NASCAR Xfinity Series championship battle was archrival Noah Gragson, who earned a series-high eight victories and came home second to Gibbs in the decisive, season-ending race.
Like Gibbs, Gragson is making the leap to full-time NASCAR Cup Series competition in 2023, but he's doing so with a different team — the newly rebranded Legacy Motor Club organization formerly known as Petty GMS — that will field three entries in the Daytona 500.
One of those entries is a part-time entry for the team's new co-owner, seven-time Cup Series champion driver Jimmie Johnson, who is augmenting his ownership role by running a 10-race schedule for the company. With two-time Daytona 500 winner Johnson in his corner as both a teammate and owner for The Great American Race, Gragson seems like a solid dark-horse pick to win NASCAR's biggest event in his Legacy Motor Club debut.
Justin Haley
Don't laugh. While Justin Haley might not quite be a household name or be competing for one of the Cup Series' elite teams, his lone Cup victory in 72 starts came at Daytona in July 2019.

While many who remember that rain-shortened race will be quick to point out that Haley basically lucked into the win thanks to a combination of wet weather and perfectly timed pit strategy, often overlooked is that Haley posted a sixth-place finish at Daytona in August 2021 — and he didn't need an assist from rain to get it.
Haley, meanwhile, has a pair of victories at both Daytona and sister superspeedway Talladega in the NASCAR Xfinity Series. So to write him off as a legitimate contender to win the Daytona 500 would be extremely naive and shortsighted.
Corey LaJoie
OK, OK. The inclusion of Corey LaJoie on this list might seem like an even bigger stretch than the inclusion of Justin Haley.
The data suggests otherwise, however.
LaJoie may be winless in 200 NASCAR Cup Series starts, but three of his five career top-10 finishes have come at Daytona. The other two? Well, one came at Talladega, and the other came last season at Atlanta — a 1.54-mile track that, due to a reconfiguration ahead of the 2022 season, now drives like a superspeedway.
But it was actually last year's other Atlanta race — the summertime one — where LaJoie impressed the most. No, he didn't walk away with the fifth-place finish that he did in the spring, but he led 19 laps and was on his way to a potential first career victory before being squeezed into the wall on the final lap by Chase Elliott as the two battled for the lead and the win.
Still don't think LaJoie has a real shot at winning the Daytona 500? If you remain unconvinced of this possibility, you're sadly mistaken.