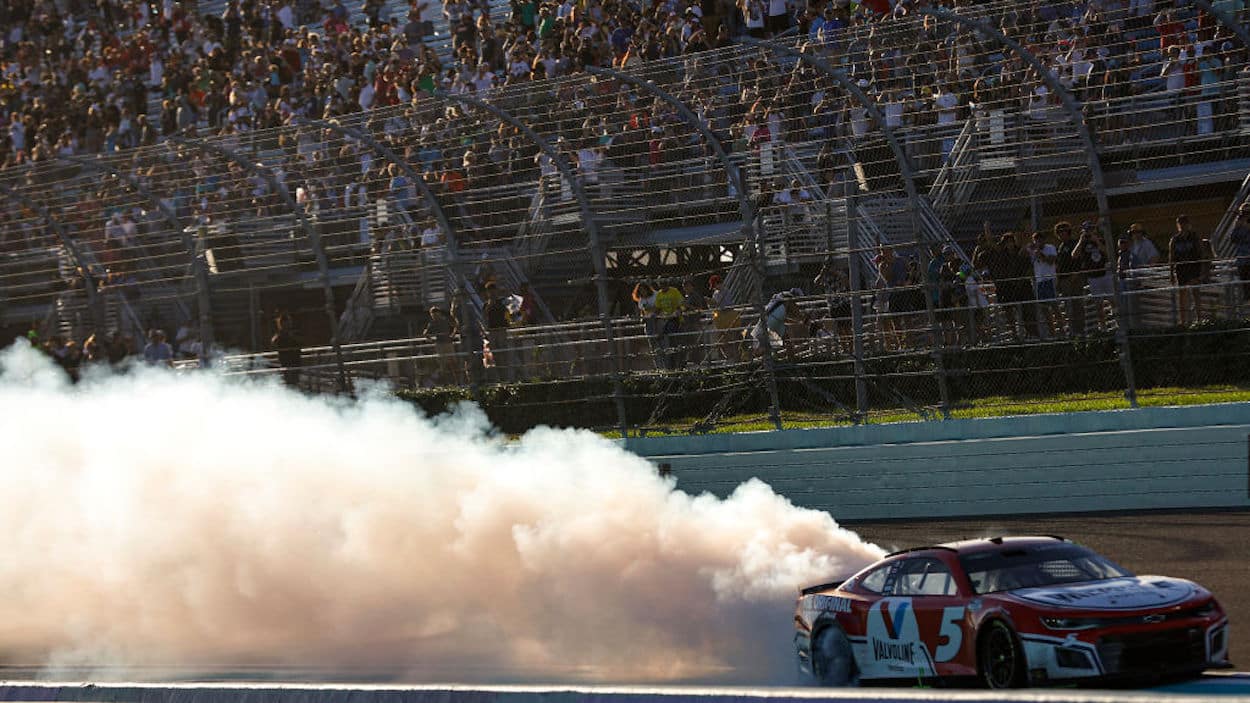 Kyle Larson and the 5 Former Cup Series Champs Shockingly Still In Search of Their First Daytona 500 Win
Winning the Daytona 500 can be tough, even for drivers who have otherwise proven their NASCAR credentials. Just ask these drivers.
It took Dale Earnhardt 20 years of trying to finally win the Daytona 500. Darrell Waltrip needed 17 attempts. Former Cup Series champions and NASCAR Hall of Famers Terry Labonte, Bobby Labonte, Mark Martin, Rusty Wallace, and Alan Kulwicki never won The Great American Race.
Does this mean any of these drivers lacked the talent or ability or race cars to prevail once or more quickly in NASCAR's biggest event? Hardly. 
It's simply a testament to how difficult the 500 is to win. In light of this important historical context, here are five active drivers — all former Cup Series champions — who've shockingly never left Daytona International Speedway with the coveted Harley J. Earl Daytona 500 winner's trophy in hand.
1. Kyle Busch
With 60 Cup Series wins, Kyle Busch is tied with Kevin Harvick for most victories in NASCAR's premier series among active drivers. But none of those wins have come in the Daytona 500, as Busch is a painful 0-for-17 in NASCAR's most prestigious event.
The two-time Cup Series champion has come close to winning the 500 on more than one occasion, however, finishing second in 2019 and third in 2016. Of course, both of those starts came in the familiar No. 18 Joe Gibbs Racing Toyota that Busch has piloted for the past 15 years.
This year, he'll make his first Daytona 500 start and first official start of any kind as a member of Richard Childress Racing — an organization that has notched Daytona 500 victories with Austin Dillon, Kevin Harvick, and the late Dale Earnhardt.
2. Brad Keselowski
One of the Cup Series' best superspeedway racers, Brad Keselowski has never been to Victory Lane at the Daytona 500 despite having a car capable of running up front and winning on more than one occasion.
Keselowski, who owns a total of seven points-paying superspeedway wins — six at Talladega, one at Daytona — picked up his lone victory at The World Center of Racing, as Daytona is known, in July 2016, but he's still in search of that elusive 500 triumph.
Last year, in his first official start for the Roush Fenway Keselowski Racing that he co-owns, Keselowski led 67 laps and finished ninth in the 500. His best finish to date in the famous season opener was a third-place result in 2014.
3. Martin Truex Jr.
Martin Truex Jr. suffered one of the closest and most painful defeats in Daytona 500 history when Denny Hamlin nipped him at the finish line by a scant one one-hundredth of a second in February 2016.
Truex hasn't been all that close to winning the 500 before or since then, however, and the veteran driver is remarkably winless in 35 starts at the high-banked, 2.5-mile superspeedway. Truex does have one other runner-up Daytona finish, which came not in the 500 but in the July 2018 race.
It's worth noting that Truex is also inexplicably winless at Talladega — NASCAR's other superspeedway — where he's come up short 36 times.
4. Kyle Larson
Despite being without question a generational talent who's widely considered one of the best drivers in NASCAR today, Kyle Larson has never found the magic formula for success at Daytona — or Talladega, for that matter. Between the two superspeedways, Larson is an ugly 0-for-33 in points-paying races.
As for the Daytona 500 specifically, Larson's best finish is seventh — twice — and he's led a total of just 18 laps at The World Center of Racing. Larson did have one heartbreaking defeat in the Daytona 500, however, when he ran out of fuel with one lap to go in 2017, handing the win to Kurt Busch.
But of the former champions among active drivers who've never had a taste of Daytona 500 glory, Larson has by far the least impressive record in the 500 and at Daytona in general, having never scored a top-five finish at the fabled facility in Central Florida. Daytona is also the site of Larson's worst career crash, which happened in an Xfinity Series race at the iconic superspeedway in 2013.
5. Chase Elliott
Unlike his NASCAR Hall of Fame father, Bill, who prevailed in the Daytona 500 not once but twice, Chase Elliott has never managed to bring home the Harley J. Earl Trophy despite almost always having a fast car on Daytona's high banks.
The Hendrick Motorsports driver and 2020 Cup Series champion owns a pair of Daytona 500 poles as well as a pole for Daytona's second annual Cup race, and he recorded a Daytona-best finish of second place in the fall of 2020 and again in the next February's Daytona 500.
Elliott's most heartbreaking Daytona 500 outcome in seven attempts came in 2017 while making just his second start in the event — when he ran out of gas while leading with three laps to go and finished 14th. Elliott led 39 of 200 laps in that race, but like every one of his Daytona 500 outings so far, a win wasn't in the cards for him — now NASCAR's perennial most popular driver.