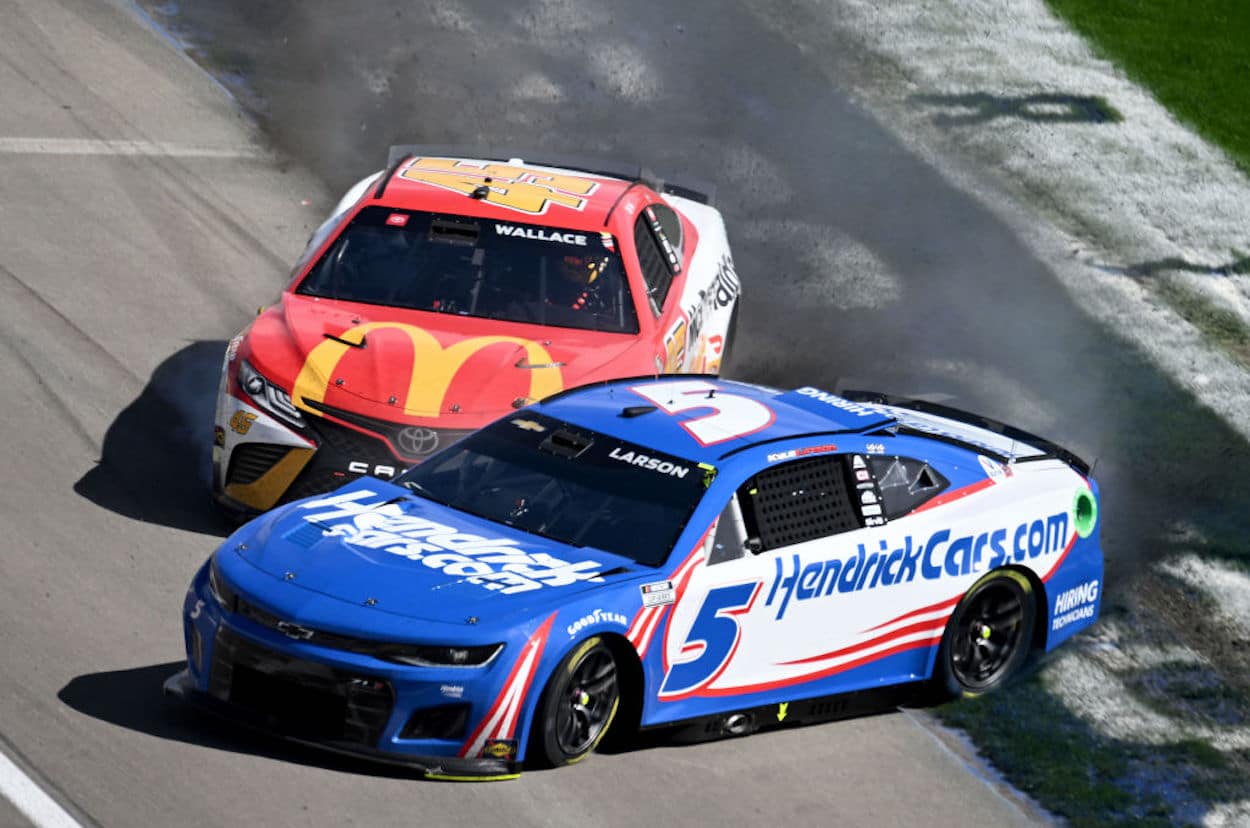 Kyle Larson vs. Bubba Wallace and the 5 Rivalries With Roots in 2022 That Could Run Completely Wild in 2023
If you're a fan of racing rivalries, you'll probably have an exciting NASCAR season ahead of you. This bad blood probably won't be stuck in 2022.
Among the more exciting storylines of the 2022 NASCAR Cup Series season was the emergence of several racing rivalries, some of them involving the sport's biggest stars.
Let's take a look at five driver feuds that shook the sport in 2022 and have the potential to morph into even more moments of rage and hostility when the 2023 season kicks off in just a few weeks.
Chase Elliott vs. Kyle Larson
Who said teammates can't be bitter rivals? Apparently, not team owner Rick Hendrick. After all, it was two Hendrick Motorsports drivers — Chase Elliott and Kyle Larson — who provided some of the fieriest fireworks of 2022.
So angry was Elliott after a dustup with Larson Watkins Glen in August that he couldn't even recall the site of the next race (which was Daytona), saying multiple times after the race that he was looking forward to heading to Bristol the next weekend.
If Elliott and Larson can't somehow move past 2022 — when two late-race run-ins put a major strain on their relationship — their disdain for one another could become a cancer that infects the chemistry that normally runs throughout Hendrick Motorsports and its four drivers and teams.
The fact that both Elliott (2020) and Larson (2021) are both relatively recent Cup Series champions only further complicates matters, because it's fair to assume that both drivers want to be the team's "No. 1 guy," even if such a pecking order is merely implied by who most often has the fastest car on race day. Elliott and Larson both have pretty big egos, and up until now, it's seemed that neither has been willing to compromise or concede anything for the overall health of the company.
Will this change in 2023? It's doubtful. If anything, the unrest within the walls of Team Hendrick will likely intensify — and Elliott and Larson will be to blame for it. 
Kyle Larson vs. Bubba Wallace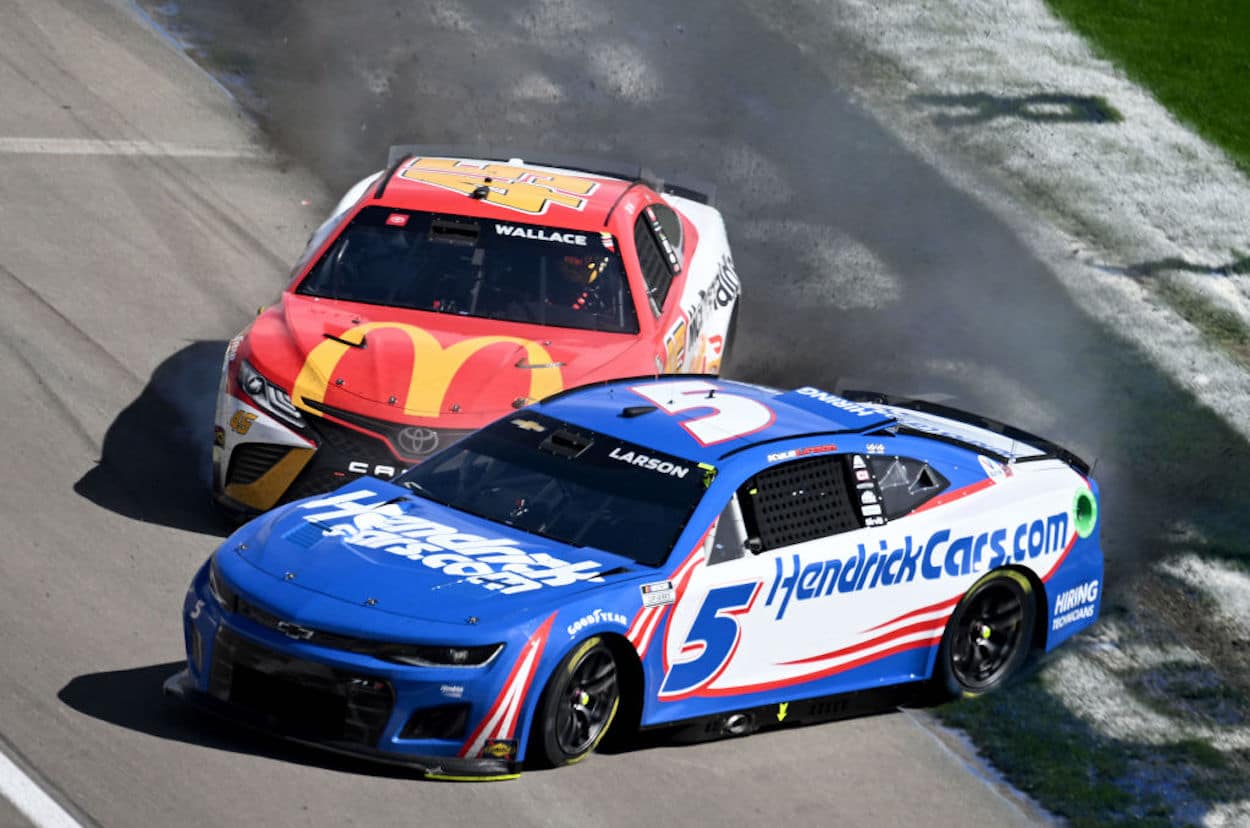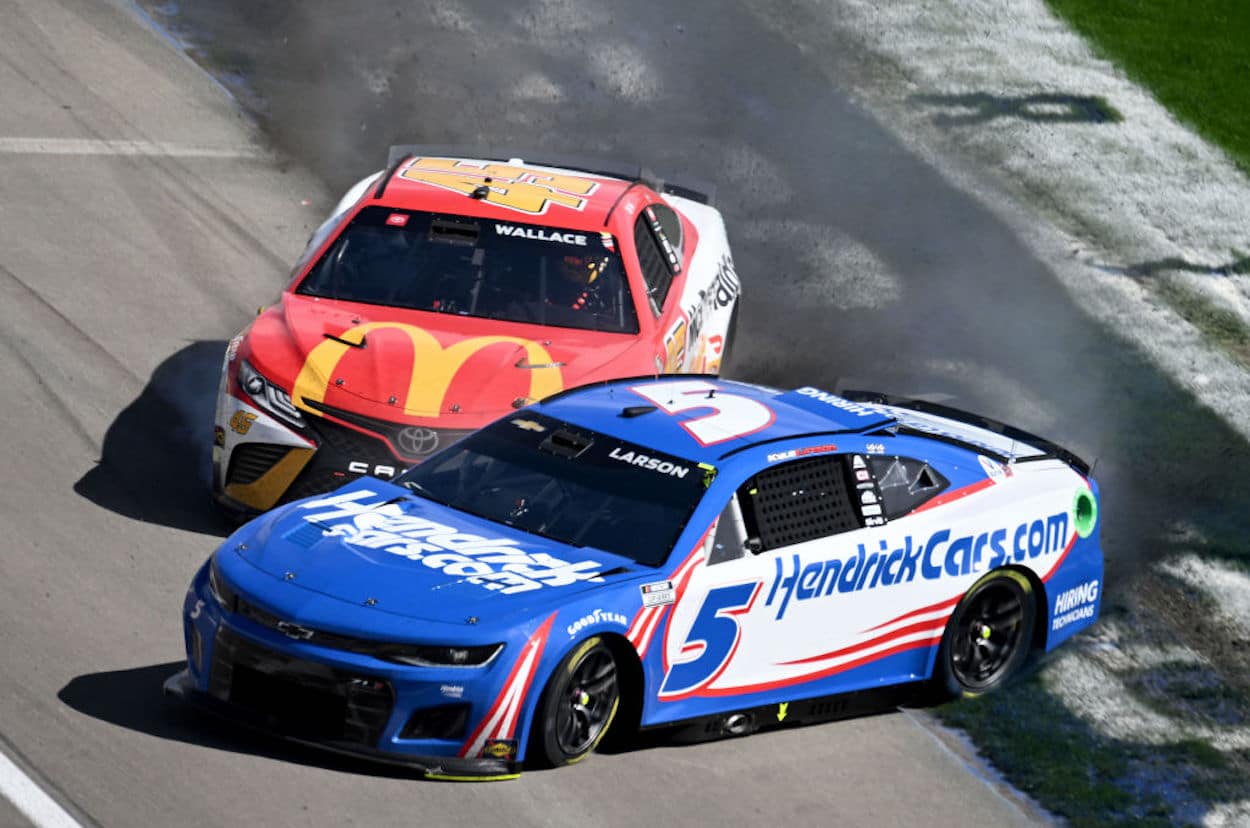 One of the wildest moments of 2022 occurred at Las Vegas Motor Speedway in October when Kyle Larson and Bubba Wallace locked horns both on and off the race track, with Wallace ultimately earning a one-race NASCAR suspension for executing a move on Larson that could've put the 2021 Cup Series champion at extreme risk of injury or worse.
The two then pushed and shoved after exiting their wrecked race cars, with Wallace — the one who caused the wreck, not the one who got wrecked — being the aggressor. Although Wallace and Larson claimed to have talked and put their differences behind them in the days that followed, it's hard not to wonder if a Wallace-Larson sequel awaits at some point in 2023.
Even though they competed without notable incident in 2021, Larson's debut season at Hendrick Motorsports, some underlying tension may have played a role in their altercation at Las Vegas. If this is the case, the tension between them could persist in 2023.
Joey Logano vs. William Byron
One of the juiciest exchanges of 2022 took place in the aftermath of the spring race at Darlington, where eventual 2022 champion Joey Logano nudged William Byron out of the way on the next-to-last lap.

The bump, which resulted in Logano cruising to the win and Byron limping home in 13th after contact with the wall, left Byron completely livid.
"He's just an idiot," Byron said during a live, televised interview with FOX Sports' Jamie Little. "He does this stuff all the time. I've seen it with other guys. He drove in there 10 miles an hour too fast, and with these Next Gen cars, he slammed me so hard that it knocked the whole right side off the car and there was no way to make the corner. He's just a moron. He can't win a race, so he does it that way."
Logano, meanwhile, pointed the proverbial finger back at Byron, claiming that Byron ran into him prior to their contact on the penultimate lap.
"You're not going to put me in the wall and not get anything back," Logano said during a televised postrace interview at the start/finish line. "That's how that works."
Daniel Suarez vs. Christopher Bell
Two of NASCAR's most talented young drivers, Daniel Suarez and Christopher Bell, both enjoyed breakout seasons in 2022, but it wasn't exactly peaches and cream between the two of them.

After tangling on the race track during the Labor Day weekend race at Darlington, Suarez vowed retaliation. 
"Whenever I need, I'm going to get him back," Suarez told reporters after the race, in a video you can watch below.
Bell, for his part, wasn't exactly sure how he managed to make Suarez so angry.
"Once I learned that he was upset, I did reach out," Bell said the following weekend at Kansas Speedway via media quotes provided by Toyota Racing. "I texted him and apologized for getting into him. He let me know that he's going to race me the same way that I race him going forward. So, I'll just have to make sure I watch my back whenever he's around me."
Suarez had nine more races left in 2022 to exact his revenge for Bell crowding him up into the wall, but he never did. 
Will it come in 2023?
Ross Chastain vs. everyone
Who did Ross Chastain not tick off in 2022? Despite having by far the best season of his Cup Series career, the first-year Trackhouse driver made one enemy right after another with his no-holds-barred approach that often put a real damper on other people's day.
Denny Hamlin and Martin Truex Jr. — both wrecked by Chastain on multiple occasions — might have been the most infuriated by the eighth-generation watermelon farmer's driving tactics, but others had their fill of Chastain as well. 
Other victims of Chastain's aggression included two-time Cup Series champion Kyle Busch, who wryly declared after the fall Richmond race that he'd been "Chastain'd," and Chase Elliott — who got caught in the crosshairs of Chastain's go-for-broke approach at both World Wide Technology Raceway outside St. Louis and in the season finale at Phoenix, where Elliott and Chastain were both in contention for the championship.
Of the drivers whom Chastain angered in 2022, only one of them — Hamlin — managed to retaliate, and it's questionable as to whether the Joe Gibbs Racing driver felt like he was able to adequately settle the score, especially after Chastain had wrecked him not once but twice. It also probably did little to soothe Hamlin's frustrations that it was Chastain who later knocked him out of the Championship 4 with a last-lap move for the ages in the Round of 8 elimination race at Martinsville.
Chastain would be wise to be on the lookout in 2023 because it's unlikely that anyone he wronged in 2022 has forgiven him or forgotten.