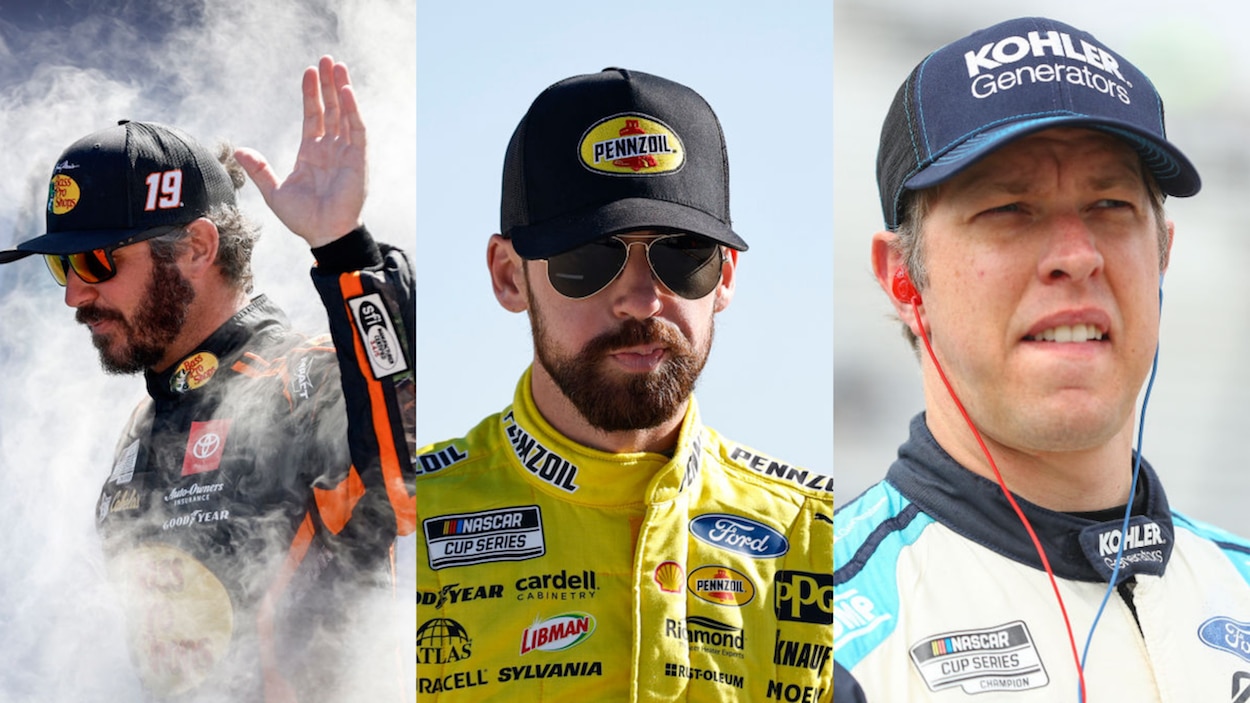 3 Cup Series Drivers Who Were Shockingly Shut Out of Victory Lane in 2022, and What Went Wrong
Martin Truex Jr., Ryan Blaney, and Brad Keselowski didn't exactly have a 2022 to remember. Let's take a deeper look at what happened.
The 2022 NASCAR Cup Series season produced a record-tying 19 different race winners. Shocking as this was to most pundits and fans alike, arguably even more surprising was some of the drivers who failed to find Victory Lane.
While certainly no one was stunned to see AJ Allmendinger, Aric Almirola, or Michael McDowell not make it back-to-back seasons with a win, the same wasn't true for three others who came up short.
Those three drivers — Martin Truex Jr., Ryan Blaney, and Brad Keselowski — combined for eight triumphs in 2021 but could never break through in 2022, leaving the trio frustrated and, at times, angry or completely bewildered by their lack of success.
Up next, we'll take a look at what went wrong for each driver and why their absence from Victory Lane caught so many people — including them — off guard. 
Lady luck couldn't have been more unkind to Martin Truex Jr.
Martin Truex Jr. spent the first half of the 2022 NASCAR Cup Series season mulling over possible retirement at season's end, only to eventually opt to return to Joe Gibbs Racing in 2023.
How much, if any, impact Truex's indecision had on his inability to win a race is unclear, but what couldn't be any clearer is that Truex was snake-bitten by all manner of bad luck and misfortune, which included the final race of the regular season at Daytona where he lost out on the final playoff by three points to Ryan Blaney.
Make no mistake, though: Speed wasn't the problem for Truex in 2022. He led 572 laps, scored 15 top-10 finishes, and recorded seven stage wins — more than all but two of the drivers in the playoffs. But when it came down to the end of the race, Truex — quite simply —couldn't catch a break. Consider, for example, that Truex led laps in three of the five races where he posted a DNF.
So, he clearly had a car capable of winning on multiple occasions, but it just never happened. This was the veteran driver's first season since 2014 in which he's been denied a win, and it's only the second time in seven years that he was unable to post multiple victories.
Ryan Blaney had plenty of speed, but not when it counted most
Like Martin Truex Jr., Ryan Blaney had no problem amassing stage wins in 2022. In fact, Blaney's nine stage victories were more than any other driver — including Cup Series champion Joey Logano. 
Blaney also paced the field for a total of 636 laps and racked up 17 top-10 finishes — including a dozen top-fives. But when it was time to close the deal on a points-paying win, Blaney and his No. 12 Team Penske bunch just couldn't do it.
Note the "points-paying" descriptor in the previous sentence. Blaney actually did win a race — the NASCAR All-Star Race held in May at Texas Motor Speedway — but, being an exhibition, this didn't technically count as a win.
So without a points win to his credit, Blaney had to fight tooth and nail to make the playoffs, ultimately edging Martin Truex Jr. for the final spot in the 16-driver playoff field. Blaney was the only driver in the playoffs who didn't win a race all year, but he made it all the way to the Round of 8 and ultimately came home eighth in the standings.
However, that was of little consolation to the second-generation driver, who, after finishing second to race winner and 2022 champion Joey Logano in the season finale at Phoenix, was none too thrilled. It was also of seemingly no consolation to Blaney that Logano is his teammate. 
In fact, Blaney — who led 109 laps at Phoenix — was so upset about finishing second that he snapped at NASCAR on NBC pit reporter Dave Burns in the post-race interview captured in the video below.
"I wish we could have won one," Blaney said after the pace per media quotes provided by Ford. "We had a great car to do it, and it just didn't happen. I'm proud of the effort. We had a winning car, and it just didn't happen."

How surprising was Blaney's failure to win a race in 2022? Well, considering that teammate Logano won four races and the championship and that Blaney's other teammate — rookie Austin Cindric — won the Daytona 500 in his first start as a full-time Cup Series driver, pretty surprising indeed. 
Not to mention that Blaney entered 2022 on the heels of his first career multi-win season in 2021, when he went to Victory Lane three times.
Penalties and less-than-stellar cars doomed Brad Keselowski in 2022
Almost everyone expected Brad Keselowski to endure some growing pains when he left Team Penske at the end of 2021 to become a driver and co-owner for the newly named Roush Fenway Keselowski Racing.

But no one — including Keselowski himself — knew just how difficult the transition would be. Not only did Keselowski miss the playoffs for the first time since 2013, but he failed to win a race for the first time since his rookie season of 2010.
And due largely to a major points penalty and a disqualification for irregularities discovered with his car in separate post-race inspections, Keselowski finished a dismal 24th in the standings — his worst finishing position since he ranked 25th as a rookie. 
Perhaps appropriately, Keselowski's bid to continue his streak of winning seasons ended in a blaze in the season finale at Phoenix.
About the only positive Keselowski can glean from the 2022 season was the fact that his Fords seemed to get a bit faster as the year went along, and three of his six top-10s — including his only top-five — came in the final 10 races. 
So, Keselowski appears to have something to build on for 2023, especially when considering that teammate Chris Buescher did get a win — which came in the fall night race at Bristol.