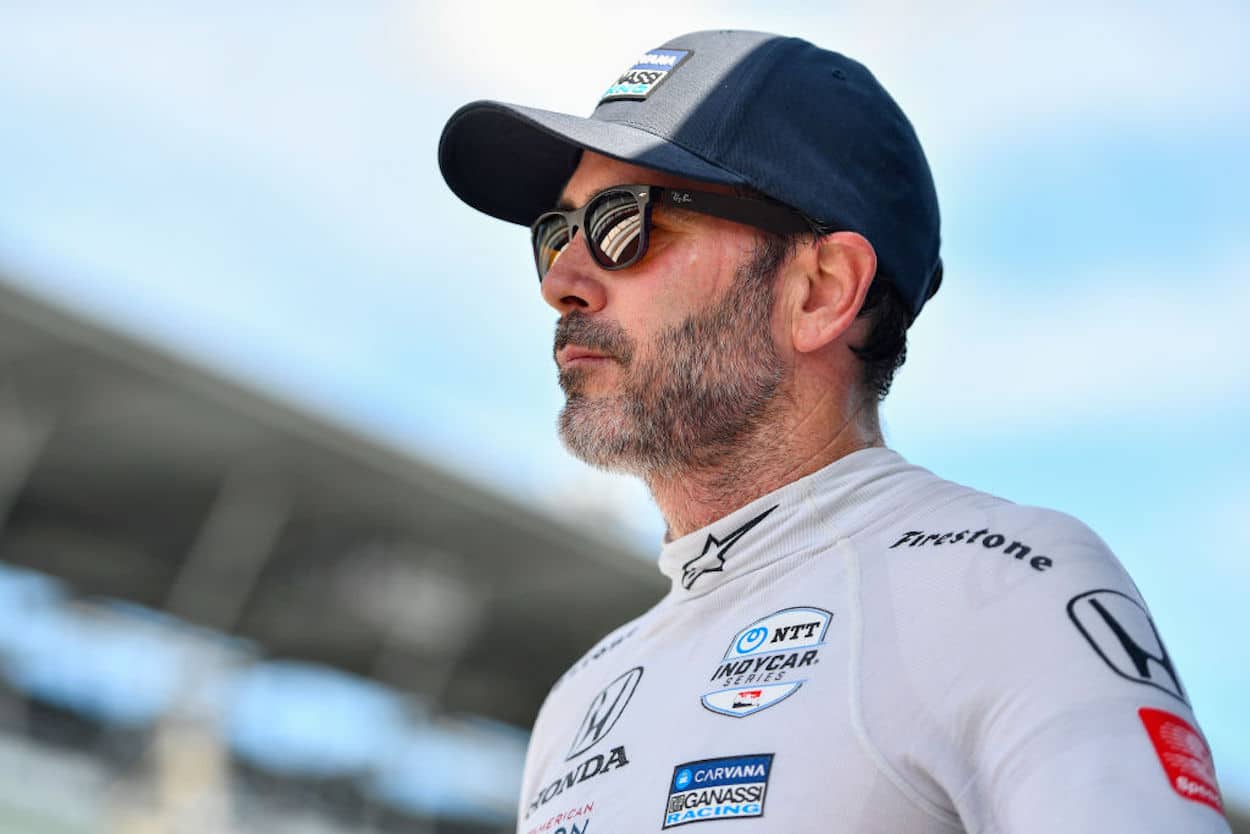 Jimmie Johnson Has the Potential to Leapfrog 3 Fellow Legends in His Part-Time Season
While Jimmie Johnson will only be a part-time driver in 2023, he'll still have some serious NASCAR milestones within his reach.
If you think Jimmie Johnson is mainly focused on merely having fun in his upcoming season as a part-time NASCAR Cup Series driver, well, that's simply a misconception.
Johnson, who will make 10 starts for the newly rebranded Legacy Motor Club organization that he also co-owns, has a clear objective: to capture at least one or two victories, both of which would elevate his position on the NASCAR Cup Series' all-time wins list.
Up next, we'll consider what Johnson — a seven-time Cup Series champion — stands to gain by winning once or twice. Then, we'll look at the tracks where Johnson would have his best shot of putting his No. 84 Chevrolet in Victory Lane.
It's hardly a coincidence, by the way, that Johnson chose 84 as his new car number. A winner of 83 Cup Series races, he will be seeking a historically significant 84th career Cup triumph — and perhaps an 85th career win that would carry equally historic significance — in his part-time role.
Jimmie Johnson can move up on the all-time wins list with one or two victories
As almost anyone who's followed NASCAR for any length of time should know, Richard Petty is the NASCAR Cup Series' all-time wins leader with 200 victories — a number that will undoubtedly never be matched. Next in line is legendary David Pearson, whose 105 victories in NASCAR's premier series will also likely never be touched.
Third on the list is four-time champion Jeff Gordon, with 93 career wins, followed by Bobby Allison and Darrell Waltrip at 84 apiece, then Cale Yarborough and Jimmie Johnson with 83 each.
So if Johnson can win just one of the 10 races he's slated to enter in 2023, he'll break his tie with Yarborough and forge a three-way tie with Waltrip and Allison. And if Johnson manages to go to Victory Lane twice, he'll leapfrog Waltrip and Allison to move into sole possession of fourth place on the all-time wins list.
Johnson winning twice or even once will likely be a tall order for multiple reasons, however. One is that he's never raced the Next Generation Cup Series car that debuted last season, so everyone else has a year under their belt with this car that Johnson does not.
It's also important to consider that Johnson, who turns 48 in September, is, by all indications, well past his prime years as a professional race car driver. As an IndyCar competitor the past two seasons, the El Cajon, California native failed to record a single podium finish in 29 starts. While that's somewhat understandable in light of Johnson's dearth of experience in open-wheel cars relative to most of his competition, far less understandable is Johnson's absence from Victory Lane over his final three seasons as a full-time Cup Series driver with one of the sport's best teams, Hendrick Motorsports.
In fact, you have to go all the way back to June 4, 2017, for Johnson's last career victory — which came at Dover. That was the 13th race of the 2017 season, and Johnson never won again in his final 131 starts.
To assume that Johnson can now jump in a car that's not a Hendrick Motorsports Chevrolet or the generation of Cup Series vehicle he's accustomed to driving and suddenly contend for wins on a regular basis seems like wishful thinking. Then again, this is Jimmie Johnson — a seven-time Cup Series champion who is widely and rightfully considered one of the best drivers to ever sit behind the wheel of a NASCAR stock car.
Considering that Johnson's first start with Legacy Motor Club will be in February's Daytona 500, a race that's prone to produce the occasional surprise winner, it's not outside the realm of possibility that Johnson could celebrate his third Daytona 500 victory and move into a tie for fourth place on the all-time wins list in one fell swoop.
The tracks where Jimmie Johnson races will greatly impact his chances of winning
So if not the Daytona 500 at Daytona International Speedway, what are the tracks where Jimmie Johnson is most likely to bag career win No. 84 and possibly No. 85?
Since Johnson has yet to release a schedule of the 10 races he'll run in 2023, it's impossible to say for sure. However, if Johnson chooses to start one or both races at Martinsville along with the lone event at Dover, Auto Club Speedway, Texas, and the Charlotte quad-oval, he'll likely give himself the best opportunity to go to Victory Lane.
Johnson has won no fewer than six points-paying races at each of these tracks, so his past success at these venues has to mean something. If nothing else, it'll give him the confidence that he can get the job done.
Will Johnson ultimately prevail in his quest to score his 84th career Cup Series victory in 2023? Could he even find his way to Victory Lane twice and, in doing so, take over sole possession of fourth place on the all-time wins list?
Time will tell, of course, but this will certainly be a story worth carefully watching as the season progresses.