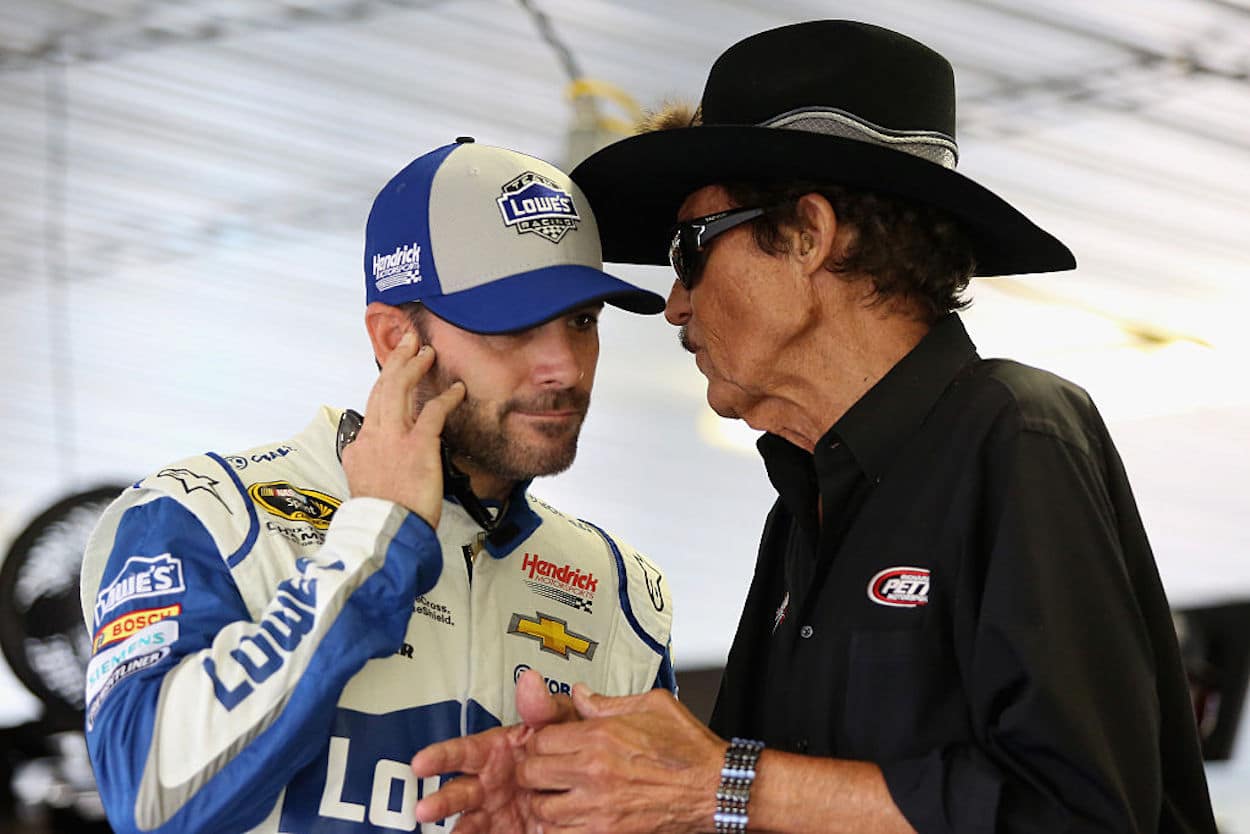 How Legacy Motor Club, Aka Petty GMS, Could Be the Trackhouse Racing of 2023
Legacy Motor Club has some big names in their corner, and, if things break right, that could set the stage for a successful NASCAR campaign.
Remember this past season when little-known Trackhouse Racing came out and pretty much set the proverbial woods on fire in the NASCAR Cup Series?
Yeah, no one expected that to happen — yet it did, thanks to several factors. 
We'll take a look at those factors next, then consider how another team is poised to enjoy a similar breakout season in 2023.
Trackhouse Racing's improvements from 2021 to 2022 weren't by accident
One of the biggest keys to Trackhouse Racing quickly morphing from an afterthought to a legitimate power was last year's rollout of the Next Generation Cup Series car that proved to level the playing field between the sport's bigger, more resourced teams and the smaller, tighter-budget organizations like Trackhouse.
Playing perhaps an even bigger role in Trackhouse's improvements from Year One to Year Two as an organization was the team's offseason acquisition of the assets previously held by Chip Ganassi Racing, a two-car organization that ceased operations at the end of 2021.
Last, but certainly not least, came the addition of Ross Chastain to the Trackhouse Racing lineup, which not only meant doubling the size of the organization's driver roster overnight but having a driver with untapped potential and a fire in his belly like few others.
All these changes, in combination with the extraordinary leadership of former NASCAR driver-turned-team owner Justin Marks allowed Trackhouse to defy all expectations by going to Victory Lane three times — twice with Chastain, once with teammate Daniel Suarez — and place both of its drivers in the playoffs. Suarez went on to finish 10th in the standings, while Chastain made it all the way to the Championship 4 round at Phoenix and finished runner-up in the standings due largely to some last-lap heroics in the Round of 8 elimination race at Martinsville.
So which team in 2023, like Trackhouse in 2022, will emerge from relative obscurity to become an overnight contender? 
All the ingredients are in place for Legacy Motor Club to be a big surprise
If there's one team that seems equipped to make a massive leap in 2023, it's the team formerly known as Petty GMS — which recently rebranded as Legacy Motor Club.
While the organization's new official nomenclature might be unconventional, even more so is its ownership structure, which consists of Allegiant Air CEO Maury Gallagher, his son Spencer and seven-time Cup Series champions Richard Petty and Jimmie Johnson.
Johnson is the newest addition to the ownership fold, and he's coming out of retirement from NASCAR to not only hold a minority ownership stake in the company but also run a part-time, 10-race schedule in a No. 84 Chevrolet. Joining Johnson as teammates are Petty GMS returnee Erik Jones and Cup Series newcomer Noah Gragson, who'll both compete full-time.
As a full-time driver for JR Motorsports last season in the NASCAR Xfinity Series, Gragson captured a series-high eight wins on the way to a second-place points finish. Jones, meanwhile, made a quantum leap from his first year to his second year with Petty GMS — jumping six spots in the final standings, more than doubling his number of top-10s from the previous year, quadrupling his number of top-fives from 2021, and winning the Southern 500 at Darlington after failing to go to Victory Lane a year earlier.
Throw Johnson into the mix with his 83 career Cup Series wins and record-tying seven championships, and you've got a team that people would be completely foolish to sleep on — although some inevitably still will. As if Gragson and Jones weren't already super-talented (they are), you simply can't put a price tag on the value of the opportunity they have to lean on and glean from two men with a combined 14 Cup Series championships and 283 Cup Series wins as drivers.
Are you kidding me? No one else has a team owner or owners with this kind of bona fides, so Gragson and Jones are incredibly blessed to be in this position.
Will Gragson or Jones win the championship in 2023? It's probably unlikely, given their relative youth and the fact that the organization is somewhat unproven. But like Trackhouse Racing one year ago, Legacy Motor Club has taken a huge step in the right direction before even the first green flag waves on the new season.