2022 Cup Series Season in Review: Petty GMS
Some teams cannot wait for 2023 to arrive so they can erase the bad memories of Year 1 of the Next Gen car. Petty GMS isn't one. Its overhaul positions Erik Jones and Noah Gragson to make the newest iteration of one of NASCAR's history-rich teams a challenger for the best two-car garage.
Erik Jones was a terrific comeback story on a rejuvenated team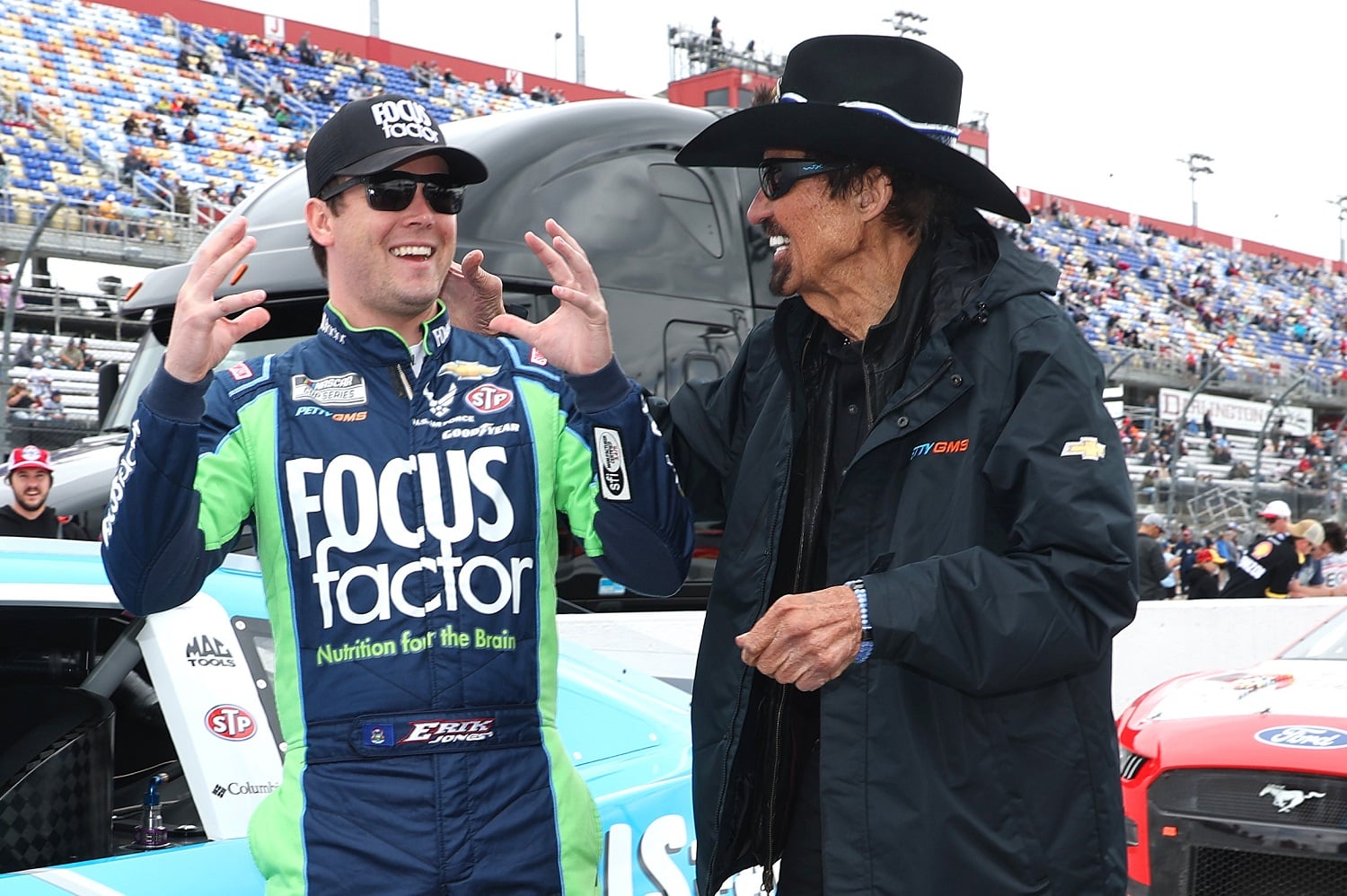 Daniel Suarez and Ross Chastain have elevated Trackhouse Racing to near-elite status in the Cup Series, and they've established a road map for Petty GMS.
Any analogy between the two begins with Suarez and Erik Jones, cast aside by Joe Gibbs Racing early in their careers. Suarez was the original Trackhouse driver in 2021, and Jones just completed his second season in the Petty organization.
Years 1 and 2 at Richard Petty Motorsports and Petty GMS, respectively, were like night and day as Maury Gallagher arrived as principal owner in December 2021. The infusion of resources made an immediate difference as Jones went from six top-10 finishes in 2021 to a victory and 13 top-10s. Unfortunately, the win came too late to land the No. 43 Chevy in the playoffs.
Also key to Jones' resurgence was the arrival of Dave Elenz as his crew chief. Elenz previously ran Noah Gragson's Xfinity Series car for JR Motorsports, and Petty GMS has dipped into Dale Earnhardt Jr.'s team again to complete its overhaul.
Ty Dillon is out, Noah Gragson is in at Petty GMS
Maury Gallagher was on a path to launch his own Cup Series team before taking control of Richard Petty Motorsports, so the decision to go to two cars in the first season as Petty GMS wasn't a surprise.
The choice to drive the No. 42 Chevy was Ty Dillon, who lost his ride at Germain Racing after four seasons when the team folded. He raced a limited schedule for Gaunt Brothers in 2021 and began the just-completed season winless in 166 starts with just six top-10 finishes.
Whereas Jones was a consistent threat in the No. 43 Chevy, Dillon was a non-factor alongside him. On July 16, the organization announced a "mutual decision" that Dillon would not return in 2023. Shortly afterward, Gallagher and NASCAR legend Richard Petty signed Noah Gragson to drive the 2023 season, then recruited his new crew chief at JR Motorsports to come along.
The change in drivers will bolster the organization. While Dillon posted one top-10 result and finished on the lead lap in just half his races, Gragson was getting his feet wet with an 18-race Cup schedule while also contending for the Xfinity Series championship. No honest observer would prefer Dillon's past over Gragson's future.
Overall Petty GMS grade: C+
RELATED: Jimmie Johnson's Arrival Can Pay Immediate Dividends to Erik Jones
Erik Jones was in the mix at several final restarts and probably should have cashed in at least once in addition to his one win. Talladega in the spring comes to mind and makes one wonder how the rest of the season might have played out had Ross Chastain not won there. For that matter, Jones could have swept Talladega.
As consolation prizes go, however, winning the Southern 500 to become the first non-playoff driver ever to win the playoff opener – while also scoring the 200th triumph for the Petty organization – was sweet.
Jones was considerably stronger in qualifying cars over the first third of the year than he was in the remainder. Starting 21st or worst in 10 straight midseason races cost him stage points and finish positions, and it all but necessitated winning his way into the playoffs over the final half-dozen summer races.
Jones finished next-to-last in the Cup Series in the "closer" category, but that is going to happen when you crash late in three of 36 races.
There's no sense dwelling on Ty Dillon. Petty GMS would probably have been better served with Anthony Alfredo or Matt DiBenedetto in his car, but you have to play the hand dealt to you. Ownership now has two capable full-time drivers, and Jimmie Johnson is coming on board in a part-time role which hopefully includes mentoring.
In short, Maury Gallagher and Richard Petty have done what they needed to do in 2022.
By the numbers
Erik Jones
2021 / 2022
Ty Dillon
2020* / 2022
Wins
0 / 1
0 / 0
Top 5s
0 / 3
1 / 0
Top 10s
6 / 13
2 / 1
Top 20s
21 / 23
14 / 15
Average Start
22.7 / 20.9
25.6 / 27.0
Average Finish
19.7 / 16.3
22.0 / 22.6
Laps Led
9 / 147
13 / 2
* – Germain Racing
Got a question or observation about racing? Sportscasting's John Moriello does a mailbag column each Friday. Write to him at [email protected]