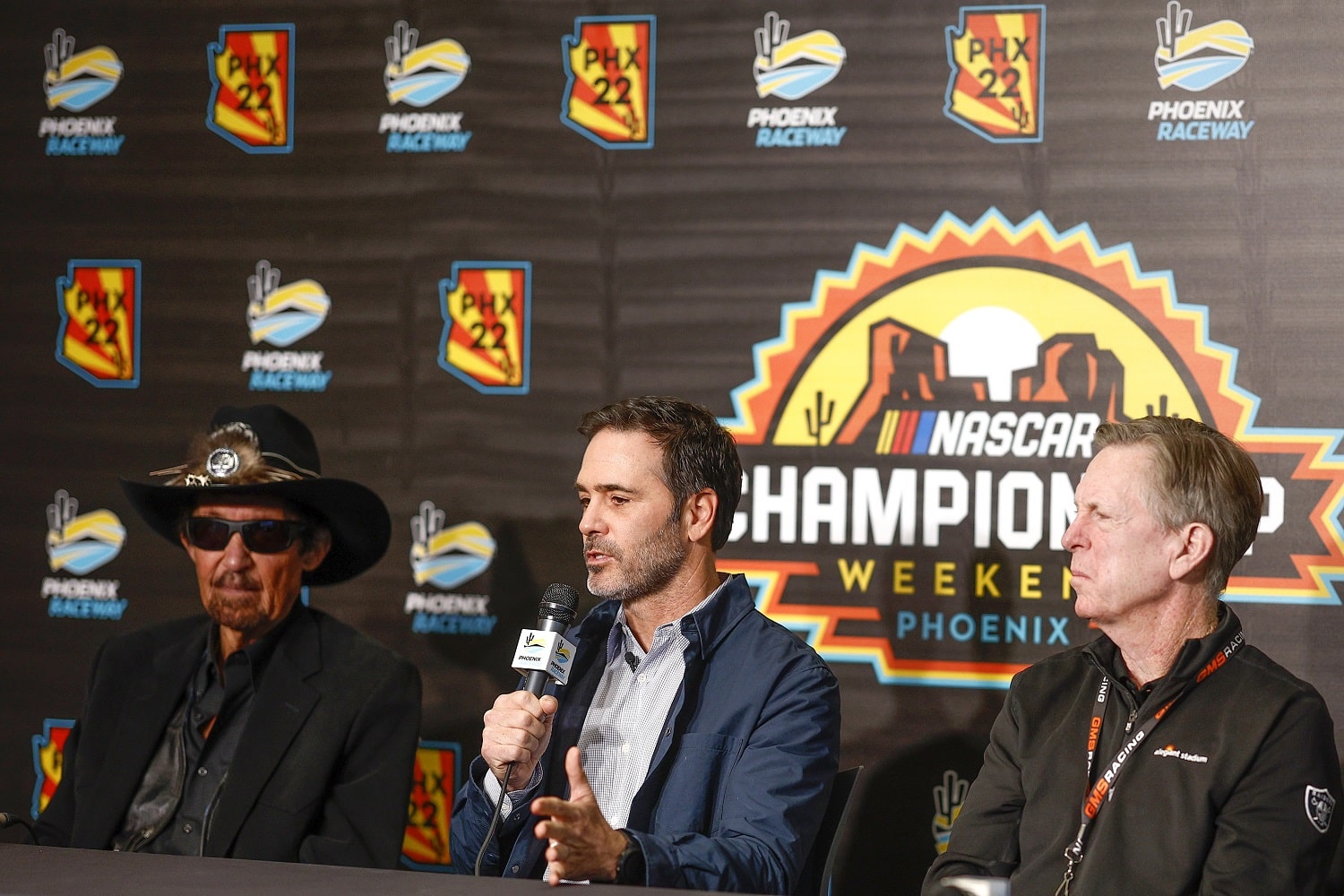 A Missing Sponsor May Have Caused the Petty GMS Shakeup
The Petty GMS name is being replaced by Legacy Motor Club, but the team may face a significant hurdle right out of the blocks.
Jimmie Johnson, Richard Petty, and managing partner Maury Gallagher had a lot to say Wednesday as Petty GMS won the NASCAR news cycle with a pair of announcements.
It was a big day as the team unveiled a new name for the organization and a new car number for an all-time Cup Series great. However, some other news leaked a day earlier and leaves one to wonder about the business side of the team.
Maybe it's nothing. But dumping news of a significant front-office change the night before the big rollout suggests the "legacy" of the former brand will be that it buried bad news on the way out the door.
Petty GMS has changed its name to Legacy Motor Club and added a car number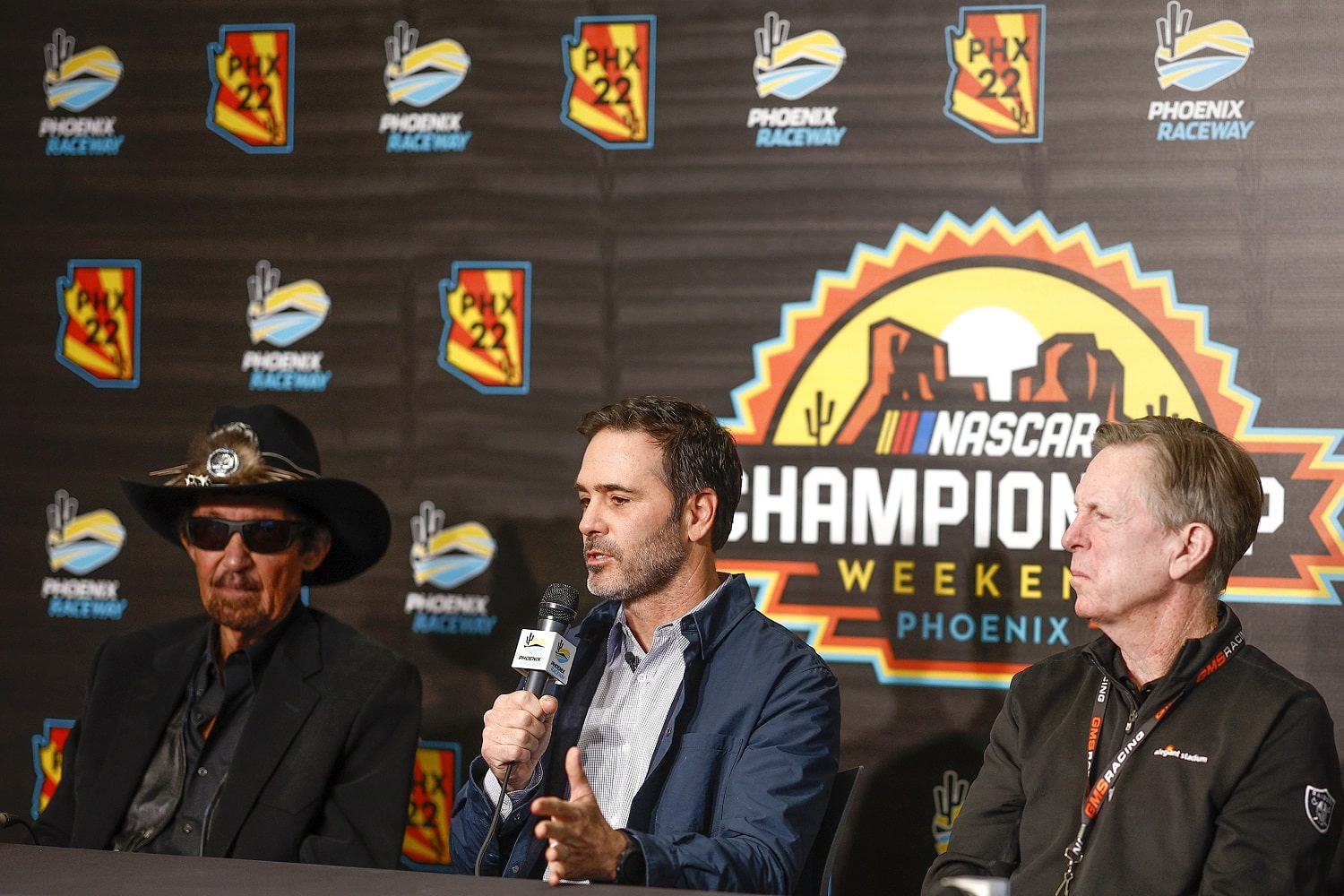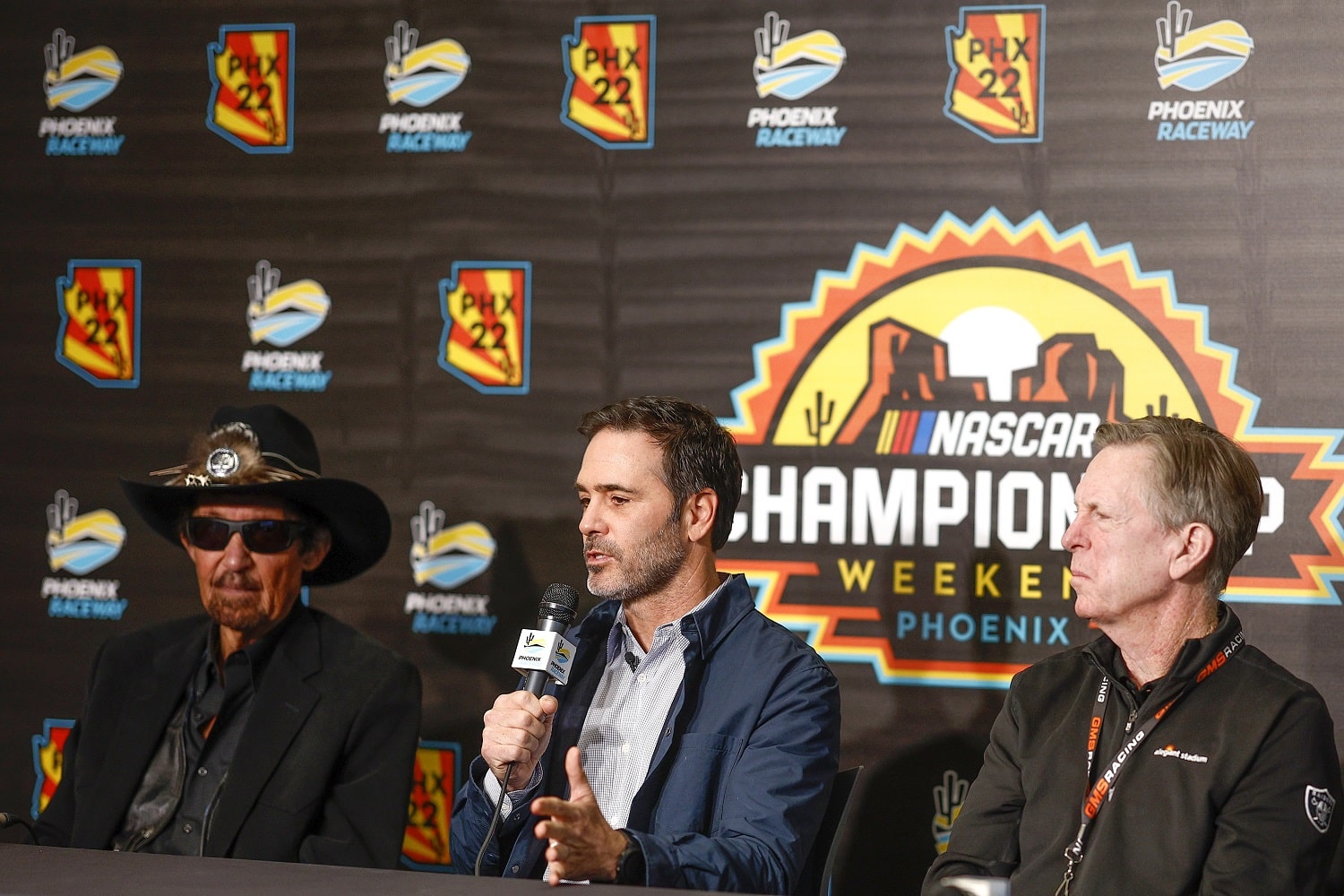 Seven-time champion Jimmie Johnson will be driving the No. 84 Chevy in his limited return to NASCAR Cup Series racing, he revealed on Wednesday. His first outing will be an attempt to qualify for the Daytona 500, but neither he nor the team revealed competition plans beyond that.
Meanwhile, the Petty GMS brand is history 13 months after Maury Gallagher took a controlling interest in the former Richard Petty Motorsports team. The organization rebranded itself as Legacy Motor Club, a jarring move since it removes the name of a family with four generations of drivers.
"There couldn't be a better name to fit our race team than Legacy," Petty insisted in the announcement. "The Motor Club is a perfect fit because we want our fans to pull for the whole team. When I see the No. 42 & 43 cars, no matter who the driver was, is currently or could be in the future, I want our fans to remember the Petty history that comes with them, and that history will continue to be made."
Legacy Motor Club debuts with a solid lineup
Whatever the name, Legacy Motor Club rolls out with the team's best driver lineup in quite some time next month. Aside from Jimmie Johnson coming aboard as a co-owner and part-time competitor, Legacy MC will field the one-two punch of Erik Jones in the iconic No. 43 Chevy and rookie Noah Gragson in the "42."
Jones was competitive all year in the first season of Maury Gallagher in charge, and his victory in the Darlington playoff race served as a reminder why so many hold him in such high esteem. At just 26 years old, he owns 219 Cup series starts and has plenty of time to add to his three career victories.
Gragson, 24, arrives with half a season of Cup racing under his belt and on the heels of eight wins and second place in the Xfinity Series Championship 4. He's both an undeniably talented driver and the guy most likely to be the first to show up and the last to leave the party, which should make him a marketing dream for years to come.
A sponsor departure may have triggered a Petty GMS shakeup
News of the final bit of business of Petty GMS before it became Legacy Motor Cub dripped out Tuesday when Motorsport reported on front-office moves that include the arrival of former Roush Fenway Racing and Chip Ganassi Racing executive Bruce Mosley in an unspecified capacity.
With Mike Beam remaining team president, Mosley's role could be in sales and marketing. Sources told Motorsport that Brian Moffitt, the executive VP of sales, is no longer with the company.
"While we know change is difficult, we are confident it is in the best interest for the long-term and overall success of our team," Maury Gallagher said in response to the report. "We can confirm we are in talks with some senior level executives with heavy-hitting experience in the salesforce, business world and on the competition side to take this team to the next level."
The former Petty GMS team rolled out its Legacy Motor Club website on Wednesday, and what's missing from its list of partners (i.e., sponsors) is jarring. While it's true that teams have more than three weeks before the Busch Light Clash, at least half a dozen firms that served as primary sponsors for Erik Jones or Ty Dillon in 2022 races are missing.
Chief among the no-shows is Focus Factor, which sponsored Jones in 29 points race last season. There is still Petty GMS promotional material geared toward 2022 on the Focus Factor website. The Twitter feed also touts Jones, but the account seems to have gone dormant.
NASCAR fans have been talking about the disappearance on social media in recent weeks, and there might just be something to be concerned about. Whatever fresh money Jimmie Johnson brings in for his limited appearances wouldn't come close to making up for what Legacy MC loses if a nearly full-time sponsor walks away.
That would be a very bad start for the new brand.
Got a question or observation about racing? Sportscasting's John Moriello does a mailbag column each Friday. Write to him at [email protected].