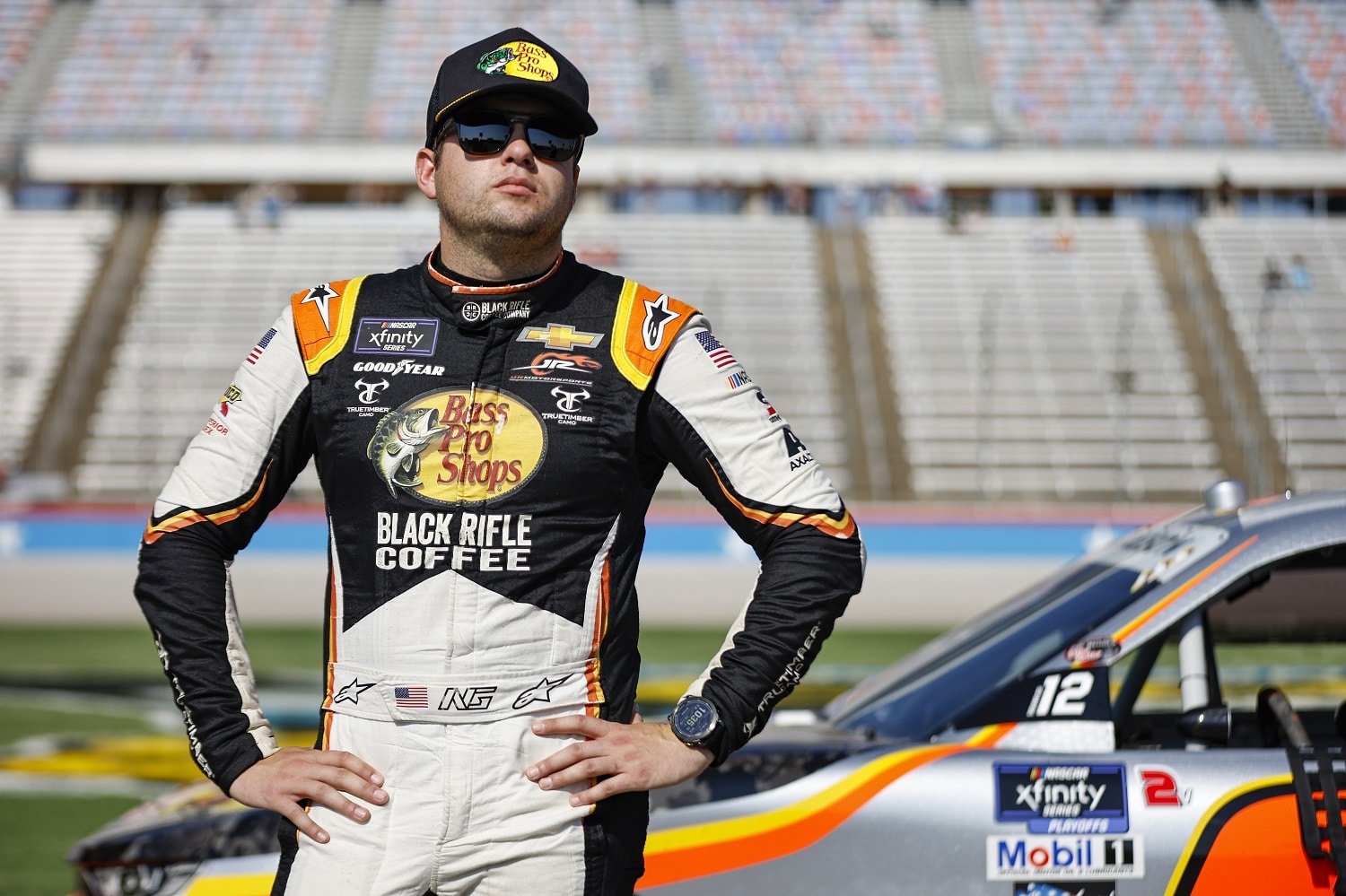 Noah Gragson Went to Bat for His New Boss but Got Shot Down by Alex Bowman
Noah Gragson hoped to reclaim the No.. 48 for Jimmie Johnson, but Alex Bowman wouldn't give in.
Hey, we've all been in Noah Gragson's situation: The new guy often aims to land on the good side of the boss right out of the box but perhaps tries too hard.
Gragson made a run at ingratiating himself to Jimmie Johnson, the new minority owner at Petty GMS in the NASCAR Cup Series. Alas, another driver put a stop to that like he was Chandler Jones stepping in front of a New England Patriots lateral with the clock showing zeroes.
Noah Gragson and Jimmie Johnson are big additions to Petty GMS
It's a big offseason for the Petty GMS team as the organization continues to retool and evolve. Year 1 with Maury Gallagher as principal owner saw the Cup Series team double in size and Erik Jones show why so many people regarded him as more prospect than suspect.
Now, Noah Gragson has arrived to take the second Chevy from placeholder Ty Dillon, bringing along his crew chief from an eight-win Xfinity Series season in the process.
Even a two-car team risks being dwarfed by the big teams like Hendrick Motorsports, Joe Gibbs Racing, and Stewart-Haas Racing. But Petty GMS is showing it has no intention of ceding the second tier to Trackhouse Racing and Richard Childress Racing.
Driving that point home is the arrival of seven-time series champion Jimmie Johnson as a minority owner and part-timer driver. It remains to be seen whether Johnson has Next Gen chops, but he can deliver sponsorship interest and media attention to the Petty GMS organization.
We're still awaiting word on Jimmie Johnson's car
Erik Jones will continue to drive the No. 43 Chevy, the bloodlines of which go back to Richard Petty and his NASCAR-record 200 Cup Series victories. Noah Gragson takes over the No. 42 Chevy in his first full-time season in the top level after a partial 2022 schedule with three teams.
The only mystery is the number that will adorn Jimmie Johnson's car. The No. 48 from his days at Hendrick Motorsports remains with Alex Bowman, and there has been plenty of speculation about the remaining options. Popular guesses include:
44: It would give Petty GMS three consecutive car numbers, but Greg Biffle used it in five early-season starts with NY Racing Team last season. Before that, Brian Scott ran the full 2016 season in the "44." The last driver to take it to Victory Lane was Terry Labonte in the 1980s.
48A: Ain't gonna happen. We're coming up on 2023, not 1949.
49: Seven titles for Richard Petty times seven for Johnson produces both a number close to Johnson's old ride and a marketing opportunity. If Las Vegas sets a betting line, this is probably where you want to put your money.
84: Reversing the digits from Johnson's trademark car is hardly original, but the number has gone unused since 2011.
91: Petty and Jimmie Johnson won seven series championships apiece, so adding their car numbers together isn't a horrible idea. Unfortunately, Trackhouse Racing has established the Project 91 brand to bring foreign drivers to NASCAR.
Noah Gragson went to bat for his new boss
The Petty GMS social media team asked fans on social media what number they thought Jimmie Johnson would be using. Noah Gragson, who subbed for Alex Bowman in five playoff races this fall, couldn't resist chiming in with "48."
Of course, there's an inherent problem there. Bowman has been driving the No. 48 Chevy since Johnson retired after the 2020 season, at which time Hendrick Motorsports moved Bowman out of the "88." Ally Financial stuck with HMS through the driver change as the primary sponsor and has a marketing interest in keeping a highly recognizable Cup Series number.
There are also secondary sponsors to think about, as well as Hendrick Motorsports' own marketing. To that end, there has already been some offseason work on promotional materials for 2023. Realistically, the time to suggest switching Bowman out of the No. 48 Chevy would have been at least three months ago.
Bowman saw Gragson's suggestion and delivered a hard, "Nah. I'm not redoing production days."
Got a question or observation about racing? Sportscasting's John Moriello does a mailbag column each Friday. Write to him at [email protected].