Ty Gibbs Ends Social Media Silence With Moving Video and Post About His Father
It's been a month since Ty Gibbs experienced what is hard for the human brain to even process in the highest of highs, winning the Xfinity Series championship, and the lowest of lows, his father shockingly dying just hours later. Unsurprisingly, the 20-year-old has stayed out of the spotlight outside of his media obligations for last week's awards banquet at Nashville.
This week, the Joe Gibbs Racing driver ended his silence on social media with a post on Instagram, where he shared a moving video with his father and some heartfelt words on their relationship.   
Ty Gibbs wins Xfinity championship hours before father dies
When Ty Gibbs dumped JGR teammate Brandon Jones on the final lap at Martinsville, he never could have imagined the week that would follow. Everyone in the industry uniformly blasted him for the selfish move and, more importantly, his complete disregard for the team. 
No one, including the driver, could have envisioned how that storyline would abruptly fade into oblivion a week later. 
It started when Gibbs defied the odds and outperformed the three JR Motorsports cars vying for the championship, and did so cleanly, capturing the Xfinity Series trophy. That by itself was redemption. However, that career highlight was unfortunately overshadowed just hours later when Ty's father, Coy, a top executive at JGR, unexpectedly died in his sleep.
Gibbs breaks social silence with post on Instagram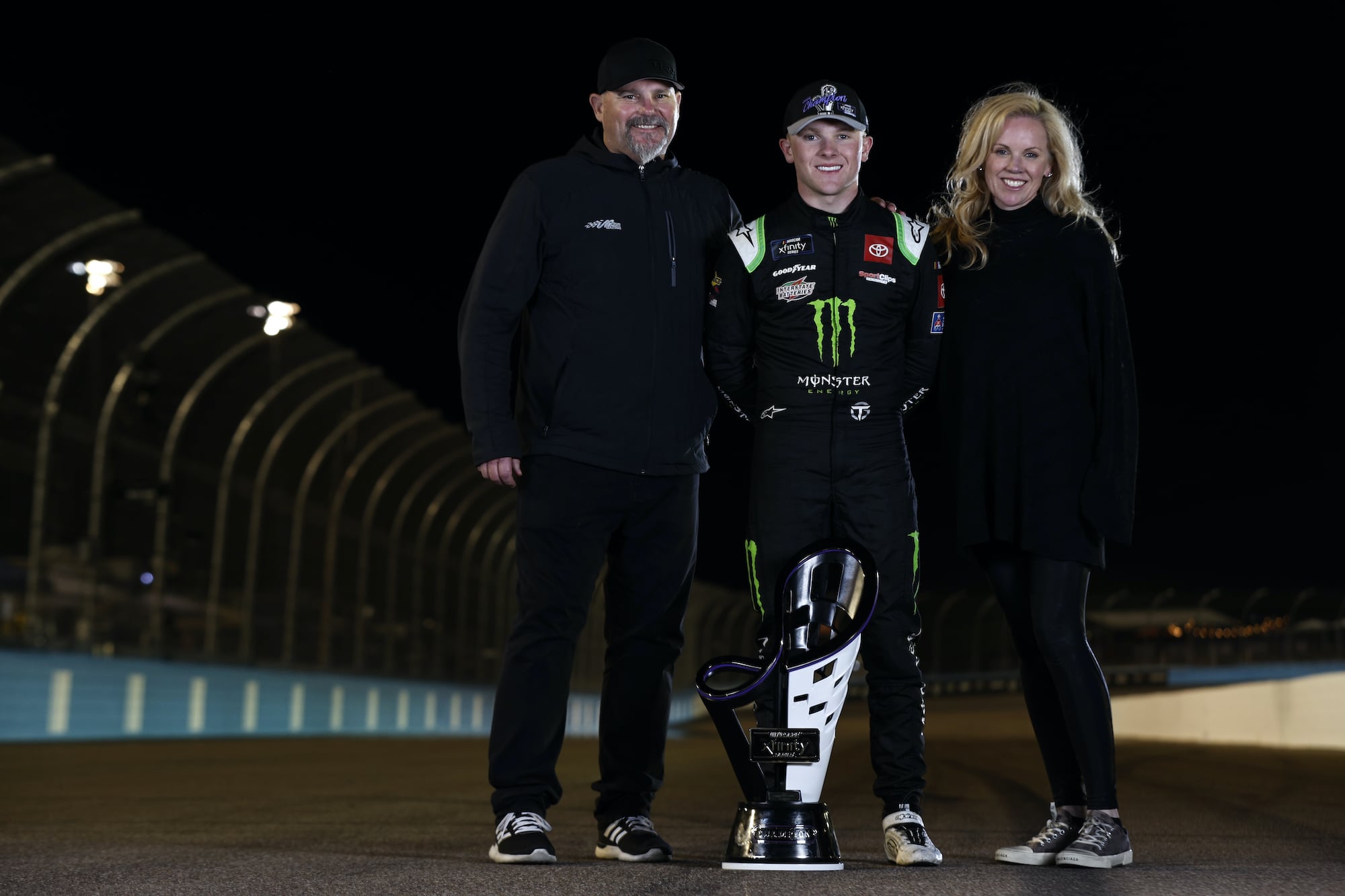 The range of emotions from two dramatically different life-changing events is hard to fathom for anyone, much less a 20-year-old kid. Gibbs was last on social media the night of his win, sharing a photo of him soaking up the moment in one tweet, and thanking Mario Andretti for his congratulatory message in another. 
He hadn't posted since. 
This week, almost a month to the day, the youngster took to Instagram where he shared a video of him jubilantly skipping toward his father and the two giving each other a celebratory hug when he arrived. 
"I love you Dad," Gibbs wrote. "God blessed me with you in my life. I am thankful for every second I got to spend with you. Thank you for always loving me and having my back through every situation. I am so excited to see you again! John‬ ‭3‬:‭16"
Spoke publicly for first time last week at Nashville
Gibbs's comments specific to his father are the first that he's made since the tragedy. Last week in Nashville, in attendance for the annual awards ceremony, he met with reporters but made it clear he wasn't ready to address the subject. 
"How are you doing?" SiriusXM NASCAR Radio's Claire B. Lang asked him to open the line of questions. "It's a lot for a young man to shoulder but it's been a while. So how are you hanging in there?"
"Yeah, I've been doing good," Gibbs said. "Thank you for asking. I definitely appreciate you guys. But we've been doing good. Doing a lot this week for all this media stuff so it's been kind of fun to experience all that."
"I heard that there was a meeting at Joe Gibbs Racing and that your grandfather told everyone we've got to move forward. Everyone's mourning," Lang said. "Can you kind of summarize like how do you do that?"
"Yeah, for right now, I'm not going to touch on any of that subject at all," he responded. "I'm just going to stick with all the racing questions and I will go from there."
Grieving is a process. Everyone does so on their own terms. Gibbs appears to be moving forward and reflecting back on his father's influence, as evidenced by his latest post. There will be challenging days ahead, but he knows that his racing family and fans will be there to support him in whatever way they can.