Jimmie Johnson's Intent Is Becoming Clearer Ahead of the Daytona 500
Jimmie Johnson's plans for the 2023 NASCAR Cup Series look like the approach Tiger Woods and other superstar golfers have long had toward the PGA Tour.
When you've already won all the big ones, there's little to be gained by winning the (insert name of failing cryptocurrency sponsor here) Southwest Podunk Open.
Johnson's weekend disclosure that he will compete in the inaugural Chicago street race confirms the seven-time series champion will only be doing big-game hunting this season.
Jimmie Johnson will compete in NASCAR's Chicago Street race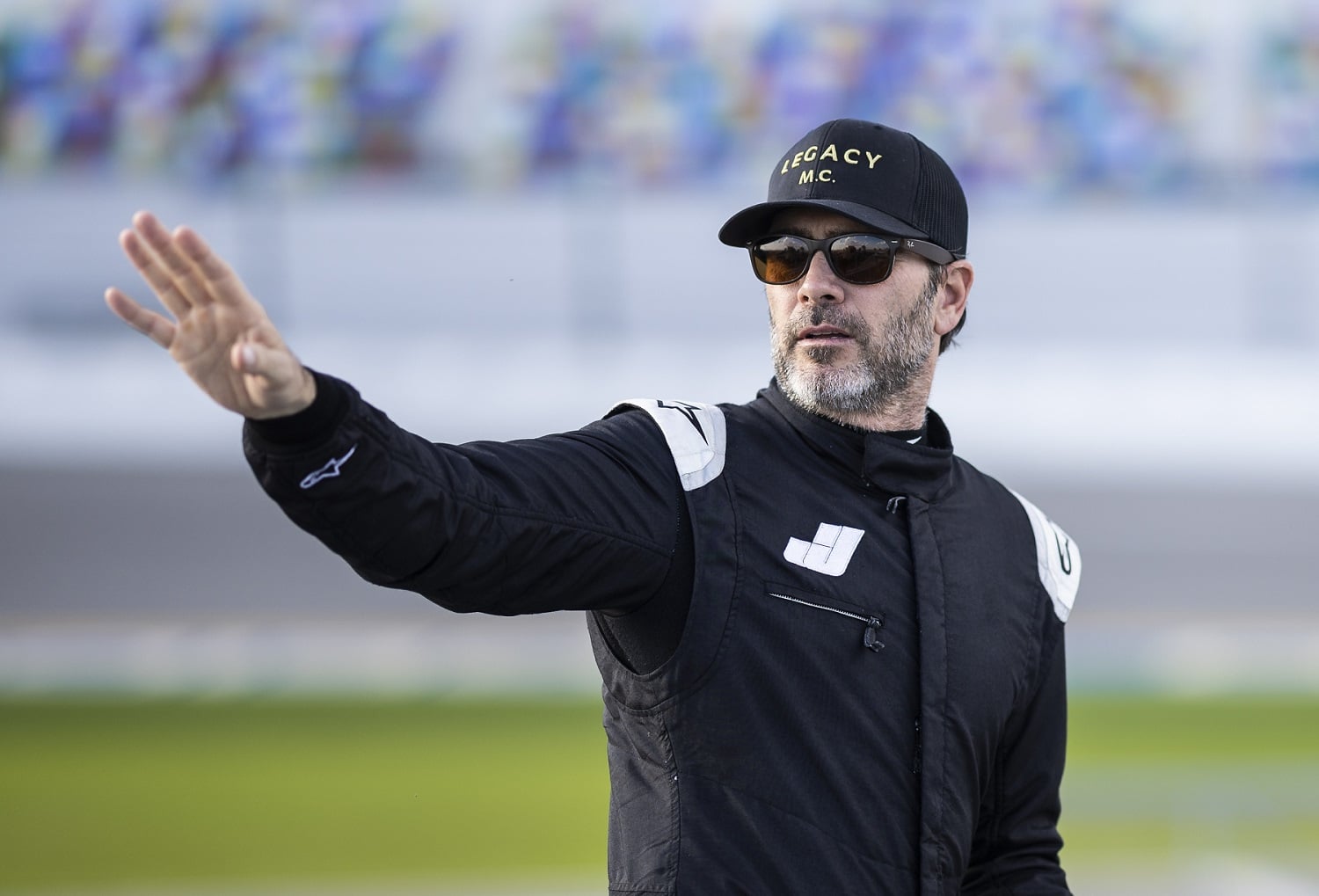 Having already said he'll attempt to make the Daytona 500 field, Jimmie Johnson used the Busch Light Clash telecast on Sunday to say he has added the inaugural Chicago Street race on Independence Day weekend to his schedule.
The NASCAR Cup Series great took an ownership stake in Legacy Motor Club late last year and will drive the No. 48 Chevy on a limited basis. As such, he'll be striking a balance between the races that interest him and the ones that sponsors see as relevant.
Johnson, 47, indicated Carvana is continuing to back him on the tracks, which could also include IndyCar and sportscar events he's run since retiring from NASCAR in 2020. Separately, he'll be driving when Hendrick Motorsports represents NASCAR with its Garage 56 entry at the 24 Hours of Le Mans in June.
The rest of Jimmie Johnson's schedule remains a mystery
There are 36 points races in the NASCAR Cup Series, and little sets any of them apart aside from the type and size of the track. The Daytona 500, of course, is special because it's the first and most lucrative as well as the one most people watch. Chicago is NASCAR's first attempt at a street race, so that also figures to draw a big crowd and television audience.
"I'm so excited," Johnson said. "It's so much fun, first of all, racing on street courses in the IndyCar car series. And (with) everything that they have going on in Chicago, I want to be a part of that, and I want to race in that race."
Other high-profile races include the Coca-Cola 600 at Charlotte, the Southern 500 at Darlington, and the All-Star Race. It remains unclear whether NASCAR could give him an exemption into the latter, but the idea of competing at the renovated North Wilkesboro track would be appealing. The annual Indianapolis date is on the road course rather than the oval, so that might not appeal to Johnson as much as a Brickyard 400 might.
From a sentimental standpoint, Fontana might be a contender. Johnson's first Cup Series win came at Auto Club Speedway, and he scored five more victories there over the years. With a conversion to a short track set to start this spring, the 2023 race will be its last on a two-mile oval.
Decisions will have to be made, and JJ admits it's a chore.
"I want a five- to 10-race list," Johnson said, "and the list is like 12 or 14."
There's little at risk, little to gain by returning
Jimmie Johnson's No. 1 accomplishment in NASCAR has been his piling up seven series championships, tying Richard Petty and Dale Earnhardt Jr. He isn't going to win another with a part-time schedule, nor is there an urgency to do so since no active driver has more than two.
Running the third car at Legacy Motor Club is figurative miles from the first or second car at Hendrick Motorsports, so even winning a Cup Series race seems a stretch. Regardless, he has devoted fans who just want to see Johnson competing again.
Going winless over his final three full seasons after 16 straight years of multiple wins may have dinged his legacy ever so slightly, but not enough to matter. A few more races this year and next won't change a thing.
"I think about Jeff Gordon a few years ago subbing for the injured Dale Earnhardt Jr., and Jeff kind of struggled in that car," Fox Sports analyst David Ragan said on NASCAR Race Hub last week. "He didn't come out and like a blaze of fire like a lot of people thought he would, but that didn't change what we all think of Jeff Gordon. … it's awesome that we have a guy like Jimmie Johnson who still has that burning desire to be at the racetrack and to be racing. I think it'll have a lot of people smiling this year."
Got a question or observation about racing? Sportscasting's John Moriello does a mailbag column each Friday. Write to him at [email protected]