Denny Hamlin Doesn't Hold Back and Shockingly Hates Jimmie Johnson Returning to NASCAR, and Predicts It Won't End Well and Will Taint His Legacy
Denny Hamlin has had his share of conflicts with Hendrick Motorsports drivers in recent years, including Chase Elliott, Alex Bowman, and William Byron. When Jimmie Johnson was still active, the Joe Gibbs Racing driver had a couple of incidents with the seven-time champion, but the pair always worked through their differences and never developed any bad blood.
This week, Hamlin released a short video clip promoting his new podcast where he discussed Johnson's return to NASCAR in 2023, but it wasn't what you'd expect. Instead of being happy to see 7-Time's return, the JGR driver harshly criticized the new co-owner of Legacy MC for coming out of retirement, suggesting he will struggle and, consequently, taint his legacy.   
Denny Hamlin shows deference to Jimmie Johnson
If there was ever any question about how Denny Hamlin viewed Jimmie Johnson, take a look at the 2019 Cup Series race at Kansas Speedway. The JGR driver let up on the gas and allowed the No. 48 car to get back on the lead lap just before the end of Stage 2. 
The HMS driver later told reporters what he thought about the move.
"Honestly, if he thought I was a threat, he wouldn't have done it," Johnson said. "So there is respect there. And I do feel there is respect off the track, but out there on the track, there is just another level of respect you have to earn through racing hard. And I guess because I didn't seem like a threat, he let that slide."
Hamlin doesn't sugarcoat his thoughts on Johnson's return
Fans have unsurprisingly expressed excitement about Johnson's return to the Cup Series since he announced it in November at a press conference alongside Richard Petty, where the two also revealed that they were co-owners of the newly named Legacy MC. 
While Johnson racing again is undoubtedly a positive for the sport, his coming out of retirement has raised a question about his Hall of Fame eligibility status. Some, including two-time Truck Series champion Todd Bodine, believe Johnson's return to active racing should delay his induction.
Denny Hamlin never offered his thoughts on Johnson getting into the Hall, but this week the three-time Daytona 500 winner did candidly offer his opinion on Johnson's return to NASCAR in a preview clip from his upcoming Actions Detrimental podcast. And he didn't hold back.  
"I hate it," Hamlin shockingly started. "I hate that he's coming back just because as the guy I just put on this pedestal, like unbeatable. Just super talented like he was the guy. And like I always said, I hate I raced in the Jimmie Johnson era. Like, damn it, I was so unfortunate. How many championships would I have if I didn't have to race against him?
"I guess I don't know what the motivation is for him because he's got such a strong legacy and a strong resume. I hate tainting what I'm going to think about him if he comes in and struggles, which is the most likely scenario." 
What happens if Johnson struggles?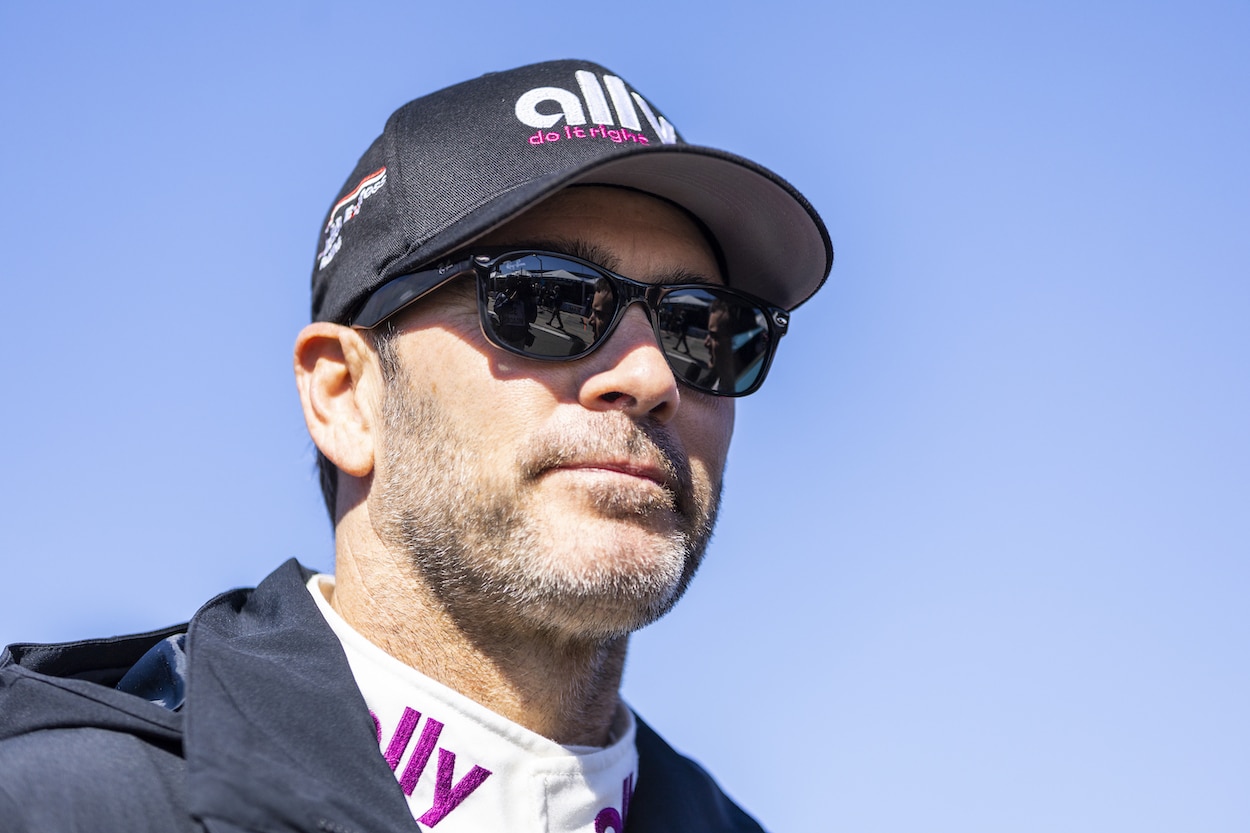 Hamlin suggesting Johnson might struggle isn't far-fetched. The driver is 47 and well past his prime. He hasn't won a Cup race in five years, or the last three he competed. However, on the positive side, the No. 48 pilot recorded 10 top-10 finishes, including five top 5s in 2020, his final season. 
But this year Johnson has multiple factors working against him, including age, time since he last competed in Cup, and the new Next Gen car, which he's only made minimal laps in during a testing session last week at Phoenix. 
Despite all of those challenges, Johnson, while wanting to be competitive, isn't likely as concerned about results as much as Hamlin. The 2023 season will give him a chance to connect with his fans and allow them to show their appreciation for him — something that didn't happen in his final year in 2020 with the stands empty due to COVID. 
If Hamlin looks at Johnson's situation from that viewpoint, he should be able to relish competing against the champion while also celebrating with the fans and appreciating what will likely be the final races of his Hall of Fame career.