Ranking Jimmie Johnson and the Other Non-Chartered Drivers Trying To Make the Daytona 500 Field
(Note: The original story has been updated to reflect the addition of J.J. Yeley to the list of drivers who will attempt to qualify.)
Just like last year, drivers are going to fail to qualify for the Daytona 500. Jimmie Johnson is probably safe, but the names of the drivers sent home early figure to be a lot more prominent than J.J. Yeley and Timmy Hill, 2022's unlucky hopefuls.
The system guarantees 36 drivers are already in the lineup for the Feb. 19 NASCAR Cup Series opener. The four who'll join them may not have the security that comes with driving a chartered car, but they will have strong credentials and could be factors in The Great American Race.
Only 40 drivers make the Daytona 500 field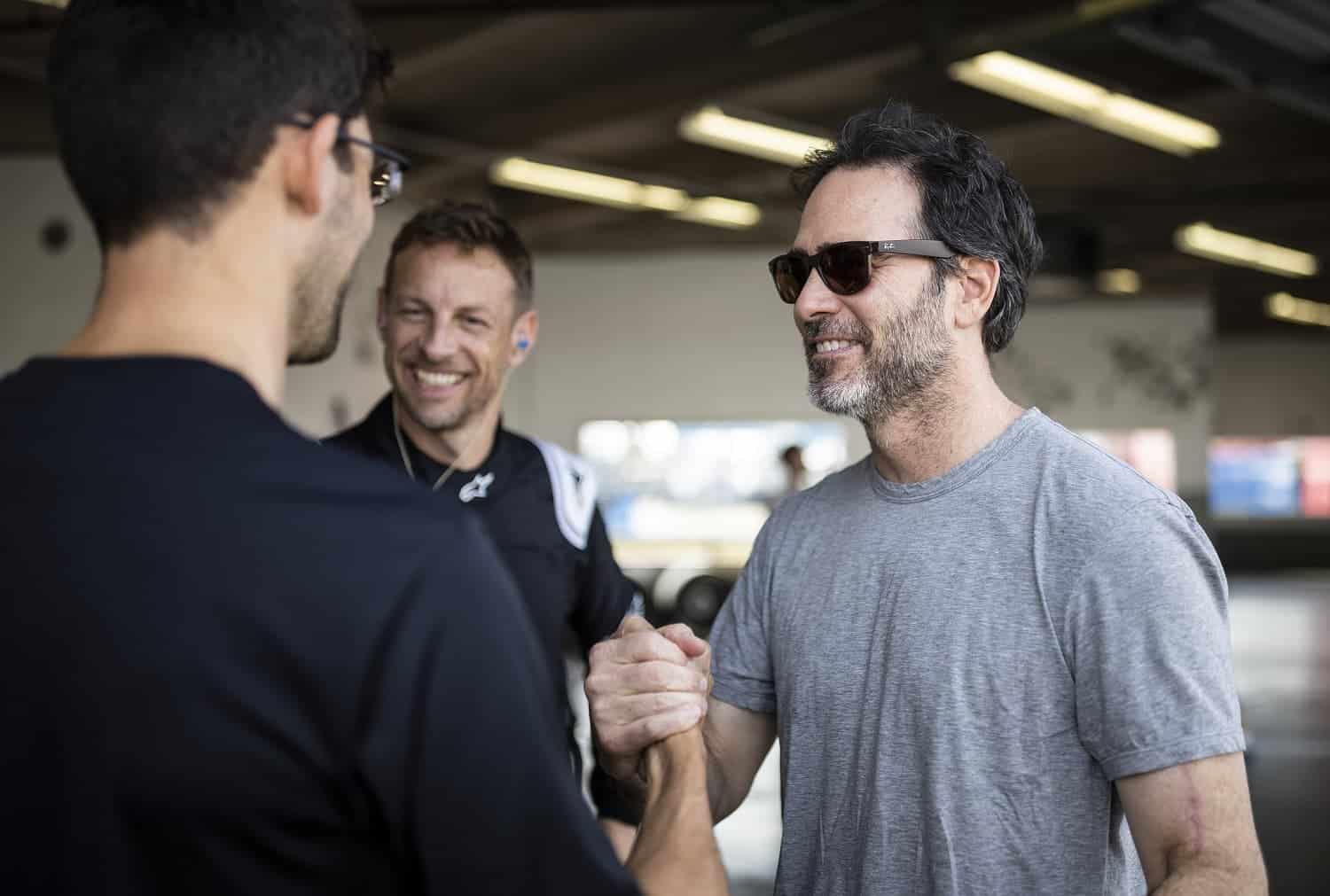 NASCAR didn't think twice about putting 27 cars on the quarter-mile track at the Los Angeles Coliseum last weekend. However, it caps the field for Cup Series races at 40 drivers – even on the 2.5-mile Daytona International Speedway oval.
As usual, the 36 chartered cars are locked in, led by 2022 Daytona 500 winner Austin Cindric and series champion Joey Logano. By Friday, team owners have announced six others will vie for four spots, and then Finishline Motorsports added J.J. Yeley on Saturday morning. There are two ways in: finish in the top two in single-car qualifying or place high enough in the 150-mile Bluegreen Vacation Duels.
A year ago, Greg Biffle, Kaz Grala, Noah Gragson, and Jacques Villeneuve went that route to make the field, while Yeley and Timmy Hill missed. This time, the list of hopefuls is stronger from top to bottom: Conor Daly, Austin Hill, Jimmie Johnson, Travis Pastrana, Chandler Smith, Zane Smith, and Yeley are all credible threats.
Jimmie Johnson looks like an easy pick for the Daytona 500 field
While it's true he's been away from NASCAR since 2020, Jimmie Johnson has been competing in IndyCar and sportscar racing. Now, he's running a limited schedule with Legacy Motor Club, where he's a new co-owner. The seven-time Cup Series champion has never competed in a Next Gen car, but his body of work – including two victories in the Daytona 500 – makes him a threat to do much more than merely qualify.
The next-best candidate to make the field is probably Austin Hill, who replaces Noah Gragson as the driver for the part-time Beard Motorsports outfit, NASCAR's smallest team (one full-time employee). Like Johnson, he stands an excellent chance of locking into the field by being one of the two fastest non-chartered drivers in the single-car qualifying.
Hill, 28, won a pair of Xfinity Series races last season for Richard Childress Racing and got a taste of the Next Gen car while finishing 18th at Michigan.
Kaulig Racing and 23XI Racing are fielding strong third cars
The guesses are all over the board about the prospects for Travis Pastrana in Daytona 500 qualifying. It looks like nothing more than a stunt, which is literally the kind of driving he is known for in the motorsports world. His only meaningful NASCAR experience was 42 Xfinity Series races in 2012-13, but the qualifying format is perfect here.
It likely comes down to beating one other unchartered car in one of the 21-car duels, and the bet is that savvy (and driving a car being turned over to Kurt Busch at some point this spring) overcomes the lack of seat time. He'd be out of his element against the full field in the big race, but qualifying is do-able.
The fourth unchartered driver to make it into the Sunday field should be Chandler Smith. Like Pastrana, he has the advantage of driving for a full-time Cup Series team (Kaulig Racing). Smith, 20, is making the step up from two full seasons driving trucks to one of the Kaulig cars in the Xfinity Series.
Even two 'longshots' are capable of making the field
No matter which two drivers miss out on driving in the Daytona 500, even a casual fan will be able to look back five years from now and recognize the names.
Zane Smith, 23, is on his way to a full-time Cup Series career within the next two seasons and is already getting opportunities in 2023 from Front Row Motorsports. The defending Craftsman Truck Series champion impressed while filling in for Chris Buescher in one race last year and would not shock anyone by qualifying next week.
Conor Daly's driving credentials include nearly 100 IndyCar starts and a taste of Cup racing last season on the Charlotte Roval. While The Money Team did get Kaz Grala into the Daytona field a year ago, the outfit backed by boxing great Floyd Mayweather Jr. is so new to the top series that Daly is going to have to overcome more than any of the other hopefuls.
J.J. Yeley, 46, is a veteran of six Daytona 500s (none since 2015) and 15 races on the superspeedway. With stronger backing, he'd be difficult to discount next week.
Of the seven hopefuls, Daly and Yeley will have the toughest task to make it to the starting grid.
Got a question or observation about racing? Sportscasting's John Moriello does a mailbag column each Friday. Write to him at [email protected]