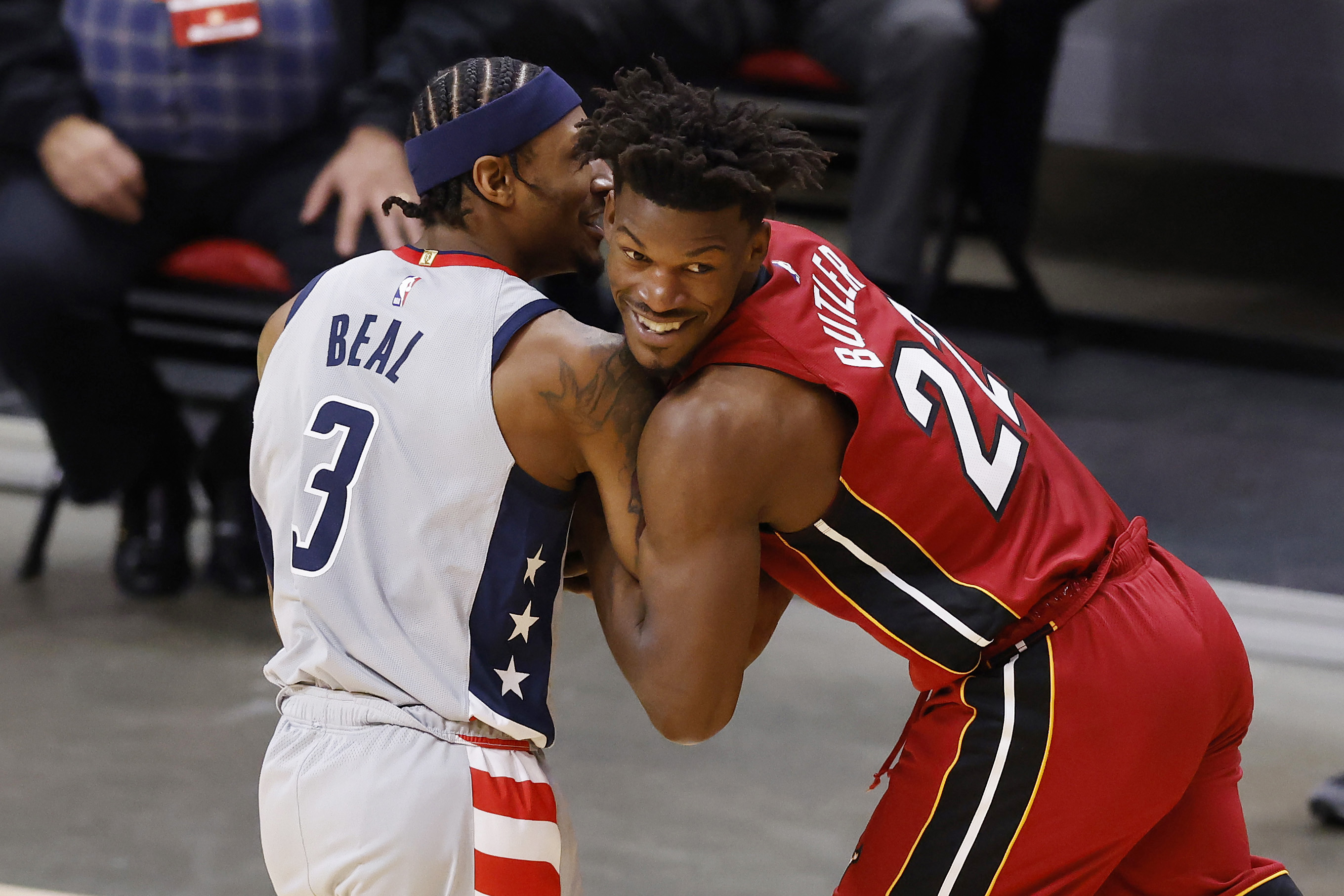 Jimmy Butler Admits That Luck Plays a Part in Becoming an NBA Star: 'People Don't Want to Admit It'
Now the face of a bona fide contender, Jimmy Butler's path took hard work. However, if you ask him, it took a healthy dose of luck, too.
Jimmy Butler is, without a doubt, one of the biggest characters in the NBA. While fans often view this through a negative lens — his ugly exit from Minnesota, for example — it's driven him to overcome insurmountable odds. Now the face of a bona fide contender, Butler's path took a lot of hard work. However, if you ask him, it took a healthy dose of luck, too.
The troubled past of Jimmy Butler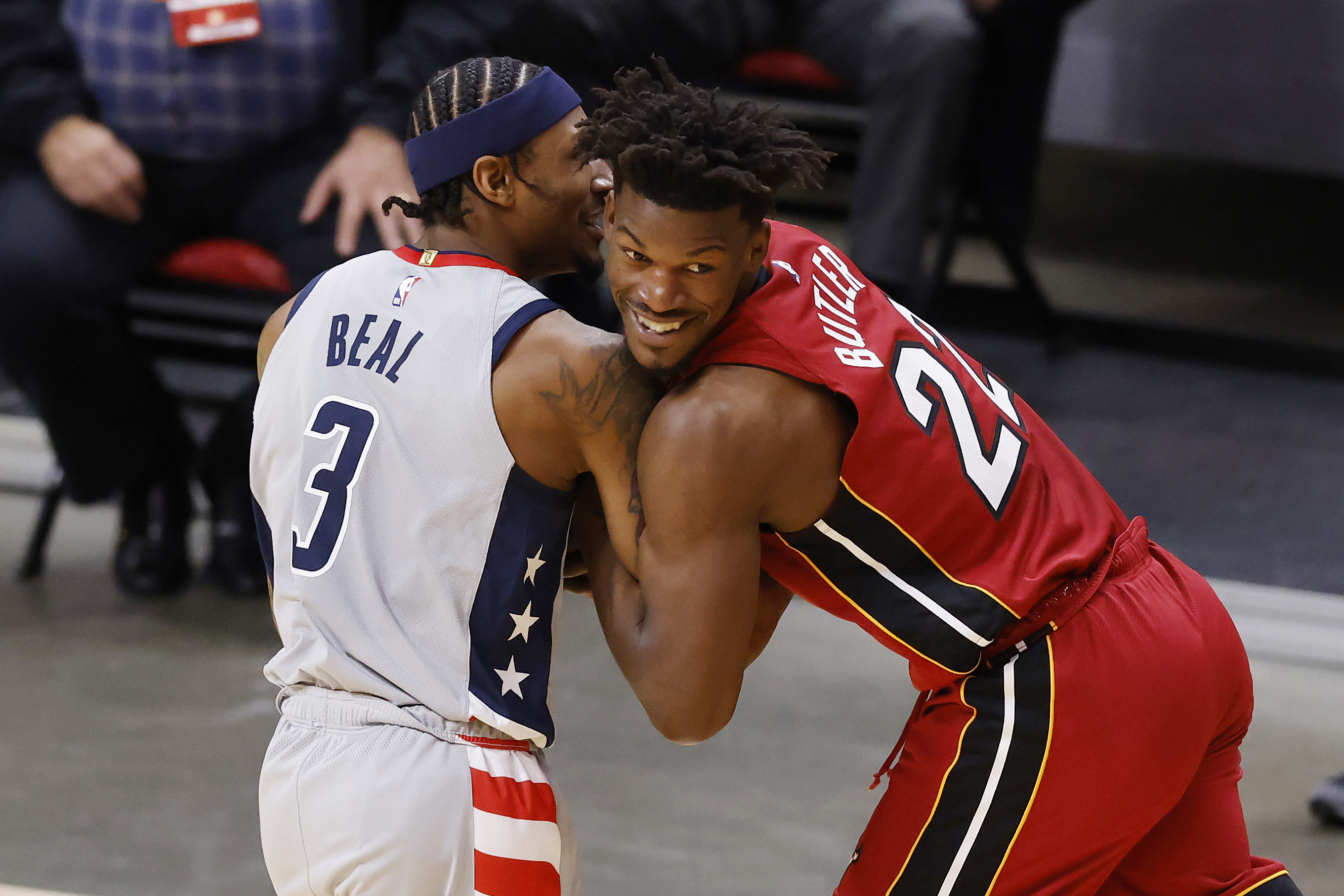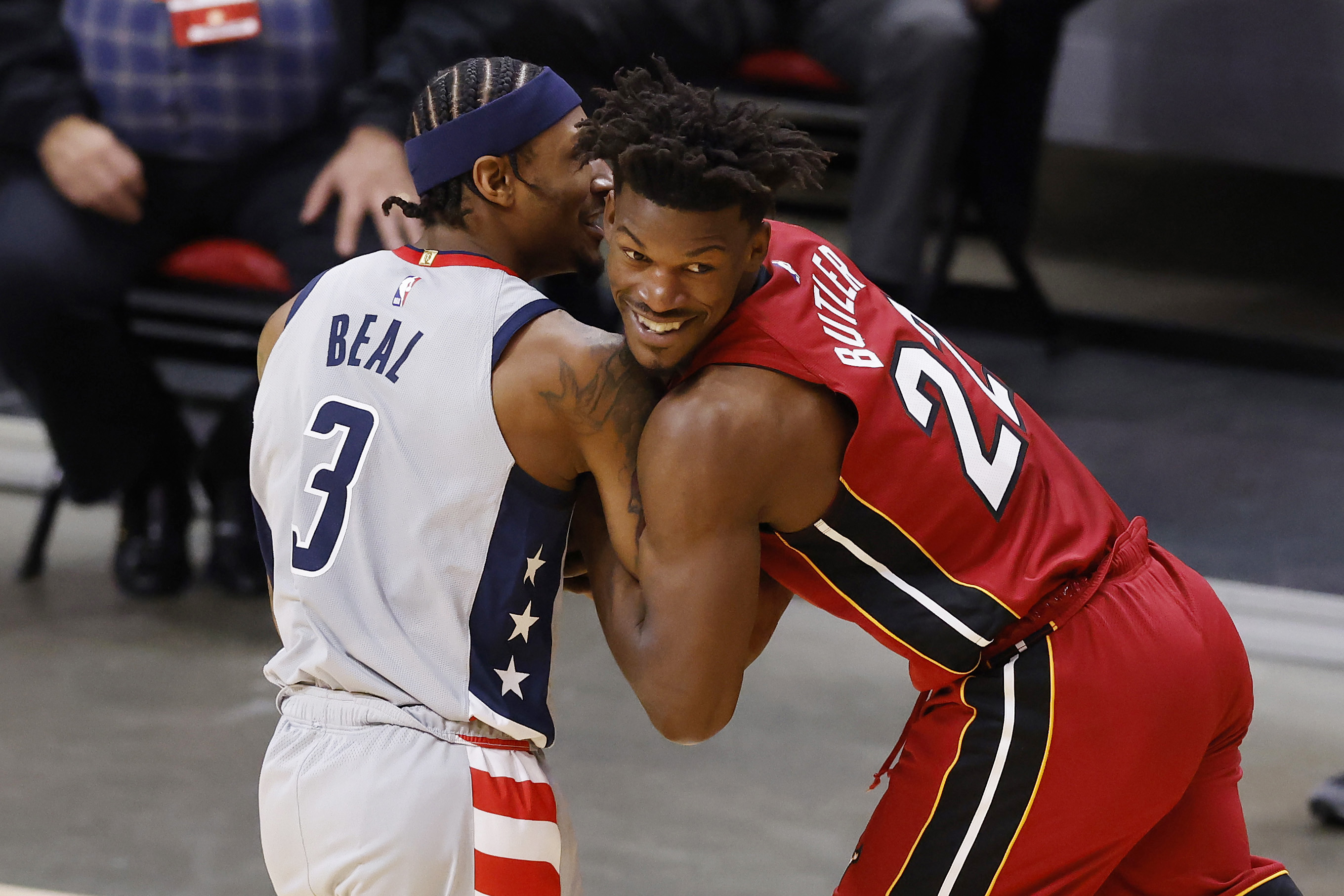 According to Home of Playmakers, Butler was born outside of Houston, Texas. He was loved and supported by his family growing up. But his parents were not there. His father was absent, and his mother told him he had to leave when he was 13 years old. From there, Butler had to crash at friends' houses and work to keep a roof over his head, 
Luckily, Butler found solace in the arms of Michelle Lambert, a mother of seven whose son, Jordan, was teammates with Butler. Jordan Leslie eventually made it to the NFL, but at the time of their meeting, he was just another teammate with a heart of gold that let Butler in. His mother made Butler feel like part of the family. 
This family bond helped get Butler through the rest of his high school days. He received support from the Leslie family through college, too. However, when it was clear that he was ready for the NBA, Butler could pay it forward. 
Butler makes it
Butler went from a seldom-used Marquette prospect to one of the sleepers of his draft. After the Chicago Bulls chose him with the 30th pick of the 2012 NBA draft, details Basketball Reference, everything changed. Butler came off of Tom Thibodeau's bench to a valuable role player, starter, then all-star in the first four years. 
With Derrick Rose, Joakim Noah, Luol Deng, and the rest of the Bulls core breaking down with a slew of injuries, Butler became the franchise's face. After leaving the Bulls, he briefly stopped in Minnesota. In just over a year with his new team, Butler led them to their first playoffs in over a decade.
After a brief stint in Philadelphia, he is now the face of the reigning Eastern Conference champion in Miami, who lost in the 2020 NBA Finals despite an unlikely run. However, as far as Butler goes, he's still the same person he was throughout his story. 
Jimmy Butler on Butler
When Butler made it to the NBA, it capped off a journey on the basketball court. Still, no defense, dunks, or free throws could ever match the hurdles he eventually overcame. From the disowned child of an uncaring movie to a max-contract face of an NBA Finals team, many things had to go right for Butler to get here. He acknowledges that, yes, he put in the work, but there's more to the story than that. Not everything can be explained by circumstance.
Sometimes, the right opportunity comes with a certain degree of luck. Looking back to his first game when he was still just an unproven rookie out of Marquette, Butler believes that one game made the difference in his career and ensuing life. He spoke about this with GQ. 
"Coach just played me one day, and it was like, 'Man, this kid just grabbed, like, four offensive rebounds,' so he kept playing me and I just hustled," Butler said. "One of the realest things I've come to know is that luck plays a major part in a lot of things and people don't want to admit it… You can call it grace. I believe in God, and I know He's watching, but I still believe that luck has something to do with it."
Butler has never been the poster-child of the NBA. However, while his no-holds-barred attitude and inability to let anyone dictate his career may cause some nuisance, that same drive propelled him to where he is. Not content to prove himself to be somehow better or more deserving, Butler's ability to accept the role that luck played shows a sense of humility that springs from his touch childhood.
Now, the days of crashing couches and wondering where he would live are behind him. Still, Butler remains as grateful as he ever was, regardless.