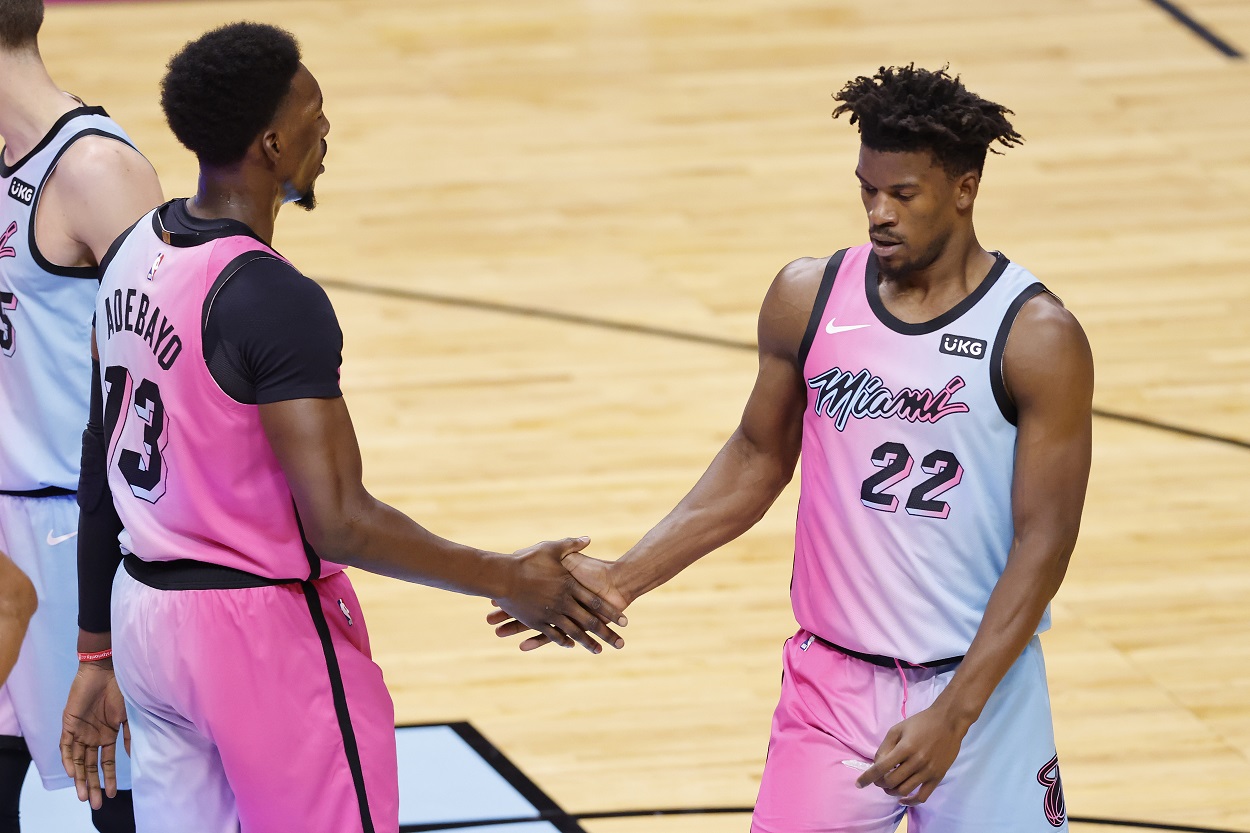 Jimmy Butler Reportedly Refused to Replace Kevin Durant at the NBA All-Star Game Because of Bam Adebayo
Jimmy Butler was set to replace an injured Kevin Durant in the 2021 NBA All-Star Game but refused to go without Miami Heat teammate Bam Adebayo.
Before signing with the Miami Heat ahead of the 2019-2020 season, Jimmy Butler had a bit of a reputation for being a bad teammate during his runs with the Chicago Bulls, Minnesota Timberwolves, and Philadelphia 76ers, which always seemed a bit unjustified.
Since taking his talents to South Beach, Butler has been nothing short of spectacular, as evidenced by the fact he led the Heat to their first NBA Finals appearance since LeBron James left town. But he certainly didn't get there alone as Bam Adebayo had a breakout season last year and became a true star in his own right, so much so that he was selected to his first NBA All-Star Game.
Adebayo has been even better in 2020-2021 but didn't receive an invite to this year's game, just as Butler didn't…well, at least initially. Butler was apparently slated to go when Kevin Durant was ruled out but refused to go without Adebayo.
Neither Jimmy Butler nor Bam Adebayo was selected to the 2021 NBA All-Star Game
Jimmy Butler certainly hasn't been at full strength for the Miami Heat in 2020-2021 as he's played just 21 games due to COVID-19 protocols but in the games that he has played, he's been as solid as ever. The five-time NBA All-Star has averaged 20.1 points and career highs in both assists (7.8) and rebounds (7.8). As for Bam Adebayo, he's having quite the campaign as well, averaging a career-high 19.6 points, 9.6 rebounds, and 5.5 assists.
But neither was voted into the NBA All-Star Game as a starter and neither was on the list of reserves that was released earlier this week. However, it appears that Butler did receive a chance to go to Atlanta when Kevin Durant was ruled out.
Jimmy Buckets was reportedly tapped to replace Kevin Durant
To the surprise of pretty much nobody, Kevin Durant was voted into his 11th NBA All-Star Game and was set to serve as one of the team captains opposite LeBron James. In his first year with the Nets — well, his first year actually playing with the team anyway — Durant is averaging 29 points, 7.3 rebounds, and 5.3 assists.
However, Durant hasn't played since February 13 as he's been dealing with a left hamstring strain, which will keep him out of action until after the All-Star break.
It was announced that Durant would be replaced in the starter pool by Celtics forward Jayson Tatum, who was initially selected as a reserve, and Durant's overall spot ended up going to Pacers forward Damontas Sabonis, who is certainly deserving of a spot as he's averaging 21.6 points, 11.5 rebounds, and 5.8 assists. However, it's been reported that the spot was originally set to go to Jimmy Butler.
Jimmy Butler refused to go to the NBA All-Star Game without Bam Adebayo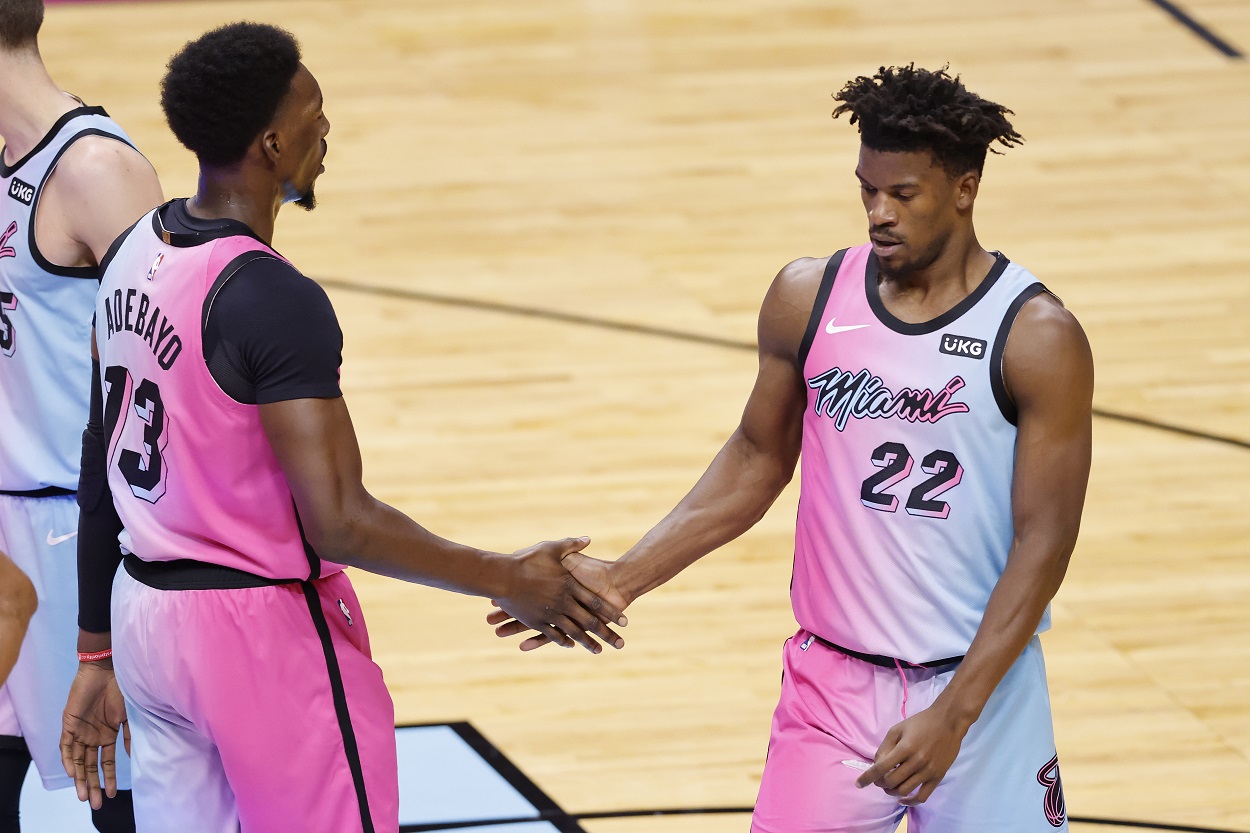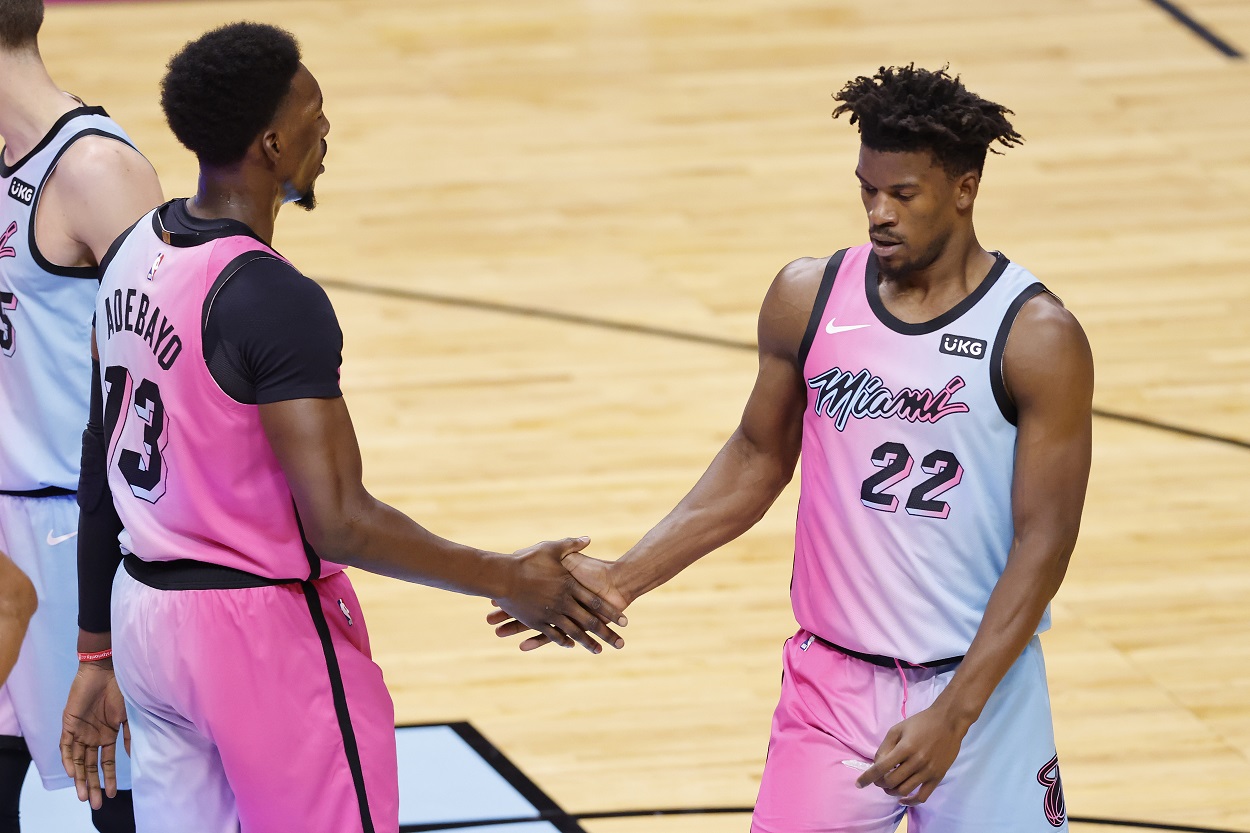 On a recent episode of his Five on the Floor podcast, Five Reasons Sports CEO and columnist Ethan J. Skolnick reported that Jimmy Butler was tapped by NBA Commissioner Adam Silver to replace Kevin Durant but refused since he believed Bam Adebayo should have been selected.
"For those who were sort of questioning why Jimmy wasn't named to the All-Star team when [Kevin] Durant went out and it was [Domantas] Sabonis, I can tell you that the NBA wanted to name him (Butler) to the All-Star team.

"He wasn't going unless Bam was going."

Ethan J. Skolnick on Jimmy Butler and Bam Adebayo
Well, if this report is true, there goes the idea that Jimmy Butler is a bad teammate.
Stats courtesy of Basketball Reference