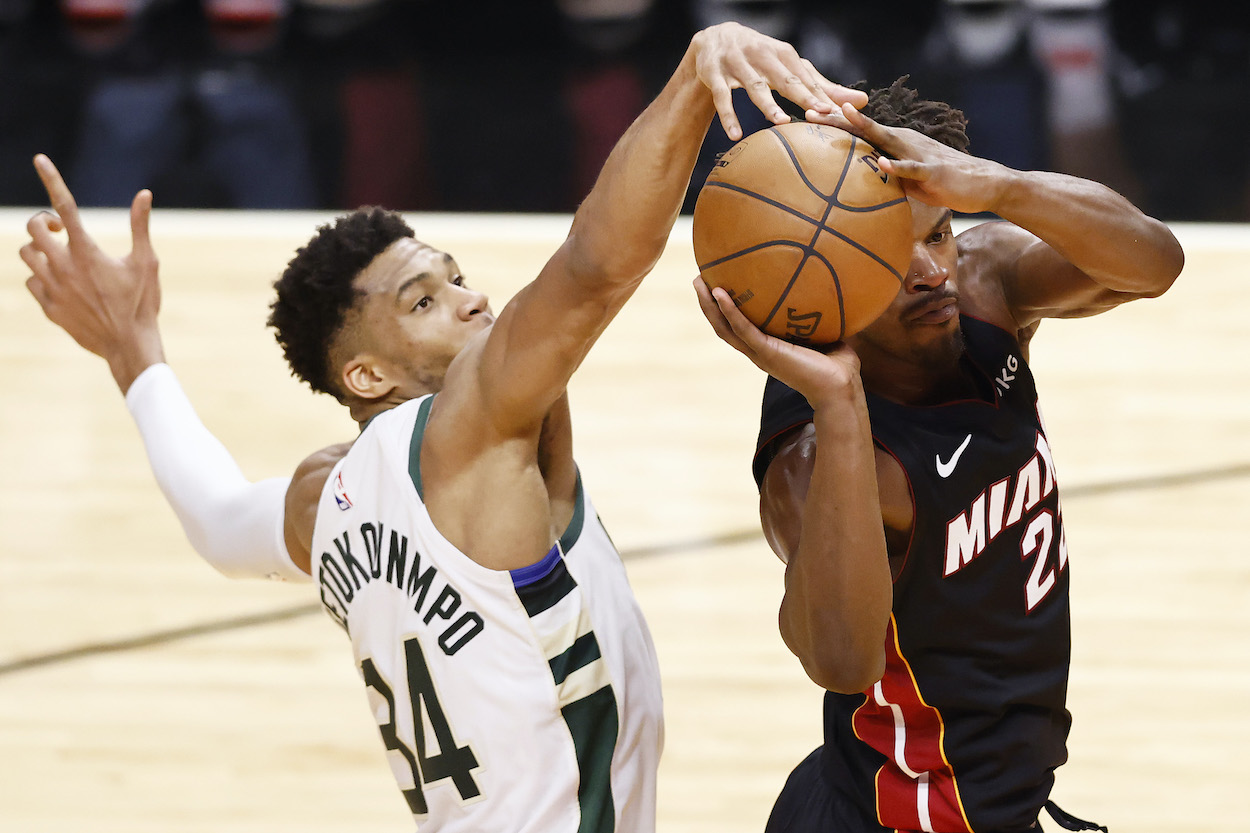 Jimmy Butler Might Want to Take Back His Old Comments After Embarrassing Playoff Flop: 'I'm Stupidly Locked In'
Jimmy Butler was incredibly cocky heading into the Miami Heat's 2021 playoff run, then he was promptly swept in the first round.
The Miami Heat were just laughed off the floor in an embarrassing four-game sweep at the hands of the Milwaukee Bucks, but their playoff flop becomes far worse when you look back at Jimmy Butler's cocky comments heading into the postseason.
Butler was incredibly confident in himself and his team after reaching the NBA Finals in the bubble last season. But after getting blown out by the Bucks in the first round, he might want to take back those previous comments.
Jimmy Butler's cocky comments heading into the NBA playoffs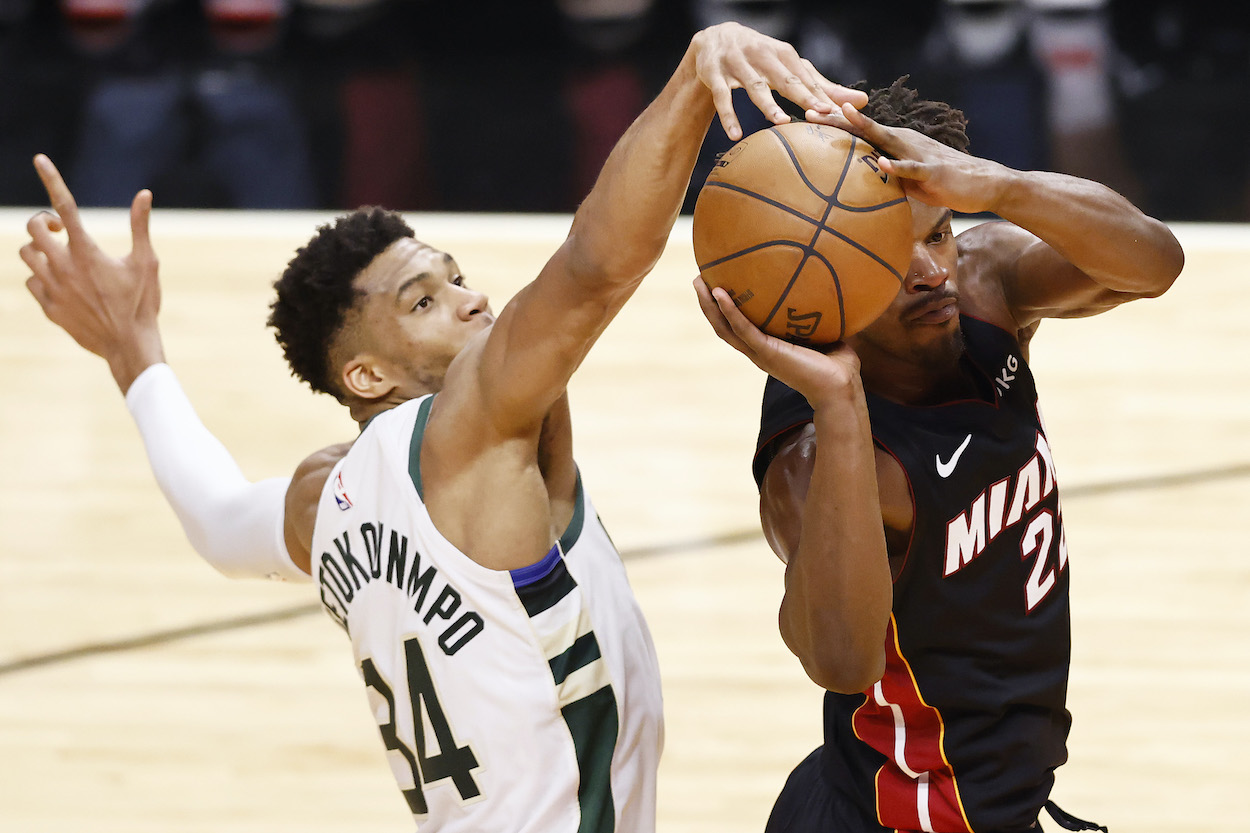 The Heat went through a disappointing, injury-riddled regular season that saw them finish as the No. 6 seed in the Eastern Conference. That set them up for a date against the Bucks, one of the perennial threats to win the NBA title this year, in the first round of the postseason.
But Butler didn't care who the Heat saw in the first round. As Miami was battling for a playoff spot down the stretch of the regular season, Butler gave a no-nonsense quote regarding their upcoming run.
"All we got to do is get there," Butler was quoted on April 21 after a win against the San Antonio Spurs. "We get there, us as a team, I'll handle the rest."
Butler later claimed he was misquoted, but it was still a cocky answer nonetheless.
"I didn't say 'I,' I said 'we'll' handle the rest. It was a misinterpretation of my quote," he said.
"I really can't do it by myself. I got a squad. I got a team with me. These are the guys I'm rocking with, I have been all year long. I'm going to make sure that they're comfortable. I'm going to make sure that I'm comfortable. And we got nothing to worry about. We're in this thing together. Like I say all the time, I like our chances anywhere."
Butler didn't stop there, though.
"I think I'm stupidly locked in, I can tell you that," he told reporters at practice before the start of the playoffs. "The amount of film that I watch, the amount of time that I spend on the court working on my game, trying to figure out where everybody's going to be on the floor.
"I'm good. I'm ready to go. I'm in shape."
Butler completely flopped as the Heat were promptly swept by the Bucks
Butler talked the talk heading into the Heat's first-round playoff series against the Bucks, but he didn't exactly walk the walk.
The five-time All-Star dropped a dud in Game 1, going for 17 points on just 4/22 shooting and 2/9 from three. Miami lost the game by two points in overtime, but that was the only contest that was even close. The Heat went on to lose the next three games by 34, 29, and 17 to finish off the demoralizing sweep.
Over the course of the series, Butler scored just 58 points and shot an abysmal 29.7% from the field. He failed to score 20 points in a single game. And maybe the worst stat of all: Butler was outscored in the series by Milwaukee bench player Brynn Forbes, who played 74 fewer minutes than him over the four games.
Now we don't know exactly what Butler meant when he said he was "stupidly locked in" for the playoffs, but it surely didn't look that way from here.
Changing his tone after the sweep
After Milwaukee finished off the sweep Saturday, Butler didn't have as much to say as he did a few weeks ago.
"Just some missed shots here and there. I think they did a great job. You kind of just leave it at that," he somberly admitted after Game 4. "We were a completely different team last year with different guys with different skill sets, but you go to war with any and everybody that you have… But yeah, we can be better. We'll get better."
Butler is never going to change who he is. He's an ultra-competitive, cocky player who doesn't back down to anyone or anything. We might be able to have fun with his previous comments at his expense, but Butler doesn't regret anything he said.
All stats courtesy of Basketball Reference